Posted in SHOFT on Friday 6th July 2012 at 9:07pm
---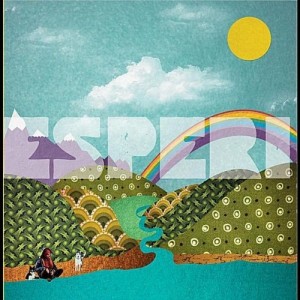 There's no doubt we live in times where it's exceptionally easy to become jaded and cynical. Not least with some aspects of the slowly crumbling music industry as it is dragged reluctantly into a world it's barely tooled-up for. Sometimes then, it's instantly clear why many artists start from an equally bleak position as they face the sometimes impenetrably huge task of getting heard widely. But then there are artists who in the face of all this seem to assume a strangely zen-like serenity whilst the rest of the sorry circus howls around them. Esperi is just such an artist. There is a small clutch of acts who share the dubious honour of having cropped up here on Songs Heard On Fast Trains on more than one occasion, and despite a general policy of trying to mention new things wherever possible this has been entirely justified in the case of Chris Marr, as he has worked through a very public process of growth and reinvention. From singer-songwriter to experimentalist, and then on to string-drenched balladeer - all that work, all that quiet dedication to his cause has paid off and can be found in his debut album "In a Moment, Emotion, Sentiment". There are some comforting, heartwarmingly familiar things here, some which will gently but insistently challenge perceptions, and finally some which will dazzle with moments of quiet and understated beauty. This is a very special record indeed...
The album opens with a wonderfully sprawling piece of music which begins with shimmering electronics and Esperi's signature toy bells, and builds through the repetition of the strange and unexplained mantra "Silo The Fire" which lends the track it's title. Just when the gentle drums and bleeps have lured you into a calm sense of security, triumphant strings erupt. It's a bold, brassy lead in to a complex and touching record. The equally expansive "Proverb" uses stabs of bright, clear strings to drive its dash from urgent, edgy verses to gently sweeping choruses. There's a point where the strings spiral gorgeously upwards and an uncharacteristically gloomy sounding Chris begins to gently work his way through a series of time-worn clichés, popping bubbles and blowing holes in their fuzzy logic as he goes: "every cloud has a silver lining/but this one's hard to see". On "Home" though, he has recovered the unashamed sense of comfort and optimism which permeates his work, and the brief, rather fragile interlude is conversely all about solidity and security. Built around his trademark toy orchestra of bells, whistles and strange devices this is short enough to possibly be overlooked as a link between tracks, but somewhere in here is the essence of Esperi and perhaps the ultimate expression of the album's title?
Following "Homer" - familiar from the recent "Melancholics Anonymous EP" - is "Lone Wolf". There is a touch of the wild west in its steel guitars and nods to country music. The vocal here is one of the most assured and solid on the album, with Chris' voice leaping dexterously around the instrumentation. The strings conspire to make the song's themes of abandonment and wilderness all the more lonely and mournful, but everything is steadfastly anchored by sonorous string bass notes. At the centre of the record are a pair of tracks "Nevertheless 1 & 2" which melt into each other, but are distinct parts of a whole. The first section is shorter and quieter - guitars twinkle through a drone of keyboards and Chris breathes memories into the microphone. The second part is a brighter, faster paced piece built on a solid foundation of bass and drums, full of spiralling guitar arpeggios and breathtaking time changes. Towards the conclusion the strings return, swooning, soaring and utterly lovely. The now ubiquitous loop pedal is deployed on "Cats and Dogs" but in fairness Esperi is one of few artists - perhaps alongside Adam Stafford - who is creatively using it as an instrument in its own right as opposed to an extraneous embellishment or an expensive gimmick. Again Chris celebrates his view of the animal kingdom here and as ever when he sees the world through the eyes of the creatures he loves, it becomes a charming, soaringly beautiful song full of lyrical twists and tricks which you just couldn't get away with through the half-open, scornful eyes of a human agent.
"Hearts" is another two part effort which initially takes a more traditional tack, but allows Marr to do what he does best - turning relationships inside out and describing their complexities in simple, heartfelt terms. His gentle, half-whispered vocals and picked guitar lines show a dexterity in his songwriting which challenges the usual 'tortured soul' approach to the genre. What promises to be a mere instrumental coda in "Hearts 2" is in fact a miniature Esperi-style symphony which hints at the more experimental side of Marr's work. This takes the central guitar theme of the first section and spins it out across a ten minute long piece of music which I'll lazily describe as a sort of acoustic post-rock anthem. Bells and glockenspiels compete with toy wind instruments, the guitar lines circle and electronics chitter and tweet. The strings return too, and the building wash of incongruous noises is suddenly allied in a final, triumphant vocal return. Despite it's length and it's strangeness, this manages to hold attention to the final note.
If you believe the hype, then all the best music arises from tension, discontent and turmoil. There's a grain of truth in that, in the sense that defiance and adversity have inspired some great art over the years. However, Esperi bucks this trend by weaving a soundtrack predominantly from simplicity, contentment and resolution. And despite the potential for this approach to a record to become over-sweetened or cloying there's certainly nothing twee about this at all. This is a record full of self-examination and personal challenge, but where the hero comes out on top for a welcome change. Full of inventively layered sounds and lyrical brilliance, "In a Motion, Emotion, Sentiment" lives up to it's curious name perfectly. It's an expression of any number of love affairs - with places and people, creatures and experiences - and it reflects the work of someone not afraid to wear his heart very much on his sleeve.

Esperi - Silo The Fire
Esperi's "In a Moment, Emotion, Sentiment" is available now as a pay-what-you-want download or a physical CD from Bandcamp. He will be appearing at Nice'N'Sleazy's in Glasgow on 23rd August with Lovers Turn To Monsters, and Cellar 35 in Aberdeen on 24th August. You can see Esperi performing "Silo The Fire", which gives an amazing insight into just how some of those sounds are created too.