Posted in SHOFT on Monday 2nd July 2012 at 7:07am
---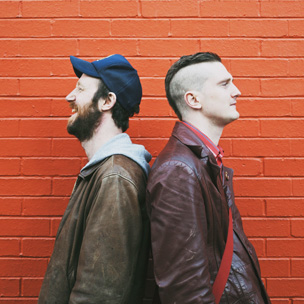 Things have been a little quiet hereabouts lately, which is no reflection on the quantity or quality of music which is around. It's more to do with the inevitable intrusions of real life and the ongoing crisis of confidence which besets me when I try to put fingers to keyboard. But then, something comes along which absolutely compels me to write - and this is just such a record. The next in a series of remarkable releases by Gerry Loves Records returns to vinyl after a dalliance with the cassette, and also preserves their approach of splitting a release across two artists. From the moment the record is unpacked that sense of something special begins, with a wonderfully understated old-school folded sleeve with photographs of each artist mounted on their respective side. I've written before about the sense of event which comes with receiving a physical release, particularly one that maybe you've anticipated for a while, and this does the job perfectly. This time around Gerry Loves have chosen to work with two solo talents who might be more familiar from their band related incarnations. Rick Redbeard is the voice behind the mesmerising and complex Phantom Band, but taking a more spartan approach here becomes the acoustic troubadour displaying a side less seen of his vocal talents. Meanwhile, Adam Stafford formerly of Y'All Is Fantasy Island is less of a stranger to releasing his own music - but he too appears to have taken a different approach to the pair of tracks featured here.
"Now We're Dancing" is a gorgeously woozy waltz, shuffling in with delicate guitars and ticking woodblocks Redbeard's voice is arresting from the outset. Redolent of an on-form Bill Callahan or Sean Byrne the delivery is carefully paced, there is a touch of familiarity from the Phantom Band but the slower pace and gentler instrumentation allows the depth, clarity and emotional gravity of his voice to be fully heard for perhaps the first time. As the song rolls along, delicate flecks of electric guitar and a wash of accordion support Rick's rich and emotive vocals. Lyrically, there is openness and simplicity in the storytelling here, laced with a wry humour and the knack of turning in a memorable chorus. The second, downloadable selection here is "All Of My Love" - a similarly paced track where Redbeard adopts a gently gloomy, electric blues which perfectly pairs with his lyrics of aging, regret and frustration. At points where his rich, deep voice echoes around the sparse corners of the song and he spins lyrics such as "I lived a lifetime of burial/before I was called to arise at your feet", there is a strangely ancient, biblical quality to things. As the slow-burning lament develops it gains funereal drums and a gnarled electric guitar line which build towards an emotionally drained, tear-stained ending.
Flipping sides, and on "Vanishing Tanks" a knot of chiming guitars accompanies Stafford's clear, clarion-call vocals and looped beatboxing, providing a remarkably full sound despite it's simplicity and sparsity in terms of instrumentation. As such it provides the bridge between the complex acapella oddness of his self-released "Awnings" project and the more accessible guitar-led songs from last year's "Build A Harbour Immediately" album. Stafford is in fine voice throughout, especially on the almost gospel-like refrain of "won't let you walk your way out of here now" which is eventually left to close the track alone as the guitars shudder to a halt. The lyrics are otherwise impenetrable and strangely intriguing, weaving a narrative of dissociation and discomfort. The download version of the single pairs this with "Russian Glass" which shudders in with a beautifully dizzy mess of new wave guitar noise and chugging bass. Again Stafford's vocal takes centre stage, reaching melodic highs and dipping to meet the hollow, reverb-drenched guitar solo which arrives. It makes for a shimmering, almost spectrally epic tone to proceedings and there's a sense the track could have continued beyond it's three minutes or so, if not constrained by the format. There is a soulful quality to both of these tracks which extends the subversion of musical styles which began on the last album, and if this pair of tracks hint at further new material, seems likely to continue.
Yet again there is a sense that Gerry Loves Records have captured a snapshot of the moment with a release which manages to be both reassuringly earthbound and edgily experimental all at once. These two artists, while plotting very different courses through the current musical landscape, seem to share a determination to do things pretty much how they want to with little sense of being like anything else happening just now. Across the four tracks here you'll find blues, gospel, spirituals and scratchy punk rock, all tumbling over each other to allow Stafford and Redbeard to express their musical ideas. Releases this packed with innovation don't come along very often, and when they do they're rarely this accessible and well-crafted.

Rick Redbeard - Now We're Dancing
The split single is available now from Gerry Loves Records and comes complete with a download code which allows you to obtain all four tracks. You can also see live videos of both Adam Stafford and Rick Redbeard's tracks.