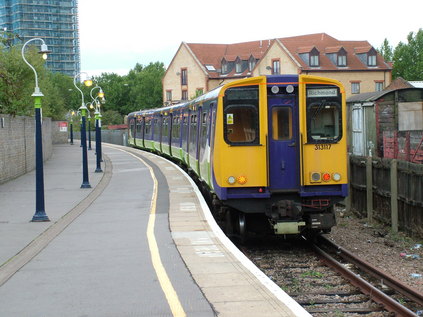 Posted in Railways on Saturday 19th August 2006 at 9:39pm
---
Another week of strange ups and downs, with a general feeling that we're making progress. So another weekend where I want to get out and about, but feel like sleeping all the way! Today's trip was another track bash in the South East. Since First Great Western introduced the Firstminute fares, its been possible to get fairly good prices for longer trips via-London. There was a sense of urgency about today however, as the section of the North London Line from West Ham to North Woolwich is scheduled for abandonment during September as the DLR now duplicates the route to a fair extent. I've used the NLL a lot over the years, but quite never made it to North Woolwich. So, despite feeling like I needed to sleep, another early start on 2M02. Minor trouble at Temple Meads requiring us to swap sets with five minutes to spare, as the doors stubbornly refused to release on the original HST. Out about five late on 1A07 , but still achieved an on-time arrival at Paddington. It took forever to crawl around to Tower Hill on the Circle line for some reason. There seemed to be some big gaps in the Circle service today, which were still pretty bad on my return trip.
Made it to Fenchurch Street with only a few minutes to spare before departure for West Ham at 10:30. I could have done this part of the journey entirely on the District Line, but I really enjoy setting out from here over the City - with Hawksmoor churches towering out of clusters of rather drab housing blocks in Shadwell, Ratcliff and Limehouse. A fairly short margin in my change at West Ham. I forgot what a hike it was to the North London Line platforms, and set out at a dash to make it on time. The service from Richmond appeared dead on time, and whilst not full there were still a fair number of passengers on board for the last leg of the journey down to North Woolwich.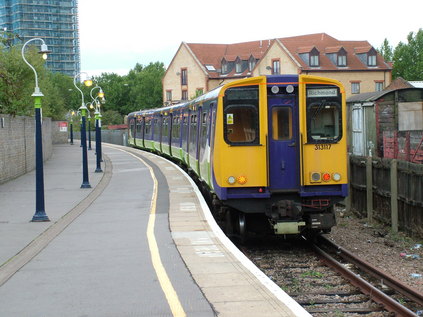 The line here runs alongside industrial roads and through some fairly bleak landscape. Occasionally, a curious streetcorner pub would appear between the warehouses and new-built industrial units - still apparently open, and I imagine supported entirely by local workers. A plunge into tunnel under the docks, resurfacing in Silvertown. A strange frontier-town feel to Albert Road which seemed long since abandoned. A fair traffic of passengers off the train though, indicating that people still live here braving the curious smells of the Sugar Refinery filling the air when the wind is in the right direction, with an occasional but strong hit of the massive sewage works at Beckton. Finally the train snaked into North Woolwich with its impressive station building - now a museum, which perhaps as expected was closed. Took a short walk - thought about the ferry, but that's for another trip. Back on the train to West Ham.
Arrived in a heavy rainstorm and watched the fairly well-loaded trains come and go for awhile. My own train, the 11:38 to Shoeburyness via Laindon was equally busy, and as we sped through the flat marshy land on the border of the estuary in warm and thundery conditions, I confess to snoozing for a while. By the time I woke, the sun was making a showing, and I enjoyed the wide empty views with occasional glimpses of the river - even if traitorous placenames like 'Leigh-on-Sea' tried to claim otherwise! I did this trip many years back - just as far as Southend Central, and I don't remember much except the aging rolling stock and the accents of the locals boarding and alighting. At least they have new rolling stock!
With the train almost empty at Southend, pressed on to Shoeburyness - the curiously named end-of-the-line settlement which seems little more than a dormitory for Southenders. Crossed the ambitiously named High Street and followed a path beside the crossing gates into a park on the seafront. Followed the railway line for a little way, but soon gave up - I'm not sure what remains at the MOD site at Pigs Bay now the slam-door stock is all scrapped, but I didn't have long before the planned train back to Pitsea and wasn't sure how far it was - or indeed how close it was possible to get, given the owners of the site and the current security situation. The whole place was eerily quiet. I found food in a newsagent and retreated to the station. It was an uneasy sort of place - not at all like I imagined it.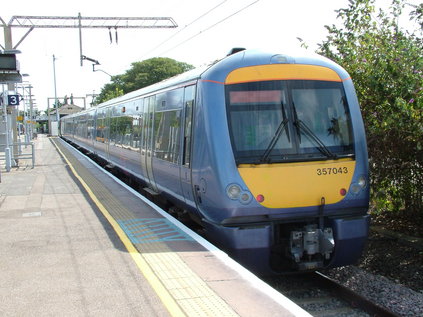 As soon as we set off, and began our all-stops journey back towards the capital I remembered it was the first weekend of the premiership football season. The preponderance of West Ham United shirts was not a good sign. A single four-car unit, already fairly full on leaving Southend was getting increasingly busy. I was pleased to escape from this service at Pitsea and make a cross-platform move onto the service going via Tilbury. I wasn't sure of the exact route - whether we'd travel via Rainham or take the single line through Ockenden wasn't clear. It was all new track for me, but I had a preference for the former. More scrubby marshland and estuary views as we passed through Stanford le Hope and on towards Tilbury. Noted a curious settlement which looked like industrial units converted into dwellings near East Tilbury. After Grays we swung off the mainline, meaning we were heading for Chafford Hundred and that bizarre temple to consumerism - Lakeside. Here the train disgorged its cargo of teenagers repeating Little Britain sketches and chattering in a hybrid of estuary English and misappropriated yardie patois. However we also collected a load of young families with masses of bags, boxes and packages. New stuff everywhere. People screeching into brand new mobile 'phones, already carrying their next model in a Carphone Warehouse bag.
I was relieved to get back to Fenchurch Street. Most of the other passengers bailed at West Ham, onto the tube - probably off to Bluewater for the afternoon session? Out into the strange quiet of a commuter station on a day off. Felt like a walk to shake the Essex dust off my shoes, so set out along Fenchurch Street beyond Aldgate pump and got the Circle line northbound from here. This meant I hadn't quite completed a full Circle today - but that was the least of my concerns. With the Circle still erratic, boarded a Metropolitan train for Uxbridge which had clearly been stabled for a fair while. Startled a pigeon which flapped around inside the train, making me look ridiculous as I ducked and swerved to avoid the skyrat! Passed hordes of passengers waiting for a Circle train at every station. Lazily changed at Great Portland Street to avoid the stairs at Baker Street, and caught a following Hammersmith and City train which unknowing passengers had clearly flagged too! Time for a relaxing coffee at Paddington before heading for my train back to Highbridge.
Posted in Railways on Saturday 12th August 2006 at 10:31pm
---
It's been a turbulent and busy week, and once again I'd given little thought to today. There was a point earlier in the week that I'd convinced myself that I'd probably end up going nowhere - but the lure of the railway is such that I can't ever escape for long. The only practical concern is that delaying my decision means the trip costs more! Decided that today should be then end of my fairly poor attempts at travelling on one of the new TransPennine Express class 185 units. I'd tried to incorporate them into the last rover and been in their area of operation on a good few occasions, but have always failed to travel on them. As an interesting side effect, noted that Virgin services from Manchester were diverted from Piccadilly to Victoria Station. No time to check this morning, but guessed at a diversion via Ashton Moss and Denton Junctions, which meant some rare track too.
Stumbled blearily onto 2M02 and was met by a few of the usual faces off to Bristol to bash the Holidaymaker HSTs. Purchased a ticket and had a relaxing trip up to Bristol. A quick switch at Temple Meads onto 1S42, and a fairly quiet ride up to Birmingham. The usual summer saturday chaos here, and with reservations already apparently wrong on the Voyager was harrassed by a family who firstly could not tell Coach F from Coach A, and secondly had utterly misinterpreted their tickets to mean that the 'A' meaning 'airline style seat' meant Coach A. As a consequence, stood from Birmingham to Warrington in an increasingly overheating vestibule listening to the worlds most annoying Birmingham accent for most of the way. I'm desperately glad I'm not in Blackpool today where most of this motley crew were heading. They were complaining bitterly that the train shouldn't stop at any other stations but theirs (a pet hate of mine that!) and that it should go straight to Blackpool. Can't argue with the need for more direct services, but their logic was utterly flawed. Not helped by the On-train Cleaning Staff trying to explain the complexities of the CrossCountry franchise reorganisation which she'd clearly discovered through an extended game of Chinese whispers!
A journey like that makes a walk across Warrington seem like a skip through the park. Nice to be out in the cool air. Familiar enough with the town from my last visit to make swift progress between Bank Quay and Central stations. Reading the posters about security changes at Manchester Airport made me realise that in my arrogance and anger last week, I'd failed to register some fairly big events. The 'Class 185 stop' signs here made me hope for a surprise, but the familiar three-car 158 trundled in. Busy, but not too packed. Had a nice, if a bit sleepy, ride via Manchester and Standedge Tunnel to Huddersfield.
Minutes after arriving at Huddersfield, 185126 thundered in on a Manchester service. Almost dashed over to catch it, which would have been a fairly major change in my itinerary, but instead decided to take some pictures and spend a little time in a station that usually I'm visiting for a quick change, or which is overrun by football fans. Noted in fact a small number of Bristol City fans arriving, but hardly a force to be reckoned with - being outnumbered by Police officers about 3 to 1! A fairly busy hour or so, with 185s on the Hull diagrams only as far as I could see. Chatted to a local who was out photographing them too. He was interested but disappointed to hear that 185132 arrived on Monday with no vinyls applied at all, because he'd been hoping to see the old-style
First
livery on a 185. Decided on the 12:59 to Manchester Piccadilly which would allow plenty of time to get across town to Victoria.
Once inside, the 185 is not significantly different from any of the other Desiro variants. It's spacious, comfortable and fairly quiet with nice big windows for the Pennine views. Settled in for the quick run into Manchester. Noted that the unit didn't really seem to be tested on this stretch - we didn't seem to get moving until beyond Guide Bridge, and then only as far as the throat of Piccadilly where things slowed to a grind, despite a fair number of services not being in operation. Overall though, a smooth ride and a very pleasant trip. Spotted another couple of 185s lurking in the station - presumably they would normally have headed for the airport, had the line not been closed. Straight downstairs and onto the Metrolink. Missed a Bury tram due to a complete fool trying to buy a ticket in front of me with what appeared to be foreign coins. The platform was wedged with people heading for Old Trafford, and the Metrolink employee doing his best to help people was in fact confusing some of the waiting passengers. Soon enough on an almost empty tram through the City Centre to Victoria.
Grabbed a quick coffee here, and wandered through the barriers, where there seemed to be hundreds of people paying excess fares - which was odd! Bang on time, the Voyager from Brighton arrived on platform 3 - a fairly rare sight in these parts! Had a quick chat with the driver who brought the unit in, and confirmed the routing. Boarded, found a seat and settled in for the unusual trip. Out of Victoria and via Miles Platting towards Ashton Moss North Junction. Here we headed south, onto a bit of freight-only track. Noted another enthusiast in my carriage with his 'Baker' Rail Atlas plotting the route. Crossed above the line to Stalybridge just west of Guide Bridge and joined the route of the Ghost Train - this in itself was an event as its impossible to travel this line southbound on a service train. After Denton station, a pause for another Voyager to clear the single line and pass us, then on to Heaton Norris Junction and back onto the usual route to Birmingham. Aside from an influx of football fans at Stoke, the remainder of the journey was uneventful. At New Street, on to 1V65 for a very late lunch and a quiet trip back home via Gloucester, where Cotswold seem to be storing more of their fleet by the week - with a rather worse-for-wear pairing of 31206 and 47365 evident on Horton Road along with the usual suspects nearer the station. Down here it was warm and sunny, and the sky promised a glorious sunset. I wondered if the clouds had burst over the Pennines yet?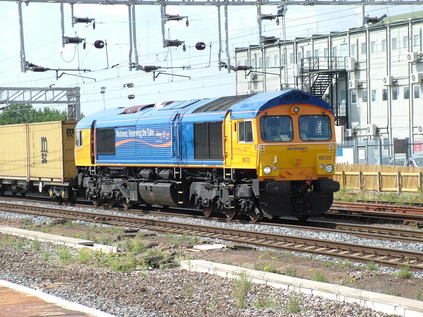 Posted in Railways on Monday 7th August 2006 at 11:20pm
---
Given fairly steady progress at work, sneaked in an impromptu day off today. The plan was to meet up with a couple of others and head for Rugby. I always seem to end up there around this time of year, and its relaxing to spend a day just watching trains on the always busy West Coast mainline. Despite a damp start from Highbridge things improved markedly in the Midlands, and on arrival at New Street the sun was out. A quick switch to a fairly grubby 321 as far as Rugby, and into the familar spot on platform two.
A quiet morning, with only the odd freight to break up the tide of passing Pendolinos. However, as the afternoon arrived so did a pretty startling array of different liveries and workings which wouldn't be seen back home. During the course of a couple of hours, both of the remaining GBRf Class 66's from the recent new batch which I hadn't seen passed through the station.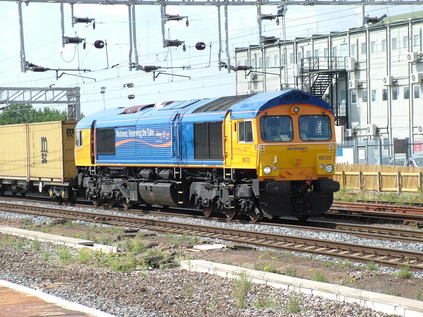 Noted several DRS workings, including the infamous 'Malcolm' train at the usual hour. Also pleased to see Fastline's 56302 pass through - albeit on a very empty container train! Having first seen this at Doncaster, it was good to finally get a photograph.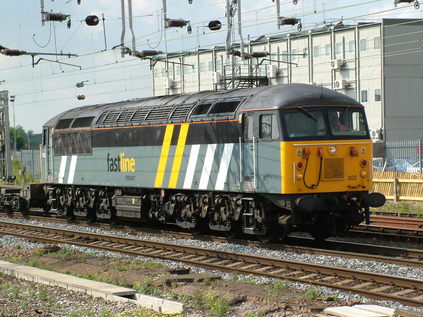 Stayed on a little later than usual, and has a fairly busy last hour or so, with a procession of interesting workings. Finally departed on the 17:47 Pendolino for Birmingham realising that I'd managed to go bright pink in the sun - the closest I ever get to a tan. An otherwise quiet journey back through an amazing sunset was interrupted by some troubling phonecalls. But today was still a relaxing and unexpected break.
Posted in Railways on Sunday 6th August 2006 at 10:59pm
---
Interestingly, in a series of conversations with family members over the past few weeks I've uncovered some fairly strong opinions about how I spend my time and money. I've always accepted that having an interest in railways set me aside as part of a niche group which was fair game for ridicule, but I've met enough decent people on the inside of the group to balance the negatives. In fact I tend to find the whole trainspotter tag rather funny, and play up to the stereotype when I'm with people who find it difficult to understand.
Strange then to note that there are actually a few people within my own family who are so appalled or offended by my activities that they would let this affect or change my relationshop with them! Presumably if I confessed to a range of bizarre perversions or to a secret career as a pole-dancer it would be fine - but because I occasionally take pictures of trains its reason enough to attempt to edit me out of the photographs Trotsky-style?
So the picture below is dedicated to these critics. I suffered for this: climbing barriers, getting stung and standing in an awkward and poorly-balanced situation for a fair while - anyone who knows me and my physique will understand what an achievement that is. It was a pleasant Sunday morning to be out, passing the time of day with people and enjoying the sense of occasion as the Torbay Express passed through town. But of course the people I'm referring to were still sound asleep in bed at this point...