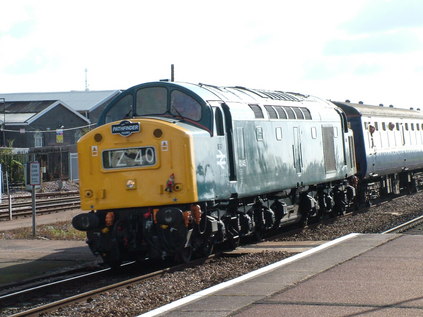 Posted in Railways on Monday 28th August 2006 at 10:39am
---
A summer bank holiday is not a time to venture out in these parts. Stayed local, and had an early morning wander down to Taunton to watch Pathfinder's 'Whistling Pixie' tour, headed up by 40145.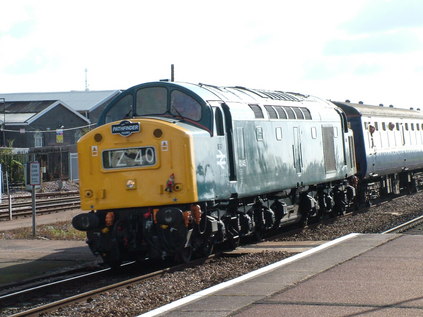 It sped through the station about 12 minutes early, catching all of us unawares. Just about managed a shot as it passed. Brought back memories of last years trip to Holyhead!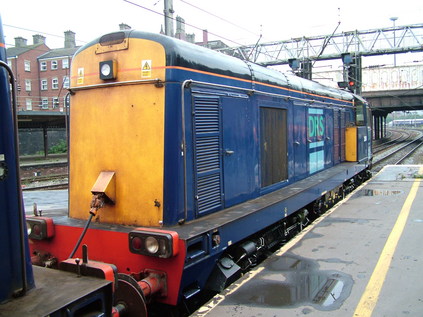 Posted in Railways on Saturday 26th August 2006 at 9:20pm
---
Woke early, just as some of the noiser inhabitants of the Travellodge were going to bed. A rather damp and dreary Warrington scene outside the window. The plan was to get the first service northwards to Preston to pick up the tour from its start. It would mean a few more miles, and because I was scheduled to board at Warrington, a seat in a very quiet carriage for a little while. Varied the route of my increasingly familiar cross-town walk and arrived at Bank Quay in good time for the 0645 Glasgow service. Boarded, and was pleased to find the buffet open. Sipped coffee and enjoyed the view whilst listening to the gossip of the on-train staff.
Preston was a little busier, with a fairly high number of cranks already in evidence. Most of them seemed to be engaged in hoovering up breakfast items from the food concessions on the station. Elbowed my way into the queue and secured my own share. Back onto the platform and almost immediately heard the tell-tale sound of 'choppers' as the train crept into the platform with all three locomotives at the front. Dashed up for a quick shot before retiring to watch the locos run around - happy to see all three would lead.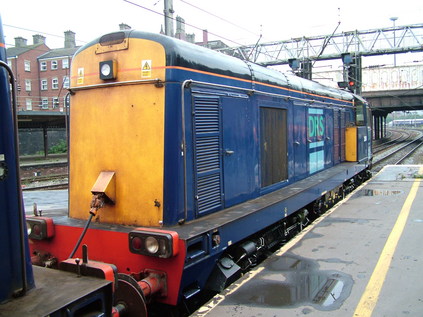 Boarded the entirely empty carriage and settled in to eat breakfast and relax for the run down the West Coast. Started, and stopped almost immediately with a coffee-spilling lurch. Noted my own coach hadn't really left the platform, and as passing rumours about cancellations and failures drifted past, wondered how to record the distance for haulage purposes? Soon enough however, we were back on our way and snaking across to the Up Fast line. Later discovered that a TPWS fault on the middle loco had been the problem. Made excellent progress between our pick-up stops, and by the time we reached Birmingham the train was almost entirely full.
From here, the route became more interesting with several rather unusual freight-only branches to be visited. Noted we were doing the route in reverse of the original plan, which meant not getting to travel between Whitacre Junction and Kingsbury Junction - but with plenty more going on, not a great loss. Started out of Birmingham noisily and took the line towards Bescot. Once through the expanse of yards, swung south and east at Ryecroft Junction onto the Sutton Park Line - the first of today's treats. In fairness, its a bit of pretty ordinary suburban railway which now lacks a passenger service. Lots of rows of low but pleasant little houses, followed by expanses of parkland. Rejoined the mainline a little west of Water Orton, heading towards Nuneaton. Following the line on a neighbour's 1990 edition Quail noticed how much had changed. Not least at Nuneaton where we took the flyover, pausing briefly at the new high-level platforms. Pressing on eastwards, at South Wigston we took the very rare south curve, joining the Midland Mainline for a quick run in to Kettering where a break was scheduled.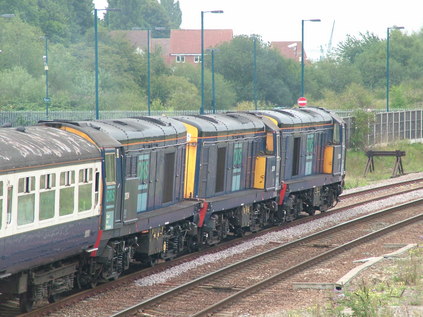 We set out northwards from Kettering, traversing the Corby line. This has been used for diversions for years, but I've almost never been around at the right time. My early start began to catch up with me here, and a lack of detailed recollections from this part of the journey means a 'power-nap' might well have been taken. Didn't see the site of Corby station, resurrected briefly in the 1990s with Local Authority support but soon abandoned leaving Corby the largest settlement in Europe without a railway link. Came to my senses somewhere near Syston where we were due to take the Up & Down Slow passing Leicester. Already a few minutes down here, we lost a little longer as the driver queried our route. Once past the junction noted a Central stopper at Syston occupying the line we would have taken. Some talk of a crossing at Humberstone Lane, but we finally took the station avoiding line at Leicester North and it appears the signaller promptly forgot about us entirely for a while. Much to the amusement of the passengers waiting at the station who thought some sort of error had marooned us in the yard. When we did move off we were inexplicably crossed onto the Down Main where we waited for endless trains to pass before being switched into Knighton Loop. More waiting here whilst the locos ran around once again for our reverse.
On leaving Knighton we crossed onto the final significant line of the day. Older editions of Baker show a number of proposed stations on the line, at sizable settlements like Coalville, Ashby-de-la-Zouch and Moira, and its possible to imagine a fairly useful service operating. Chatted about this around the table, and no-one really seemed to remember when the Ivanhoe Line plans disappeared. Already around 40 late, we made fairly slow progress on the rather uneven track here. Had more than a few close encounters with trackside foliage too, which seemed determined to come in from the cold. Noted that FM Rail are already starting to make use of their facilities at Mantle Lane, with a couple of 56s and a fair selection of coaching stock already at the Coalville site.
Soon enough, the cooling towers of the abandoned Drakelow 'B' power station appeared, and we joined the mainline just south of Burton at Birmingham Curve Junction. After a short run past Bombardier's 'Central Rivers' depot, swung west again and onto the Lichfield City line at Wichnor. Our train must have been a fairly startling sight to locals waiting for their stopping EMU to New Street! Had thought about continuing to Crewe for the mileage, but now we were running fairly late decided to cut my losses and bail at Birmingham. Up to the front of the train to listen to the amazing sound of three 'choppers' emerging from under the roof at New Street. Retired happy to my lodgings for the night. Some interesting and rare new track covered, in remarkable style!

Posted in Updates on Friday 25th August 2006 at 10:01pm
---
A second attempt at Pathfinder's Rutland Renegade tour means another night in Warrington. Straight from work onto the train, and a fairly uneventful journey up - especially considering it was the start of a bank holiday weekend. Disembarked from the Voyager in a gloomy but not yet dark Warrington, and set off for the now familiar cross-town trek to the Travelodge. Varied my route a bit - getting closer to the town centre than usual, but still I don't think I met another soul the entire way. Checked in, disturbing a strange situation where the receptionist seemed to be illicitly distributing frozen ready meals to a favoured guest. Dumped my things, made a few calls, and headed out to find food - with the smell of molten plastic and cheap gravy from the ready meals still haunting the entrance!
Set out for The Blue Bell where I knew I'd find a fairly good pint from my last visit. Misjudged the extent of work on the new shopping centre, and had to take a torturous route alongside the main road, and out as far as Central Station to get into town. After a quick but fairly good pint of Youngs Special - not a favourite beer of mine, but welcome nonetheless - I headed back towards the town. Straying further into the centre than usual I discovered the carnage of a Friday night already in full effect, with ambulances and nightclub bouncers apparently in league - a case of "I'm about to give someone a kicking, can you park there and scrape him up when I've finished?"! Dodged the discarded kebabs and found a Subway, where I managed to get food and had a surprisingly engaging conversation about 'The Wicker Man' and films in general. Slunk back to my hotel to wait for morning, avoiding the centre of town as far as possible. Another Friday night in Warrington!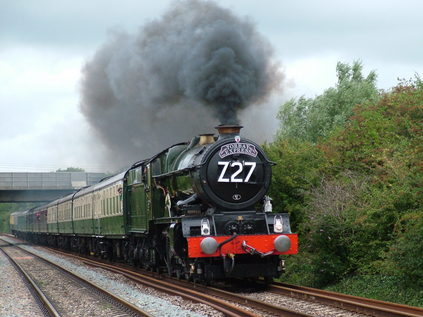 Posted in Railways on Sunday 20th August 2006 at 10:15am
---
Finally did something I've considered doing for years - wandered down my road, through the site cleared for our new Asda, and onto Springfield Road foot crossing. I've watched people taking pictures of the Torbay Express here, when I've been up on the bridge by the station for the past couple of years and always wondered how accessible the location was.
Because no one ever seems to tire of steam pictures, and because it turned out rather well, here's yet another shot of 6024 thundering past Highbridge, taken from Springfield road. I wonder whether this shot will be possible when the new supermarket is built?