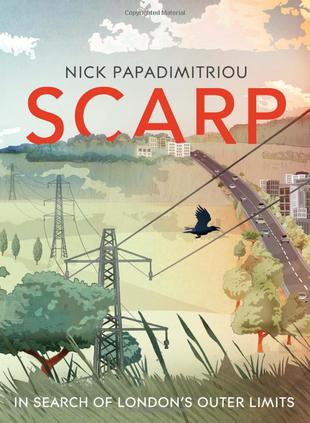 Posted in Reading on Tuesday 26th June 2012 at 6:45am
---
It's a long time since I felt the need to write about a book I'd read on here, at least as directly as this - but perhaps it's something I should do more often. The irony of reading "Scarp" in the middle of Glasgow, while the city moved quickly to take advantage of unexpected sunshine wasn't lost on me. George Square glistened in the light, pale skinned, blinking office workers emerging for their lunch break. Spending it with trouser legs and skirts rolled up, shades on while feet away, propped against a huge marble monument and just a little way from the huge metallic Olympic symbol erected for the summer, I sat devouring this curious book. In some ways, it's the book I wish I could write - part personal reverie, part hymn to the places around me. It delves deep into the landscape, and where current descriptions won't suffice creates a new map - you won't find "Scarp" identified anywhere I'm certain. But that's where this book plays its master stroke - we all invent our own maps and landscapes, but some of us do so more consciously than others. So "Scarp" is Papadimitriou's name for a mass of high-seated land which joins Chiltern Ridge to Lea Valley in a broad sweep across his beloved Middlesex. Buried in it are streams, lanes and byways which he has walked - often in dark times with all the associations they carry - to make sense of his county and his world.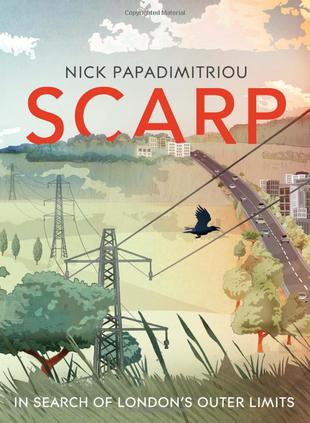 Papadimitriou describes his work as deep topography and sets himself a little apart from the Psychogeographer. I was sceptical about the need to do so at first, but now I think I accept it a little more. He takes a sort of amalgam of old Ordnance Survey atlas, decommissioned guide book prose and personal recollection, and rewalks the landscape with no preconception. He accepts its stories, often it's casualties without judgement and most importantly without recourse to human sciences or politics to justify the links he makes. The prose is sometimes edgy, fast-paced and visceral - but is equally prone to longer passages of lush descriptive work - not least when Papadimitriou strays from a well-worn personal path and finds a new vista just feet from his more routine walks. The thrill of this is palpable in his writing, and having felt this same heart-leap at a sudden turn of a corner and never quite expressed it, it gave me huge pleasure to see it described in print.
Ultimately, "Scarp" is unresolved. We never get the end of the autobiographical thread which winds through the book, explaining perhaps why the author took to the edgelands and the streambeds - nor do we get to achieve the idea of "Scarp" as a whole. But that's because Papadimitriou hasn't yet managed that either. And it's likely he never will. There is both a luxury and a a risk in writing about such a specific and rarely trodden area. The post-cultural tourists who follow in the footsteps of the more famous psychogeographers probably won't stray this far up the Piccadilly Line, and this is perhaps a bit too redolent of the pylon, sewer outfall and business park to get the semi-professional walking set interested. But "Scarp" is a life's work, a labour of intense love for the landscape and a tribute to the land which sustains us, which we walk in difficult times, which links up homes, prisons, hospitals and bus stops. This is the landscape challenged and personified, but described in the loving detail of a botanist's catalogue. It's nothing short of a remarkable piece of work in that respect.

Posted in Reading on Tuesday 30th August 2005 at 11:59pm
---
After a bewildering day, and with a painful eye infection I set off straight from work on a packed and sweaty train to Bath. The reason - a chance to see the Peter Hall Company performance of 'Waiting for Godot' at the Theatre Royal. Four friends in tow too - with varying expectations and ideas of what they were about to see, which was even more fun - what would they think?
I've wanted to see a performance of Godot for some time, having only previously seen a filmed version. This 50th Anniversary performance seemed an ideal time . I wasn't disappointed. It always seems that the play is treated with reverence and I've heard tales of some terribly serious productions, but the cast managed to find the space to enjoy themselves. They picked up the playful thread which Beckett wound through the work, running with it and engaging the audience. This exhuberance made the truly harrowing parts - particularly in Act II - by contract far more powerful. Jack Lawrence as 'The Boy' reminded me what a strange and sinister presence this character is in the play.
I'm no authority on theatre, but this was an enjoyable production of a favourite play. The audience generally seemed to agree. Polling my cohorts afterwards, most of them enjoyed it too. One or two of us talked at some length about the play trying to decide if it was 'depressing'.
A few pints of Pitchfork at the Old Green Tree convinced me it wasn't.

Posted in Reading on Monday 22nd August 2005 at 11:01pm
---
Spent some time chatting to a friend I haven't spoken to for some time tonight. Strangely, during my period of near obession with B S Johnson she had selected a couple of quotes found in a Guardian review of Like a Fiery Elephant for a homemade bookmark. I know I'm probably a predictable bandwagon-jumper in some respects but I found it odd, especially as we usually have such different tastes.
Got chatting about bookish matters, and particularly the possibilities of both of us having small things published soon. Thought how strange it would be to see each other's work in print rather than on a computer screen prefixed by the message "What do you think of this then?".
A big stack of books has once again developed following the Literary London conference - including Ford Madox Ford, Patrick Hamilton, Woolf and Sterne. Where the time will come from between reading items on Management Theory, I have no idea.

Posted in Reading on Sunday 20th February 2005 at 11:13pm
---
For a very long dull period I have felt almost unable to read at all. This weekend whilst suffering a degree of mental disquiet, I have finally begun to devour literature once again. The text which restored my faith in the printed word was A Clergyman's Daughter - a strange, severe little novel which most Orwellians seem to recommend against reading in favour of one of his more influential titles, but which I've been meaning to pick up since the Literary London conference last summer.

What struck me most about the novel was how similar it was to a Gissing novel of the early period - a series of 'happenings' connected by long passages of psychological examination of faith and doubt, poverty and duty. Themes not dissimilar to those Born In Exile in a strange way.

Perhaps unsuprising then to find this passage in Chapter 4:
She ate her Christmas dinner - a hard-boiled egg, two cheese sandwiches, and a bottle of lemonade - in the woods near Burnham, against a great gnarled beech tree, over a copy of George Gissing's The Odd Women.
That Orwell admired Gissing is not in doubt, and has been
explored thoroughly elsewhere
. Perhaps what suprised me most is how in this reportedly inferior novel of the 1930s Orwell achieved the very flat, greyness of tone which he so admired in Gissing to remarkable effect. Along the way he manages to debunk the state-sponsored dominance of the crumbling (both in faith and in fabric) Church of England, in a manner that I can only imagine Gissing would have applauded.
A Clergyman's Daughter
doesn't have the universal appeal of some of Orwell's other work, but it succeeds almost as a historical work. A snapshot of how we used to worship, and the cold, dull English fear of not having enough to eat.