Posted in Reading on Monday 5th June 2017 at 4:06pm
---
Somewhere in the chaos and confusion of elections, referenda, terrorist attacks and transatlantic tumult in the last several years, HS2 has all but disappeared from the debate. This emblem of a modern Britain dragging itself towards the future was to scythe across green and pleasant England, linking London and Birmingham in hitherto unimaginably short journey times. Despite being a tiny country, we would finally reap the benefits of High Speed rail as a way of linking the metropolis of London with first the rapidly gentrifying Midlands, then the Northern Powerhouse. Eventually, it might even reach Scotland - still in the political sin bin for daring to dream of independence. For a long time, HS2 dominated debate - and in an odd precursor of Brexit it wasn't entirely cut along party political lines either. An MPs proximity to the line or its potential termini was a far better predictor of their view than rosette colour. The massive task of taking a project like HS2 through public enquiries, select committees and detailed planning hearings began in earnest and as the detail came into mind-numbing focus, the big picture disappeared entirely. The hearings and enquiries were utterly public and transparent processes, but the cloak of technical complexity is always much more effective than outright secrecy. Objectors became well-versed in environmental impact assessment, cost benefit analysis and property law while the rest of us just had to decide if it all sounded like a 'good idea'. I confess I was broadly in favour at the outset: I love trains, I'm a committed user of public transport, and I enjoy seeing technology advance. But the zones through which the line would pass, once it left Greater London in particular were a near blank for me. It was easy to dismiss as cartographic whitespace.
Finding an urge to colour in these gaps, Tom Jeffreys achieves something quite remarkable in Signal Failure: bringing the massive complexity of HS2 back to a human scale. He sets out to walk the route, scribed in lurid highlighter strokes across Ordnance Survey maps as a not-entirely-inaccurate approximation of how the line's critics imagine the line was planned. It should take him ten days, involve some camping out in the wild and bring him into contact with all kinds of characters who sit on the frontline of the debate along the way. It ends up being a far more complex proposition which examines the very nature of walking itself before Jeffreys finally reaches the Bull Ring.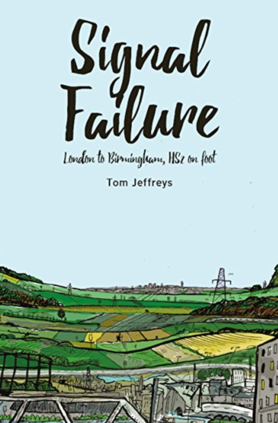 Jeffreys is by trade a writer on art, and brings with him from that world two absolute gifts: an eye for beautiful descriptive detail which makes the waste incinerator at Calvert sound a sublime almost-equal to any view across the Chilterns, and genuine erudition which underpins his writing with detail and research. This is a surprisingly hefty book, and in the early passages where the nature of walking writers - and writing walkers - is examined, I started to feel concerned that this had backed things into a niche. However, these reflective essays are punctured by reality - errant horses, the hardships of camping, the treacherous nature of industrial cartography - which anchors them in a quest. A quest which Jeffreys self-deprecatingly feels he ultimately fails to achieve - but in unravelling the journey he introduces people who's experiences take HS2 from a conceptual diagram towards a future reality. There are the couple who didn't realise how desperate and suicidal the prospect of the line made each of them feel until they were interviewed on camera together, there is a naturalist who stands to see preciously guarded habitat riven by rails, and there is a cheesemaker who has been through this before: embracing change, diversifying to survive, revisiting the business model. Jeffreys' encounters with the wider public are perhaps more like my own when walking: suspicious, confused, somehow irritated that someone is stepping outside the normal boundaries. The walking writer is a figure of deep apprehension these days, and sometimes perhaps deservedly so.
Throughout the book, Jeffreys wonders about what he is writing - glancing off psychogeography but landing squarely between travel and nature writing on the shelf. The debate that squirms at the core of the book about nature, wilderness and human intervention finds its feet in the examination of these genre politics and I found myself genuinely intrigued by the history of older, extremely white men batting the future of the planet back and forth at length. It's important to remember to that these are, in principle at least, the people who agree we should act swiftly to save the planet! For his own part Jeffreys is, rather like me, not the kind of person who can name our flora or fauna, or who knows what's good to eat and what will kill you out there in the wilds - but his engagement with the kind of spaces we all experience, every day is challenging and inspiring.
Signal Failure is an impressive achievement - taking the walk and exploring not just the landscape and its people, but the theoretical underpinnings of grand projects like HS2 and their human and natural impact - but in a way which places us in a landscape from which we don't fully understand what we'll lose.
Posted in Reading on Sunday 21st May 2017 at 3:05pm
---
My relationship with Kent has been a troubled one over the years. I remember deciding on a railway excursion in the mid 1990s, somewhere on the interminably dull straight line between Tonbridge and Ashford on some dirty old slam-door stock, that I was convinced I didn't like Kent at all. However, over the years as I've explored more I've begun to truly appreciate the diversity of Kent. The sheer size of the county, taking in the broad sweep of land from the English Channel to the Thames Estuary, means that my early churlish observations were of course utterly invalid when applied more widely. In particular, the stretch of coast from the Medway to the North Sea has become something of a favourite spot over the years. Times change, people change - and contrary to our hopes and wishes, places often change too. That is, in a sense, the abiding truth captured in Carol Donaldson's 'On The Marshes'.
At face value, Donaldson's book uses a long, fractured walk along the sometimes impressively bleak marshes of North Kent as an opportunity to unravel and regroup after a serious of challenging life events. Donaldson's early career, living in a caravan and cataloguing the bird population of the marshes equips her beautifully to describe the scenery and its inhabitants. Her most powerful prose is often deployed in describing the expanses of absence which are so impressive in person but so hard to conjure in words. Her love for, and connection with these places is evident in every well-chosen word. This solvitur ambulando trope is of course not entirely new, but it has so often been the preserve of men - and there are points where Donaldson is curling up in her makeshift camp on an island or sleeping in an unlocked country church where the walk - and indeed the narrative - touches on vulnerability and fear. Happily, the greatest threat to Donaldson on her walk is the daddy long-legs, her pathological fear of which rather calls into question the wisdom of devoting her early career to working for the RSPB on the marshes.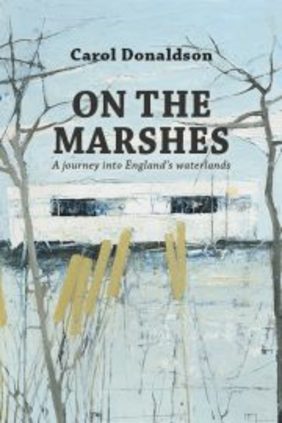 As the walk develops, more of the tale unwinds - a relationship parts ways achingly slowly: he is pulled towards the everyday, middle-class world of a career, a house, boxed-sets and takeaways while she feels rooted in the caravan on the marshes. He strays, the Thames a literal and figurative divide, while she struggles to keep her home - finally losing to the machinery of the planning process. Cut loose from people and place Donaldson retraces her steps through the marshes - and this journey becomes as much about the people who have opted out of the norm and into an unorthodox life along the muddy creeks as it is about her own experiences. Along the way, what could be an excruciating tale of self-discovery or a hymn to alternative lifestyles actually begins to grapple with a dichotomy echoed in the management of the marshes: do we want to preserve things forever as they are, unknown and untroubled, or do we want to engage with the world?
At times, there is an oversimplification in the thinking - that those who live in houseboats or tiny plotland cottages are the colourful truth while the rest of the world is a grey and unenlightened fiction - but this is generally balanced by Donaldson's self-searching and often self-deprecating rumination after meeting the cast of characters. She shows utter respect for them, and warmth and appreciation for their lifestyles and choices - but ultimately can't commit to their complete fracture from the wider world. For most of us, I suspect that this would feel the same way - and while that boat or cottage might seem utterly compelling at times of turmoil or strife, it doesn't salve the underlying issues we face. As Donaldson settles on this conclusion herself, she turns her thinking to the land which supports these unofficial communities and the politics of its management. I suspect she and I wouldn't entirely agree on this either - but her case is well-made and she writes from the rare perspective among preservationists of someone who has lived and worked on the land which she writes about.
'On The Marshes' is a strange book which sounds simple on its surface, but surprisingly challenged my thinking as I reflected on reading it. At times I was convinced I didn't like it and disagreed entirely with Donaldson's worldview and political standpoints, but by the close I was rooting for her to find her path and to write more about the landscape she knows so well. What was entirely refreshing in terms of topographical writing, was to read from the female viewpoint - to focus for a refreshing change on acceptance and belonging rather than alienation.
Posted in Reading on Friday 21st April 2017 at 7:04pm
---
Most male mid-life crises follow similar and depressingly predictable patterns - they involve embarrassing encounters with much younger women, much faster cars and far more taxing physical pursuits than are ever strictly advisable. Then, somehow, they quietly slip into being either part of the subject's new, likely more insufferable identity - or perhaps simply disappear, not to be mentioned by those who witnessed the manifold indignities. My own mid-life crises have been a little different - and in terms of lasting impact, somewhat more prosaic. If you discount my dash across the ocean to marry someone a continent away - who was, it must be said, just a little younger than me - then the rest has been mostly about walking. Walking has become a structure around which I focus my reading, my writing, and most definitely my thinking. It gives form to my year as I trace the seasons via walks, and it allows me to calibrate my reactions to the sometimes confusing world around me. It is, it must be said, a solitary pursuit - but that seems to work just fine too. Walking provides space, time and context. In that sense it's a fairly mundane mid-life crisis to develop perhaps. Given that much of my recent walking has been in and around the environs of Epping Forest, this recently published book about Will Ashon's own mid-life crisis brings both reassurance and entertainment.
Ashon starts the book at a crossroads - he has given up his job to write, but he's not sure what to write about. He indulges himself in research which leads him nowhere and convinces himself that the book will, when it's ready, come forth. In the meantime, he is also a coward. This might sound like an unfair judgement - but I feel comfortable stating it because I share Ashon's particularly British type of cowardice. I too feel a cold sweat begin to break on my brow when I approach the 'Private' sign, or find myself obeying patently unenforceable prohibitions to the letter. For the walker, these matters can often make the difference between miles of detour and a straightforward path. Throughout Strange Labyrinths Ashon takes the detour - and it leads him to encounter a cast of forest-related characters which are unpredictably various, but share a curious independence of spirit which echoes the remarkable survival of Epping Forest into the 21st century.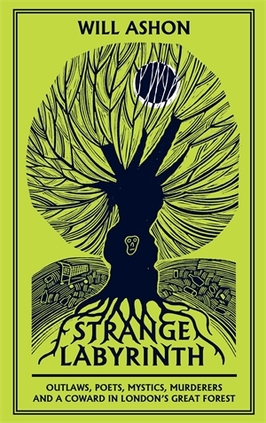 The thread of the book, in so far as there is one, is Ashon's gradual accumulation of knowledge about the forest via a study of those who've walked it before him. He is ostensibly building up to spending a night in the tree-canopy, just him and the forest. Naturally, the fear of the dark, of the forest and ultimately of the unknown means this is put off again and again, allowing Ashon the space to explore the lives of outsiders who have used the forest as inspiration for the creative endeavours or cover for their nefarious deeds. Along the way we meet the ghosts of John Clare and Dick Turpin - both escaping capture and enclosure of different kinds as they haunt the forest floor. Ashon hits on another of my great fears here - treading in the footsteps of Iain Sinclair as he writes about Clare and not being quite comfortable with the process of re-walking ground already covered by another. However, Ashon's investigation of the beginnings and the later life of the asylum at High Beech add a great deal to Clare's forest narrative and he has nothing to fear. He also strays out of the forest to find Penny Rimbaud of anarchist second-wave punk collective Crass, who has occupied Dial House on the northern edge of the forest since the late 1960s, slowly turning the once-derelict farm on former GPO land into a centre for the radical arts.
Rimbaud provides a link to another collective occupying part of the southern reaches of the forest - the M11 Link Road protestors of the early 1990s. In particular, to the elusive and much loved Old Mick who was an ever present face in the coverage of the quite remarkable resistance to the road. Ashon delves into Mick's mysterious and unwritten past, unravelling a early life of not-so-petty crime which paved the way for an instinctive non-conformism, ultimately inspiring a generation of younger protesters to wage a non-violent - almost Situationist - campaign of resistance as spectacle. Throughout these encounters, Ashon's own quest - to turn his disparate researches into a coherent non-fiction work centred on the forest - begins to come good. He is at his most lyrical when he is describing the interior of the forest, and while like me lacking the technical names for the plants and trees, he manages to evoke the rather strange sensation of isolation despite being mere feet from the road which I too have experienced in the forest. He describes the litter and the trails left by temporary human habitation with as much care and precision as he does the flora and fauna. In that sense, this book captures the forest's present as accurately as it catalogues a version of its surprising past.
While this probably isn't the book Will Ashon set out to write - or even the book he thought he was writing for a good deal of the time he was working on it - this is ultimately a satisfying and erudite view between the thick foliage which sometimes obscures the true nature of Epping Forest. The forest is as much a hiding place now as it has ever been, and having hidden away from reality within its depths myself I can feel my own experiences echoed throughout this book. I'd urge anyone with an interest in the topography or the history of the forest to delve into Ashon's work - along with those who are curious about just why the edge of this ancient woodland has inspired so many unexpected characters.
Posted in Reading on Sunday 18th December 2016 at 11:12am
---
Over the past few years, as my explorations of the Thames have taken me further and further eastwards, I've begun to appreciate the estuary in a different way. It's fair to say that, until recently, the wide expanses of flat empty land almost terrified me. The broad sweep of silver sky broken only by marching ranks of pylons seemed endlessly and bleakly awesome. But it has also always drawn me - the edges of London blurring into the post-industrial wastelands of Essex and Kent are curiously intriguing to me. Haunted by Joseph Conrad and Bram Stoker, and never far from the weird rural gothic of rural eastern England, these white spaces on the map of the British Isles dared me to fill them in with detail. Rachel Lichtenstein's account of her own curious relationship overlaps with mine, but her gaze is firmly eastwards. Having grown up in Southend-on-Sea where the broad mouth of the river opens into the North Sea, her fascination is strongest when considering the remote forts which stride ominously across Shivering Sands, or the treacherous muddy reaches which can strand a cockleboat for hours during slack tides. Those familiar with Lichtenstein's style will be comforted - she writes primarily about people in the context of place, and the social history of the river and shore is never far from the forefront of her prose. She finds the families who trace back their generations in Thames Barge pilots, the women who have lost husbands to the unforgiving tides, and the eccentrics who choose to live out on remote broken outposts in the river - whether for art or solitude.
A theme worming through the book is the impact of the vast Thames Gateway port near TIlbury. This is variously described to her as an imposition on the delicate ecosystem of the river and a necessary evil to keep the seamen and dockers at work, even in now greatly reduced numbers. The impact on the lives of fishermen and their families, wreck-hunters and navigators of the complex estuarial sand bars is carefully catalogued. The sense is that no-one really knows how it will change the topology of the river despite mathematical modelling and careful studies, and this is echoed in the uncertain future faced by the people who live beside it. Lichtenstein is careful to tread the documentarian's path here - she hears and retells the stories, but doesn't wholly pass judgement. The estuary has changed immeasurably over the millennia - and her book is just a sliver in time, describing the latest shifts and changes.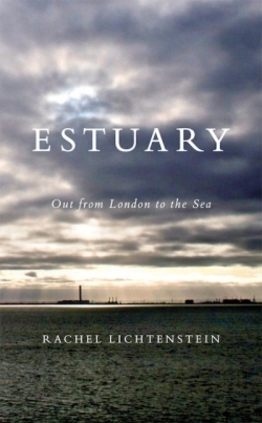 Early in the book, Lichtenstein notes that little has been written about the Estuary as an entity - perhaps because London draws the heat? She interrogates the few sources available carefully, weighing their sometimes quaint historical evidence against what she hears from those who currently live and work here. While it appears true that few factual accounts focus on the estuary, she engages with those who have woven it into their art - not least with Iain Sinclair who trails the river east in his meta-fictions Downriver and Dining on Stones. He joins her at Tilbury Riverside, the former port and railway station where immigrants from the Commonwealth and beyond would arrive in the UK and commence their journey west to London. Her work with Sinclair here - and in earlier shared projects - has been neatly complementary. His topographical and historiographical work meshing with Lichtenstein's social history - bringing his sometimes breathtaking and overwhelming occultism down to a human scale. Together here, they play off each other's interests - Sinclair considering the tide of humanity arriving on these shores, while Lichtenstein looks for eerie geographical features - the stranded masts of the SS Richard Montgomery are unpredictable, decaying fuses signifying the knife-edge on which the estuary sits: politically, culturally and environmentally.
For me, and for other topographical obsessives perhaps, the book feels incomplete - the sinister reaches of the Thames between Purfleet and Greenwich largely unexplored for example. But for Lichtenstein the work is complete - bookended by two journeys: one a dangerous excursion which makes its mental and physical marks on her, the second a redemptive but still incomplete unravelling of the first some years later. In that sense Lichtenstein's broad descriptive sweep and sometimes unfocused prose style are perfect - this is a reflection on a season of life where the estuary haunted her. It is a reverie and an exorcism as much as a social history. A book focused on this very territory was always likely to draw me in - and while covering such an ambitious sweep in a personal account like this didn't feel entirely satisfying, it's certainly one of the finest books written about this weird and remarkable part of Britain. Given how the blank Essex skies often feel like an unpainted canvas, I suspect that anyone who has walked the shoreline will only ever be satisfied with their own version of the estuary. For now, this is a fine proxy.