Posted in Computers on Sunday 26th September 2004 at 7:27pm
---
For a long time now, I've been wondering what to do about updating the two machines here. I wasn't entirely comfortable with the things I'd heard about Fedora Core 2, and the thought of following the current trend and installing something like Gentoo was not encouraging. My biggest limitations being my time, and utilising as much of the knowledge and as many painfully learned lessons from the last five years as possible. I also need my computers to be working, not 'works in progress'.

Enter Ubuntu. I'd read more and more intriguing reports of this Debian based distribution. I was attracted by its reported simplicity, the up-to-date GNOME installation, and the strong Free Software ethic at work. Today I finally threw caution to the wind and set about downloading and installing Ubuntu.

First off, I am amazed how much is crammed into the single installation disk. For your 510mb download you get a fully functioning GNU/Linux system, running GNOME 2.8, with Evolution 2.0, OpenOffice, GIMP and lots of other applications enabling immediate productivity. The install was pretty near flawless and didn't expose too much of the packaging system, or the complexities of the setup. There is, however an 'expert' mode which I didn't try. My two problems were easily tracked down - firstly a very old ISA network card which didn't like being asked to 'plug and play', and secondly some confusion caused by Fedora's previous partitioning. On a well set up computer which hasn't been messed around with by the likes of me, neither of these are likely to cause problems.

The default settings are usable but conservative. No unnecessary services are started, security seems pretty tight, and the boot straight into GNOME via GDM works perfectly. The default GNOME setup is somewhat modified from the standard, but in pleasant and useful ways. Having the 'Computer' icon and its contents collapsed into a menu is strangely usable, and the presence of gnome-system-tools made several of the tweaks I wanted to do much simpler. More packages are available via apt or the helpfully installed 'synaptic' GUI frontend. I added a couple of essentials (for me) such as nfs-common and ssh-server.

So, early indications are promising. If my experiences continue to be positive I'll spend a little time getting used to Ubuntu and then upgrade my desktop machine too. If you've got a spare couple of hours and a machine that needs an upgrade, I'd certainly recommend trying it out.

Posted in Computers on Friday 30th July 2004 at 11:22pm
---
By helping with the arcane syntax of the tar command, I won the honour of testing the BlueVelvet theme for GNOME. However, myself and fellow #lemmings soon noted that gnome-theme-manager did not do anything with the BlueVelvet.tgz file. Some poking around showed it moving it correctly to ~/.themes but not unpacking it, and silently failing to report this to the user.

Soon found myself poking around in the gnome-control-center and ended up supplying a patch which firstly deals with .tgz files correctly, and secondly gives the user a clue when things have gone wrong. Another rather paltry contribution, but slightly amazed to find myself motivated to do such a thing after months of feeling utterly incapable of helping in any way!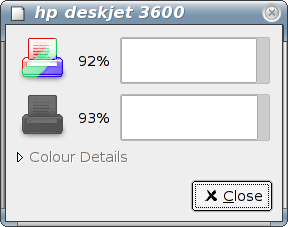 Posted in Computers on Monday 28th June 2004 at 10:45pm
---
With the printer installed, set to work on Inkblot, a GNOME ink level indicator based on libinklevel. I'd started work on this for FuzzyTheBear and his wife, on #lemmings, working blind and by guesswork having sold my printer some weeks previously. Seems that my guesses had been moderately good, since once built it worked reasonably well.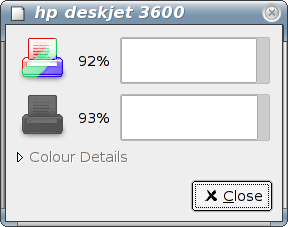 Did a little cleaning up, added support for separate Cyan, Magenta and Yellow reservoirs if present, and made a
tarball
of the progress. Next steps include some device detection and some minimal preferences (its currently hardcoded to look for a USB printer because that's what both Fuzzy and I have!).
Another project to fiddle with intermittently...

Posted in Computers on Friday 18th June 2004 at 10:16pm
---
Lots of new toys means lots of learning, and too little time. Despite some concerns people have expressed about Linux being "ready for the desktop", thankfully, things seem a lot simpler than they have been in the past. You have to wonder if another rather more popular operating system is "ready for the desktop", despite being on almost everyone's!

So, first off the new Olympus C-160 camera arrived. gphoto2 didn't seem to like it, so fell back on USB Mass Storage, which immediately enabled me to mount the camera via Nautilus and drag pictures around. Wonderfully simple, and much quicker than my old Kodak over a serial connection. Need to get out and test it properly now.

The long awaited mobile phone upgrade (a Sony Ericsson T630) also arrived yesterday. I also got a USB Bluetooth dongle, and have spent today playing with it. A little research and configuration has paid off. So far, progress is good. Have got two-way file sharing going. The gnome-bluetooth subsystem seems interesting, but I confess I've yet to get the phonemgr application working, but its been a long day!

Next step is more USB ports to accommodate the soon-to-be-delivered printer!