Posted in Railways on Saturday 26th March 2011 at 11:59pm
---
Despite its reputation as a rather gloomy, windswept locale, Holyhead has always been a special place in my railway geography. Early dashes along the coast with Class 37s, then later weekend escapes with a Class 47 hauling me back to Crewe. Yes, the locals changed over to Welsh TV when you ordered in the pubs, and the weather does swing from cold to positively baltic - but even so there is something special about getting to the end of the line, so to speak. On that basis this tour was always going to appeal to me - starting locally, a dash up to the North West to drop of the normals for shopping in Manchester or exploring in Chester, then along the coast for an hour at Holyhead. The novelty of being able to catch the first train from Highbridge to reach the start of a tour was today's initial excitement - would the train run, given that the railtour stock had been prevented from getting to Taunton by engineering? In fact, the timing was uncharacteristically impeccable and I found myself passing the tour stock at Bleadon, heading down to Highbridge loop to reverse - not more than a few feet from my front door in fact. Met some local folks - some rather unexpectedly - and chatted until the train arrived for our 06:42 getaway. Despite the presence once again of the dreaded "Green Knight" in the rake, most of the stock was pretty good. My coach was warm - rather warmer than I'd usually like - but it was a cool morning, and I could slip the window open a little. Settled in for the run up to Bristol and Worcester.
After rejoining the main line at Stoke Works, we took the Camp Hill route before passing through Birmingham New Street non-stop - not even a crew change here, unusually as we headed north to Soho for a detour around Bescot. Rejoining at Bushbury, we made good progress along the West Coast Main Line as far as Basford Hall Junction where we slowed to a crawl. As booked, the train swung left and began to skirt the western edge of the vast yard. A train full of enthusiasts craned their necks and leaned out of windows as we made a slow progress around the huge fan of sidings. At Sorting Sidings North we began to descend into the 'Muck Hole' to pass under the station area, the mournful rakes of Class 56s returned from duties overseas and now redundant above us at the Diesel Depot. Resurfacing on the Manchester lines, we had a rather stop-start run into the city for our first set down. The plan had been to use the 'ghost train' route to access Victoria, but a points problem at Heaton Norris had led to the junction being temporarily plain lined to keep services running until a repair could be effected. So, instead we ran into the main train shed at Piccadilly for a reversal. A loco hauled train is now a fairly unusual sight here, and we attracted a fair bit of attention!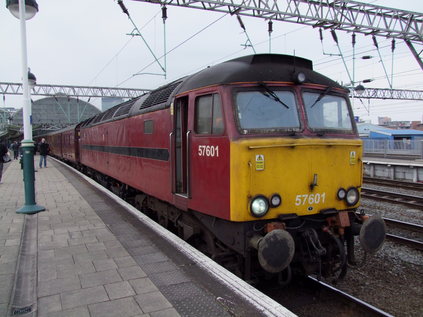 With 57601 now leading, the run along the coast lost a little of it's glamour. It was becoming very hot and stuffy in my coach, but the older folks across the bay didn't appear to mind this at all - and when I opened the window wider they pointedly cupped their hands and blew into them, and put on their coats. I dozed along the rather dull slow run via Mouldsworth to Chester before deciding to get some air at a droplight for the run through Rhyl and Abergele. Remarkably, despite a gloomy start to the day down south, the sun appeared to be coming out on the coast. Despite the 37s being on the wrong end of the train for my liking, the run was superb. Seeing the landmarks along the run again, including the rusting hulk of the Duke of Lancaster moored alongside the line was fantastic - and I was reminded why I loved this trip so much. Scenic in the sense of some classic journeys it probably isn't - but then over the years runs like the Settle and Carlisle have lost some of their glamour for me too. However, this one never seems to tire - and as we curved under Conwy Castle, I noted a good few lenses poking out of the windows too! It was particularly good to see a new generation of enthusiasts discovering the line and the classic loco-hauled trip along it. However, this also meant them discovering the delights of Holyhead - and on arrival in really unprecedented sunshine, they scattered to the bridge for that special shot over the fan of sidings, now empty except for the stock of a UK Railtours excursion to the Welsh Highland Railway. Got some shots myself before wandering around the station to see what had changed in the past year or so. In answer, not much - the facilities remain concentrated on the ferry terminal with the tiny buffet now closed and a larger facility providing refreshments. The sweeping steel bridge directly into the town centre seems to be a blessing, and a steady trickle of passengers made the walk in order to secure provisions or seek out the few pubs still open and recommended. I elected to find a spot in the sunshine, get a decent coffee and watch the activity around the station before heading back to the train for the return run.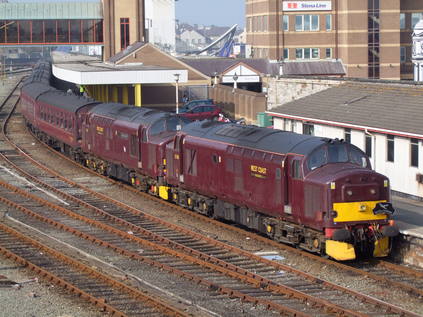 With the 37s leading, things were a little more exciting on the way back. Once up to speed and scudding across Holy Island, my neighbours once again asked for the window to be closed. This was frustrating as even from the back of the train, the noise the pair of engines up front was making was impressive. The afternoon remained bright and warm and with Summertime about to officially commence tonight, the daylight lingered fairly late meaning that we still had a little light as we left Chester and headed for Warrington. However, just as I was becoming impatient with the heat in the coach, the "Green Knight" saved me. As ever, the light and heat in there had failed, and with a full train Spitfire were doing their level best to relocate the passengers somewhere warm and bright. Sought out the organiser and offered my seat - initially thinking I'd end up with a whole bay in the "Green Knight" - not ideal, but without anyone else around possibly tolerable. Instead I was invited down into the staff BSK, where I found a comfortably warm but not sweltering bolt-hole in a fantastic old Mk I First Class compartment. Settled in for the run back via Manchester Victoria and derelict Denton, still open in this direction at least. Pleasant conversation and decent food too most of the way back which made the time pass incredibly quickly. All went well until we ground to a halt just after leaving Worcester. A points failure at Abbotswood Junction seemed to be taxing local Network Rail resources to the limit, and there we sat for some time. In my warm, dark compartment I was quiet happy to pass the time pondering things - what time would we get back, and would they have locked up Weston station by then? Just how would about 150 passengers climb over the fairly robust and rather fierce looking picket fence which now surrounds the station. Finally underway, and with a bit of a chase on the locos performed impeccably. We had to be out of Bristol around midnight, and with a possession closing the line behind us too it had all the hallmarks of a classic movie chase. After a spirited run south we made Bristol a little after midnight and made short work of the last leg to Weston. The delay wasn't ideal, but the resulting high speed run was entertaining. Another fantastic day out with Spitfire folks, with a classic route and fine traction.
Movebook Link
---
Posted in Railways on Saturday 19th March 2011 at 12:41pm
---
It's the second week of my brief run of self-arranged outings. I've grown to look forward to these, as while the round of railtours and Premier Inn's is usually entertaining, there is something of a back-to-basics challenge in the out-and-back-in-a-day trip to somewhere fairly distant. These trips stopped scoring me new track on a regular basis years ago, but they've allowed me to undertake a rolling programme of revisiting bits of the UK I'd otherwise likely not see, spotting the changes and being incredibly nosy. Today's trip repeated one which felt rather recent - but when I checked actually dated back to January 2006, when I used an equally bad pun on the town of Brigg as a title. The plan was to head north and take the Saturdays-only service via Gainsborough Central to Barnetby. I'd mentioned this a couple of weeks back to some friends who were also thinking about doing this on one of the good value "go anywhere on Northern Rail for ten quid" tickets which local papers had been advertising. So, after meeting some locals heading for a Pathfinder-hosted stagger around the Heart of Wales (not again, thanks!) I changed for the 07:30 at Bristol and enjoyed a quiet and pretty uneventful journey north to Sheffield.
The day was clearing and getting warm, which was good. However the trains seemed to have their heating set to 'bleak midwinter' mode, which wasn't so good. I'd also dressed for the 05:30 sea-mist cold I encountered outside my front door, not the oddly balmy north. Dozed quite a bit, and decided to strike out into Sheffield in search of a coffee shop I'd haunted before. Found it and watched people coming and going until the sun went behind the clouds, and I headed back to the station. Shopped a bit and wandered onto the platform for the 12:00 a bit early. Heard my name shouted from a distance and spied Eric and company heading onto the platform. True to his word, he was heading for Barnetby via the unusual route. Had a pleasant chat on the platform before piling onto the single-car unit for the long slow journey via Worksop and onto the rarely used line. The time flew by chatting with this decent group of gents out for the track, and we were soon arriving at Barnetby where they intended to spend some time with their cameras.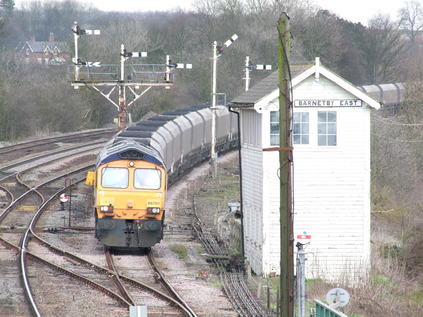 I however had to press on, so after viewing one passing freight and some further conversation I headed off on the 14:11 to Lincoln, travelling via Market Rasen - covered on a busy train during an All-Line Rover some years back. Today was much quieter, but the sun was back out and I was sleepy and hungry. Tried to rectify both on the journey, but soon enough I arrived at Lincoln in bright afternoon sunshine. Since heading out of the ticket gates would have caused a confrontation with the less than polite gateline staff, explored the cafe. It had been refurbished further since my last visit and had far less places to sit. Found a bite to eat and a reasonable coffee and wandered out into the sun, watching the surprisingly busy station at work. Next hop was onto a busy but still remarkably smartly turned out EMT class 158. Settled in for a very drowsy and warm ride to Nottingham - a flat, featureless route anyway. Contented myself with music, and an effort to spot remains of the Great Central Railway as we approached the city. Nottingham was basking in sunshine, and I decided to sit out my short wait on Platform 6, enjoying the warmth and noting how much happier it seemed to make people. Rather too soon the Birmingham-bound unit arrived and I boarded early to make sure of a seat with suitable legroom. Another fairly snoozy ride back to Birmingham where I found things in disarray due to a fire near the Wolverhampton line. Lots of cancellations and frustration - but mercifully not affecting my journey back. Headed for my specially booked Voyager seat and was forced - perhaps against my better judgement - to turf a very attractive young woman out of it. She tutted and wandered off down the carriage, but soon wandered back and harrumphed down in the seat in front, delivering me a withering glance as she did so. I managed a smile I hoped was soothing and pacifying, but I suspect was just gappy and tired.
My circle completed, I had a fairly quiet run back to Bristol where signal failures were delaying things, but only a little in my case. Mr Spinks alighted from his tour to join the same train back with tales of Llandrindod chip shops, and at last the train wasn't too warm. It had been a hot, sunny and successful day. Next week it's back to the charters...
Movebook Link
---
Posted in Railways on Saturday 12th March 2011 at 10:33pm
---
With a couple of weeks break between a flurry of tours and other jaunts, I'd been looking around for things to do for the next couple of weeks when this event popped up in my inbox. Essentially, this was a local charity event in aid of the Emmie Dixon Home in Crewe, which is a charity I found particularly easy to support given family circumstances. Working with Freightliner, the Heritage Centre would open it's doors and put on a bit of a show - the bonus came in the form of bus tours to Basford Hall Yard. However, it became clear long before the day that it was going to be a huge challenge to get onto one of these trips, as they couldn't start until 12:30 and would be restricted in numbers. In any case, set off early, coincidentally meeting up with some veterans of a previous, much bigger event in Crewe along the way. A fairly gentle trip followed, with the weather changing from threatening clouds to fairly warm greyness along the way. On arrival noted a greater than usual number of spotters on the platform ends, and a steady trickle of punters leaving the station for the walk down to the Heritage Centre. It was going to be a busy morning. A swift visit to Tesco for Mr Spinks to attempt some shoe shopping in case of being successful in an attempt to get on a yard tour, and then into the already impressive and steadily growing queue for entry.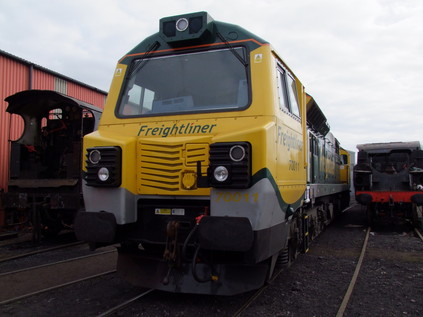 It was pretty clear from the outset that not all these people would make it to Basford Hall, and after a wander around the site we joined the queue in the hall for tickets. They'd started selling nearly an hour early, as the exhibitors and traders weren't happy about the growing line of people blocking their stands and getting in the way of business. The polite but increasingly anxious snake of people stretched twice the length of the hall, doubling back on itself and out of the door. Gave up, just before the tours finally sold out - with at least a further hundred folks in front of us. There would be other opportunities to get around the yard, and it seemed like a fairly quiet day there anyway. Instead, made a dash for the line at the burger van before that grew longer too. In the process, bumped into the irrepressible Eric and his merry band, veterans of many a Spitfire tour. Exchanged news and plans, and noted I'd probably be bumping into him a lot over the coming weeks - though he confirmed he had no plans for Anstruther in May!
After a further wander around the Heritage Centre site, set off for the station and a unit to Manchester taking in the Airport branch. It was my first visit since the additional platform had been opened, and it was an interesting jaunt despite getting unpleasantly warm on the train. Time in Manchester to visit Ian Allen's bookshop and to get a decent coffee at last, before heading back on a much swifter Pendolino, listening in to what seemed like a fairly complicated but clear-cut attempt at Fare Evasion unfolding nearby!
After a little while chatting lazily about what we'd missed during our absence from Crewe - quite a bit surprisingly as Basford Hall had all but emptied it's contents anyway - we boarded the unit homeward. While today hadn't gone entirely as planned it had been a sociable and interesting easy trip out. The charity in question must have made a huge amount of cash, and even the usually acerbic WNXX forums didn't seem to be too whiny about the sell-out tours given the cause. Rather like the tales of teenagers parties being mobbed after appearing on their social networking pages, this was a local event which went accidentally national - and raised a ton of money in the process!
Movebook Link
---
Posted in London on Sunday 6th March 2011 at 10:31pm
---
It's a rare privilege nowadays to wake up in London with time to spare. In fact it's been years since I've stayed with no pressing engagement early on, or a mad dash homewards to contemplate. So this felt a bit special. More so because I was in that liminal zone between Clerkenwell and Bloomsbury, the City Widened Lines rumbling just feet beneath me - and by definition the Fleet River not far away in it's anonymous culvert. It was also shaping up to be a bright cold day - the best kind for wandering around the city. I started by retracing my steps to Exmouth Market to survey the devastation I'd witness briefly on Friday night. Regeneration has wreaked a selective kind of havoc here - some buildings remain much as I remember them, shopfronts re-used by new sushi bars and boutique bakeries. Others have developed new, modern frontages with wide doors opening onto the cafe culture outside. There was much less sunday morning detritus than I recall too. However the great loss, the Sandwich Bar wedged into the awkward angle of Tysoe Street had definitely gone. Disappeared behind a hoarding advertising the very regenerative efforts which had swept it away. A union flag still draped in the upper window defiantly. I remember writing about the imagined tribulations of the attractive but always frowning foreign owner as I watched her from across the street in Starbucks, feeling guilty I wasn't spending my money in her establishment. Perhaps too many of us did that?
I pressed on into Clerkenwell Close. Here little has changed, and only the lingering afterburn of last night's chargrilling reminded me just how much this place has transformed into a destination for an evening out. When I last padded the streets, this was beginning - Clerkenwell had undergone its most recent shift from abandoned commercial zone into loft-living and media industry offices. Now it's shifting again it seems. This bothered me less, because this has always been a centre of change - a swirling eddy of people coming into the city and others being thrown out to the suburbs. I wanted to see how the reworking of Farringdon Station was affecting the landscape too, and I was perhaps unprepared for the extent of this. The western side of Turnmill Street was an endless hoarding behind which TfL were working their magic, a new entrance to the railway taking shape slowly. Turning into Cowcross Street, I noticed the entire beautifully tiled building which mirrored the station had disappeared. A new, oddly nude view across the gulf of the track had appeared. The station building remained, dwarfed by the portacabins and temporary structures around the new buildings. There was an access, but it was clogged with builders starting work for the day. I headed for more coffee to contemplate this odd rip in my memory of the area.
Further retracing my steps I decided to head for Euston via Theobalds Road and a walk across Bloomsbury's strange boundary lands. Along Lambs Conduit Street I negotiated clumps of tourists, unceremoniously turfed out of their accommodation at check-out time and wandering with their luggage, attempting sight-seeing where there are few sights of note in their guidebooks. For my part, the walk beside the Foundling Hospital and into Marchmont Street was full of familiar and unchanged sights. The street awake and busy on a Sunday morning in all its multicultural strangeness and incongruous comfort. Passing the inexplicably plush new UNISON building I entered a flustered and busy Euston Station concourse. I had a pleasurable afternoon spin up the West Coast to look forward too, but these downtrodden travellers appeared to want to be anywhere but here. Once again I felt a little guilty to be at ease against the tide.
Movebook Link
---