Posted in SHOFT on Sunday 24th July 2011 at 9:07pm
---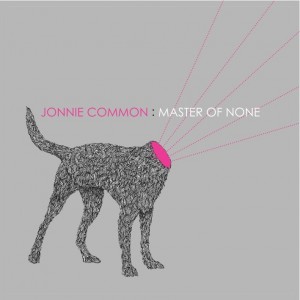 It doesn't seem long ago that I was writing about "Deskjob" and stressing the point that whilst it was many things - indeed many very fine things - it certainly wasn't a Jonnie Common record. This album however, is exactly that. And despite his long association with the Scottish music scene - most notably as part of Down The Tiny Steps and Inspector Tapehead - it is in fact a debut solo release. It's perhaps this itinerant personality which the title "Master of None" hints at - as a jobbing reworker of others songs, a reliable band member who can turn his hand to a range of instruments, or indeed any number of other associations, Jonnie's name seems to be everywhere at times. Except of course, until now at any rate, on his own records.
From the outset on the quiet "Heir To The Throne" the links to Jonnie's past work are evident. However, shorn of the complexities of a band, and left to his own devices it's a somewhat different delivery which follows. With a lyric which seems to hint at the lurid detail of the Kennedy assassination before exploring the genetic complexities of future fatherhood, this is a beautifully uncluttered tune constructed from vintage electronics and plucked guitar. On this opening track, Jonnie's voice is a low drone - but by "Infinitea" the tinkling percussion is hidden within a multi-tracked rant of a vocal which dips and dives around the melody. Jonnie seems at his most comfortable with this curious half-rapped, half sung approach which hints at both his own work in Inspector Tapehead and occasionally perhaps The Beta Band. Scots vernacular worn proudly on his sleeve, Common spits seemingly nonsensical couplets which resolve into perfect little haikus and curious observations with the sense of a living notebook or found snippets of conversation from people passing by. It fits wonderfully with the sometimes gentle and sometimes jagged tunes which are spun on "Master of None".
"Shogun" is perhaps a touch more traditional, a gentle ballad with a contrastingly violent lyric in keeping with it's title. There is a sheen of electronics, including some dashes of old-time Casio demonstration tunes among the jingle and jitter. Mid-song things break down into a strange carnival-tune interlude while a battle-scarred Jonnie wryly observes that "loving you is like a martial art". As "Hand - Hand" begins I find myself thinking of Chris Knox as it's constructed around a weirdly percussive vocal loop much like his solo work and some of the Tall Dwarfs output. Meanwhile a funereal organ sets up among a mass of fantastically self-indulgent bleeps and beats, while a gruff, distant voice urges "Sing for us Jonnie!". And then he's off again, the straight-outta-Fife rapping notched up a gear as he ponders environmental responsibility with "when I leave this planet/I don't wanna leave a mess" alongside a curious question about whether horsehair is obtained from living animals or corpses? I'm going to need to do a little research now, just to be be sure.
"Bed Bugs" keeps the lyrical pace up, as Jonnie delivers a full-on stream of consciousness rap among skittering electronic breaks and some pop licks which wouldn't have sounded out of place on chart hits from the 1990s. As a blogger who seems to have constructed this site around the weird interface between travel and music it's oddly satisfying to hear the rail service between two principal cities used to mark time and remind us how things rattle on despite our dramas, with the accurately noted "...but the trains keep doing it/Waverley to Queen Street every 15 minutes". There are more knife-sharp observations of life's strangely significant little moments in "Exit Stage Left", a short and uncomplicated tune built around a moody drone, crunchy static and lots of atmospheric bleeps. Jonnie's trademark ranting is imbued with a little hint of the monastic chant here too. If there is a sure-fire hit on this record, for me it has to be "Summer Is For Going Places" - a lazy, shuffling beat and a banjo with odd vocal samples looping through the ending. It's a lazy, summery swoon of a song about departures and homecomings, and it's one of the most assured vocal performances on the record too. The album closes with the epic "Photosynth", which was previously the star of a tiny 5" CD available at Homegame. Given Jonnie's pedigree, this is surprisingly perhaps the only entirely electronic track on "Master of None". Clattering beats, clunky old electronics and strange samples meld into a gorgeously warped backdrop. Meanwhile a stream of garbled lyrics trip out, often resolving into neat little sketches and impressions. Suddenly things fall silent for a minute or so, before a weird reprise arrives after a breakfast cereal commercial, based around the same beats with a truly low-budget keyboard finale. It's a fitting end to a strange, disorientating and unashamedly experimental record.
With "Master of None" Jonnie Common has pulled off an interesting perspective trick, as things at first seeming small and distant are delivered close-up and large as life. These songs, constructed from tiny fragments of sounds, of tunes and ultimately of lyrics, become much bigger and fully-formed propositions once they've passed through Jonnie's hands. The range of approaches here, from almost straightforward folk songs to electronic epics demonstrates the man's talent admirably, and with this context it's a little easier to understand his contribution to previous releases with which he's been involved. But on this first brief and refreshingly simple selection of songs on his own terms, it's time for the man himself to step out from behind the mixing desk and take a bow. "Master of None" is often charming, occasionally unsettling and always surprising.
Jonnie Common's "Master of None" will be available as a digital download or vinyl LP on 1st August 2011 by Red Deer Club Records. A pre-release vinyl offer includes a full immediate download, and a CD-R featuring an alternative mix of the entire album. The album will be launched at The Captains Rest in Glasgow on 31st July.

Jonnie Common - Summer Is For Going Places

Posted in SHOFT on Tuesday 19th July 2011 at 7:07am
---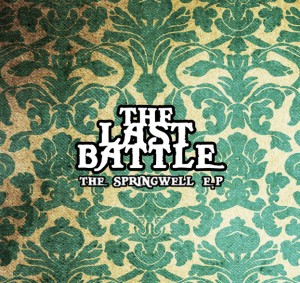 There is something special about finding a new band - or at least one that's new to you - and watching them grow, change and develop. There's maybe even that hint of dismay when the rest of the world cottons on to what you always knew. It's part of the obsessive and sometimes illogical life of a music fan, which of course I do all pretty much backwards there days. But there's no doubt The Last Battle have changed - and pretty soon the world will be cocking an ear if "The Springwell EP" reaches the audience it deserves. The clues were there on that sweaty night in the Smugglers at Anstruther, but I was far too caught up in seeing them play to be much concerned with the details. The fact is, this largely self-recorded and entirely self-released EP marks a seismic shift in the world of The Last Battle - away from their delicate, nautical brittleness and towards something altogether more robust.
The change is almost immediately evident on "Floored", a shimmery slice of sixties-style pop with an infectious staccato beat and a rolling tide of cello swoops. It also allows the twin vocal talents of Scott Longmuir and Arwen Duncan to shine through on the chorus, as they harmonise infectiously on the lines "punching, punching above my weight/out of breath on the ropes again" drawing out the boxing metaphor at the heart of the song. The song slinks and winds around the sturdy rhythm section, with Brian Pokora's guitar adding deft melodic flecks. If this is how the future of The Last Battle is going to sound, you'll get no complaints from me. It's almost unfair for me to comment on "Ward 119" because it's somewhere up there on my list of favourite ever songs, with the performance at this year's Homegame being one of my highlights of the weekend. Nevertheless, it's here - re-recorded with a full band treatment yet still as potent as its spare, rudimentary appearance on the "Ruins" single which seems like an age ago now. The hospital corridor drama played out over two short verses and a chorus retains all the tension and urgency of the original demo with the rough-edged emotion completely intact in Scott's delivery.
The laconic, regret-fuelled country pop of "Viv Nicholson" winds a tale of excess around a delicately picked electric guitar and a moaning cello. The curiously British story of the woman who won the pools in 1961 in the process becoming something of an early 'reality star' was still occasionally troubling the tabloids when I was a youngster, as she increasingly desperately tried to play on her now remote fame to claw back the money she'd lost back in the early 1960s. The story is given a sensitive and careful treatment here, delivered as a cautionary voice to Viv as she fritters away her win rather than harping on the more tawdry side of her life. The song develops with just Brian's fine guitar work and a gentle cello sounding through, while Scott and Arwen deliver the sad tale with all the poise of those masters of the fall-from-grace country narrative, Glen Campbell and Bobbie Gentry. It's an unusual choice of subject matter, and it shows a growing songwriting confidence in The Last Battle. "The Last Dance" begins as something of a return to The Last Battle of old - just a banjo and a wind-tunnel echo of a vocal - but then the rhythm section arrives in force and Scott and Arwen begin a duet on a brass inflected tune which is bursting with joy in direct contrast to the fatalism of the lyrics. There's a tiny pause filled with a distant police siren before the entire band wade in as a choir of voices, with brass and banjo accompanying a rousing campfire sing-along ushering the song through to it's fade.
It has been remarkable to watch The Last Battle quietly shape themselves into this current form over the course of a couple of singles and last year's "Heart of the Land, Soul of the Sea" album - which of course breezed it's way onto my end-of-year-list in 2010 with more than a whiff of whisky and seaweed about it's shanties and folky stomps. This new material shows a complete understanding of the concept of the pop song, and a grasp of just how the unique talents at play in the band fit into it. Happily it's all done on their own terms though, and there is no lack of the melodic, fragile folk influence which sparked my original interest in the band - it's just delivered in a more immediate and dynamic way. By subtly changing and growing hugely in confidence, The Last Battle have conceded nothing, but are surely going to gain exposure in lots of exciting new places. "The Springwell EP" is a fantastic place to step into the world of The Last Battle, with a clutch of life-affirming and hugely enjoyable songs and a real sense of the talent and range the band can deploy. However, given the distance they've already travelled since last year's album, I don't think they're going to stand still for long.
"The Springwell EP" is available as a digital download or a CD in a handmade sleeve from The Last Battle's Bandcamp.

The Last Battle - Ward 119

Posted in SHOFT on Monday 18th July 2011 at 6:07am
---
When I set out to write less about more I decided to pick on the single as the ideal target, but nowadays it seems the EP is a resurgent format. The relatively low cost of including a couple of extra tracks in a download-only release is doubtlessly attractive for bands who have lots to showcase, or perhaps just got lucky and have four great tracks recorded at the right time. However it poses it's own issues around quality control, and it's certain there are plenty of EPs around which would have made better singles. The urge to push more and more music out into the world to be heard is both understandable and sometimes commercially necessary, with the EP effectively replacing the 'demo cassette' of my youth, where bands would at least try to ensure there was at least enough material to give promoters some idea what they did on stage. So in the spirit of less about more, here are a few EPs which have appeared in the last few weeks in my inbox or wherever and which I find myself returning to regularly. It's also notable that an EP is often just about the perfect length to accompany my daily commute, which is always going to be a winner for me...
Plastic Animals - A Dark Spring EP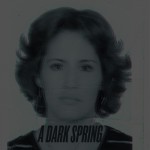 It's strange how sometimes one assumes that a band probably isn't going to be for you - maybe it's the name, or the track record of the person who recommends it for making suggestions which chime with your taste? In any case Edinburgh-based
Plastic Animals
have been tipped by so many people from so many different directions, I felt almost compelled to listen to this recently released EP. It starts rather bravely perhaps, with an lengthy instrumental introduction. It's brave because reckoning on the ridiculously restricted attention span of the average listener - myself included of course - coupled to the confines of the EP format, giving this much time to something which doesn't showcase the entire band sound is fairly unprecedented. But it's a delicate, engaging opening which swoops and crests like an "Albatross" for the 21st century - and on balance it hooked me in rather than switching me off, so perhaps the gamble paid off. A change of pace into "Green Light" which skitters and jangles around an impossibly catchy melody. The following "Gold Medallists" is a slow-burning indie-rock ballad, all
Beach Boys
harmonies and swoons of spine-tingling regret in the lead vocal. This EP is going to get some people all worked up about influences, but for me this scores extra points by taking cues from the
Cocteau Twins
and
The Chameleons
rather than much easier targets from the 1990s. "It Fell Apart" is a little more spirited with some genuinely fine, sparkling flange-heavy guitar playing and maybe a touch of the
Sarah Records
house-style deadpan in the vocals. It works itself up into a crunchy, chugging ending with layers of guitar tumbling in. In a seemingly growing world of drearily worthy and pompous indie-by-numbers acts, this is an honest, somewhat downbeat but perfectly executed gem.

Plastic Animals - It Fell Apart
Plastic Animals "A Dark Spring" EP is available from Bandcamp either as a download or a CD.
Pet - What You Building?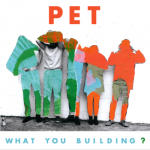 I'm not even sure quite where this came to my attention - through a chance email or a podcast perhaps - but I've found myself both intrigued and confounded by this rather odd record over the past week or two. I've also got very little information about Pet except that they're based in Edinburgh or thereabouts. The lead track here is "What You Building?" with its squeaky guitar strings, empty echo and cascades of keyboard. The lazy, soporific lyric oozes over the track while the simple melody and the question which gives the song its title repeat seemingly endlessly. It's a strangely hazy, occasionally rather sparse and frankly quite odd track. I'm not sure if this release properly merits the distinction of being referred to as an EP, since it's a slender three track effort on which "What You Building?" appears twice - the second time as an oddly dislocated but interesting remix entitled "What You Rebuilding?". But "Magnetic" is an entirely different proposition. Drenched in reverb, the urgent drum beat drives a curious low fidelity pop song firmly in the mould of Wire. Then it rather unexpectedly explodes into a tangle of feedback, overdriven angry guitars and oddly infectious harmonies. I genuinely can't make a huge amount of sense of this song, or indeed this EP, and I know shamefully little about the band too. But, I know I like this a lot and that I find myself listening to it with alarming frequency just now.

Pet - Magnetic "What You Building?" is available as a free download from Pet's Bandcamp.
The Atolls EP
This rather mysterious duo hail from Glendora, California - but they seem to be casting their media net far and wide, and I've noted their name cropping up in a number of places. Indeed, their origins aren't geographically far from the magnetic pull of the Inland Empire which consumed so much of my listening time a decade or two back in fact. However, this is a very different proposition - a set of four varied, carefully constructed but almost entirely brooding songs built around the unusual voice of
Daniel Martin
. Given
Martin
's sometimes mournful, pained intonations, it's no surprise that this is all pretty serious stuff with rather dark and self-immolating lyrics which are sadly somewhat contrived at points. But the overall effect is mostly pleasing nonetheless as "Low Tide" washes in with hints of
Codeine
style slow menace, before wandering off into messier, noisier territory with the tone set by the observation that "
people drown in less than a foot of water
". Cheerful it isn't, and the pleasant jangling pop of "Tangles" strikes a slightly more upbeat, anthemic tone musically if not lyrically. But like it or not, the eye and ear are instantly drawn to "Older Nazi Boyfriend" it's an absurdly silly title for a ridiculously great tune. Dirty, rough-edged pop-punk grinds and clatters along merrily, changing up and down the musical gears with evident glee. Shorn of the seriousness,
Martin
's voice becomes a punky yelp, which also fits surprisingly well. More like this would have tempered the gloominess of the whole package, and I can't help thinking might have been more fun for
The Atolls
to play. This is dark, sometimes too clever but pretty damn slick stuff which hints at an interesting future - especially if "Older Nazi Boyfriend" has some like-minded siblings in
The Atolls
repertoire.

The Atolls - Older Nazi Boyfriends
The Atolls self-titled EP is available at Bandcamp either as a free download or a physical CD.

Posted in SHOFT on Tuesday 12th July 2011 at 10:07pm
---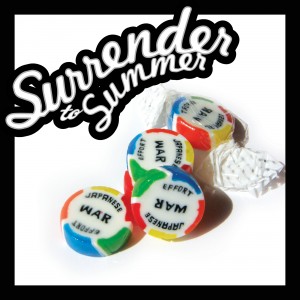 Summer isn't a great time for music in lots of ways. As the entire industry appears to decamp to the ever growing list of festivals and new releases dry up, somehow the general public enters a strange, collective stupor where only the most inane rubbish seems to be played as loudly as possible through open car windows. So to combat my seasonal prejudice, The Japanese War Effort had to produce something pretty special, and in conjunction with the sterling efforts of Song, By Toad records they've pulled off something of a triumph here. Firstly, I've got to mention how great this record looks. Sliding the disc out of it's sleeve reveals a marbled ten-inch record, pressed on opaque vinyl shot through with an explosion of colour not unlike a Damien Hirst splatter painting. The sleeve itself is a bold and rather stunning, a close-up colourful picture of tooth-breaking seaside rock - a packet of which accompanies each order. Once again I'm struck by how the physical artefact is increasingly important at this end of the market. The opportunity to own something that has thought, care and inventiveness at it's heart supplanting the immediacy of the 'having it first' iTunes culture which sadly guides pop music nowadays, losing the sense of anticipation of hearing new music in the process. To clarify the personnel here, The Japanese War Effort is effectively the solo vehicle for Jamie Scott - half of Conquering Animal Sound. Whilst on this record he takes a very different approach to that of his other project, there are threads of similarity which bind them together. However on "Surrender to Summer" there is a sense of experimentation and playfulness which makes it feel more like a low fidelity garage band than the crystalline otherworldliness of his work with Conquering Animal Sound. That's not to suggest anything sloppy or unfinished about this EP where every track threatens to develop into a miniature pop anthem. Some of them indeed do - while others meander delightfully off on their own terms.
Opener "Summer Sun Skateboard" is an air-punching call to arms - because, after all summer is for the geeks too. It's full of the pasty pre-sunburnt optimism you hear in airport departure lounges, with some strange lyrical twists and an almost absurd amount of things happening. But it sounds wonderful - constructed cleverly from a patchwork of throbbing bass, jittery effects and skilful flecks of guitar. Throughout, Jamie Scott's vocals vary from a distant distorted megaphone rant to a strange uncomfortably-close-to-the-microphone chant. By contrast "Beach Buddies" fades in with a shoegazey screed of guitars and reverb shrouded vocals. Swiftly joined by the trademark metallic percussion and organ drone, the song mutates into a rather melancholy lament before it finally finds it's anthemic sweep of an ending. This is possibly my current favourite on the EP if only because it's neighbour-irritatingly loud - certainly enough to drown out the distant thud from the car stereos in the traffic jam outside.
"Pool attendant" is the EP's risqué seaside postcard, beginning with a damaged Blackpool Tower Wurlitzer noise, which is soon buried in an stirring electronics. A squall of analogue synthesiser noise bounces around one of the more involved compositions here. After a flourish of keyboards, it ends with subsonic bass and Jamie menacingly whispering "I shouldn't be kicking kerbs over you quite so early". The low rumbling bass sticks around into the next track, and is joined by what sounds remarkably like an original Rolf Harris Stylophone on "Bucket and Spade". Embellished with a shimmer of electronics as Jamie intones quietly above the noise, I'm curiously reminded of "Drums and Guns" era Low with it's sparse, spacious menace. Finally "Yr Tanlines" closes the record with its swooping, gorgeous pop melodies dotted with disturbing squalls of noise and stabs of static. This is perhaps as close to Conquering Animal Sound as the EP becomes in terms of both sound and the construction of the track, but it's still worlds away from their more restrained other-worldliness. Discordant vocals repeatedly asking "ever felt so small?" over the layered sheen of noise and all too soon this oddly captivating record is stuttering to a close.
This EP is a loose collection around a theme, owing more perhaps to the humid, drunken British summer than any slick continental variant. It's always tricky when someone already known for their work elsewhere releases something on their own terms, and despite the day job of its protagonist, The Japanese War Effort material has a clear identify of it's own - strangely but ultimately successfully leaning more towards shoegazing, lo-fi noisy pop than straight-down-the line electronica in many ways. It's rare to find musicians who can live comfortably in several worlds at once without suffering a crisis of confidence, but Jamie Scott appears to be one of these. Coupling this playful, exuberant and inventive music to the beautifully conceived packaging and design, this becomes both a must have artefact and the soundtrack to the more discerning listener's fleeting British Summertime.
The Japanese War Effort's "Surrender To Summer" EP is available from Song, By Toad Records on resplendent coloured vinyl including a digital download code. Alternatively, it can be purchased via iTunes or Amazon - but in doing so you would largely miss the point, and indeed miss out on free sweets.

The Japanese War Effort - Beach Buddies