Posted in SHOFT on Wednesday 17th August 2011 at 7:08am
---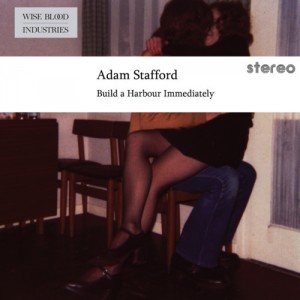 In my wilderness years where I was almost entirely out of touch with much in the way of contemporary music, I'd often find myself wandering around Glasgow and spotting that Y'all Is Fantasy Island were playing somewhere - everywhere in fact, as they popped up in every corner of the city at seemingly regular intervals. I often thought to myself it was a ridiculous name for a band, but a strangely intriguing one too. Somehow it stuck in my mind and I resolved one day to follow up on the instinct and check them out. Indeed a couple of years later I finally found myself devouring their albums and hoping I got to see them play at some point. I never managed to, as the band unfortunately went on indefinite hiatus somewhere along the line and finally, quietly announced their demise during 2010. Aside from some instrumental work for films, this is the first solo record proper by Adam Stafford - the songwriter-in-chief and creative force behind almost all of YiFI's rather fine back catalogue. Again though, I approached this with perhaps a little trepidation - some of Stafford's output in the interim has been challengingly experimental or downright contrary - part of what attracts me to his music I'm sure in some ways, but not always an easy listen by any standard. However what hooked me into YiFI over and over again was his ability to deliver strange, sometimes complicated stories in the space of a song, and "Build A Harbour Immediately" is full of those moments.
The first hint of how this album might sound came with "Fire & Theft" which was perhaps an impossibly easy choice for the single with its infectious, joyous pop and sinister undertones. In many ways this is the most YiFI-like track of the entire album too, with it's nagging, echo laden guitar hook running throughout. Touches of apocalyptic paranoia flit through the lyrics, sung in the weirdly chipper tone of the genuine fanatic, and topped with a curious sing-song chorus at the song's ending. It's a weirdly happy song which hints at underlying doubt and fear with it's "steely voice to whip your bones" a clue about what's to come perhaps? Meanwhile, "Cathedrals" is a gentler paced rumination on time, change and the complexities of relationships, taking a fairly oblique and perhaps longer view than the average throwaway love song. A duet of sorts, the complicated guitar parts are gently embellished with strings, which build towards a portentous but restrained ending. True to the track's name, it's hard not to envisage lofty ceilings, skyward swooping buttresses and shafts of light through stained glass with the atmosphere created here, while Stafford's voice occasionally drops to a low growl here before soaring to impossible heights in the chorus.
I remember an earlier version of "Police No Speech" surfacing on a compilation which was stark and empty, with Stafford's voice unnervingly close to your ear. This version is sweetened somewhat by background flashes of steel guitar and a female vocal foil, but it retains the sense of unease in it's genuinely disturbing lyric. The incongruence is disquietening, with the melancholy but delicate tune playing on as an uncertain but unspecifically horrifying tale unfolds - a break into a home by family members, grooming, burn marks on the stairlift, the smell of death and lilies. Just enough detail to make things uncomfortable, but not enough to sate curiousity - and here, in the techniques which deliver the spine-tingling chill of the best mysteries, Stafford's literary qualities shine through. Thinking back to some of the experimental post-YiFI work, much of this centred on Stafford experimenting with using his voice as the sole instrument. "Shot Down You Summer Wannabes" harks back to this having been a free single release a while back, and is entirely constructed from vocal loops with the addition of a strangely soulful lead vocal. It's a neat trick perhaps, because if this epic, almost-gospel piece had been recorded with traditional rock band instruments, it would have been all too easy to end up with an overblown and cloying outcome. Instead we have a fragile, strange and engaging song. The soul undertones persist into "Step Up, Raise Hands" which is one of those songs which should be a chart-topping hit in another universe. It's a surprisingly straightforward, but encouragingly low budget Motown stomp - but even here among exhortations to "dance like you're born again" there are the dark edges which mark Stafford's often baleful presence as he threatens to "force my face into the crotch of the monograph". A shredding guitar solo utterly defies the soul element for a moment, and I'm again struck by the joy of Adam's singing - his voice much more assured given the space and stylistic variation of these songs. This is absurdly catchy, instantly memorable pop music. It probably wasn't quite what I was expecting, but I'm damn glad it's here!
"Build A Harbour Immediately" drifts in with delicate, duelling guitar melodies - one on target, the other out of focus and off-key. Stafford adopts a Dylanesque drawl here, which is then manipulated and twisted to become am eerie moan. Meanwhile an operatic backing vocal keens and soars before receiving the same distorting treatment. It's a strange parody of prettiness - an uneasy form given to familiar elements. Likewise, it makes virtually no sense at all to describe something as an 'acapella instrumemtal' but that's exactly what "Frederick Wiseman" is. On the surface, just a shimmering chorus of looped backing voices, doubling and building until a swooning lead vocal soars over the backdrop. Eventually the voice falls away, leaving the chattering loops to decay into sinister whispers, which remind me of the highly dubious Electronic Voice Phenomena that all the best ghost hunters claim to receive. Not for the first time on my eerily quiet morning train I find myself looking over my shoulder down the empty carriage. The preponderance of the word 'crystal' in band and song names just now is odd, but here it is saved to appropriately describe the epic closing soundscape of "A Vast Crystal Skull". Issued in with a suitably shimmering, brittle opening things develop with a cinematic, road movie sweep. I first heard this track on a slightly miserable tilting run up the Clyde valley, with dark skies with fast moving silver clouds casting shadows on the valley floor provided curiously fitting scenes. Given space and freedom again here, Stafford's voice dips and soars, arcing over the atmospherics, most particularly the uplifting sweeps of slide guitar which spiral skywards.
The revelation across all of these varied and complex songs is Stafford's mutable, often powerful and hugely versatile voice. in the confines of YiFI it seems Adam often had a little less space to explore this, as he was forced to up the pace to match the harder-edged sound they began to develop, losing some of the finer vocal qualities. However, on "Build A Harbour Immediately" it's given free rein to twist oddly, whisper strangely - and sometimes to just belt out a soulful tune. This collection of songs is almost disconcertingly diverse, often lyrical and packed tight with ideas which threaten to burst out of the songs which contain them. Close to some of his finest work here, Stafford is a remarkable songwriter capable of delivering chillingly observed and sometimes far from easy-to-digest stories, whether in the shape of tight, literate pop music or the more expansive and experimental elements he employs. I get a feeling that this going to be one of those releases which ends up all over the end-of-year lists.
"Build A Harbour Immediately" is available as a digital release and a limited edition yellow tape now from Wiseblood Industries. It will receive it's official launch on 20th August at Stereo in Glasgow, alongside Paws, Miaoux Miaoux and Mondegreen at "Ayetunes vs. Peenko 4 - The Revenge". You can also find the entirety of YiFI's output in a single download costing absolutely nothing here.

Adam Stafford - Police No Speech

Posted in SHOFT on Friday 12th August 2011 at 11:08pm
---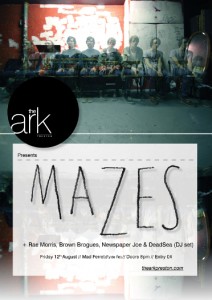 The reasons I ended up in Preston today are complicated - suffice to say it was never my intention to be at a loose end in Lancashire, and searching for something to do on a Friday night. Having wandered around town a little earlier, and experienced the usual sense of menace and desperation that the weekend in reasonably sized towns seems to bring I almost wasn't looking forward to heading out this evening. But taking the break in the almost week-long shower of rain as a sign, I decided to shuffle out into the humid evening in search of tonight's venue. True to form on this odd evening, The Mad Ferret is indeed a curious spot. On a corner opposite the University sits an old fashioned boozer, a single awkwardly shaped room with a fairly spacious stage tucked away at the back. In a neat touch each window blind has a classic album cover screen printed onto it - so as the room switches from pub to venue, with a bunch of punters complaining bitterly at being asked to part with the fairly reasonable sum of four pounds to remain in their seats, the 'Screamadelica' and 'Unknown Pleasures' blinds nearest to me are drawn down and things get underway.
Events begin with Newspaper Joe - also known as Andrew Lewis - a songwriter with a guitar, in what could easily be a noisy room. He starts to play gentle, strummed chords and begins to sing in a voice with plenty of rough, Lancashire charm. To be fair, some of the lyrics feel a little overworked, but it's evident that the guy is sincere. Amazingly, the audience are rapt - he clearly has a few friends in tonight, but there is a degree of respect here just for getting up and hammering out his tunes like this. Place seems to be important to Newspaper Joe, as strong geographical threads link their way through the lyrics, and to a soft southerner like me there's a little amusing local colour in songs which coin sayings like "there's more than one way to skin a cat". It's of course more than possible with his voice and acoustic guitar that comparisons could be drawn with those Oasis b-sides which always bored me to apoplexy. But just to ensure his influences are clearly laid out he turns in a surprising and very neatly managed cover of the epic "Opus 40" by Mercury Rev. As cover choices go, this one shows a breadth of influence and awareness that takes Newspaper Joe way beyond local comparisons, and sits comfortably alongside the other reference points he touches on. Andrew has a humble and often amusing stage presence too, which keeps the audience hooked during the between song silences. All in all, this is a fine set from a clearly popular local gent. I'd love to hear more, particularly as I understand he plays with a band too on occasion.
I'd heard whispers about Manchester's Brown Brogues before this evening, and having had no time to even grab a swift listen on the web today, wasn't entirely sure what I was getting - except that it was likely to be pretty noisy. As purveyors of sonic terror go, the self-effacing pair who took the stage didn't look the part at all. Terrifyingly young and a little nervous maybe, they launched directly into their first song. It was a swampy mess of distorted guitar and vocals swallowed almost entirely by reverb, all delivered over a primal, thunderous drumbeat. The audience, who'd drifted away a little after the remarkably polite attention they'd showed Newspaper Joe were suddenly back in front of the stage. This felt very much like the strain of punk rock which tumbled out of Olympia and Seattle in the late 1980s, largely inspiring the advent of grunge. At times it was perhaps a little too relentless, and for me there was an inevitable comparison with noisy duo Bronto Skylift, but without the tricksy jazz rhythms and solidly embedded tunes they provide. However, on the whole this was rough, filthy and excellent stuff. The Sub Pop and K Records back catalogues were unconsciously plundered and reinvigorated for an audience too young to remember - let alone the band, who introduced songs by yelping incoherently into the wildly distorting microphone. The short but packed set was full of sometimes incomplete, often vicious bursts of noise, occasional blasts of impromptu blues and lots of whooping and howling. Incredibly good fun, and a band who are going to do just fine among the current slew of bands who are making an unexpected splash by playing low-fidelity, noisy pop.
With my ears ringing and the crowd now filling the awkwardly shaped Mad Ferret almost completely, what followed was an odd bit of scheduling, as the hyped throng tried to adjust to Rae Morris's much quieter and more considered set. A simple enough proposition, just a girl and her keyboard - albeit someone with an incredibly powerful and character filled voice which occasionally hinted at the strange vocal antics of Rickie Lee Jones. Through a short but assured set of original material, Rae stunned an excitable room full of people into respectful, hushed appreciation of just what she could achieve with her vocals and piano playing. It's a terrible cliche in one sense to describe the quality of a voice by it's range, but Rae manages to shift from alluring whisper to outright howl within the space of a note or two, whilst producing intricate accompaniment on the piano. She clearly had a lot of fans in the audience too, hailing from nearby Blackpool and playing regularly in the area seeming to have built something of a following, alongside various recent radio and festival appearances over the summer. Between songs and cutting a slight figure on the stage, Rae was quiet, enthusiastic and somewhat humbled by the turnout and the warm reception - she also seemed somewhat impressed by the racket Brown Brogues had just made too, and I couldn't help but imagine what fun a collaboration might be! I still think it was an odd choice to put Rae Morris on between two noisy, more energetic bands - but despite the disadvantage this put her at in some senses, she was a consummate professional and turned in a very well received set which hugely pleased the local audience.
So much appreciated was the local talent tonight, along with the clock ticking past club opening time, that the room seemed to be emptying a little when Mazes finally took to the stage. A geeky looking three-piece which some wag compared to "three quarters of a University Challenge team", Mazes origins include London, New Zealand and Lancashire - making this as much of a hometown gig as any other might be for them I suppose. There's something appealing about the format of the trio too - guitar, bass and drums are pretty much the least you can get away with - though Brown Brogues might argue otherwise of course. Mazes use this basic set up to startlingly good effect, ripping directly into a set of hazy, summery pop tunes drenched in distortion and fuzz. Showcasing material from the recent album "A Thousand Heys" and just back from a US tour, the band were pretty slick and rattled out the songs, one after another in tight, choppy bursts with a minimum of banter. I'd almost shied away from Mazes and a number of other bands of their ilk because of the inevitable Pavement comparisons - and while I can hear them in there somewhere, there is certainly something more going on here - brusque blasts of noisy pop are shot through with sinuous, eastern sounding, wheedling melodies - recalling Pond or maybe Polvo if we're going to insist on "p" bands from the 90s here. Yes, it's all very lo-fi but it's almost stupidly catchy, linking good old fashioned 1950s pop songs to the fuzzy indie-pop of the 1990s - missing out all that unnecessary psychadelia and prog nonsense along the way. Sometimes Mazes sound like Dinosaur Jr but at other times they become a distorted skiffle band. It's a shame that more of the Mad Ferret audience didn't stick around for this because it turned out to be a set full of unashamedly noisy, distinctly unpolished pop gems which sometimes threatened to disintegrate before changing tack entirely and heading off in different directions.
Shuffling out of the sweaty atmosphere of The Mad Ferret into the chilly, damp evening I was struck by how quiet this part of the city was at night. It felt like quite a long walk back to town too, despite hearing the screaming, yelling and thudding beats from some local club in the distance. Nursing my foolish prejudices, I confess I thought Preston was the last place I expected to find much of a local music scene, and certainly I was surprised just how strong the support for the local acts was tonight. A strange venue, a strange town and a strange mixture of acts - but ultimately a night of interesting revelations.
Mazes debut album "A Thousand Heys" is available now on Fat Cat. You can read more about Rae Morris at her website. Brown Brogues are a little more elusive, but have a Myspace page and will be appearing at The Electric Circus in Edinburgh on 26th August courtesy of Song, by Toad.

Posted in SHOFT on Sunday 7th August 2011 at 3:08pm
---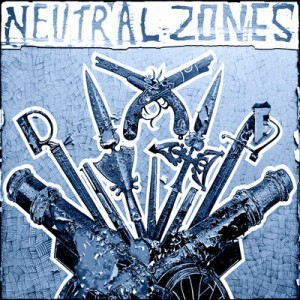 I'm sometimes rebuked for overlooking what's happening in my local music scene in favour of things further afield. It's probably a fair comment, but the mind-numbingly steady diet of tribute and covers bands here, and a disappointing lack of ingenuity in those playing their own compositions (with some notable exceptions of course) doesn't really inspire me hugely. However, there is one local act which came to my attention a while back via their Fence connections - but who I've hardly dared to write about. However, perhaps now it's time to consider the perennially complicated, often bewildering but never dull world of OLO Worms? The basic premise is four gents from Bristol who individually appear to have a wealth of talent including music, painting and cinematography among a great deal else. Alone they could all probably be fairly interesting artists in their own right, but together this creates a multimedia cultural behemoth which simply refuses to take itself seriously long enough to cement its form. Patched together with a love-hate relationship with popular celebrity culture - and particularly British TV - this creates a curiously dizzy, mildly disturbing world view which is somewhere on the spectrum between psychedelia and psychosis.
This release is part of "Poloroids" - a series of three snapshots of as yet incomplete projects. Each has been delivered in a very limited physical release numbering just a handful - the first buried in pots of earth and the second hidden in the stock of a local second-hand music shop on Record Store Day. The third however is a little bit special - three lucky winners will have their portrait painted by the band, with the music concealed on memory stick and embedded within the papier-máché proboscis of the resulting painting. Thus, these chosen few, should they wish to play the music they've acquired, will need to very much literally cut off their noses to spite their face.
This is all of course a refreshingly clever and entertaining take on the complexities of the post-digital music industry - but what is the music like? I confess I'd assumed until fairly recently that this would be equally bizarre in nature, very much a part of the extended artistic statement. However, tempting though it would be to dismiss this entire project as a novelty or a stunt, this is actually pretty incredible and weirdly compelling stuff. Firstly "Badge" is introduced by odd sub-sonic bass tones before distubring and disembodied voices begin to echo around the mix. A strange melody forms, built from what could easily be the screeching of a dental drill, warped and twisted through the OLO Worms' compendium of bizarre electronic trickery. A glacially paced beat supports things, as more yammering voices join the fray and a quietly unnerving misanthropic rant is uttered. This is genuinely disturbing stuff - and definitely not to be listened to in the dark. In strange ways it has more in common with the sluggish grind of some of the darkest metal than it does with other forms of electronic music. As the track shimmers away into silence, it's impossible not to reflect on the odd but compelling nature of what you've just heard. Meanwhile "Neutral Zones" is a quieter proposition, but what it lacks in volume is entirely exceeded in its sinister presence. A brooding rumble with strange flecks of inverted percussion provides a cinematic backdrop to a surprisingly straightforward and appealing vocal. There are hints here of Silver Columns on a serious opiate-induced comedown, more "pissed-off" than blissed-out, but still strangely resilient and defiant in the face of utter miserableness. Then the entire track starts to mutate before ones ears - a low, warbling drone sets in to replace the vocals while curious jittering electronic pulses and synthesised voices dance their way to the end of the piece. This is a dark and claustrophobic release which leaves you questioning your own sanity, let alone that of its clearly unhinged but highly talented creators.
I'd urge you to listen to this complex, unsettling but weirdly satisfying music, and indeed to experience the videos which feature the trademark off-kilter, zero budget OLO Worms dressing-up fun to accompany the sounds. I can't promise you'll find more of the same out there - because almost everything which this bunch of odd but entertaining folks get involved in seems to end up sounding different to anything else I've ever heard. That is, in itself, an excellent reason to join the bandwagon.
You can find all kinds of bizarre, confusing and ultimately entertaining OLO Worms related media on their website and via their blog on Tumblr. I've yet to determine a way of actually purchasing or otherwise obtaining "Poloroid #3" aside from being one of the three recipients of the physical release, however you can enjoy the tracks in audio and video form at the sites above.
Various OLO Worms will DJ at FOUND's upcoming show with Rozi Plain and SJ Esau at the Louisiana in Bristol on 6th September. This also serves as the opening night of OLO member Heinz Junkins's art exhibition in the Louisiana basement.

Posted in SHOFT on Friday 5th August 2011 at 10:08pm
---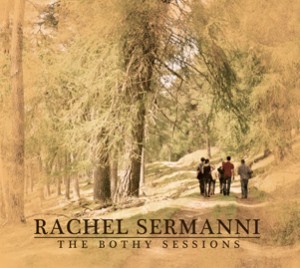 It's always great - not least for people attempting to write about music - when a record has a story behind it. And this debut EP has an incredible one - Rachel Sermanni invites her musical colleagues to a tin-roofed Highland bothy she recalls from her childhood to record some of her songs. She's not really sure who will show up, what instruments they will bring, or quite what they'll record when they get there - but somehow, through a chance assembly of people and place, these songs emerge. Listening to Rachel speak on stage about her songs, about writing and about what inspires her it's pretty clear that she's unlikely ever to take the simple or straightforward path when there is a more interesting one to investigate.
The EP opens with "Waltz", just Rachel's voice and guitar to begin - a simple, almost gentle approach as the unhurried accompaniment seems to drift self-effacingly into the song around the second chorus. Every click of the strings, every swish of a brush over a cymbal is audible in what sounds like an entirely live take. Soon, there is a lot happening - all kinds of instruments vying for time and entering and leaving the song, including what a bit of research indicates is a Chinese flute known as a hulusi. But, above all of this, that impossibly fine voice swoops and dives around the instrumentation - occasionally almost dropping to a whisper before rising again to clear, strong high notes in the chorus. A similar pattern of guitar and vocals starts "Pablo's City", and I'm suddenly struck by an echo of Iris DeMent in the sparse, honest vocal delivery and phrasing. But then things change completely - an unexpected swoon of slide guitar and some nifty jazz drumming send the song spiralling back to the era of the Charleston. However, under the bursts of musical exuberance the lyrics are dark and uneasy - "I have broken the arch in my soul/I keep pacing these streets like a hungry animal". A scrape of well-placed, achingly sad fiddle, and suddenly things transform again with a blaring trumpet solo and a ridiculously joyful tempo-shift. This is a sprawling, sometimes confusing song - but it's also utterly compelling and demands attention as it switches back and forth between a gentle ballad and a swing tune. In total contrast, "Little Prayer" is a tiny, perfect and precise minute of just a picked guitar and vocals. This is perhaps closest to how I remember the momentous performance at Homegame which held the Erskine Hall utterly spellbound as these small-scale but curiously literary stories were spun in front of us all. From the tiny to the epic, as "In The Hollow" closes the record with a return to the theme of dancing which opened the record - but now the dancer, uncertain and somewhat hopeless in "Waltz" has become a fiercer, headstrong creature. Perhaps the most traditional composition on the record, it's a final chance for the singer's voice to take centre stage with a remarkable and affecting performance. It closes with a strange cacophony of instruments, and you can almost hear the rattling tin roof of the makeshift bothy studio.
This is perhaps far from the perfect or polished debut record which might have been expected from Rachel Sermanni given the huge grassroots interest and media exposure she's seen over course of the past year. It is in fact a melancholy, often pitch-dark set of songs with few happy endings and a surprising undercurrent of frustration and discontent. Musically too, it wears it's imperfections openly - as instruments reverberate loudly in the uneven spaces of the bothy. Scrapes and shuffles usher in the accompanying instruments, which sometimes start quietly, almost provisionally before finding their feet. The building and it's atmosphere seem to be in the very bones of this music. But perhaps that's just how it should be - the EP documents a special night, a step along the road for an incredible talent who is still exploring possibilities. Seeing where Rachel takes this next is going to be an intriguing, and I suspect far from straightforward journey.
"The Bothy Sessions" is available on a limited edition of 750 signed CDs via Blue Apple Music.

Rachel Sermanni - Pablo's City