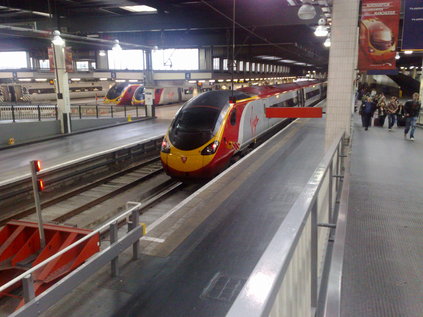 Posted in Railways on Saturday 18th October 2008 at 10:49pm
---
I think, following years of what some would say was wasted time and effort, I've covered most of the mainland UK railway network. Certainly, almost all of the bits which are in regular passenger use - alongside a good deal of the parts which aren't. However, one significant bit of track remains unmarked in my atlas - and it's not some obscure freight-only byway at all. It's a fair sized chunk of high-speed electrified railway between Colwich and Stone, in effect the quickest way from London to Manchester. The problem is, it's only useful for trains between these two cities and it's not strategically placed for diverted trains elsewhere. So whilst this railway sees a fairly intensive service each day, someone tucked away down here in the south west is very unlikely to ever need it. So for my extravagant and somewhat desperately last-ditch trip this weekend I set out to cover the line. But it didn't quite work out as planned...
Started early, feeling suitably relaxed about the day ahead but rather desperate to make it count in the familiar 'end of a week off work' way. Short hop to Weston for the Voyager to Birmingham, which is a useful train again now the summer alterations are a distant memory. However, the diversions via South Wales were still in operation, so this took a little longer to get to the Midlands but provided stunning misty views across the Severn Estuary. Dozed and settled back to enjoy the early part of the day. Time to browse the shops, get coffee and generally wander around New Street station a little before heading for my next train. Despite the inconvenience and poor design, this place is oddly and comfortingly familiar to me. If I don't go this way for a little while I rather miss it, and I've spent a few Sunday mornings drinking coffee here and watching the world wake up as Saturday night's bedraggled clubbers head home. Next part of the trip is also familiar territory, via Stoke to Manchester. I've spent a fair bit of time on this line lately, and whilst it's not perhaps the most interesting trip, the promise of an arrival at Piccadilly is always pleasant. It was during this part of the trip that I realised that I was passing rather more southbound trains than I'd expect between Stone and Birmingham. This could mean only one thing - in my haste I'd miscalculated, and I wouldn't be getting my last mainline today.
The upgrade programme on the West Coast has been going on for so long, and is somewhat remote from me so I confess I do sometimes lose track of progress. Only the high profile problems at Rugby and various bits of information of railway interest really sink in. So when planning my trip and pre-booking tickets, very hastily I might add, I thought I was onto a winner with a Manchester-Euston service which called only at Stoke, Milton Keynes and Watford Junction. On any other day I would have been, but not it seems today. After a brief wander around Piccadilly, boarded my train for Euston which seemed very lightly loaded, though in fairness it was sharing customers with a Euston via Birmingham service on the adjacent platform. Settled in for the smooth and swift ride down through Staffordshire, hoping for a left turn at Stone, but of course turning right instead. Since my primary objective had failed, decided to just enjoy the trip on a bit of line I see rarely enough. The route too was interesting, and would have been more so had much of it not been covered on last Wednesday's tour! Freight lines from Portobello Junction to Bescot, then via Aston and Stechford where the mainline was regained and we sped through Coventry and Birmingham International towards London. Rugby remained a mess, seemingly having new platforms everywhere but little concourse to link them together. Soon at Euston which still retains a little of its 'mysterious big station' feel to me despite its modern appearance - perhaps because I use it less often that other London Termini?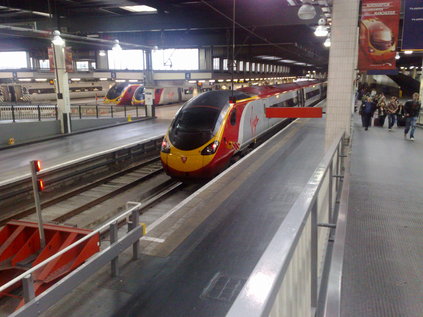 I amaze myself with the nonchalance which I display sometimes in crossing London. Out of the station, short walk to Euston Square and into the tube. Familiar ground, walked almost unconsciously now. Part of my stomping ground when in town almost! I think of people who tell me they're nervous of making this kind of transfer, and while I can understand it perhaps I take a different view - enough is familiar in the railway world's customs and practices to make even the most challenging transfer a little easier. Except of course when I'm confronted by a flight of escalators! Off at Paddington, and aching knees dragged over the bridge and up the stairs to the mainline station. Soon on board the HST bound for Bristol - again, an almost weekly occurrence just lately.
So my last mainline remains unmarked, but I've done a huge circuit of the country and enjoyed a day on the rails. Perhaps I'm a little more reflective given the impending Birthday (which is never easy) or the fact that I'm struck by the huge amount I've travelled recently. In either case, I know that trips like this is a fantastic way to relax and get me thinking, neither of which happen nearly often enough.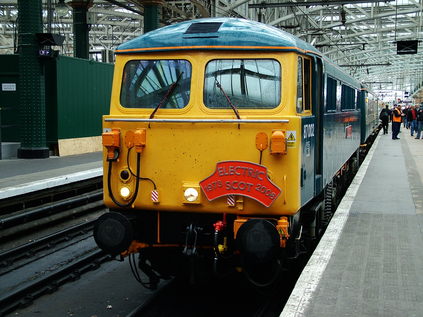 Posted in Railways on Wednesday 15th October 2008 at 11:53pm
---
Despite a lazy, holiday feeling over the last few days I woke on time and stumbled up the steps to a quiet and chilly Wolverhampton station. The plan was to get a London train down to Birmingham International in order to start todays tour a little earlier and maximise my mileage. Picked up the surprisingly busy 0615 for a quick run down, and arrived to find 87002 at the head of a rake of pristine blue and grey stock, with photographers fussing all over it. Decided that in the pitch black of the early morning I didn't stand a chance at getting a decent shot in the crowd, so went in search of coffee, getting stuck in the queue behind a particularly uncommunicative bald brummy fellow who hadn't grasped the basics of commerce yet. Once I'd stocked up with caffeine, joined the train and settled in for a very slackly timed run up to Wolverhampton via Stetchford and Aston.
Once off Wolverhampton we started to make some excellent progress, and the locomotive performed perfectly. Today's route saw the Electric Scot take it's traditional path along the West Coast mainline, which meant pick-ups at familiar spots along the way. Preston reminded me of the last time I'd caught an electric loco hauled service to Scotland - which seemed an awfully long time ago now. On that occasion I'd been on one of my ill-fated jaunts to Glasgow to introduce someone to the attractions of the dear green place, which never seem to go well. Today though, I had no clear plan for my time in the city. A late retiming had given a full five hours, which felt too short to immerse myself in the place, but too long to lounge around the station in the railtour tradition. The climbs and curves of the line testing 87002, we headed north into Cumbria and some of my favourite parts of the railway network. A signal check and some engineering work meant a standing start for the climb up to Shap which showed that these locomotives were far from life expired. Passing three of them kitted out and painted for their export to Bulgaria on the way through Crewe was a sobering moment, and reminded everyone just how lucky we were to be able to make this trip today.
On arrival, joined the slightly temperamental crowd of passengers and locals clamouring for pictures of the loco, before heading to my first, familiar stop for coffee on Renfield Street to wait for the rain to stoip. After getting my bearings, and genuinely thrilled to be back here again so soon, set out to walk. Normally I wander, but the idea of needing to be back at the station in a few hours to head home was strangely pressing. Thus, I made quick progress, winding myself in the ascent of the hill and plunging into the Strathclyde University campus. With the sun now shining a wintry silver, the pathways were strangely glowing as I trudged on towards the Cathedral, before swinging south again in search of Rottonrow. The plan was to find out what had been done with the former Maternity Hospital site - once a sombre, rather forbidding building with a few tales to tell and not all happy. Now obstetric services had been transferred to the larger general hospitals the site had been given to the University, on condition that parts were preserved. I confess I'd not followed the story closely, and I'd meant to make this wander into the knot of halls of residence and university departments for some time. On the corner of Rottonrow East - the street now being divided by more halls - I spied a sofa, abandoned at the back of a residential block since the summer, now growing a covering of moss. Intended to investigate, but an employee of the university having lunch in his truck was taking a little more interest in my activities than I was comfortable with. Pressed on, using stairs and walkways between buildings to follow the route of the ancient street as far as possible.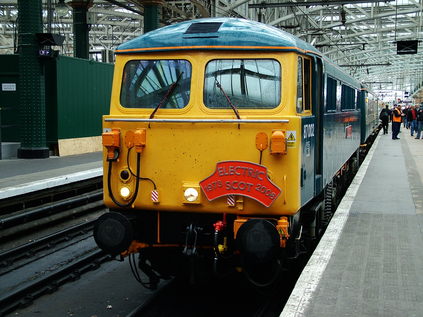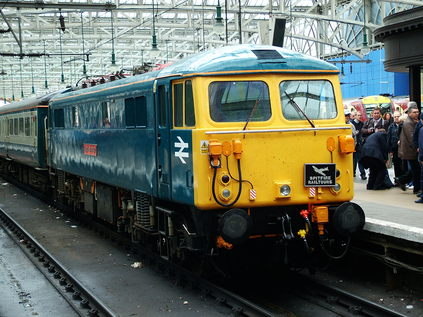 Finally found my target, and with some dismay I noted that very little had been preserved at all. A single entrance arch stood forlornly on the corner of the steep site, with a rather pointless stepped garden falling away to the city. A humourous, but ultimately rather unlovely sculpture reminded the passer-by of the sites heritage: a giant, gleaming nappy pin. Unable to get a picture of the arch due to the glaring winter sun, walked the perimeter of the site and found another part of the building retained, a small group of arches now deputising as a shelter, their tiled ceilings now falling. I didn't like what had happened here, and felt uncomfortable with the way the site's heritage had been treated in such a haphazard and foolish way. Time to press on into the city to complete my circuit. Soon found myself back at the station, with provisions for my onward journey and looking forward to the run back.
The crowd was growing rather restless adjacent to platform 11 - from which tours almost inevitably depart, as the clock ticket past 1820 and no stock had arrived. The arrival of an Ayr train in the platform made things even more uncomfortable. Being a midweek tour there was a fair mix of cranks, normal folk on a day out and older people who were perhaps less familiar with the way these things had a habit of becoming farcical. This made what happened next even more confusing and difficult... In short, word began to circulate that 87002 was on fire. This was swiftly followed by a message that everyone should go to Motherwell where the train would start. No official word though, and it was an uncomfortable few minutes with the next likely service down on the Low Level platforms getting closer to departure. Finally the cancellation was announced and the entire contents of our tour plunged down the stairs and attempted to board 318267. Squeezed in, and watched with some dismay as the doors were held to allow even more passengers on, with the train staff becoming more and more unhappy. Eventually we were off for a very uncomfortable spin around the Hamilton Circle. To add insult to injury, as we ran onto the mainline at Rutherglen our stock passed at speed heading for Motherwell. A cheer went up, and the party atmosphere continued all the way to Airbles!
Once on the train, the inevitable dissection started. A battery charger on 87002 had reportedly failed and caused lots of smoke without fire as such, and there was no serious damage. 57601 which had been supplied to perform the stock move to Polmadie - and as insurance for just such an event, was to haul us back to a retimed plan. In effect, this loco which I've always somehow avoided travelling behind did pretty well, and we rolled into Wolverhampton just under an hour late which isn't bad given the scale of this farce! Can a railtour be cursed? It's an interesting question and one which unforuntately Spitfire seem to be destined to explore where this and the original tour in December 2007 are concerned. The important thing is that mainline runs continue for this fine old locomotive.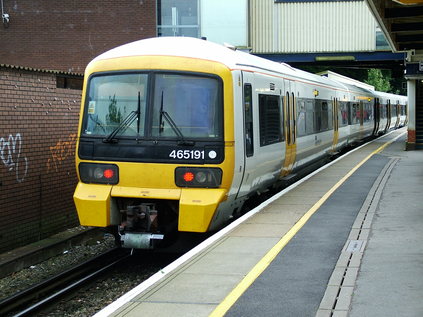 Posted in Railways on Saturday 4th October 2008 at 9:21pm
---
There is something about the approach of Winter which always seems to send me back to old haunts. After recent trips which have taken me through London, and in need of routes which would score the now very rare bits of new track I require, I decided a trip to London was in order to cover some little bits which I'd either missed on previous visits or consigned to the 'unlikely to get there anytime soon' pile. As my strange hobby has developed over time, there's been very little organisation about how I've approached it. Thus, of course, things are never simple and I'm left with a curve here or a chord there. Today though, there were a few fairly significant bits of track which needed covering - which would take me to Kent, Sussex and Essex.
Given recent weather, things were shaping up to be a pretty decent morning. A rather familiar low mist began to lift as I sped east on what is now one of a couple of journeys I regard as almost as familiar as my daily commute. Arriving at Paddington is still exciting and full of promise though, and I hardly need to think about the time-worn trudge from the platform, down the stairs and over the bridge onto the busy Circle and District Line platforms. Squashed my way through the crowd to find a quiet patch at the end of the platform. Most of the crowd disappeared onto the next train to Victoria and points east, which left me in near silence to await a Wimbledon train. Despite having done this journey relatively recently, still enjoyed the contrasts as the line moves from urban sprawl, through tired and tattered Earls Court, over the Thames at pompous Putney and into leafy suburbs before arriving at the busy station at Wimbledon. Remembered to touch my Oyster card in all the relevant places this time to avoid any rebukes from TfL staff, and changed for a service to Effingham Junction. Now, aside from its comedy potential, this trip covered some required track for me. I'd done a dash around south west London some years back, including taking a train to Guildford - but there are several routes and I think I managed two out of the three that day before the thought of another trip to Guildford became too much and I went elsewhere. This route was fruitful, gaining me the section of track via Worcester Park to Epson and then also my missing link from Leatherhead via Bookham. Having very little memory of Effingham Junction from my last passing visit, was surprised to find a rather tiny, dilapidated village station. I was one of the only customers to alight here, and was alone in the swirl of autumn leaves until people starting drifting in for the next London train, which I too boarded. A strange little oasis in commuterland, this one!
Once back at Waterloo, stopped to watch the locomotives clustering at the buffer stops in connection with engineering work, before realising they were almost impossible to photograph and heading upstairs to Waterloo East. Onto a rather busy 465 for the jaunt out to Sevenoaks. I've written before that I've never been fond of journeys into Kent, but much of the track I still require in London is in the belt of suburban lines around North Kent. Today I aimed to do the tiniest, but perhaps one of the most annoyingly obvious lines in my atlas - the short link via the oddly named Bat and Ball station. I'd always just assumed I'd end up on a train into London which covered this, but I hadn't so I deliberated positioned myself for a Blackfriars service which would do the job.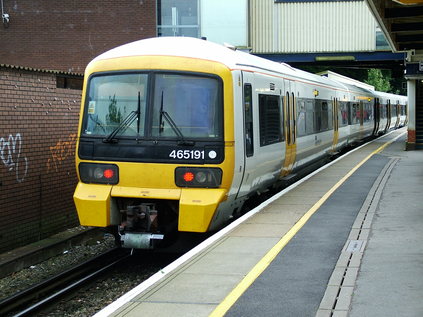 On arriving at Blackfriars having come via the Catford Loop and Denmark Hill, it was time to change tack somewhat. Took the Circle Line round to Liverpool Street, since Thameslink seemed to be closed north of here, and found time to grab some lunch before boarding a surprisingly well loaded train heading for Chingford. Another obvious gap in the atlas in an area where I still had work to do. As ever, enjoyed the journey over the rooftops of East London, via Bethnal Green and mysterious Hackney, before crossing the Lea and heading into the suburbs. There was a noticeable shift between the less gentrified inner suburbs and the somewhat more comfortably off areas. I'm told that Chingford itself has a similar divide, but didn't stay long enough to discover before hopping back onto the unit for the ride back to Liverpool Street.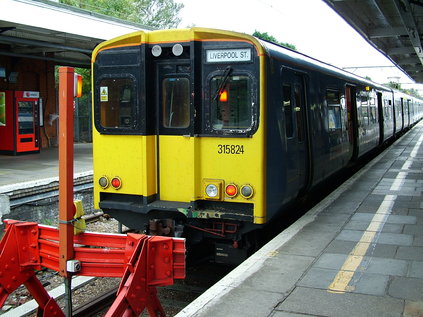 Once back in London, and with the northern section of the Circle closed I decided to investigate the bus stands out of curiousity. I'd travelled from Liverpool Street across the city before and I had time. As luck would have it, as I hauled myself up the last stair, a No.23 heading for Paddington reeled into Stand A. Negotiated the queueing system and boarded, finding a seat near the exit. Had a busy, but thoroughly enjoyable trip first through the deserted City, then into the west - and parts of London I barely ever see. If there is truly a recession around the corner, the throngs of bag-laden shoppers don't seem to have been informed. I'd have hated to be out there competing for space on the pavements, while dead-eyed daytrippers plough relentlessly into the next shop, a perfectly acceptable branch of which exists in their own town for sure. But here in my speeding red cocoon, efficient and pleasant Eastern European driver skilfully diving into the traffic like a Parisian cab driver, I felt safe and pleased to be away from the crowds. Had a brief exchange of words with a mother and daughter couple who'd got on the wrong bus and were heading along Edgware Road in the opposite direction to their plan. They were funny, unconcerned, not fixated on shops or theatres - just out for a day exploring. I wanted to explain I was doing the same, but settled for some gentle jokes and correct directions.
A productive and surprising day in the suburbs. There will need to be more soon.

Posted in Railways on Thursday 2nd October 2008 at 11:01pm
---
I wasn't sure if could face the evening of railway programmes on BBC4 tonight. For starters I wasn't going to get home until late, and it would mean delving into the middle of Ian Hislop's documentary on Beeching. I struggle with this era a great deal. As a public servant charged with delivering efficient services and reducing costs and as someone who has been the architect of cuts, I feel a mixture of shame at what went before mixed with righteous indignation - there was, sadly a job that needed doing. But, as a railway enthusiast and as a non-car owning public transport user, and even as a hopeless old-fashioned English romantic I know the job wasn't done right by any stretch of the imagination. Conspiracies abound, and Hislop touched lightly and carefully on these before striking at the fundamental issue, the lack of balance between the economic and social case for a dense, often duplicated network of lines. Some of the illogical, iniquitous and shamefully corrupt decision making was exposed. My fear that I'd feel cheated, deprived of a network I could have used was unfounded. I was furiously angry. The programme ended somewhere near Hawick with the promise of a partly reopened Waverley Route. With Alloa, Airdrie to Bathgate and numerous other Scottish schemes in the pipeline, it felt more comfortable. This was the railway I knew, passionately believed in the relevance of, and travelled each week...and now, albeit slowly, it was getting bigger again.
Great Railway Journeys was filmed and shown in 1995. I missed it at the time, but my burgeoning independence and widening desire to travel saw me begin to use the network in earnest around this time. So, it was oddly comforting to see Victoria Wood sitting on benches I knew all too well at Crewe and boarding trains which had only recently been replaced, but which even now I was nostalgic for! I'd wanted to see this documentary for years - partly because it was rooted in familiarity, and partly because it promised exotic scenes on lines I'd then not travelled. The pre-privatisation era journey which Wood took was a desperate dash around a network which sounded as close to death as it had in Beeching's day. The Cumbrian Coast line only existed to serve the workers of Sellafield, and Carnforth station was a mess. This was pretty bad, and I'm sure we'd all agree, but not necessarily only because it was once in a film and the Japanese might like to see it restored. So amid the gently mocking (but insidiously rather anti-rail) sentiment, she travelled north pausing for a swift and equally 'gentle' dig at trainspotters platform-ending at Carlisle. Some positive words about the excitement of Glasgow Central which I can't argue with, before heading for Fort William via the Jacobite steam service, and eventually to Thurso. The closure threats and scenes of middle-aged couples continued all the way back to Whitby. I think she thought her rambling comedic observations were quaint and endearing, that people would see her as some sort of modern-day Comedy Store Betjeman perhaps? The circle completed, and Wood suddenly decided she didn't want the trains to disappear, and remembered her left-leaning past! It's great being English, and having Crewe for the eternal butt of your jokes.
I'll admit I'm no fan of the 'gently mocking' comedy of Victoria Wood. It's too easy, it's observations too trite and quick to age. But despite the grating stereotyping this program failed to depress me totally. To see Carnforth station earlier this year in wonderful shape, or to see the suburban northern byways which flashed by grimly in the programme with a better service than for many years makes me realise that things aren't nearly as bad as they might have been. There was an odd moment back in 1996 on the day the last British Rail train ran when we passed over a solidly jammed M62 somewhere near York and a spontaneous mocking jeer started in the carriage. I brought a CD walkman in Scarborough that day which accompanied me on many thousands of miles of rail travel. Nowadays I pack an MP3 player, but I've never tired of seeing the network outside the window change, develop and now - begin to grow again. Our railways are far from perfect, but they are as relevant and useful as they've ever been and are a sustainable solution to many of our environmental challenges. The privatised railway is still a difficult consensus between government and enterprise of course, but maybe Beeching would approve? I don't think I'll ever really enjoy Victoria Wood's comedy though.