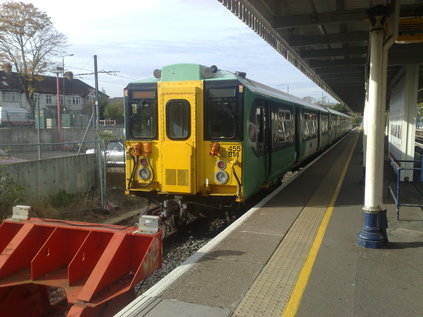 Posted in Railways on Saturday 25th October 2008 at 8:23pm
---
Woke early as planned, in order to take full advantage of being in London at the crack of dawn. Slunk out of my hotel, and through the sleepy streets of Clapham - or indeed whatever the locals have decided to call this bit of contested domestic territory. Soon winding my way alongside the viaduct with the first trains of the day beginning to clank into life. Arrived at the deserted station entrance and booked some tickets at the machines. Nowhere to buy coffee this early, which wasn't a surprise - but hopefully I could rectify this omission at Victoria. The train was surprisingly well used and despite being a few minutes late, got me into Victoria Station in good time to get breakfast and board the train waiting to depart for Ramsgate. All very quiet on this service as we rattled over the complex of crossovers and made our way onto the Down Chatham Main which led us out of the city and over the suburban rooftops. The sun was just beginning to rise, and I felt very content to be scudding over the waking city. However, the scenery soon dissolved into the kind of green and dreary Kentish dullness which I've always found boring, and I was glad to reach the tangle of Medway towns and eventually Sittingboure. Here, it was a quick step across the platform for the waiting Sheerness-on-Sea unit. This was surprisingly busy, and we gained a few passengers at each of the intermediate stations as we crossed the flat, marshy landscape with the modern road bridge soaring above us. After passing intruiging sidings relating to the docks, eventually arrived at the surprisingly impressive terminus where equal numbers of commuters were waiting to get on. Sheepishly changed ends, trying not to look like a ned who's just gone 'there and back again' which I always think would be just about the worst a guard could think of me!
Once back at Sittingbourne and fuelled with further coffee, the plan was to use a complex sequence of changes to get the last of the three parallel 'North Kent' lines which fan out from London Bridge. The last one for me was the most southerly route, via Crayford. This involved a little new track first of all from Chatham to Darftord via Hoo Junction, then a longer stretch of mainly suburban track which while not scenic or particularly interesting in many ways, was a major goal for me! This left only the slight niggle of the loop avoiding Dartford at the eastern end of the line - but that would have to wait. A brief break and a chance to rebook at London Bridge, before boarding the very lightly loaded shuttle to Beckenham Junction. This followed familiar territory until it reached Crystal Palace, where the line soars over the busy lines to East Croydon and curves alongside the Wimbledon Tramlink line which I'd covered a few months back. The trams take up half of the former rail alignment, leaving this rather forlorn branch to arrive into a bay platform at Beckenham Junction. Enviously eyed the rare curve to New Beckenham on the Hayes Line - which had been used recently it seems - before heading back into the city once again.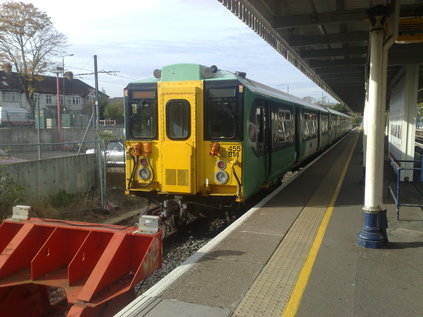 Having been travelling for well over six hours, decided to walk the next bit. Out of London Bridge and over the river to nearby Monument Station, where the Circle Line took me to Tower Hill for a further short walk to Fenchurch Street via familiar city byways. Always interesting to visit this station, as it's something of a backwater and is somewhere I rarely need to use. Arrived just in time to purchase a ticket and board my planned train to Upminster. Enjoyed the busy but not crowded atmosphere on the train, and was also intrigued to note a fair number of GBRf locos on 'Metronet' renewal duties on the currently closed District Line tracks. The work carried on into Upminster station where the centre island had become a stores site. Made my way over to the furthest flung platform which serves the curious little disconnected branch to Romford. The 315 arrived and a small band of passengers disembarked, allowing an equally insignificant amount to board in their place. A short, leafy and uneventful low-speed trundle followed, arriving at a bay platform seemingly a short walk from the rest of Romford station. Grabbed a quick snap of the unit once all my fellow passengers had shuffled off, before dashing over to a crowded platform to wedge myself into the next stopping unit to Liverpool Street. Found myself squashed and crushed, feeling guilty for taking up so much space - and worse still, seated across from possibly one of the most arrestingly beautiful women I've ever seen. Tried not to stare, as the rather maudlin looking, dark-eyed Middle Eastern individual clearly didn't speak a great deal of English, and a fat sweaty trainspotter with a couple of days of accumulated carriage-grime clinging to him probably wasn't high on her list of 'must see' sights for her visit to London! Quite how she and her group managed to end up boarding a train in Ilford is cause for concern in itself.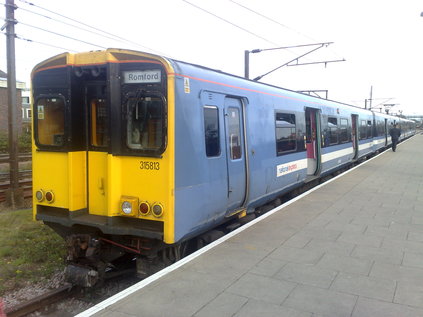 Unfolded myself at Liverpool Street, and almost immediately squashed back onto another 315. Somehow these trains lack space - so that even if alone in a carriage one feels somehow constricted and squished. This helped my resolve to change the plan slightly at the next stop and to do a little more walking. This train however covered some more undone track in the shape of the branch to Enfield Town. A fairly interesting but uneventful ride along the now familiar route via the Lea Valley and following the line through the wonderfully oddly named Turkey Street before taking the branch into Enfield. Here I'd resolved to make the apparently quick and easy walk to Enfield Chase on the suburban lines to Kings Cross. Immediately out of the station I crossed the road, and once again came face to face with The New River, emerging oddly from under a small bridge. This apparently was a 'disused loop' and the river had been straightened, marooning this ancient stretch. Marvelled that my visits to remaining lines north of the Thames had repeatedly brought me back to this river of which I knew little North of Clerkenwell and Pentonville.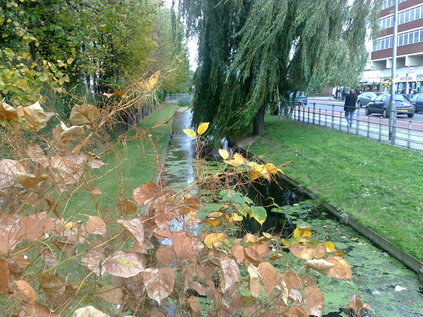 As I trudged rather wearily up to Enfield Chase station I encountered the river once again as it completed its loop around the town, and spent some time watching the world go by before the rain started to fall, and drove me into the station. Booked once again, with a quick thought about how this trip was whittling away at my reserves slowly and surely. Eventually, a reasonably filled Class 313 trundled in, and I set off back to Kings Cross in thoughtful mood. I could have crossed the city and finished my day's wanderings here in the knowledge I'd covered lots of bits of track which would have taken weeks of trips back and forth - but I couldn't quite bring myself to give in just yet. The thought of the short curve near Dartford which I'd passed-by earlier returned. Made a swift dash across town to Cannon Street, and messed around trying to force cash into a card only machine for long enough to almost miss a train billed as heading for Slade Green. If my calculations were correct, this train would turn back towards the city via the curve to Crayford. Settled in to the Class 376, wishing we had a similarly simple and spacious commuter unit back in the West Country. Again a fairly uneventful but initially very busy run via Greenwich and Slade Green before taking the unremarkable curve which had become the focus of my trip! Decided to work my way back to the hotel via a series of changes at Hither Green and Lewisham, bringing me back to Victoria and thence to Clapham. Today turned out to be something of a marathon - and whilst it didn't do quite the track which had been planned for the railtour which was cancelled, I managed to cover huge amounts of the city's remaining new track. I also got to consider further how I approach the changes in the North East of the city - and I can feel new projects on the horizon...these trips are never entirely simple.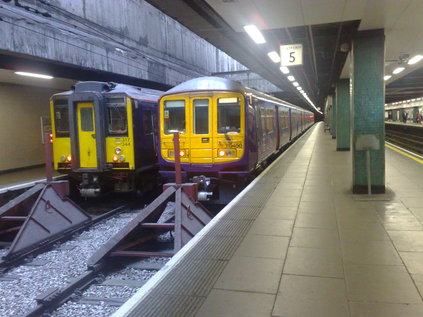 Posted in Railways on Friday 24th October 2008 at 8:21pm
---
The idea of the 'Lost Weekend' series was born out a frustrating railtour scene this year, whereby with cheap tickets and hotel rooms booked one would find the tour cancelled at the last minute - maybe due to weather, low bookings, Network Rail prevarication or just plain old gremlins in the works. The point was, I'd end up in some corner of the country with a couple of days to explore without pressure - I could get those early trains that take unusual routes, brave branchlines with poor services I'd never normally get to, and explore without fear of getting stuck somewhere strange and inaccessible. With the superbly named 'Andover Fist' tour out of Clapham Junction postponed indefinitely, I found myself in the strange position of having a 'Lost Weekend' in the heart of London. My relationship with the city is complex at best and discussed at probably boring length in other articles. So, I decided that with a base at Clapham Junction this had to be a railway weekend, and set about covering the little twists and turns of the network I'd never normally visit.
A strangely frustrating week had left me planning routes at the very last minute. I had a vague idea of what I wanted to do, and even on the Paddington bound HST I found myself reviewing my plans. I couldn't get into the hotel until later in the day, so the idea was to get moving straight away, heading directly over to Liverpool Street to deal with a couple of bits of track left undone in the east. First, out to Stratford, languishing in the muddy birthing pool of the 2012 Olympiad and as strangely bustling and interesting as ever. The plan here was to take one of the Stansted-bound services out of the curving platforms on the extremity of the station, which used a bit of line I'd not done before. Made the train with minutes to spare and settled in to the run up to Cheshunt - familiar from getting stuck in a unit a while back. Here I had a short wait for a train to Hertford East, covering the branch into the terminus with its surprisingly extensive and impressive station buildings. It was here my route began a strange relationship with the New River, visited at it's terminus what seemed like an age ago. My wanderings would follow the river unconsciously, despite efforts to strike an almost random path across the city.
Deciding that Hertford offered little hope of refreshment or much of interest, set off south again on the same train, seeing it through to the buffers at Liverpool Street. The next stop was Moorgate - most specifically the terminal platforms used by First Capital Connect - the former Thameslink service which will soon cease to call here in the peaks to deliver commuters from Luton and St Albans into the city. As the Crossrail and Thameslink 2000 plans develop, Farringdon Station will outgrow its footprint and block access to these mysterious tunnels under Smithfield. A tiny section of track, but highly significant given my strange attraction to this area. Changed for a southbound service at Farringdon and headed south of the river to address some equally new bits of line.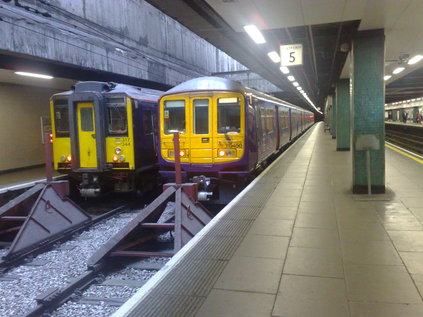 After an incomprehensible argument about Oyster Cards with a member of gateline staff at London Bridge, I finally managed to get onto the concourse to rebook for my next trip. In the event, ended up back on the through platforms and able to complete my 'touching out' and thus avoid the promised penalty fare. The aim was to get to Grove Park to traverse the Bromley North branch. Almost every effort to get train times through to this branch ended up suggesting a trip to Bromley South and a walk. I'd considered this in the past myself, but instead plumped for today's run. A short but quick run through the suburbs, sighting unusual units as I went, finally piling out with a small clutch of early commuters and trekking over the rather rickety wooden footbridge to the waiting 466. Settled in, laughing at myself for choosing 'a good seat' for the ten minute run down the branch. Most of the line lies in a suburban tunnel of greenery, but I did note the sizeable plaforms at the terminus - perhaps through trains once called here more often in the peak? Back onto the unit for the run to Waterloo East, and a change for Clapham Junction with a couple of easy objectives achieved.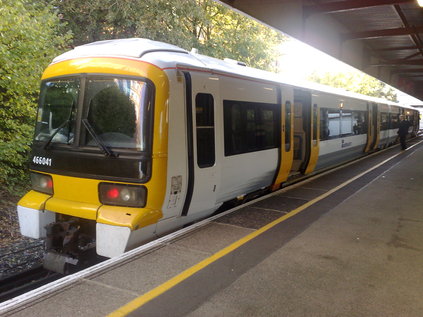 Trudging out of Clapham Junction with the throng of commuters I was struck how the suburbs began so close to the city here - and despite a clear issue with the drains, the area of housing north of the station seemed quiet and well-kept, and certainly challenged the traditional view of how things are 'south of the river'. Clapham was always an exclusive address, and that was perhaps why these small somewhat unloved but seemingly decent streets had been dubbed 'Wandsworth'. On reaching York Road I realised I genuinely wasn't far from the bizarre contraption which sits atop Wandsworth's large traffic roundabout - but my hotel, just a few doors from where I stood, claimed to be in Battersea! Checked in, and found my room - a clean and safe haven in an otherwise evil smelling Travelodge. Enjoying the nightscape of Wandsworth Bridge and the growing developments of Battersea Reach, I once again ruminated on contested territory and my former subscription to the 'London Villages' theory. It was all too complicated.

Posted in Updates on Tuesday 21st October 2008 at 11:10pm
---
I caught up late with Ariane Sherine's piece on The Guardian website regarding religious advertising on buses in London. Frequenting railways stations as often as I do, these posters, including a recent Alpha Course campaign have become a depressingly common part of the wallpaper, and I chuckled at how close Ariane's views were to mine and cursed missing the chance to support the original pledge to raise money for an atheist bus advertising campaign. However, with the support of the British Humanist Association and Professor Richard Dawkins, the campaign rose again this morning and made national news - including the brazenly pro-religion BBC. The aim was £5,500 at which point Professor Dawkins would match the sum from his own pocket. I gleefully tossed in my small contribution and felt strangely cheerful. Later I checked the website in the hope that the target was increasing. It had, and beyond all expectations, the £5,500 figure was reached as early as 10:06, and the total now exceed this by many thousands of pounds! As I type this article, the donations stand at £46,512 and continue to increase. You can check the total and donate yourself if you wish here.
Why is this important - and perhaps more interestingly, why do people who don't believe in something feel the need to express this lack of belief? The simple answer is because the insidious and accepted view that religion is somehow privileged in our society. If this campaign persuades just a handful of people to re-examine their acceptance of a two-tier school system, of workplaces divided by inequality, of public money spent on pointless and often lengthy court cases brought by mischief makers claiming religious prejudice, then it has been a success. Notably, the comments people are placing against their donations are warm, funny, celebratory and often express great relief that such a high profile campaign is under way, and appears to be making an impact.
The only truly dissenting note comes from the predictable corner of Christian Voice. In their deeply sincere 'letters to the editor' style of offended harrumphing and appallingly poor political quippery, they make a few 'bendy bus' gags before insulting Dawkins' intelligence and claiming it doesn't matter anyway. We'll all be burning in hell anyway if Stephen Green has his way, so he'll be assured of a warm reception when he makes it upstairs! This is the rather trite and amusing side of a very seriously discriminatory, inflammatory and offensive organisation however, and whilst this time Christian Voice have just made the whole thing even funnier for all concerned, you can bet your bottom dollar they'll have some truly appalling campaign up their sleeves soon! Amazing how one simple sentence can provoke such concerned handwringing by supposedly respectable individuals and organisations.
An interesting note related to the wording of the ad - "There is probably no god..." (my emphasis). I understand that this was included to ensure that the Advertising Standards Agency would not uphold complaints that the advert was making assertions of truth on an untestable proposition. Ariane compares it to Carlsberg lager in her piece. I don't mind the addition at all - it's questioning tone is appropriate to the scientific principle, and it's seemingly casual lack of concern for the answer reflects the true atheist perspective - it doesn't actually matter what anyone else believes, so lets get on with the one life we've got!
I appreciate that not all my friends or casual readers will share my views. For the sake of empiricism I have included links to a number of views and thoughts on this campaign.
You can still donate to this campaign here.

Posted in Railways on Sunday 19th October 2008 at 12:52pm
---
It may be necessary for some to introduce the concept of Microgricing. In short, it's an extension to the urge to cover as much railway track as possible to include the tiniest significant parts of the network, or to do so in all possible directions - this might include like on today's brief jaunt, crossovers between lines. What probably sounds like a fairly odd and solitary sport was actually surprisingly sociable as a few locals turned out for the trip. The plan was to take advantage of engineering works south of Bridgwater which were causing services to terminate at Highbridge, with only a few long distance and empty stock workings getting through the blockade.
The plan was simple, and worked perfectly. Boarded the 10:30 Newcastle train at Highbridge, which was making special stops here and a Bridgwater to preserve otherwise tricky connections. A quick dash to Weston, over the bridge and onto the 10:43 to Highbridge. This took us back via the recently relaid and repositioned crossover at Highbridge East and terminated in the 'wrong platform', with the empty unit trundling off to the Up Loop to await it's return, while passengers for points south shuffled off to a waiting Quantock Motor Services coach.
It might seem odd, and might just be another serious blow to any credibility I retain - but there is more of this going on than you'd ever dream of! A successful, if very brief trip.