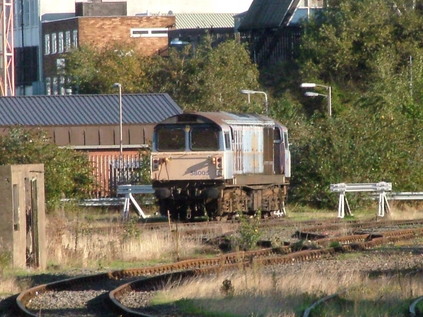 Posted in Railways on Saturday 29th October 2005 at 10:25pm
---
For the first time in a what seems a very long time, got up early and headed for the station. Strange sense of deja vu to be heading for Highbridge and Burnham at this time of the morning, and it wasn't accidental that this rather shot-in-the-dark trip was chosen because of memories of previous trips from here ten years or so ago. So, off to Weston on the 0633. Rebooked, spending a frankly enormous amount on a ticket to Leicester. Chose this destination mainly because it was somewhere I'd passed through but not often stopped at.
The Virgin service from Weston to Birmingham was diverted via Worcester and Drotiwich, then via the curve at Smethwick Galton Bridge to gain Birmingham New Street from the Stour Valley line. Some slow running along the line from Worcester, but interesting to do this on a Voyager - despite my last trip coming almost exactly the same way. Changed at Birmingham for a Leicester train via Nuneaton and Hinckley. Arrived in bright sunshine, which meant most of my photographs aren't too good - but I did however get a shot of a distant 58005 which I noted during my last excursion.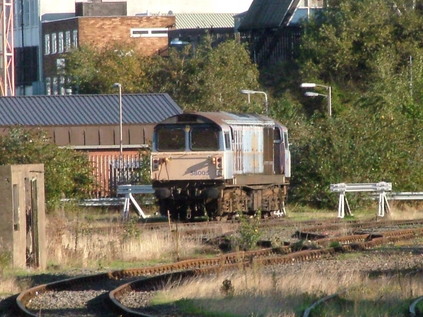 Wandered a bit, enjoying the unexpectedly good weather and a coffee. A constant stream of Midland Mainline HSTs and Meridians kept me amused and interested. Had decided on a trip via Derby to relive more memories, and eventually squeezed aboard a very overcrowded four-car Meridian travelling via Loughborough and Long Eaton to Derby. A fair amount of football fans from London on board. Got a seat just in time to peruse the former Railway Technical Centre and surrounding sidings.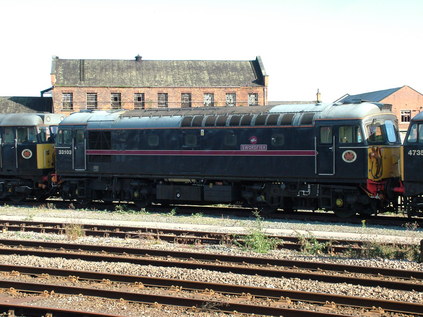 Strange engineering at Derby means most trains are arriving and leaving from the south, with Virgin services to Scotland leaving via Long Eaton - and presumably heading up via Toton Centre or Nottingham. Resisted the urge to spend more and possibly get completely stuck. Did however, manage to misjudge the timings at Derby and found myself in a lull of southbound services. Contemplated heading for Sheffield and coming back on a through Virgin service, but decided on the safe option of a trip back on a Birmingham-bound local instead.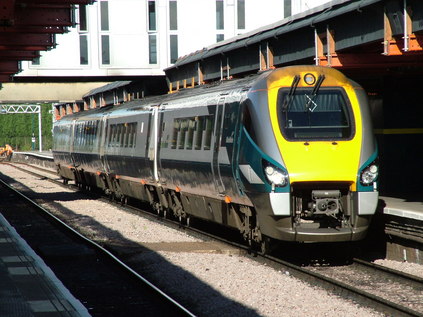 With quite a wait for the 1512 at Birmingham, stepped out into the city for a wander around the shops. Absolute mayhem, with almost intolerable crowds milling rather haphazardly around the city. Scarpered for the station. Got a seat on a rather busy Voyager back to Bristol, again via the scenic diverted route. A little outside Parkway we were delayed as a service ahead had made an unscheduled stop to allow paramedics to attend a sick passenger. I have to say the outburst of mean-spirited moaning into mobiles which went on in my carriage was pretty sickening. We were soon off, carrying a 36 minute delay, into Temple Meads, and a cross platform change for my unit home - which was it must be said, pretty rowdy with a hen party and some very agitated youths aboard.
So, back onto the rails, with a pleasant and relaxing run out to the East Midlands. Lots of people watching, train spotting, wandering and wondering. A very good day.

Posted in Highbridge on Wednesday 19th October 2005 at 10:10pm
---
As far as things go, I've moved house. Thanks to help from my family and friends, it's all gone rather smoothly. There has been the odd hiccup here and there, and until I square things regarding my old flat tomorrow some aspects are still up in the air. But mostly, life returns to normal in my new home.
The advantages are manifold - my proximity to my family, living in the centre of a small town which is on the brink of regeneration, and the presence of an excellent public house only a few minutes from my door. There are of course things I'm going to miss about Weston - but in fairness, they are probably more to do with nostalgia and a homesickness for the recent past than any great longing to be there.
Things seem to be going well, and considering today is my birthday that is a surprising admission!

Posted in Updates on Tuesday 11th October 2005 at 10:46am
---
Advanced notice that this website will disappear sometime around 17th October 2005. At the same time, my email address will cease to work and my telephone will be disconnected. Right now, I'm at the mercy of British Telecommunications PLC as to when and if any of this stuff ever works again. In any case, the Demon Internet account will probably not be coming back this time.

Posted in Railways on Saturday 8th October 2005 at 11:10pm
---
Decided not to trust the rail replacement bus services this morning, so headed to Redditch bus station in the dark for the 0650 to Birmingham. Interesting run through the southern suburbs, dropping me right next door to New Street. Plenty of time to top up supplies for the day and to grab a coffee before heading down to platform 8. I'd heard this tour was quite undersubscribed, and disappointingly there seemed to be very few souls on the platform. The two 47s thundered into the black hole of New Street bang on time on a rake of ex-West Coast Mk 3 stock. Out of Birmingham in weak sunshine and mist, but most importantly no rain. Took the right fork at Water Orton, heading for Nuneaton and then Leicester. From here via Melton Mowbray to Peterborough and Ely. New track for me next, as we headed for our first destination at Bury St. Edmunds.
Rather oddly, they decided not to let us off the train until the naming ceremony was almost complete, but there was time to take pictures and see the pristine new 'John Peel' nameplates. John's family were clearly delighted, and there was something of a celebratory atmosphere despite the rather sad occasion. Back aboard, and next to Ipswich where we were due to pick up 87007 for the journey to Norwich. It seems that administrivia had prevented this from happening, and there was some doubt as to what would happen next. We took comfort from the availability of plenty of locomotives at Ipswich, but in the event our new celebrity loco ran round to take us forward. There were, it must be said, some very angry enthusiasts on board.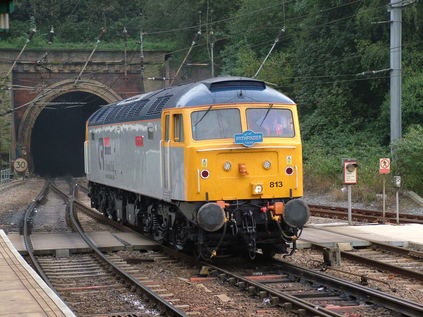 Quick running into Norwich, arriving to a station full of locos from the recent Community Rail Festival, including many refugees from the Crewe Works open day. DRS liveried 37069 was hiding beside the station, and our intended traction 87007 was on the blocks in pristine new Cotswold Rail paint. Spent some time wandering the station taking pictures and chatting, before heading off on a unit to Great Yarmouth to look at the back of Crown Point depot and achieve some new track into the bargain.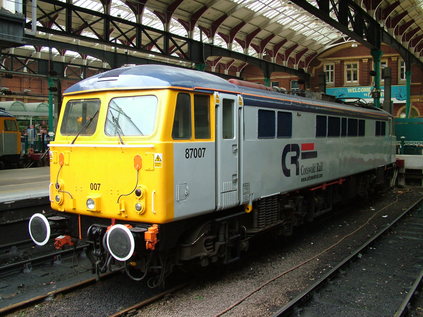 On returning from Great Yarmouth, found refreshments and watched the parade of Class 90s arriving from London for a while. Away on time at 1715 running to Ely via Thetford. Managed to run early throughout, but frustratingly held repeatedly at signals. Threw away time at Peterborough and lost nearly twelve minutes due to a signal returning to red in front of the train at Water Orton. Arrived on time, but can't help feeling that an early arrival would have prevented the farce which occurred next. After flagging a taxi due to its extortionate fares, hopped onto the packed 2140 to Bournville, planning to change for the replacement bus at Selly Oak. We set off on time, but ground to a halt about five seconds later. A preceding service had reported a broken rail at Five Ways. So all stop heading south. A bus would be arranged - and it should be quick since there were plenty working in the in the area. Central Trains staff admitted they were playing the 'how many will get their own taxi if we keep them waiting?' game but the cancellation of the next two services on the Cross City Line kept the crowd large enough to be a problem. We finally got a bus at 2250, and despite assurances of a through service still had to change to another bus at Selly Oak. This connection was in doubt all the way to Selly Oak since the driver and his helper dropped all the pretty student girls off wherever they asked, taking all kinds of detours. Finally landed at Redditch at 00:02. A long day, with a frustrating finish but some excellent running. Proud to have been part of a historic occasion. There is a small gallery of pictures from the tour here.