Posted in Railways on Saturday 8th October 2005 at 11:10pm
---
Decided not to trust the rail replacement bus services this morning, so headed to Redditch bus station in the dark for the 0650 to Birmingham. Interesting run through the southern suburbs, dropping me right next door to New Street. Plenty of time to top up supplies for the day and to grab a coffee before heading down to platform 8. I'd heard this tour was quite undersubscribed, and disappointingly there seemed to be very few souls on the platform. The two 47s thundered into the black hole of New Street bang on time on a rake of ex-West Coast Mk 3 stock. Out of Birmingham in weak sunshine and mist, but most importantly no rain. Took the right fork at Water Orton, heading for Nuneaton and then Leicester. From here via Melton Mowbray to Peterborough and Ely. New track for me next, as we headed for our first destination at Bury St. Edmunds.
Rather oddly, they decided not to let us off the train until the naming ceremony was almost complete, but there was time to take pictures and see the pristine new 'John Peel' nameplates. John's family were clearly delighted, and there was something of a celebratory atmosphere despite the rather sad occasion. Back aboard, and next to Ipswich where we were due to pick up 87007 for the journey to Norwich. It seems that administrivia had prevented this from happening, and there was some doubt as to what would happen next. We took comfort from the availability of plenty of locomotives at Ipswich, but in the event our new celebrity loco ran round to take us forward. There were, it must be said, some very angry enthusiasts on board.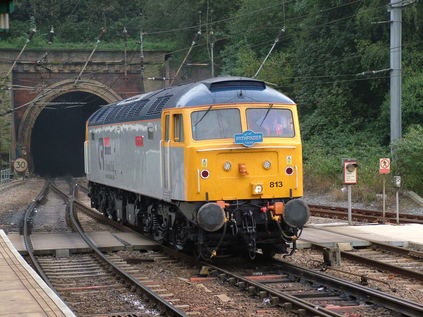 Quick running into Norwich, arriving to a station full of locos from the recent Community Rail Festival, including many refugees from the Crewe Works open day. DRS liveried 37069 was hiding beside the station, and our intended traction 87007 was on the blocks in pristine new Cotswold Rail paint. Spent some time wandering the station taking pictures and chatting, before heading off on a unit to Great Yarmouth to look at the back of Crown Point depot and achieve some new track into the bargain.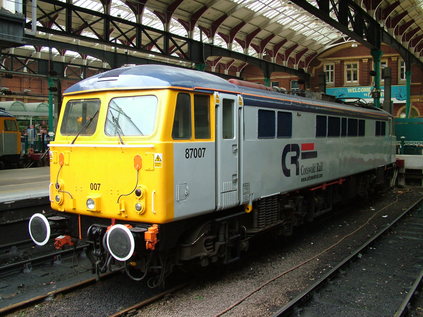 On returning from Great Yarmouth, found refreshments and watched the parade of Class 90s arriving from London for a while. Away on time at 1715 running to Ely via Thetford. Managed to run early throughout, but frustratingly held repeatedly at signals. Threw away time at Peterborough and lost nearly twelve minutes due to a signal returning to red in front of the train at Water Orton. Arrived on time, but can't help feeling that an early arrival would have prevented the farce which occurred next. After flagging a taxi due to its extortionate fares, hopped onto the packed 2140 to Bournville, planning to change for the replacement bus at Selly Oak. We set off on time, but ground to a halt about five seconds later. A preceding service had reported a broken rail at Five Ways. So all stop heading south. A bus would be arranged - and it should be quick since there were plenty working in the in the area. Central Trains staff admitted they were playing the 'how many will get their own taxi if we keep them waiting?' game but the cancellation of the next two services on the Cross City Line kept the crowd large enough to be a problem. We finally got a bus at 2250, and despite assurances of a through service still had to change to another bus at Selly Oak. This connection was in doubt all the way to Selly Oak since the driver and his helper dropped all the pretty student girls off wherever they asked, taking all kinds of detours. Finally landed at Redditch at 00:02. A long day, with a frustrating finish but some excellent running. Proud to have been part of a historic occasion. There is a small gallery of pictures from the tour here.
Lost::MikeGTN
I've had a home on the web for more years than I care to remember, and a few kind souls persuade me it's worth persisting with keeping it updated. This current incarnation of the site is centred around the blog posts which began back in 1999 as 'the daylog' and continued through my travels and tribulations during the following years.
I don't get out and about nearly as much these days, but I do try to record significant events and trips for posterity. You may also have arrived here by following the trail to my former music blog Songs Heard On Fast Trains. That content is preserved here too.
Navigate Lost::MikeGTN Find articles by category
Search Lost::MikeGTN
Other Places...