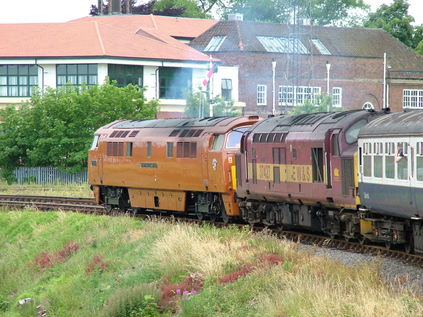 Posted in Railways on Saturday 25th June 2005 at 9:49pm
---
With everything that has been happening around me lately, I'd almost forgotten this trip until this week. The tickets arrived on Wednesday, with a much earlier than planned start time - but since this tour picked up from my doorstep I wasn't too concerned. Did feel sorry for the Exeter contingent of SWRG who had a 04:17 kick off however! So at a little after 05:00, I stumbled rather sleepily onto the platform at Weston, soon to be joined by quite a group of others. Bang on time, D1015 Western Champion rolled quietly and rather majestically into view.
Found myself seated with an acquaintance from Bridgwater and a veteran of Coach C on the recent Whistling Slater tour. We discussed the feeling that you should almost always book on a tour from your hometown, for fear they won't stop them there anymore. Soon afterwards, with all our pick-up stops complete we turned our attention to the Lickey. Despite a sudden loss of speed (unusual as we had a clear road) near Bromsgrove and a load of thirteen coaches, D1015 made slow but remarkably steady progress. On arrival at Birmingham however, we were notified that there was a slight problem with D1015 and that we would be diverted via Bescot Yard with a short delay necessary for an examination to take place. It turned out that a slight crack in one of the turbochargers was leaking coolant. For insurance on the isolated Heart of Wales line, we were to have 37427 tucked inside our train. Not a problem for me - all adding to the novelty of the day, including some unusual track at Bescot and a chance to thoroughly check the numbers in the scrap line!
Very good progress from here, despite our lateness. A crew change at Wolverhampton and a swift flypast of Oxley Depot, then some fast running as far as Shrewsbury where we were stopped for some time at Abbey Foregate.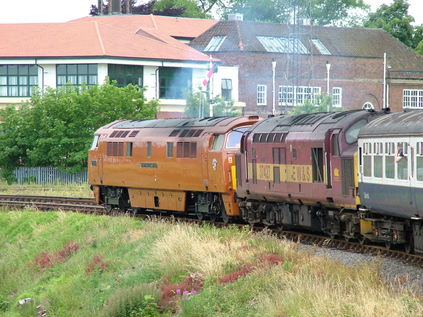 Timing now became an issue, with a limited range of passing places on the Heart of Wales, many were speculating where we would stop and for how long. I'm ashamed to say that an early start, a relatively late night and a stressful week caught up with me and I dozed off several times between Shrewsbury and Llandridnod Wells, but as originally planned an extended break for food and leg-stretching was welcome. As ever local fish and chip shops struggled to cope. The town itself is a quiet and attractive Victorian spa with some fascinating buildings. I can't help thinking that an improved rail service would increase the number of visitors here greatly.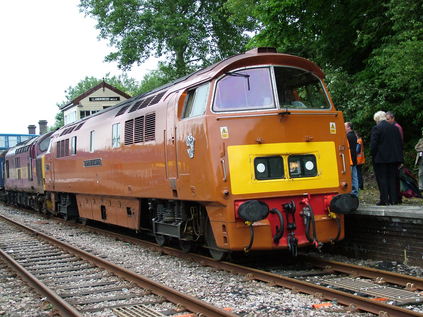 Off at our revised departure time of 13:30, and through some of the most remarkable scenery in the British Isles, south towards Swansea. More snoozing from me however! We took the rare curve from Hendy Junction to Morlais East Junction and onto the District Line. Once on the mainline we started to run at speed again - despite a faulty barrier at St. George's Crossing. Through Cardiff on the avoiding line, and to our next stop at Newport. Noted 37408 dumped near ADJ yard - rumour has it that 37427 was due down here to replace it following some accident damage. In any case, D1015 disappeared to East Usk for fuel, and to drop off 37427.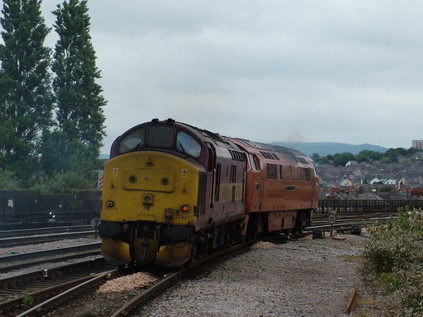 No problems at all for D1015 solo on its return trip. First, up to Gloucester via Lydney and then back via Standish and Westerleigh to Bristol. A little weak sunlight, the first of the day as we left Bristol for Weston. Lots of sleepy but very happy people from the South West aboard for the final fling. Left them at Weston, and dashed down the ramp for a final shot of D1015 leaving. Despite the problems early on, a successful day.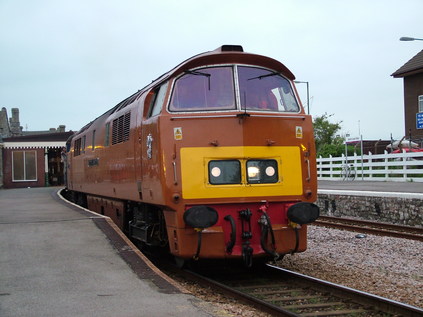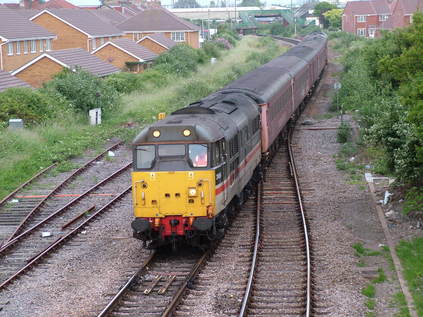 Posted in Railways on Sunday 19th June 2005 at 10:01pm
---
After a hectic weekend and a minor heatwave, I found myself standing on Drove Road bridge with a couple of other dedicated photographers in a gale, surrounded by a murky sea mist! In the distance, Wessex Trains ingenious queuing system snaked around the station car park, a sea of lobster-pink bodies fresh from the concert on the beach. A little later than expected, 31454 chugged into view with the empty stock from Bristol.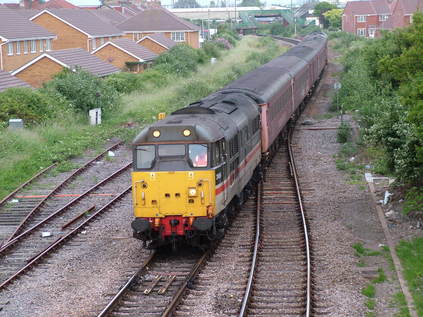 A much quicker turn around than other services which we'd seen arrive, and soon enough 31601 led the packed additional service back towards Bristol. Headed home soon after, having decided not to wait for the 21:00 service.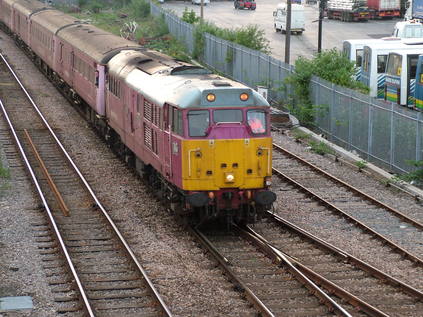 Posted in Railways on Saturday 11th June 2005 at 10:06pm
---
Originally, the plan was to be on Past Time's 'Edinburgh Explorer' tour today. With this rescheduled for late July, had to find other things to do. Having considered a trip to Cardiff for the Vale of Glamorgan reopening, the news that the 37s were running only tomorrow along the route helped me decide that a trip to the Diesel Gala at the South Devon Railway was the better option. After a shaky start, where Wessex and National Rail Enquiries decided to get existential about the 0614 service to Penzance, finally got going a little before 0800 travelling via Bristol and then south on a Voyager for Totnes. Short break at Exeter St Davids for breakfast, then onto a rather wedged HST for the last leg of the journey. Seemed to be significant numbers of cranks aboard, and I swear the train almost tilted when we slowed for Totnes and 55019 was sighted on the right-hand side, basking in the sunshine at Littlehempston!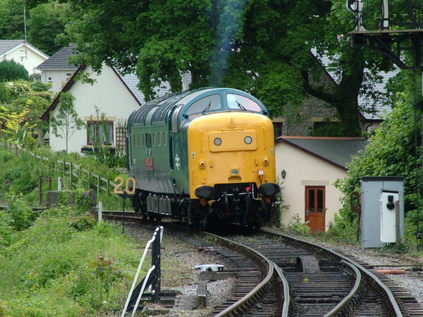 Joined the queue for the next train to Buckfastleigh, with 55019 in charge. A pair of 20s also hanging around, including 20905 in pristine DRS blue but without branding. 55019 performed well, but rather quietly for my liking on the journey upriver.
A photo stop at Buckfastleigh, and then since I wanted a little noise we joined 37037 for the trip back to Totnes. This loco was for me, the star of the gala, ending up on several trains I travelled on and generally looking and sounding fantastic. Persuaded to part with cash by the sales stand, which was conveniently next to the beer counter. Sampled a pint of 'Diesel Driver' from Newton Abbot, which was an excellent accompaniment to the sounds of 37037 and the scenery of South Devon.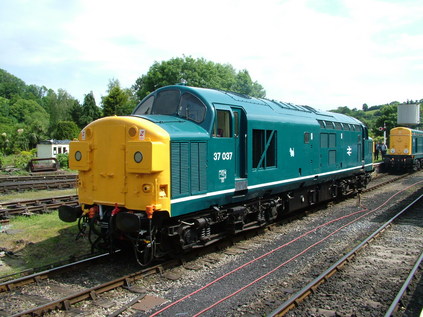 After this, it was the turn of the 20s to entertain. I hadn't realised just how many 'Choppers' were to be here today. I confess they have never been a favourite locomotive of mine perhaps because I saw so few of them in service, but in these lean times its a bonus just to find locomotives in working order, hauling trains. Having spent very little time around 20s, quite enjoyed seeing them at work . A particular favourite was 20118 in large-logo Railfreight grey livery with a red solebar.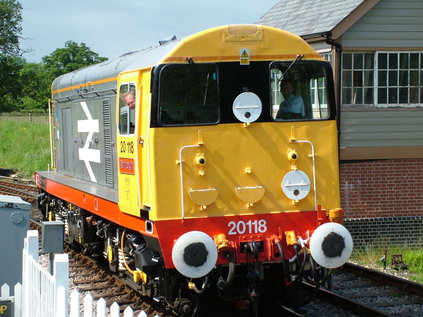 A bite to eat at Buckfastleigh, and a quick look around the yard where 25901 was to be found, along with the sorry looking 50002 'Superb' which hopefully has a brighter future ahead. It will be interesting to see if it retains it's Network SouthEast livery after repair, or conforms to the current fashion of all-things BR blue.
A last trip down to Totnes behind 55019 before heading back to the mainline to find Arriva had cancelled the 1738 Carmarthen service. A sleepy Voyager journey back to Bristol and a HST to Weston, leaving connections a little trick for some of us. Fantastic weather, and aside for some irritating troubles with service trains, a great day out at the South Devon Railway. A few other pictures are here.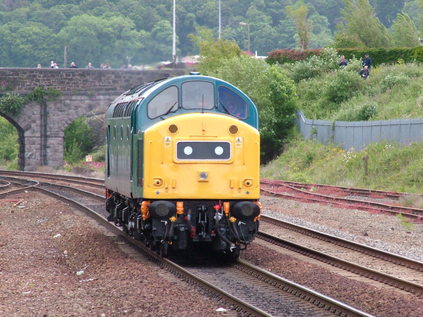 Posted in Railways on Saturday 4th June 2005 at 11:26pm
---
Up obscenely early to get a lift to Bristol in time for the 05:36 departure of 40145 on Pathfinder's "Whistling Slater" tour to Blaenau Ffestiniog and Holyhead. Arrived to find the stock in platform 3, and the headboard and beer being loaded. A few familiar faces on board, and I was soon joined by my travelling companions for the day, who added greatly to the entertainment during the journey!
Set off on time, and managed to arrive early at all of our pick-up points. Surprisingly spritely and somewhat thunderous run up the Lickey. Interesting routing around Birmingham, via Camp Hill to New Street, then Bescot and to Wolverhampton via Portobello Junction. After a pick up here, via Oxley to Shrewsbury and the scenic route to Crewe. An early arrival meant time to hop off and watch the Pendolino drags before setting off again for Llandudno Junction and a loud and spirited run around before heading for Blaenau.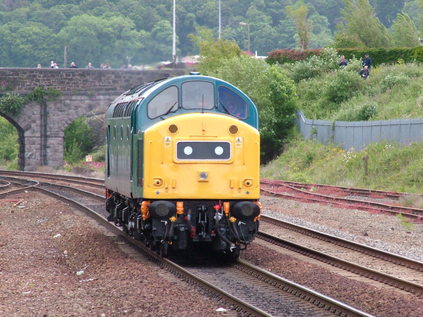 A little delay on the branch awaiting a passing unit. Incredible and somewhat awe-inspiring scenery as we wound along the floor of the Conwy Valley, occasionally glimpsing Snowdon. After a long twisting climb which really got 40145 working hard, arrived at Blaenau in pouring rain, where quite a crowd left for the Ffestiniog Railway and coach trip through Snowdonia. Stayed on board for the run back down the branch, over the Britannia Bridge and on to Holyhead. Time for pictures, followed by a mass exodus for the chip shops and bakeries of Holyhead.
A little before 16:00 the other tour of the day shunted back into the station prior to departure for Crewe with 'Duchess of Sutherland' doing the honours. Most impressive start, hauling a long train with a dead 47826 'Springburn' on the rear for insurance. With two tours in town at the same time, no wonder there were queues in every shop serving any kind of food! Huge crowds of spectators too, which added to the atmosphere. Good to see some of them sticking around for our departure too.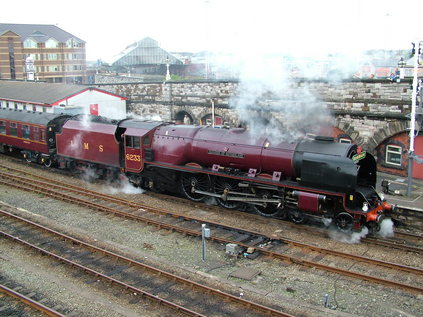 Departed a little late from Holyhead, collecting the remainder of our passengers at Bangor. Lightning fast run along the coast making up time nicely, but disappointingly held outside Crewe for some time, where another steam tour led by 45305 passed us. Slow going from Crewe to Birmingham where we were around 18 minutes down on arrival. Considered my contingency plans for getting home from Temple Meads. Need not have worried, after the slow stretch from St Andrew's Junction to Lifford, things got interesting - and noisy. Faultess performance by 40145, some skillful driving and the help of gravity saw us achieving incredible progress down the Lickey and as far as Cheltenham. Almost wish I could have been on the lineside during this part of the journey to appreciate the sight of 40145 flashing by. More fast running from here, and the lack of a planned pathing stop at Gloucester Yard Junction meant we arrived at Temple Meads eight minutes early by my calculation. My expected dash across town to the bus station became a saunter over to platform 15 for the 22:15 to Weston.
An incredible day in the company of a splendidly preserved and well-engineered locomotive. Also, lots of fun from the crowd on board. Looking forward to my next tour in the company of D1015. Grateful however, to be heading for my own well-deserved bed...