Posted in Railways on Saturday 11th June 2005 at 10:06pm
---
Originally, the plan was to be on Past Time's 'Edinburgh Explorer' tour today. With this rescheduled for late July, had to find other things to do. Having considered a trip to Cardiff for the Vale of Glamorgan reopening, the news that the 37s were running only tomorrow along the route helped me decide that a trip to the Diesel Gala at the South Devon Railway was the better option. After a shaky start, where Wessex and National Rail Enquiries decided to get existential about the 0614 service to Penzance, finally got going a little before 0800 travelling via Bristol and then south on a Voyager for Totnes. Short break at Exeter St Davids for breakfast, then onto a rather wedged HST for the last leg of the journey. Seemed to be significant numbers of cranks aboard, and I swear the train almost tilted when we slowed for Totnes and 55019 was sighted on the right-hand side, basking in the sunshine at Littlehempston!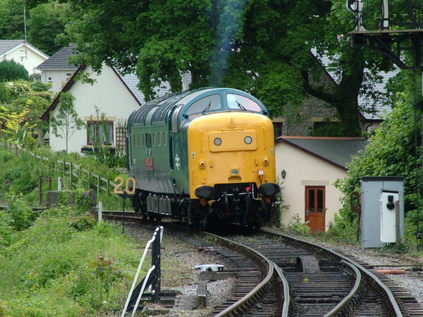 Joined the queue for the next train to Buckfastleigh, with 55019 in charge. A pair of 20s also hanging around, including 20905 in pristine DRS blue but without branding. 55019 performed well, but rather quietly for my liking on the journey upriver.
A photo stop at Buckfastleigh, and then since I wanted a little noise we joined 37037 for the trip back to Totnes. This loco was for me, the star of the gala, ending up on several trains I travelled on and generally looking and sounding fantastic. Persuaded to part with cash by the sales stand, which was conveniently next to the beer counter. Sampled a pint of 'Diesel Driver' from Newton Abbot, which was an excellent accompaniment to the sounds of 37037 and the scenery of South Devon.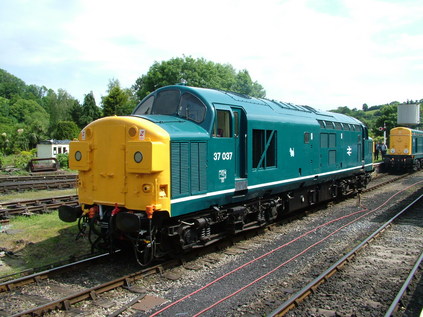 After this, it was the turn of the 20s to entertain. I hadn't realised just how many 'Choppers' were to be here today. I confess they have never been a favourite locomotive of mine perhaps because I saw so few of them in service, but in these lean times its a bonus just to find locomotives in working order, hauling trains. Having spent very little time around 20s, quite enjoyed seeing them at work . A particular favourite was 20118 in large-logo Railfreight grey livery with a red solebar.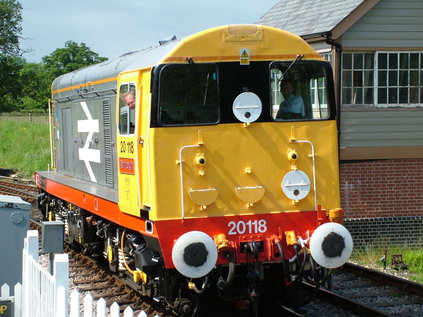 A bite to eat at Buckfastleigh, and a quick look around the yard where 25901 was to be found, along with the sorry looking 50002 'Superb' which hopefully has a brighter future ahead. It will be interesting to see if it retains it's Network SouthEast livery after repair, or conforms to the current fashion of all-things BR blue.
A last trip down to Totnes behind 55019 before heading back to the mainline to find Arriva had cancelled the 1738 Carmarthen service. A sleepy Voyager journey back to Bristol and a HST to Weston, leaving connections a little trick for some of us. Fantastic weather, and aside for some irritating troubles with service trains, a great day out at the South Devon Railway. A few other pictures are here.