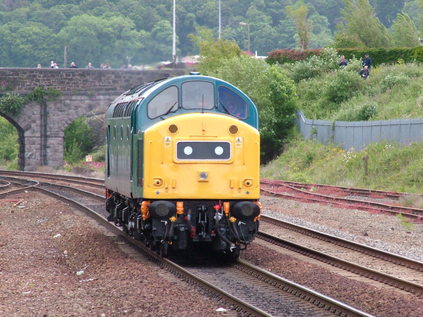 Posted in Railways on Saturday 4th June 2005 at 11:26pm
---
Up obscenely early to get a lift to Bristol in time for the 05:36 departure of 40145 on Pathfinder's "Whistling Slater" tour to Blaenau Ffestiniog and Holyhead. Arrived to find the stock in platform 3, and the headboard and beer being loaded. A few familiar faces on board, and I was soon joined by my travelling companions for the day, who added greatly to the entertainment during the journey!
Set off on time, and managed to arrive early at all of our pick-up points. Surprisingly spritely and somewhat thunderous run up the Lickey. Interesting routing around Birmingham, via Camp Hill to New Street, then Bescot and to Wolverhampton via Portobello Junction. After a pick up here, via Oxley to Shrewsbury and the scenic route to Crewe. An early arrival meant time to hop off and watch the Pendolino drags before setting off again for Llandudno Junction and a loud and spirited run around before heading for Blaenau.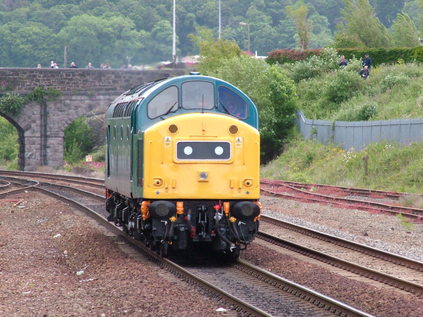 A little delay on the branch awaiting a passing unit. Incredible and somewhat awe-inspiring scenery as we wound along the floor of the Conwy Valley, occasionally glimpsing Snowdon. After a long twisting climb which really got 40145 working hard, arrived at Blaenau in pouring rain, where quite a crowd left for the Ffestiniog Railway and coach trip through Snowdonia. Stayed on board for the run back down the branch, over the Britannia Bridge and on to Holyhead. Time for pictures, followed by a mass exodus for the chip shops and bakeries of Holyhead.
A little before 16:00 the other tour of the day shunted back into the station prior to departure for Crewe with 'Duchess of Sutherland' doing the honours. Most impressive start, hauling a long train with a dead 47826 'Springburn' on the rear for insurance. With two tours in town at the same time, no wonder there were queues in every shop serving any kind of food! Huge crowds of spectators too, which added to the atmosphere. Good to see some of them sticking around for our departure too.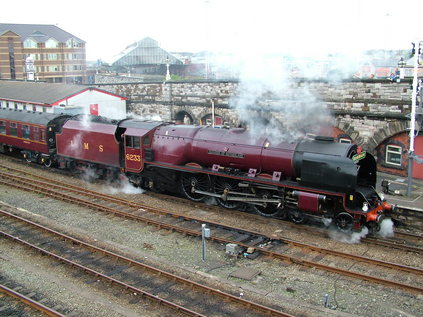 Departed a little late from Holyhead, collecting the remainder of our passengers at Bangor. Lightning fast run along the coast making up time nicely, but disappointingly held outside Crewe for some time, where another steam tour led by 45305 passed us. Slow going from Crewe to Birmingham where we were around 18 minutes down on arrival. Considered my contingency plans for getting home from Temple Meads. Need not have worried, after the slow stretch from St Andrew's Junction to Lifford, things got interesting - and noisy. Faultess performance by 40145, some skillful driving and the help of gravity saw us achieving incredible progress down the Lickey and as far as Cheltenham. Almost wish I could have been on the lineside during this part of the journey to appreciate the sight of 40145 flashing by. More fast running from here, and the lack of a planned pathing stop at Gloucester Yard Junction meant we arrived at Temple Meads eight minutes early by my calculation. My expected dash across town to the bus station became a saunter over to platform 15 for the 22:15 to Weston.
An incredible day in the company of a splendidly preserved and well-engineered locomotive. Also, lots of fun from the crowd on board. Looking forward to my next tour in the company of D1015. Grateful however, to be heading for my own well-deserved bed...