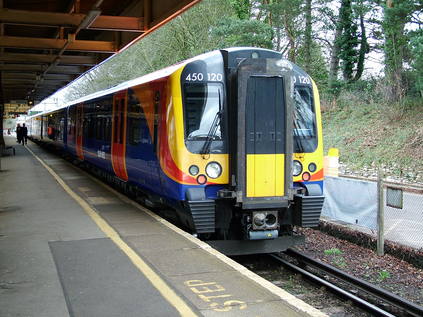 Posted in Railways on Saturday 28th February 2009 at 10:33pm
---
Having spent the last few days feeling distinctly unwell, and not having had the smoothest of working weeks I was looking forward to an easy day out today. For a change, I'd actually managed to set up the opportunity to pursue one of the diversions on the GENSHEET weekly mailing ahead of time, instead of reading it longingly while I'm at the other end of the country on some contrived route of my own devising! Given fairly undemanding timings, I was even able to get up a little later, and roll directly onto the Highbridge to Paddington train for the first leg of the trip. A rare pleasure to be able to sample First Class travel from my home station these days - I wasn't even too bothered that there were technical issues in the Buffet Car and that I couldn't have coffee until Bristol. Spent the trip reading Patrick Wright and contemplating more local regeneration issues while watching the train get fairly busy with London daytrippers. Plenty of time to disembark at Reading and to get much needed coffee before heading over to the far reaches of the station to await the incoming Voyager. I'd expected fairly busy trains on this route, but I was surprised to find few fellow boarders here, and a fair number who did turn up seemed only to be using the train as a quick, non-stop way to get as far as Basingstoke. Settled in for the next leg of the trip whilst the driver changed ends. Soon off into the hazy sunshine, heading back west.
The object of the trip was a fairly insignificant bit of track which I'd passed by recently on my travels, not for a moment suspecting I'd get a chance to cover it so soon - namely the curve at Laverstock linking the Basingstoke and Southampton lines leaving Salisbury station. Another of those little bits of line which are rarely used and show up in railtour itineraries and diversions occasionally. On this occasion, a closure of the line between Basingstoke and Eastleigh was sending two-hourly Crosscountry trains by this unusual route. In total, probably a mile or so of line - but from a crank's perspective, well worth the trip. After a fairly steady journey west through Andover we slowed briefly before taking the curve at Laverstock North Junction and swinging south and then eastwards, with the tunnel leading into Salisbury station visible on our right as we took the curve. A few moments later we were speeding towards Romsey and back to the booked route via a reversal at Southampton. The train didn't take the further diversion via Chandlers Ford which it seems was only in use by First Great Western's Bristol-Portsmouth service. From here on, a quiet journey to Bournemouth. More refreshments here, before heading over the bridge and onto a local unit doubling back to Brockenhurst. The plan was to cover the short branch down to Lymington Pier once again, having not been here for a good few years.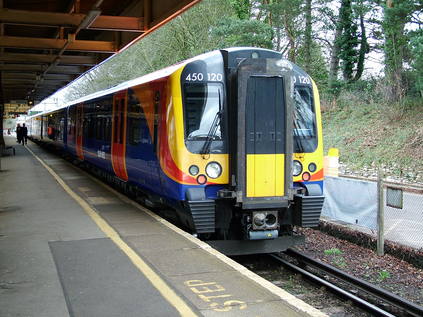 A short wait in the sunshine at Brockenhurst, spent watching passing trains and trying to suppress my annoying cough which just wouldn't disappear. Noted the cycle hire business beside the station doing pretty good business so early in the season too. On to the waiting 450120 for the journey to the pier - the first time I'd covered the track on a modern unit. Noted the train was very well loaded which was finally explained on arrival, when the guard announced that to mark the commissioning of the new ferries, all foot crossings to Yarmouth were free this weekend. Regretted I didn't have more time as this could have been an interesting diversion. Back on the train to Brockenhurst instead, arriving in time to catch the incoming Crosscountry service back to Bournemouth. This was formed by 220009 - the unit which I'd be catching back to Reading a little while later. With time to spare on arrival I wandered the immediate environs of the station, finally finding a small supermarket at a petrol station. A fairly surreal encounter followed, as a car full of off-duty lapdancers arrived and proceeded to buy fuel whilst wearing bright safety-orange lyrca jumpsuits advertising their establishment in Bournemouth. The stereotype of a retirement town for pensioners was dispelled forever as I queued up in a line of Jodi Marsh lookalikes. Exchanged bewildered looks with the cashier, who seemed equally amused by what was perhaps not a daily event here. Back to the station, expecting a comparatively quiet and uneventful trip home.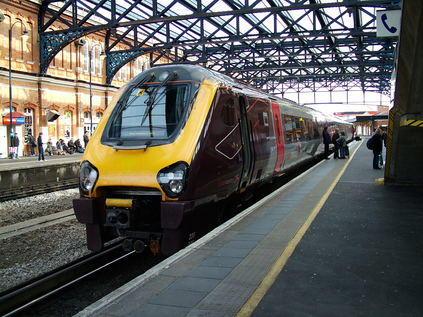 The returning service completed the unusual manoeuvre in the reverse direction, covering Laverstock South to North Junction and the crossovers at each end of the short chord to access the line to Andover and Basingstoke. The train remained very quiet throughout the journey to Reading. Not long to wait for the Bristol-bound service here, and more entertainment was provided by bemused Americans being ejected from the station for smoking. A pleasant trip west, travelling into an impressive sunset but with frustrating delays at each station for no clear reason. Arrived at Temple Meads with only a few minutes to spare. Dashed to platform 6 to find huge crowds crushing onto a single carriage Class 153. Took a deep breath and found a spot in the vestibule. Not a comfortable journey back to Highbridge. Overall a quiet and simple trip out in decent weather which brightened my mood and kept me out of trouble for the day and gained a bit of track into the bargain.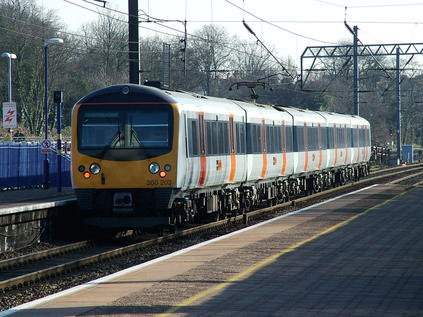 Posted in Railways on Saturday 21st February 2009 at 9:52pm
---
Inspired by last weeks' successful dash around Cornwall and the availability of a fairly new Day Ranger ticket, we decided to repeat the experiment in the Thames Valley area today. There was no new track - in fact, these branches had featured early on in my return to track bashing back in 2004 - but it promised to be a decent day weather-wise, and this offered a sociable and fairly low-stress day out. At least, that's how it was meant to work out...
Set out early in the time-honoured fashion. To Weston, then sleepily onto the early London train. Diverted via Hawkeridge Junction once again, so a quiet and uneventful run up the B&H to get to Reading. The station here was beginning to wake up, and with the all-important coffee supply secured, we headed for the booking office to buy our Thames Branches Day Ranger tickets. In truth, I have bad memories of booking rover tickets - the confusion, denial, reluctance and final acquiescence of a legion of ticket office clerks being a well-worn routine. Mostly, it takes time - almost as if procrastination will lead to you changing your mind and saying 'don't bother, give me a return to Pewsey' instead. However, I've got to admit this was impressive - quick, knowledgeable and presented with a smile! As a result decided to go for a slightly earlier train than planned to Ealing Broadway. This meant a little time to take some pictures of the passing traffic - something the winter light has prevented for what seems like months now.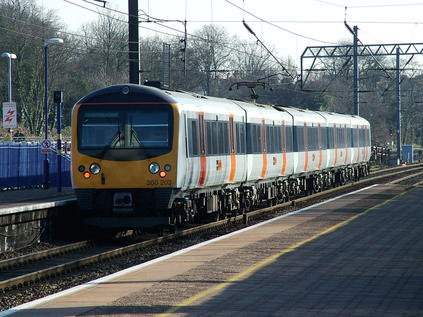 From Ealing, the first target was the Greenford branch. None of us needed this in it's entirety, but the link to the bay platform was new to those who'd done the line on Virgin's 'blockade buster' trains which used the link to the Chiltern line here. A quick trip up and back in now brilliant sunshine. Took the return service back as far as Paddington, enjoying the unusual opportunity to see the passing scenery from the slow lines! Time for more coffee, before heading back west to Maidenhead for the next branch. It's probably clear that we hadn't done these branches in any sort of logical order. The plan was to keep moving, get some miles under our belts, and ultimately end up at Windsor for a brief run on the Southern as a bonus. A quick change of platform at Maidenhead and on to a waiting 165131 in the Marlow platform. A bit of a scoop, since according to my records I needed this unit for sight. I doubt it personally given the number of trips I've done up and down here, but nevertheless now it was in the book. It wasn't however, destined to be a lucky unit for me. All started out well enough, with a sunny stagger up the branch through Furze Platt and Cookham - remembered from a childhood boating holiday as well as a more recent visit by rail. We reached Bourne End, and waited while the preparations were made for the reversing manoeuvre. We waited quite a while in fact...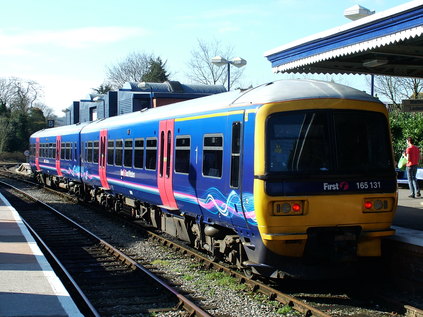 Eventually, after several optimistic announcements, the train staff were forced to give in. The brakes wouldn't released and the set was a failure. Bourne End is not a good place to break down it seems, despite being a fairly substantial staffed station for such a small village, there is little in the way of local transport. The guard tried valiantly to secure some form of onward travel but was struggling. Control said no trains, and taxis and minibuses were some time away. In an effort to get back on track we allied ourselves with those going back to Maidenhead rather than pushing on to Marlow - which didn't quite work out as planned as efforts seemed to be focused on getting to Marlow and picking us up on the return of the minibus! Eventually found a bus stop with an hourly service to Maidenhead, paid up and trundled pleasantly enough through the countryside back into town. By the time we left Bourne End, no alternative transport had arrived - but the train had recovered enough to leave empty. After our pedestrian bus ride, we wandered back into the station to find 165131 sitting back in the bay platform waiting to work the next Marlow train! We decided not to let this annoy us too much - and to press on with our plan albeit without Marlow or Henley-on-Thames.
We squeezed onto the next London service as far as Slough, changing there for the short trip down the branch to Windsor and Eton Central. The station with its grand arcade was buzzing with people, and we tried to slip through as quickly as possible, taking a brief wrong turn as guided by an altered road sign. Once I'd regained my bearings we pushed on down the hill beside the castle, and soon found ourselves in the cool and calm of Riverside station. One of the high capacity refitted class 450 units ticked quietly in the platform. Rebooked as far as West Brompton and tried to decide which of the two independent coffee outlets on the station to choose from. Eventually stumped for the one staffed by a rather enigmatic young French barista. Not great coffee, but a fantastic accent! From Windsor, we made good progress through the south western suburbs of London as far as Clapham, where with a bit of a wait for the next Overground train to West Brompton, we watched 'Tangmere' shunting around the yard and station before working it's homeward tour. Lots of steam cranks appeared to be running from one end of the platform to the other as the engine moved around. Soon onto a wedged 313 to West Brompton, changing for the District Line back to Paddington. The trip home wasn't uneventful either, with a fair number of Bristol City fans boarding at Reading and proceeding to dismantle a toilet, harass a passenger or two and generally make the journey a little less than pleasant. The BTP descended pretty swiftly on arrival at Bristol, and I'm reliably informed that action is being taken by the club too.
A strange, disjointed but overall enjoyable day spent pottering around west of London. There will need to be another trip for those branches of course...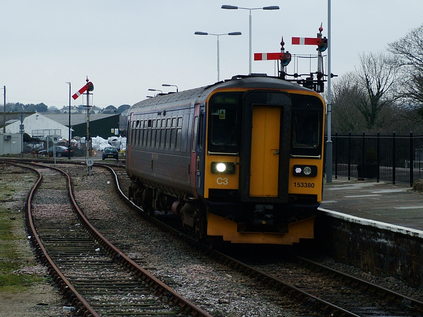 Posted in Railways on Saturday 14th February 2009 at 9:51pm
---
It's become almost traditional that I take a break at this time of year. Mostly it's to do with using up days of leave before the end of March deadline, but this time it also coincided with last weekend's Scotland trip. Taking some extra days I'd hatched a half formed plan to get a three-day Freedom of the South West Rover ticket and revisit lines I'd not done since a similar trip a decade or so back. I figured that given the amount of track I've covered in recent years, I needed to get used to a little repetition. Having had a couple of days travel earlier in the week, today was a chance to push west into Cornwall and visit some branch lines. Mr Spinks needed the track and had decided to come along, so the plan was to hit the first train south and cover most of the branches in a single hit. Equipped with coffee and a vague order of play concocted the previous evening, we set off in the dark.
Nearly four hours later we disembarked at Truro, watching our train head off into the distance for Penzance. A few minutes here to head for the Falmouth Docks train. The weather had stayed dry and cloudy, and there were some impressive views as we headed down to the coast. Aside from the work to install a passing loop at Penryn, little had changed since my last visit - although the area around the station at the Docks was much tidier, and the area had been quite heavily developed. No time to hang around, as we retraced our steps on the same unit back to Truro and a quick coffee break. Back onto the platform just in time to catch a fairly packed unit into Penzance. I'd made several trips here over the years, sometimes just for a bit of a spin and a spot of lunch in fact! The station was strangely quiet, and hadn't change a bit - still dark and unsuitable for photography, and still sporting an excellent little independent buffet bar. After a short layover, back out on the same unit as far as St. Erth.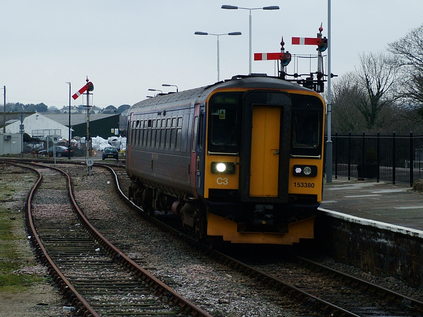 I had reservations about changing here after a long wait with little happening a long time back. However things had changed a lot. Always a photogenic little station, we made our down the steps to the bay platforms to find a small cafe and shop staffed by perhaps the politest people I've ever met. Grabbed an excellent coffee and waited to get a picture of the arriving unit. This time it was a 153 which arrived and turned around swiftly in the bay. When I first made the trip it was in a mixture of heritage DMU vehicles which ran through to Penzance - so the bays were a little new track if my memory serves me correctly. Still impressed by the great curved sweep of the bay as the line snakes around the hill and into St. Ives. Some fine properties overlooking the sea here too, which prompted a discussion about where the ideal home would be. I ended up with three or four possible locations, none of them particularly practical!
Back at St Erth we had a short wait for the next unit which left us out in a brief shower. Eventually the train arrived, formed of former Silverlink unit 150121. Found a seat on the busy unit and settled in for the trip to Liskeard and our last branch of the day. A quick walk to the platofrm for Looe, at right-angles to the mainline and apparently recently restored. Onto the fairly busy unit and off, curving sharply and steeply to pass under the mainline and the impressive Moorswater Viaduct. Sadly, this train wasn't one of the PSUL listed trips which reverse in Coombe Station rather than at the ground frame a little to the south. Reversing here, the line is surrounded by water - following the course of both the East Looe River and the Liskeard and Looe Union Canal. Enjoyed the truly amazing scenery here, as the estuary opened up beside the line and we pulled into Looe. Here, on my original trip, I'd broken for lunch and a chance to send a postcard back to the office! No time for that this time however, and we were soon climbing back up to Liskeard station and a quick change onto a Plymouth bound HST.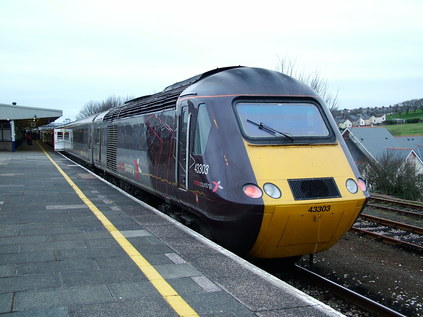 After a longer break at Plymouth we boarded one of Crosscountry's recently refurbished HST sets for the trip back as far as Taunton. Having done a fair few miles on these this week, I'm fairly impressed. They're comfortable and have plenty of capacity for the routes they operate - a rare luxury on the Crosscountry network. Having done a fair few miles in the south west over the last week, it's interesting to compare notes with my previous travels. Certainly, a lot has stayed the same, and these lines continue to be a fantastic way of seeing the countryside from a new angle. However, the trains are busier and the lines feel a little more vibrant and well-used. The presence of refurbished units, frequent services and evidence of expansion of the network in places would have been unthinkable back in 1998, and the figures for increased patronage are quite remarkable. It's been good to be back on these very special bits of the network which aren't really so far from home. I'll try not to leave it another decade before visiting again.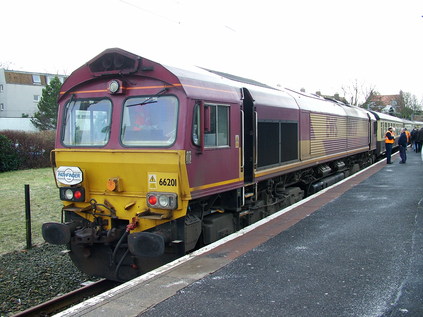 Posted in Railways on Sunday 8th February 2009 at 10:44pm
---
I woke to a freezing, but dry and snowless scene in Glasgow. I'd been contemplating how best to get to Edinburgh for today's trip for some time, and had even gone as far as booking a cheap seat on the 06:30 National Express bus from Buchanan Street. However, with the tour retimed a little later, and knowing that a fair number of us cranks were planning to catch the first train from Queen Street at 07:50, I opted to do this too. Because of my far too early start, I arrived at Queen Street just as the station was opening. Thankfully the coffee stall was already up and running, and I could at least warm my hand whilst waiting to see which of the stabled units would form the train. The crowds seemed to grow rather steadily, and some familiar faces arrived as with a tap on the shoulder I was advised "it's a long way from Bristol". As soon as the train was called, made a dash for the front and found a seat in First Class with a few other cranks and one or two Sunday morning commuters. The train seemed very full with even a few early rugby fans on board! Arrived pretty much on time at Waverley and immediately found breakfast before heading for platform 11 where the tour was due to depart. We waited for what seemed an age in the biting wind, with no apparent reason for the delay. Eventually the stock rolled in around ten minutes late. With no heating on yet, we shivered through the first part of the trip - but once we got moving things soon improved. All was not well though, as we sped past Portobello Junction where we were due to reverse at a fair pace. An announcement soon confirmed trouble - overrunning engineering works and an emergency possession at Whifflet meant some changes. However, despite overshooting Portobello, we'd soon be heading back to Powderhall.
Even this was not without problems. It seems that as late as Wednesday, DBS staff were refusing to take the train down the branch due to the state of the foliage. A long running dispute between DBS and Network Rail about who should clear this section of line was being fought, and we were stuck in the middle of it. Thanks to some persuasion and reassurance from the Train Manager we progressed gingerly down the branch towards the waste terminal, but stopped at the site of Easter Road station, short of where the Network Rail limit was believed to be. A disappointment, but still an interesting insight into the former lines in this area. Another reversal and off at speed on the mainline again, this time to call at North Berwick, and a chance for a quick photocall.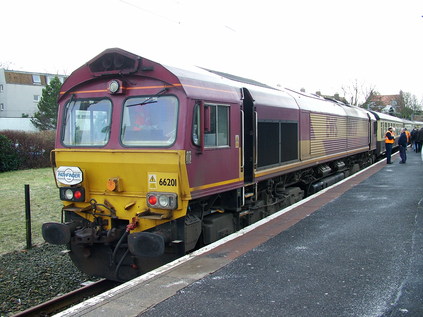 Off again towards Edinburgh, passing the loop at Drem where the Alloa Alloer had come to grief last year. No paperwork problems this time however, as we curved away from the mainline at Monktonhall Junction and proceeded into Millerhill Sorting Sidings. The next set of manoeuvres was complicated and much discussion went on about the order of play according to timings. In simple terms we firstly reversed around the curve onto the former Bilston Glen colliery line, and followed this line to its current limit. Then we moved forward, taking the eastern chord back towards Monktonhall before reversing again back into Millerhill Yard. Thus we covered all three sides of the triangle, getting a view of the stub of the former Waverley route to Carlisle and the pair of 37s stored at the back of Millerhill into the bargain. Slightly dizzy after this session of reversals and traversals, we headed back via Newcraighall towards the mainline, immediately branching towards Leith. More trouble befell us here though - not so much of a physical issue with limits this time as a territorial one. Network Rails, DBS and the Forth Port Authority couldn't seem to agree where the limit actually was. In the end, we stopped at Seafield crossing, a little short of Leith South. Another disappointment, and also a very early departure. This meant retreating along the Edinburgh Suburban line for a short distance to await out slot in the station. Eventually, after a long fester in the middle of nowhere, we arrived at Waverley for a brief break.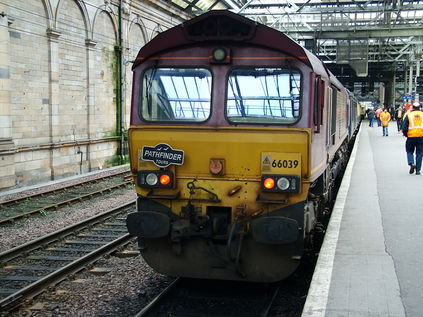 Setting off after a quick lunch and a chance for photographs, we sped along the E&G route towards Falkirk, since the emergency possession prevented us from maintaining our booked route via Coatbridge. This was also a disappointment, just because I find any chance to traverse the knot of lines around Glasgow intriguing. Finally reversed at the desolate and abandoned Cadder Yard in the beginnings of a snow storm. Soon retracing our steps to Greenhill Junction, where we were surprised to see the lines to Falkirk Grahamston falling away to our left. We made a fairly sharp stop, and the driver disappeared to the signalpost telephone. Eventually he was seen practically jogging back down the train to the rear loco. As he passed us he muttered "they didn't say which bloody Falkirk". After a swift reversal, using an unusual crossover in both directions, we finally found our way to Grangemouth Junction. This branch worked out a little better, with the train making it right to the NR limit and giving us a chance to see the fair number of DRS locos sitting at W H Malcolm's depot, at last a good result on one of today's obscure branches!
In failing light and gathering snow clouds we departed for the last bit of unusual track of the day. This took us via Stirling, passing Alloa to Dunfermline. I've covered this track previously in the opposite direction, and even visited again to do the short spur into the new Alloa station, so all was familiar. Interesting to see the rather brooding presence of Longannet Power Station in the dark though, and the bonus was running past Dunfermline and into the rarely used Townhill Loop for our final reversal. From here, it was a straightforward dash back to Edinburgh via the Forth Bridge. Had the rare chance to stand at an open window, cold air blasting in as I was simply awed by the structure over which we were passing. An unusual view an iconic bridge, and a great way to end a strange and occasionally frustrating tour around these branches.
My day of rare track wasn't over though, and after seeing off a couple of colleagues, I made my way to the platform to wait for the 20:12 to Glasgow Central. I could have caught a couple of earlier trains back west, but aside from being rather full of the stragglers from the rugby match, they were not booked by the route which my intended train took. Having spotted a discussion about this on the GENsheet list last week, I decided to check if this train really did use the rare connection south of Newton station as shown in PSUL. This was one of very few minor bits of track I haven't done before in Glasgow, and sure enough after a long and rather slow journey through the snowy landscape at Carstairs, we bumped and shuddered over the crossing and passed through Newton station platforms, before curving away to travel via Kinghill and to join the Cathcart Circle at Mount Florida. Another bit of line covered successfully, and an interesting end to a strange day. Rewarded myself with a visit to the Kings House for a Chinese buffet to round off a cracking day out overall. Here's to the next Scottish tour, which all being well isn't so far away!