Posted in Railways on Saturday 21st February 2009 at 9:52pm
---
Inspired by last weeks' successful dash around Cornwall and the availability of a fairly new Day Ranger ticket, we decided to repeat the experiment in the Thames Valley area today. There was no new track - in fact, these branches had featured early on in my return to track bashing back in 2004 - but it promised to be a decent day weather-wise, and this offered a sociable and fairly low-stress day out. At least, that's how it was meant to work out...
Set out early in the time-honoured fashion. To Weston, then sleepily onto the early London train. Diverted via Hawkeridge Junction once again, so a quiet and uneventful run up the B&H to get to Reading. The station here was beginning to wake up, and with the all-important coffee supply secured, we headed for the booking office to buy our Thames Branches Day Ranger tickets. In truth, I have bad memories of booking rover tickets - the confusion, denial, reluctance and final acquiescence of a legion of ticket office clerks being a well-worn routine. Mostly, it takes time - almost as if procrastination will lead to you changing your mind and saying 'don't bother, give me a return to Pewsey' instead. However, I've got to admit this was impressive - quick, knowledgeable and presented with a smile! As a result decided to go for a slightly earlier train than planned to Ealing Broadway. This meant a little time to take some pictures of the passing traffic - something the winter light has prevented for what seems like months now.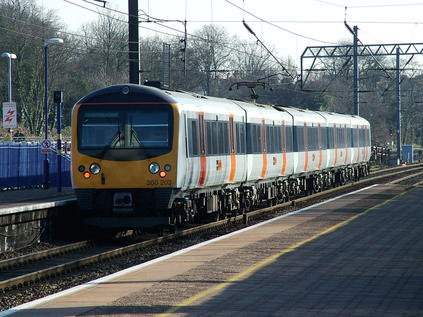 From Ealing, the first target was the Greenford branch. None of us needed this in it's entirety, but the link to the bay platform was new to those who'd done the line on Virgin's 'blockade buster' trains which used the link to the Chiltern line here. A quick trip up and back in now brilliant sunshine. Took the return service back as far as Paddington, enjoying the unusual opportunity to see the passing scenery from the slow lines! Time for more coffee, before heading back west to Maidenhead for the next branch. It's probably clear that we hadn't done these branches in any sort of logical order. The plan was to keep moving, get some miles under our belts, and ultimately end up at Windsor for a brief run on the Southern as a bonus. A quick change of platform at Maidenhead and on to a waiting 165131 in the Marlow platform. A bit of a scoop, since according to my records I needed this unit for sight. I doubt it personally given the number of trips I've done up and down here, but nevertheless now it was in the book. It wasn't however, destined to be a lucky unit for me. All started out well enough, with a sunny stagger up the branch through Furze Platt and Cookham - remembered from a childhood boating holiday as well as a more recent visit by rail. We reached Bourne End, and waited while the preparations were made for the reversing manoeuvre. We waited quite a while in fact...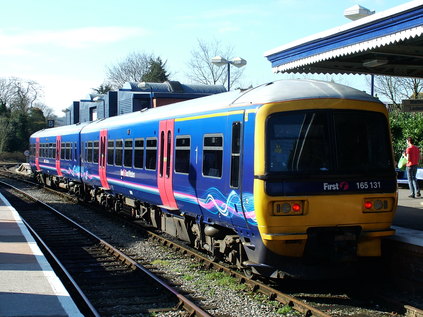 Eventually, after several optimistic announcements, the train staff were forced to give in. The brakes wouldn't released and the set was a failure. Bourne End is not a good place to break down it seems, despite being a fairly substantial staffed station for such a small village, there is little in the way of local transport. The guard tried valiantly to secure some form of onward travel but was struggling. Control said no trains, and taxis and minibuses were some time away. In an effort to get back on track we allied ourselves with those going back to Maidenhead rather than pushing on to Marlow - which didn't quite work out as planned as efforts seemed to be focused on getting to Marlow and picking us up on the return of the minibus! Eventually found a bus stop with an hourly service to Maidenhead, paid up and trundled pleasantly enough through the countryside back into town. By the time we left Bourne End, no alternative transport had arrived - but the train had recovered enough to leave empty. After our pedestrian bus ride, we wandered back into the station to find 165131 sitting back in the bay platform waiting to work the next Marlow train! We decided not to let this annoy us too much - and to press on with our plan albeit without Marlow or Henley-on-Thames.
We squeezed onto the next London service as far as Slough, changing there for the short trip down the branch to Windsor and Eton Central. The station with its grand arcade was buzzing with people, and we tried to slip through as quickly as possible, taking a brief wrong turn as guided by an altered road sign. Once I'd regained my bearings we pushed on down the hill beside the castle, and soon found ourselves in the cool and calm of Riverside station. One of the high capacity refitted class 450 units ticked quietly in the platform. Rebooked as far as West Brompton and tried to decide which of the two independent coffee outlets on the station to choose from. Eventually stumped for the one staffed by a rather enigmatic young French barista. Not great coffee, but a fantastic accent! From Windsor, we made good progress through the south western suburbs of London as far as Clapham, where with a bit of a wait for the next Overground train to West Brompton, we watched 'Tangmere' shunting around the yard and station before working it's homeward tour. Lots of steam cranks appeared to be running from one end of the platform to the other as the engine moved around. Soon onto a wedged 313 to West Brompton, changing for the District Line back to Paddington. The trip home wasn't uneventful either, with a fair number of Bristol City fans boarding at Reading and proceeding to dismantle a toilet, harass a passenger or two and generally make the journey a little less than pleasant. The BTP descended pretty swiftly on arrival at Bristol, and I'm reliably informed that action is being taken by the club too.
A strange, disjointed but overall enjoyable day spent pottering around west of London. There will need to be another trip for those branches of course...