Posted in Railways on Saturday 28th February 2009 at 10:33pm
---
Having spent the last few days feeling distinctly unwell, and not having had the smoothest of working weeks I was looking forward to an easy day out today. For a change, I'd actually managed to set up the opportunity to pursue one of the diversions on the GENSHEET weekly mailing ahead of time, instead of reading it longingly while I'm at the other end of the country on some contrived route of my own devising! Given fairly undemanding timings, I was even able to get up a little later, and roll directly onto the Highbridge to Paddington train for the first leg of the trip. A rare pleasure to be able to sample First Class travel from my home station these days - I wasn't even too bothered that there were technical issues in the Buffet Car and that I couldn't have coffee until Bristol. Spent the trip reading Patrick Wright and contemplating more local regeneration issues while watching the train get fairly busy with London daytrippers. Plenty of time to disembark at Reading and to get much needed coffee before heading over to the far reaches of the station to await the incoming Voyager. I'd expected fairly busy trains on this route, but I was surprised to find few fellow boarders here, and a fair number who did turn up seemed only to be using the train as a quick, non-stop way to get as far as Basingstoke. Settled in for the next leg of the trip whilst the driver changed ends. Soon off into the hazy sunshine, heading back west.
The object of the trip was a fairly insignificant bit of track which I'd passed by recently on my travels, not for a moment suspecting I'd get a chance to cover it so soon - namely the curve at Laverstock linking the Basingstoke and Southampton lines leaving Salisbury station. Another of those little bits of line which are rarely used and show up in railtour itineraries and diversions occasionally. On this occasion, a closure of the line between Basingstoke and Eastleigh was sending two-hourly Crosscountry trains by this unusual route. In total, probably a mile or so of line - but from a crank's perspective, well worth the trip. After a fairly steady journey west through Andover we slowed briefly before taking the curve at Laverstock North Junction and swinging south and then eastwards, with the tunnel leading into Salisbury station visible on our right as we took the curve. A few moments later we were speeding towards Romsey and back to the booked route via a reversal at Southampton. The train didn't take the further diversion via Chandlers Ford which it seems was only in use by First Great Western's Bristol-Portsmouth service. From here on, a quiet journey to Bournemouth. More refreshments here, before heading over the bridge and onto a local unit doubling back to Brockenhurst. The plan was to cover the short branch down to Lymington Pier once again, having not been here for a good few years.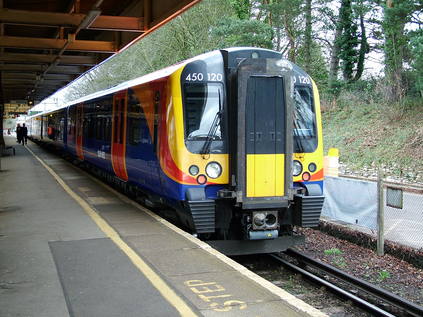 A short wait in the sunshine at Brockenhurst, spent watching passing trains and trying to suppress my annoying cough which just wouldn't disappear. Noted the cycle hire business beside the station doing pretty good business so early in the season too. On to the waiting 450120 for the journey to the pier - the first time I'd covered the track on a modern unit. Noted the train was very well loaded which was finally explained on arrival, when the guard announced that to mark the commissioning of the new ferries, all foot crossings to Yarmouth were free this weekend. Regretted I didn't have more time as this could have been an interesting diversion. Back on the train to Brockenhurst instead, arriving in time to catch the incoming Crosscountry service back to Bournemouth. This was formed by 220009 - the unit which I'd be catching back to Reading a little while later. With time to spare on arrival I wandered the immediate environs of the station, finally finding a small supermarket at a petrol station. A fairly surreal encounter followed, as a car full of off-duty lapdancers arrived and proceeded to buy fuel whilst wearing bright safety-orange lyrca jumpsuits advertising their establishment in Bournemouth. The stereotype of a retirement town for pensioners was dispelled forever as I queued up in a line of Jodi Marsh lookalikes. Exchanged bewildered looks with the cashier, who seemed equally amused by what was perhaps not a daily event here. Back to the station, expecting a comparatively quiet and uneventful trip home.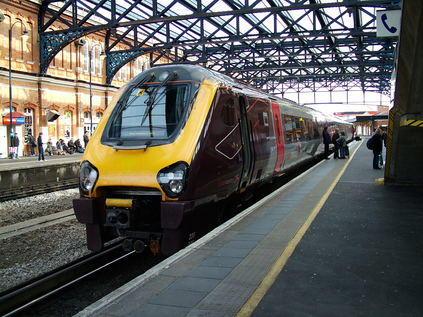 The returning service completed the unusual manoeuvre in the reverse direction, covering Laverstock South to North Junction and the crossovers at each end of the short chord to access the line to Andover and Basingstoke. The train remained very quiet throughout the journey to Reading. Not long to wait for the Bristol-bound service here, and more entertainment was provided by bemused Americans being ejected from the station for smoking. A pleasant trip west, travelling into an impressive sunset but with frustrating delays at each station for no clear reason. Arrived at Temple Meads with only a few minutes to spare. Dashed to platform 6 to find huge crowds crushing onto a single carriage Class 153. Took a deep breath and found a spot in the vestibule. Not a comfortable journey back to Highbridge. Overall a quiet and simple trip out in decent weather which brightened my mood and kept me out of trouble for the day and gained a bit of track into the bargain.