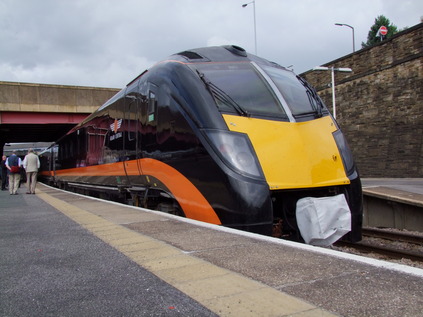 Posted in Railways on Saturday 28th August 2010 at 11:36pm
---
Bank Holiday weekends mean time to escape the West Country. The solid mass of traffic which pours into the area makes life tricky - but it's a necessity for the local economy I suppose. My strategy, as ever was to get away and to travel against the flow. When planning these last weekends in August a month or so back, I'd not even registered the holiday as such. I made all my usual checks - for football fixtures, for rugby matches and so on - and I was even vaguely aware of an important fixture in London. Still, you can't check everything, as I was to discover. My journey started on a bright, cold platform. There was a nip of autumn in the air, which instantly lifted my mood. It had been damp and dark all week, and the promise of a little sunshine was welcome. I noticed how dark it seemed, and with the days drawing in now the sun hadn't properly risen as I changed at Weston onto the first train to London. Familiar territory, especially in recent weeks. The journey up to the city in the amazing sunrise and cold, clear morning was just what I needed. A quiet, relaxing trip spent reading and windowgazing. Even managed not to think too much about work, or indeed anything - which lately is a rare miracle given a range of preoccupations. Even found something of a spring in my step at Paddington, which surprised me as I switched to the tube for the short trip to Kings Cross. The fact the Hammersmith & City Line was even operating this weekend seemed to add to the sense of a charmed existence - as for the last few weeks it's been a confusing half-service, always going where I don't want to be.
I had plenty of time at Kings Cross before the train to Bradford. The aim was to try out another of our Open Access Operators - this time Grand Central. After a really positive experience on Wrexham & Shropshire, and memories of really good trips with Hull Trains before they became part of a larger empire, I've always liked the idea of an outfit coming to the railway because they want to run trains - not an addendum to a bus company, or a vehicle for creaming off subsidy - just a good old fashioned train operator. Settled in for coffee at the very establishment I frequented last weekend, before heading into the station. The green shirts of Leeds rugby fans were everywhere, and despite being a good-natured bunch I was relieved to be heading in the opposite direction, just to avoid the crowds. The Class 180, now in Grand Central livery was ticking over on Platform 1 - which meant I could watch the general confusion over Platform 0 as I waited to board. I suppose the concept of zero as a number in itself is a bit alien to all but computer geeks among us. People would wander over, looking resolute but unconfident, then peer under the arches to see if the platform was really there, before heading for the train. Amused myself in this bit of urban ethnography before boarding my own train.
The Class 180s didn't really get a fair chance here in the West. First Great Western seemed to use them sporadically and on the wrong services, and the reliability record was appalling. There wasn't much excuse for this, as their sister units in the North West improved immeasurably with a bit of dedicated work. When they finally found their way onto the experimental Exeter semi-fast service - one that suited them - they were already on the way elsewhere. Now they've scattered all over the place, and it's good to see some of them doing useful work. Settled into the comfortable First Class saloon, and was immediately attended to by a polite, chatty gent who offered me a better seat if I wanted. Soon off, and speeding out of Gasworks Tunnel into the sunshine, the morning getting warmer as we headed north.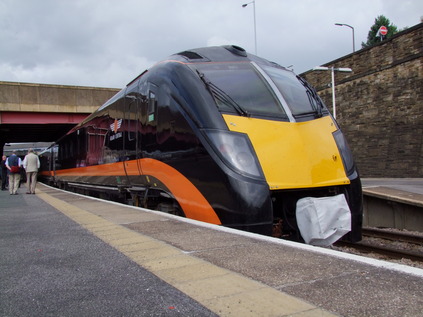 One immediate difference in the experience on the Open Access services is the staff who, in the vast majority, actually want to be doing the job! They are keen to talk about the company - what they're trying to achieve, and why they're different. Passed a while listening to the chatter between staff and customers, but repeatedly picked up a message about how today was quiet because of "what was happening". Thought about looking up some news on the internet, but a quick leaf through the complimentary paper soon explained things...although the English Defence League had been denied a march through Bradford, they'd been allowed a static protest. The publicity had swelled the predicted crowds to thousands and thus a Union Against Fascism counter-protest was now happening too. Cursing my luck, and my lack of attention to the news in recent weeks, I wondered what to do. Grand Central were taking things seriously enough to taxi the staff away from the station and to their office. Reports were that several thousands were gathered and that things were already boiling over. This didn't look good at all.
On arrival at Bradford Interchange there were very few of us left on board. A Grand Central manager had joined the train at Wakefield and the staff were whisked away. I headed out of the station and onto the long ramp leading to the road. It was flanked by young, nervous-looking Police officers. They shuffled uncomfortably in their flak jackets, picking off the odd passenger to search. I managed to get chosen, and had a fairly heated discussion with a young PCSO who felt he ought to be deleting my pictures as they posed a "terrorism risk". A more experienced colleague told him "not to be so bloody stupid" and suggested I was "pretty weird but no way a terrorist". Finding a curious complement buried in that, I headed for coffee but found the shops mostly shut in the face of the possible trouble. Back to the station, noting that the rather oppressive heat and cloudy skies seemed to make the place feel even more tense. A huge collection of Police and private security officers barricaded the end of a road to a square where the UAF protest was in fine voice. Across town near the building site I'd surveyed from the Midland Hotel a couple of years back, the EDL were meting out their own brand of rather confused nationalism - which apparently had already included missiles being thrown. Time to go.
The train to Leeds couldn't come soon enough, and safely tucked into the station Starbucks and watching people passing along the fantastic art deco entrance hall, I reflected on my day. Somewhere in front of me, a resolute northern voice remarked on his drink to his wife: "Well it's not what I'd call coffee...". Not sure what he'd call it then, and didn't stay to find out. Struggled onto a busy Edinburgh-Plymouth service and after a brief altercation assumed my booked seat. After a couple of stations, I found myself alone, and managed to stretch out and relax with some music. I realised that, with my last odd travel experience already shaping into something of a short story, this too could find it's place. In the meantime, it had been a long and disjointed day out on the rails. I still can't think of a better way to spend them.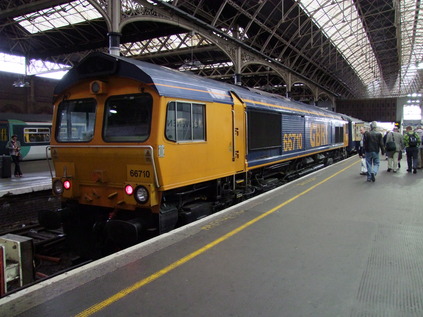 Posted in Railways on Saturday 21st August 2010 at 9:48pm
---
Woke uncharacteristically late for a comparatively leisurely start today. A pleasure to be in London, and to finally have shaken off the attack of the drabs which seemed to have started in Milton Keynes last weekend, and pervaded most of last week in some strange way. The plan was to make my way over to London Bridge fairly early and to get breakfast whilst waiting for the stock of the tour to arrive. Wandered over to Caledonian Road to find the bus stop and hopped onto a No. 17. This took an interesting route through Smithfield and The City before crossing London Bridge and terminating at the station. Interesting to see the city waking up as we passed by, and a somewhat different view of some familiar and much trodden ground. Found coffee and watched some of the usual faces arriving for the trip. Thought I'd managed to stay anonymously normal looking for a while until a shout across the concourse confirmed I'd be recognised...so I gave in and joined the assembly of cranks on the platform, after a pleasant chat with the gateline staff.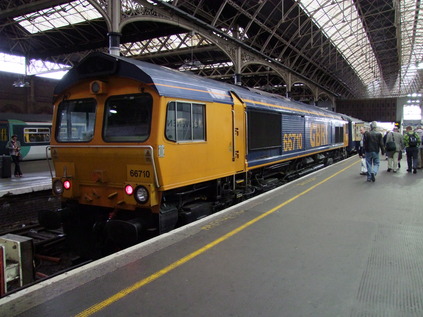 The stock arrived with 66710 leading into the platform. It was unusual to have a railtour starting here, and it of course attracted a somewhat different crowd of folks who perhaps don't make it to some of the stuff which starts in the Midlands and north. I noticed a fair few passengers left it pretty late in arriving, including the fellow occupants of my bay! Got shots of the two locos, as I realised I'd have few chances during the rest of the day, and settled into my seat. This was my first UK Railtour and I was surprised to see the same set of stock used as for one or two of their other trips I'd witnessed. The stock was in fairly good condition by Riviera standards, and whilst I didn't quite have the seat I'd choose with other tour operators, it was comfortable enough. We set off bang on time and started with the circuit to Waterloo, taking in the Linford Street Flyover. Built for Eurostar and now all but abandoned, we screeched our way over the high concrete structure, possibly the first train since last October's Buffer Puffer in fact? A very brief stop at Waterloo, before heading off again and using the equally rare Sheepcote Lane curve (again a means of getting Eurostart stock back to their former North Pole depot) for another reversal at Kensington Olympia - a station I seem to pass through on a weekly basis at present! Now underway in earnest and with 73204 leading, we managed to escape London's gravity with a speedy run out into Kent. The target was Sheerness-on-Sea, the first of the "Nesses" which gave the tour it's title. This involved traversal of the Western Curve at Sittingbourne, one of two bits of track which made this tour essential for me. The curve is used by some early services to get a unit onto the branch, but these are pretty inaccessible. After negotiating the tight turn onto the Isle of Sheppey, we crossed the flat and empty grassland, noting a fair bit of activity in the yard near the station - with a shunter and a pair of DRS Class 37s in evidence. Dashed out into the town briefly during our break here. A busy, but rather tiny place marooned on this forlorn stretch of the Thames Estuary. Time for further photographs before getting back on board for the next leg.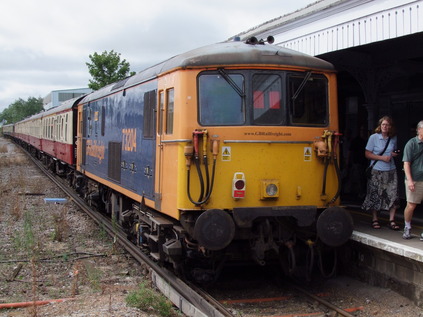 After departure from Sheerness, I braved the buffet queue and tried to stay awake with plenty of coffee. The lazy stroll around the edge of Kent remains an interesting journey in places, but I was beginning to snooze a little. We kept remarkably good time throughout this leg, losing only a couple of minutes outside Dover Priory. This led to the planned leg-stretch here being fairly short. Hopped off for a quick wander before settling back in for the next part of the run. I'd visited the Dungeness branch
before
and while it had been an interesting and rather eerie experience, it had been a long slow drag down the branch. As we approached Ashford, noted we were routed into Sevington Loop. Given that we were roughly on time, this seemed an odd turn of events. Eventually an announcement was made that the local Network Rail manager was querying the permission to head down to Dungeness with a Class 66, despite the class having visited before. This sort of issue has become an increasing problem over the last few year, and has had a huge impact on the type of trip I personally enjoy most. After a short wait, the management conceded and we headed into Ashford for the reversal. We finally got onto the branch around 25 minutes late, with little hope of making up much except for on the turn around. Dungeness was as I remembered it - a flat, rather desolate expanse of gravel and coarse grass. Lydd, the only settlement of note seemed isolated, with its rather forlorn abandoned station. Not sorry to leave this curious spot in some ways today.
A side effect of Network Rail admitting their earlier error was that every effort was made to get our train back on time on the run back towards London. Several Class 1 services were looped as we sped past, making up a fair amount of the time we'd lost in the process. An uninterrupted run from Ashford to Petts Wood Junction gave the Class 66 a chance to stretch it's legs impressively, and we were soon taking the rare curve at Beckenham Junction and heading back into London. We then undertook a fairly torturous circuit to get to our final destination, heading through Clapham Jucntion to Barnes and then into the tangle of lines around Acton. The next piece of line was the second highlight of the day for me - the tight, almost abandoned curve between Neasden Junction and Neasden South. We waited for some time for permission to proceed, and I wondered given our lateness if we might end up diverted elsewhere. But, eventually we crept forward, screeching around the curve and onto the Chiltern line, stopping beyond the signal for our reversal. Mission accomplished for me! The matter of the short run into Marylebone from here should have been straightforward, but the bank at Neasden presented quite a challenge for a Class 73 working on diesel power! The engine howled in protest as it worked up the bank, dropping to around 8mph at one point. Eventually the gradient eased and we picked up speed for the run into the terminus, only around 20 minutes late despite our complicated route in.
Commendably GBRf were to run the ECS back to Woking as a charity additional train, but having calculated the options for getting back into London, I decided that this wasn't a wise move - despite a short sliver of required track I'd missed last November too. Grabbed a snap of 73204 ticking over at the buffers, and headed out into the city. It had been a pleasant and fairly uneventful day, but a successful first jaunt with UK Railtours.

Posted in London on Saturday 14th August 2010 at 6:08pm
---
I left Milton Keynes early. I would probably have left earlier, but the prospect of trying to check out of the hotel and get to the station for the 04:35 wasn't pleasant. Even at a little before 07:00 the broad boulevards were empty, this part of the town apparently barely awake. In an act of defiance, I strode across the wide streets rather than using the underpasses, a hollow gesture since there were no cars around anyway, and almost no-one to witness my rebellion. However, the station was showing some signs of life, and I soon found myself heading for London on a Southern service. I dozed fitfully for much of the journey, having had little sleep and confusing dreams. I wasn't sorry to leave Milton Keynes at all, and whether it was the place, the odd situation I found myself in this weekend or a combination of the two I'm not sure - but I'm certain I don't look forward to revisiting. With the Wolverton Works Open Day cancelled, the issue of what to do this weekend had been pushed to the side of my mind by stranger events elsewhere. Given a booked trip home on the 19:00 from Paddington, a day in London seemed sensible - and given a chance to listen to the latest Hackney Podcast I was keen to head east again. So, managed to wake up enough to disembark at a deserted and chilly Kensington Olympia, and waited for what seemed like an age for a train to Willesden Junction whilst stamping my feet to wake up my legs from the crushing they'd received in the unit. At Willesden I was tantalisingly close to my first good coffee of the day from the platform kiosk, but with the next train due in a couple of minutes, decided against it. Onboard, and mercifully failure free given the recent record on this line, headed east towards Hackney Wick.
The loose plan was to get a much required and decent coffee at one of the cafes mentioned in the podcast, then to make a general progress west, through South Hackney and onwards towards Stoke Newington. I'd not planned this, and without walking boots I realised that I'd soon be experiencing some pain. However, I set out first for a quick circuit of Hackney Wick, a place in many ways in thrall of the Olympic development. The Hackney Pearl wasn't open yet and The Wick was teeming with builders, so I flagged them both feeling disconnect and unwilling to engage too much with people. Still no sign of coffee then, as I pressed on over the Eastway and briefly into Tower Hamlets, the borough which is responsible for the entirety of Victoria Park. I'd wanted to visit the park for some time - it's history appealed to me, and it is credited with some significance in the mythology of the East End too. There is however, a less formal strand of history based around the people who live near and use the park, and I hoped to get a sense of that. Things started well, and in the somewhat neglected eastern section of the park I passed a number of people who voluntarily wished me good morning in a multiplicity of accents and dialects. However, as I zigzagged roughly west, the tone of the space changed. Joggers replaced walkers, some running in packs and gossiping breathlessly while they padded the tidy, well-kept tracks in expensive sportswear. Organised exercise groups poured in through the park gates, and military orders were barked at them - I noted a perfectly pretty but rather plump young woman apparently blinking back tears at the ferocity of the verbal she'd received. I felt pity until I remembered she'd probably paid for this privilege - maybe even recommended by a friend? Pressing on, I stopped briefly at a kiosk which appeared to have been enterprisingly turned into a fully-fledged cafe offering a range of food. However, the thought of a fat man reclining with a coffee whilst around him the pretty people of East London toiled and sweated away wasn't appealing. I'd either be lynched or laughed at. So once again, I passed on the coffee.
My feet were hurting a little in my tight work shoes, and I wondered if I should really be doing this? However, I wanted to sleep tonight - and being physically tired seemed like a good way to combat the insomnia which has stalked me lately. Thinking of an uninterrupted night of sleep brought on by gentle exercise and deep lungfuls of Olympic dust was appealing, so I pressed on out of the park, and towards thundering and steaming Mare Street. A brief diversion here took me to Broadway Market. I'd not visited at a weekend before, and I wasn't quite prepared for the assault on the senses! Rich, exotic food smells mingled with expensive perfume, and hosts of young, clever and well-dressed people snaked in and out of stalls selling artisan breads, ripe cheeses and obscure dishes. The cafes spilled out onto the pavement, and an accordian was playing woozily. I caught snippets of conversations - ill-advised sexual liaisons, stealing from work, amateur art criticism, how hammered we'd be getting later - all topics for the cafe queue. Having seen this well-kept street with its row of time-burnished yellow bricks and low garrett-above-the-shop accommodation on a non-market day, this just seemed to exploit the idea of a market. Like one of the strange touring Christmas markets which are popular nowadays, but this destined to run and run as long as people wanted to browse these wares and take "time out on a weekend morning". I wanted purposeful, grubby Ridley Road, not this.
With my badly chosen shoes beginning to hurt my feet, I hopped on a bus here. The 106 was cool and quiet, and sped me through the confused jumble of Hackney Central. I'd hoped to walk this part, but given my wish to get away from Broadway Market swiftly the bus seemed like a compromise. The route meandered, along Amhurst Road to the station, then into Clapton and over the Lea Bridge Roundabout with it's deserted nightclubs and bus depot. I was on uncharted territory here, and enjoyed watching unfamiliar streets pass by. Hopped off just before the bus reached Stoke Newington High Street - it's always important to enter a new street on foot at least on the first occasion I think - and made for the first coffee shop I could find. I got lucky here, the establishment was cool, quiet and run by an open-faced and smiling waitress who chatted happily to everyone who came in. The coffee was great and cheap, and made me feel guilt for my open support for the brand leaders in the market. I wish I felt more communicative and could have struck up a talk about the area, but with the mornings exertions preying on my feet and rather turbulent and confused thoughts I wanted to get down on paper, I was content to sit and write. I was also considering my next move.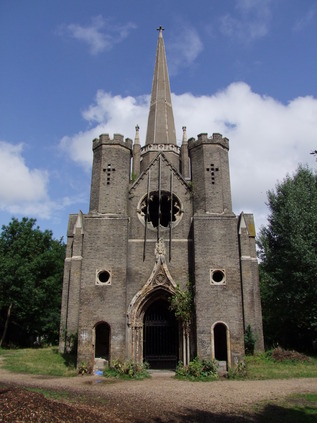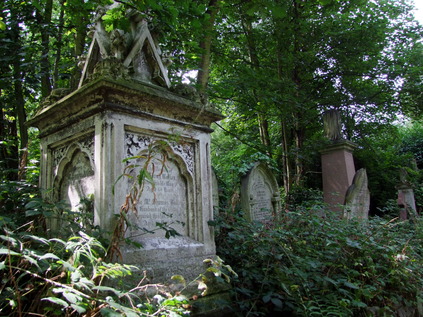 I'm ashamed I'd never visited Abney Park Cemetery. I'd read lots about it, and understood it's origins and importance - but it was on a list of 'get there eventually' locations. Today though, was the day - and as I walked north on the High Street, I was surprised by the sudden opening out of a small courtyard, with the famous egyptian pillars set back a few yards from the busy road. There is always the awkward moment when entering a burial yard - particularly a closed one - is it seemly to take pictures? Should one browse like at an art gallery? My approach is to wander aimlessly and see where I end up - and in fairness this has worked from Bunhill Fields to the Glasgow Necropolis, so I aimed for the same. Oddly though, Abney Park is strangely informal. Small groups of people enjoying a short burst of sunshine on the otherwise dull morning sat chatting, people used the space to walk, exercise - a dedicated woman using the hidden war memorial as a venue for circuit training. There was a sense that the community and the cemetery were at peace - mutually appreciative. Unlike many such places, Abney Park felt safe - it was patrolled, used well and despite its warren-like density of routes, it was impossible to be wholly alone here. I passed a mum and her young child, who begged her to only use the "big paths" and assured her that they "wouldn't see any deads". I saw his point, the tangle of tiny paths between the jumbled, leaning graves must have seemed impossibly horrible to him! I took one, to reassure myself, and found a strange, quiet and cool world under the trees. There was no traffic noise, despite the site being surrounded on three sides by busy London thoroughfares. Just warm, green silence and cold marble memorials.
I spent a little longer than planned at Abney Park, because it was a welcoming and open place where wandering was the norm and not a strange or suspicious activity. The natural environment seemed like a fitting burial place - more so than the ordered and crimped cemeteries which are the norm nowadays. I pondered this back to Liverpool Street on the train, and sat for a while in yet another a coffee shop - this time one which has recently opened in an impressively panelled room in the former Great Eastern Railway station buildings. I also thought I should do this more often - these walks lift my spirits, even the gloom which Milton Keynes seemingly dispelled. I also planned a lazy circuit back west - firstly heading east into familiar territory, then south of the river. The plan was to walk to the new Shoreditch High Street station on the East London Line. I accomplished this via a fraught crossing of Bishopsgate, then a dash down Brushfield Street. The familiar outline of awe-inspiring Christ Church loomed over a range of new boutiques and stalls in the revitalised but partially-destroy Spitalfields Market. Then, along Hanbury Street and into Brick Lane, the sudden pulse of life coinciding with a brief shower of rain. I didn't let it worry me, and watched people scurrying into shops and under the new railway bridge as I pressed on. The walk here is always so inspiring and diverting I barely noticed how wet I was as I turned into Sclater Street - the remnants of the market now a couple of rough stalls on a car park and some remarkably well-stock vintage clothes shops tucked into the old railway arches. The sign for the old Spitalfields Station still in the condition I found it two years ago, bent back on its pole and pointing the wrong way to a long-deleted terminus. The new station, a concrete and glass box - but with some impressive views over the former goods yard, was cool and pleasant to wait in despite the rather narrow platforms!
And so, via Brunel's tunnel under the Thames and a change of trains at the ever impressive Crystal Palace station, I made my way back to Victoria with a little time to spare. Parking myself in a convenient coffee shop I jotted notes about my strange weekend and watched the comings and goings around the station. It had been a frustrating and surprising weekend in equal measure. Now I had to deal with more immediate issues, and rather unusually spirits beckoned! A visit to London is never wise for helping one be objective.
You can see more pictures from the walk here.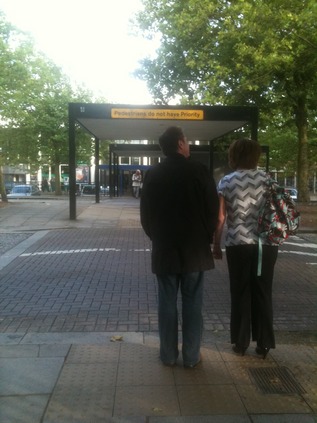 Posted in Updates on Friday 13th August 2010 at 8:29pm
---
I consider myself fairly well travelled, at least as far as Britain is considered. I've spent the last couple of decades zig-zagging across the country, discovering the spots which I was embarrassed to admit to American friends that I'd never visited. Regular readers will know that I'm not much taken with the tourist hot-spots, and that I'm probably happiest following some trail discovered in literature or music - whatever squalid alley or dejected backstreet it might take me along. It's perhaps unsurprising that none of these romantic notions have ever resulted in a visit to Milton Keynes. I've even managed to avoid it for work purposes, and can recall only one brief visit early in 2006 in order to cover a sliver of track at Hanslope Junction. On that occasion, I'd briefly stepped outside the station only to be cowed by the icy winds whipping around the huge open square outside the station.
I arrived at the very same square today, under skies just as leaden despite the season. Recalling that I was travelling light and didn't have a coat, I set off for my hotel with the chill wind seeping through my clothes and speeding up my pace. The first thing I noticed was the lack of a horizon here. Wherever the pedestrian in Milton Keynes stands, there is only the view of a straight path ahead, undulating via underpasses to avoid at-grade crossings. This makes it impossibly tricky to judge distance, and not really having any sense of how far I needed to walk I set off along Midsummer Boulevard, part of a complex of streets named after Avebury, Silbury - an attempt to link the geometry of the street to an ancient tradition perhaps? This main road sets the pattern for similar thoroughfares here - a wide dual carriageway, with brick-surfaced service roads and patches of parking alongside. A generous but badly maintained pedestrian and cycle way runs alongside, with occasional covered walkways leading onto the road. There is, however, no safe means of crossing at these points. Some bear the stark message "Pedestrians Do Not Have Priority" in black on yellow. I pressed on, cresting a subway and seeing my hotel's sign - deceptively close as it was much taller than surrounding buildings. When MK was planned - with no building "taller than the tallest tree" a series of glass and concrete blocks lined this road. Many of them survive, extended - often with inexplicable canopies covering nothing at all. Does it rain more here than elsewhere? It certainly did today, and despite the proximity of the hotel, I was forced to shelter under one of the purposeless canopies for a while.
After checking in to a comfortably faceless chain hotel, I wandered up to the shopping area. MK is zoned aggressively, and boasts the longest 'covered High Street in Europe'. I can understand why, because this concept of shopping is bizarre. Once inside the listed shopping building, via a new glass atrium filled with food chains, one is drawn endlessly along a high-ceilinged greenhouse with shops lining one or both sides. Occasionally portals open onto the street, and nearby shops over the seemingly impassable road can be glimpsed. What you want is always 'over there' and the signs point hopefully towards the destination, with no disclaimer based on the high-speed traffic between you and your goal. Among the usual high street names, rather poignantly, small independent retailers remain. Their shopfronts harking back to the 1960s when this zone was built - oddly out of place in the modernist enclosure of the shopping building. It's uncomfortable, and they seem lost and decaying here. A sports shop, crammed with goods, sits off the main line of shops with a wooden shopfront and a joyfully retro plastic sign. I'd have taken a picture, but I was already beginning to attract the attention of the bored security guards, particularly when I snapped the infamous Concrete Cows, temporarily at home in the shopping area. I realised I was browsing - the rest of the visitors, a small stream at this time of day, were trudging by without looking. I must seem like I was casing the joint! Dodged out through a strange, grubby marketplace. The alley between the stalls a dark, menacing and stinking slot. Opted instead for an ill-advised road crossing to get to a supermarket. Even this felt odd, and I was chastised for walking around the aisles the wrong way. Around now I realised I was being followed. Not by security, but by a small group of teenagers. They laughed and pointed - and this I'm used to, as I am of somewhat novel appearance I suppose. But the continued to do so, over the road, into the supermarket. I felt more disturbed than threatened. Was this the most interesting thing to do here?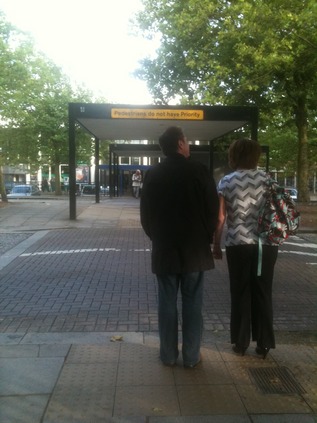 What appears a uniform - or even simply possible - walk from the air is different from the ground - the long straight boulevards are just as disturbingly linear as they appear, but the undulations as the path snakes under bridges and around parking zones makes walking Milton Keynes difficult. For that reason, as a confirmed pedestrian, I could only skirt the fringe of some parts of the place. There was a bus service - seemingly frequent and connecting all the aspirationally named suburbs to the hub - but even this was a little tired. No modern, rapid vehicles to suit a modern town here - lots of tiny operators running clapped out minibuses alongside some ageing single deckers. The whole service seemingly designed to be be frequent enough to make crossing the road impossible.
Back at the hotel, I looked out over the wet vista. The dome of Christ the Cornerstone - even the church wilfully earthbound in its allusion to the building process - dominated the skyline. Beyond, lines of trees announced the border of the housing zones - tiny communities defined by a grid and self-contained. The roof of the leisure building also zoomed high above the offices. I hadn't got that far, and didn't intend to. I'd seen enough of Milton Keynes for now. Contemplated a very early morning departure, but realised a check out would be difficult. I was condemned to a full night here, aching from my walk and sleepless from my over active mind.
I should have liked Milton Keynes. I like the thrill of modernism, and the regularity of planned spaces. I've deliberately sought out the model suburbs elsewhere, and this planned community on a grand scale should have been the ultimate in the line. However, it has aged poorly. An old building left to decay has stately dilapidation to look forward to, whilst a modern building has none of the glamour. The buildings here are tired, often pointless, usually poorly accessible. The car was king when MK was planned, and now it is emperor - rendering the place as unfriendly to pedestrians as many US cities, despite it's efforts to provide for the foot passenger. The lack of scale, of distance and of horizon is uncomfortable, cloying and ultimately disorienting. I don't think it's possible to be truly at ease here.