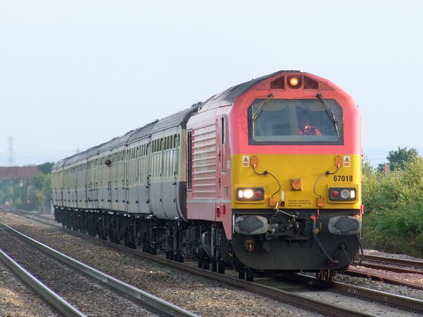 Posted in Railways on Sunday 8th August 2010 at 7:57pm
---
It's been a strange season for our local summer steam service. An early start, with some odd gaps in the programme. One other, almost traditional occurrence is that the charter will be diesel hauled at least once during the run - if only to upset the massed ranks of steam fans who religiously plod down to the station to watch... And with 71000 out of action, and other steam locos engaged elsewhere, today was that day...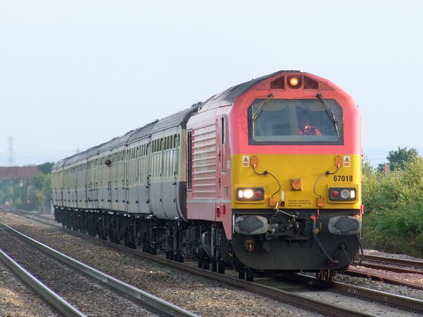 Not the most interesting of traction choices, but it was good to see a loco which normally potters about on my commuter train to work getting to stretch its legs with a proper train for a change!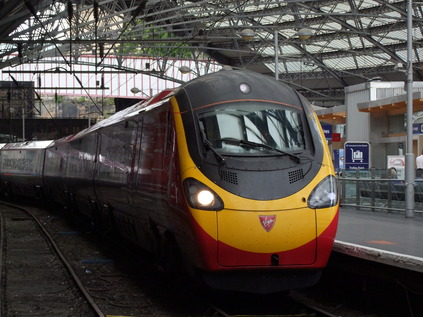 Posted in Railways on Saturday 7th August 2010 at 10:00pm
---
With the railtour scene mostly still on holiday and me just about dragging myself out of the expensive early summer rush, I found myself booking a couple of trips rather late. This meant a panic to find interesting routes with cheap tickets, and for this weekends trip I used Virgin's recent discount First Class offer to work out a trip along the southern reaches of the West Coast Mainline. Having done the run to Manchester fairly recently I decided to revisit Liverpool, with a circular route taking in a solid 500 miles of diverting travel. I'd last visited Liverpool as recently as January, and found it in transition - the area around Lime Street station in particular seemed to be opening up allowing new views of the city. Today started less promisingly than that bright cold January morning however, as I woke up much too early and found myself hanging around seemingly for ages on a damp platform. I felt out of sorts - and couldn't place why at all. I'd been looking forward to the freedom and solitude of a trip on service trains for a while, so it was strange to feel so disconnected from the trip. In anycase, settled in for a sleepy trip up to Bristol in time for the 07:00 service to Birmingham. Once again, my seat nemesis was around - but luckily didn't seem to be going for 1M21 this time. Got breakfast and settled in for a quiet ride up to the Midlands. I'd booked in a bit of a wait here just in case things went badly, and found myself with time to kill over a coffee. I found a spot where I could watch the comings and goings around the station, remembering it was only 08:30 or so - meaning the traffic was a mixture of families heading off on holiday, reluctant Saturday workers heading into town, and slightly bedraggled revellers from the previous evening. Felt a little more human, and headed down to find my train to Liverpool.
It was a strangely warm and uncomfortable ride up through Crewe, and I wondered for the first time today if I was succumbing to a virus or a cold? Distracted myself with some music and tried to avoid thinking too much about anything too concerning. Managed to doze and listen my way north, and soon found myself passing the depot near Edge Hill and plunging into the deep cutting which leads into Lime Street. My first thoughts on arrival focused on how tidy things were. The station had seen a much needed clean-up, particularly on the southern platforms which saw most long-distance trains. A new customer lounge and retail units now occupied the cab road, and the glass in the roof and station front had been cleaned to let in a huge amount of natural light. Explored a little more, before venturing out onto the newly created plaza with steps and slopes leading gently up to the impressive terminus. The work which had been in progress during my last visit, now complete, had done a huge amount to raise the profile of the station in the city. Noted however, that Liverpool Pride was due to take place today. Why am I unable to come to Liverpool without both feeling rubbish and finding some sort of parade or protest in progress? Perhaps they parade a lot more up here?
Once over the crossing and into the city centre, much remained as I'd seen it before - with the busy shopping area teeming with people on what had turned from a damp lunchtime into a surprisingly warm afternoon. Made a beeline for the coffee shop, but on the way spotted a bookshop. I've been ruminating on reading a lot this week, for a number of reasons, but realised I had nothing I particularly felt like reading. Found a couple of novels I'd thought of tackling before, before being dispatched to get a third one free by the cashier. This last choice - technically one which cost me nothing of course - took by far the longest. Found myself ending up with two books based in Glasgow and one London novel. I must be one of the few readers who categorizes their choice of reading in such a way? Got the coffee as planned, and made contact with the outside world, before heading back into town. By now, the sun had appeared and Liverpool seemed to have burst into life. Particularly impressed by the strange entertainment consisting of children being zipped into huge transparent plastic balls and hurling themselves around a small pool of water in the middle of the city. Made my way back to the station to find the patron saint of silliness himself in statue form, with Ken Dodd cast in a surprise meeting with Bessie Braddock MP. This has been here for sometime, but with the scene now lit from behind by sunshine, I had a chance to look at it properly. This also gave me an excuse to turn to get a picture of 390009 arriving to form my next service.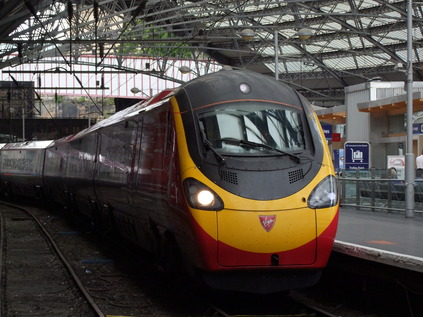 Slumped into the uncomfortable Pendolino seat feeling grim, and almost immediately dozed off. A couple of newlyweds nearby were enjoying a picnic of over-ripe cheese and other pungent treats which wasn't especially helping - though the service was good, with a Scouse host who would have happily dished out the entire contents of the complimentary refreshment trolley if he'd found takers for it. Half-snoozed my way south, waking at various points along the route and feeling surprised at how quickly we'd got there! Certainly remember speeding south through the middle road at Crewe, and passing Nuneaton and Rugby. After that, I recall the junction at Roade, and then nothing much until somewhere near Kings Langley. Here we began to pass a procession of trains on the slow lines, and I kept myself entertained watching out for these, and for the various depots at Wembley and Willesden. I arrived at a busy, fractious Euston feeling hot and uncomfortable, and not really knowing what to do next. The new couple also seemed to be oddly affected by Euston, as they bickered about Eurostar check-in times whilst scurrying up the ramp to the concourse. Things are never truly perfect, and an elaborate picnic hamper might well hide a multitude of oddities and potential disappointments. I realised I was being uncharitable and projecting my gloom onto this hapless and happy pair. I silently wished them no harm and a safe journey and slunk on my way feeling mean.
In the event, decided to head back to Paddington. Walked to Euston Square station, passing some of TfL's new hire bikes, and picked up a recent Oyster refund in the process of descending to the platform for the Circle Line - which was today, and now rather unusually, running as a Circle! Made the short hop to Paddington, but decided to head for the street instead of the station. I'd been intrigued by the hinterland behind the station since arriving by No. 46 bus a couple of weeks back. So I crossed Praed Street and ducked into London Street. I almost gave up here, as I found myself entangled with the sinister behind-the-scenes quarter of St. Mary's Hospital. Strange old buildings loomed beside the narrow pavement, mostly for storage but some seemingly abandoned clinical facilities. One particularly eerie building had vents down below ground level, and I was amazed to hear trains being announced from below! This must have covered part of the suburban side of the station somehow. Followed a further cobbled pathway, despite not having decent footwear for such wandering, and found myself passing between the high wall at the edge of the station site and blocks of medical office accommodation. Suddenly the scene opened out, and an impressive glass footbridge was provided to cross the Paddington Basin of the Grand Union Canal. Did so, noting that the bridge looked like it might be lit up at night, being constructed with a strange lightbox as its central section. From here, wandered back to the road junction where I'd come in from Maida Vale last time, and made the walk back over Bishops Bridge and into Eastbourne Terrace, pausing only to snap a picture of the Crossrail worksite beside Paddington station.
Despite the welcome and diverting walk, I still had a long wait until the customary train home. Amused myself with coffee, reading from my recent purchases and writing - trying to exorcise my predicament and the feeling that today hadn't gone too well. In fact, everything had run very much to time, and I'd had plenty of time to enjoy a variety of interesting spots. The problem today was me - too tied up in other things to think straight, and worrying about the next lot of trips and complications when I should be enjoying this one. I'll probably never learn...