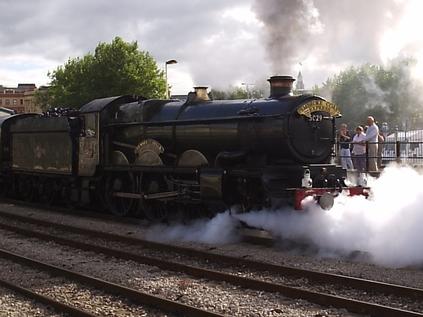 Posted in Railways on Monday 30th August 2004 at 9:27pm
---
A Bank Holiday is a time to get out of Weston, or to be swamped by day trippers. Having a day left on my Rover, it was just a case of where I would end up today. Set out early enough to leave me a few options, with a quick run to Bristol on a Voyager which was quiet but seemed to be heavily reserved from Bristol onward. Decided to head for South Wales, and found myself practically the only passenger on a Cardiff-bound unit.

Alighted at Newport and found old friend 'Nunney Castle' in attendance hauling the 'Carmarthen Cavalier' railtour. Lots of spectators, and plenty of steam. Enjoyed the sunshine and photo opportunities.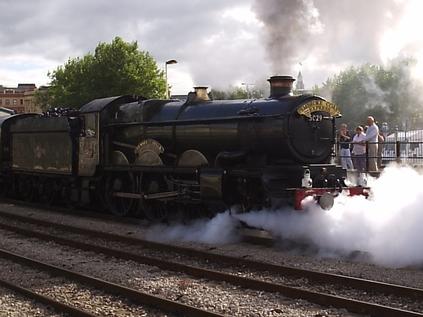 Next, a quick and pleasant trip alongside the Wye and the Severn to Gloucester. Dangerously short of reading material, I took the opportunity to wander into the city and buy
something else from my list
. Again, enjoyed stress free atmosphere of Gloucester's shopping areas.
Onto a Swindon bound Adelante, starting out in bright sunshine but heading into the clouds by the time we arrived. Swindon very quiet - in part because of the much altered timetable due to engineering works between Reading and London. Not much heading west within a reasonable time, so opted for a service back to Bristol Parkway, and thence a solidly packed Voyager into Temple Meads.
Considered calling it a day here, but that would have been too easy! Over to Platform 15, and the Class 31's on the 1428 to Weymouth. Very slow running, regulated to allow a late-running Portsmouth service to pass seconds after leaving the station, and by Westbury we were twelve minutes down. During the trip heard gossip that one of the other pair of 31's was likely to head back to Derby during the week for urgent attention. Disembarked at Westbury and looked at options for getting home. Heading to Taunton would mean a long wait there for a Weston service, so headed back on the 1607 to Bristol, along with some incredibly rude and annoying cyclists. Made a quick change for the 1655 to Weston on arriving at Temple Meads.
The crowds of Bristolian day-trippers had just started to trickle back to the station at Weston, and security had just arrived for the evening. Purchased supplies, and battened down the hatches...

Posted in Updates on Saturday 28th August 2004 at 11:28pm
---
Despite arriving home tonight to scenes of disturbance on the station, despite even seeing tides of already semi-inebriated youths heading for town on my walk home, I had a strange urge to get out and about tonight.

So, after the decidedly nerdy and antisocial activities of adding up my mileage and updating my move book, I set out to wander in Weston. I wasn't disappointed by the experience. Not a hundred yards from my door I was offered my first fight by a young Welshman, urging me to insult his friend so that they could "take my head off" - naturally I declined.

Into town, and it got worse - as I passed the front of one public house a number of utterly incapacitated young women were ejected, falling in a heap on the pavement. I politely stepped around them. I immediately changed course, swung into back streets and thought about visiting one of the few bearable pubs remaining in town. I haven't actually socialised in Weston in months, and I'm not sure what made me think of it now. I suppose it has been a long and strange week...

In the end, after the truly odd walk out, I couldn't bear the thought of even a decent pub. Even being hailed by a friend who spotted me passing by couldn't persuade me otherwise, and I turned for home with some relief.

I'm not sure where my oddly Victorian view of the world has come from. I'm not prudish, and I normally take a decidedly liberal view of life - however, Weston in the summer takes it's toll on all of us residents, it seems.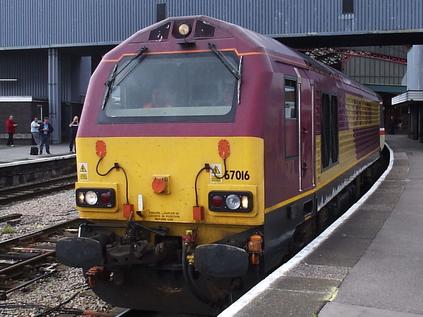 Posted in Railways on Saturday 28th August 2004 at 9:06pm
---
Set out on an initially almost identical mission to last week. Having received the allocations this morning, realised that I only needed one of the 67's out today. 67016 was on 1E99 which I could have picked up later at Weston, but decided instead to head south and board at Exeter. All went smoothly, with a change at Taunton on what was shaping up to be a bright but chilly morning. After finally working out the optimum spot to stand to get the number of an approaching Voyager, myself and other waiting enthusiasts were perplexed to find one with no number at all, even in the usual awkward spot! Took the name instead to check up later. Arrived at Exeter St. Davids in time to watch 67018 depart on 1M89.

67016 set off promisingly, but began to get checked at signals between Tiverton and Whiteball. Very slow running in places for much of the journey. Despite the incredibly slack timings of this train, we arrived late at Weston and had managed to mop up most of the huge amount of standing time at Bristol too! Got customary pictures, then went in search of much needed refreshments.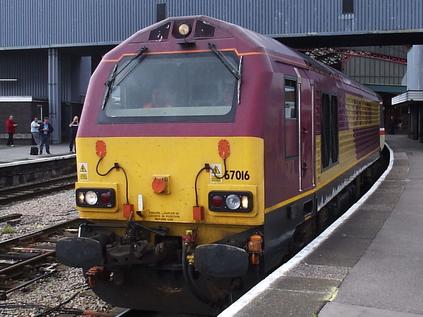 67003 arrived in plenty of time on 1V15. Boarded and found a pleasant seat on the correct side for the sea as I'd not yet decided whether to see this one through to Paignton or not today. Quick running again as far as Whiteball, where it seemed all was not well, signalling-wise today! Having examined the timetable, decided that since I'd seen enough of Paignton and as 1V19 wasn't a required locomotive (being 67015 today) I would have a spin on the resurrected Virgin HST. These HSTs, not required since the all-Voyager timetable arrived have been rescued from an
MoD
storage site and pressed back into service for the summer, albeit in some slightly odd formations. So, boarded the only slightly busy 1M78 (hauled by 43153 and 43098) at Exeter and decided on a longer trip as far as Cheltenham. Must have done hundreds of undocumented miles on these CrossCountry HST sets back in the mid 1990s when I had a Young Person's Railcard - pleasant to be back on one, even if the air conditioning seemed to have failed.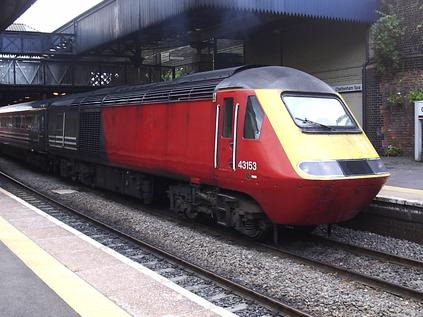 Plan for a speedy Voyager off Cheltenham went wrong, as the Penzance service was running late. Coffee time, then opted for a Wessex stopper back to Bristol, formed of ex-Central Trains 158782. On arriving back at Bristol, found the 1800 to Weston fortunately running 11 late. Home in time to watch
British Transport Police
attending Weston station, as the usual crowds of daytrippers stumbled drunkenly back to the station. Welcome home.

Posted in Updates on Tuesday 24th August 2004 at 11:28pm
---
I am proud to announce the Annual #Lemmings SCO Acronym Contest.

The rules are simple - supply an acronym which will contextually fit the sentence:


Otherwise you are left with SCO
replacing the initials SCO with your choice of acronym.
I will be the final arbiter of what is the winning acronym, and people with a working knowledge of my warped sense of humour have a considerable head start.
The prize is nothing more than the respect and admiration of your fellow #lemmings, and perhaps a mystery gift mailed to you from the United Kindgom of Great Britain and Northern Ireland.
The closing date for entries is midnight BST on 8th September 2004. Entries can be mailed to
acronym@mikegtn.net
or bandied about wildly on #lemmings on irc.freenode.net
Lemmings-3.1
the popular all-purpose XChat script is still available.