Posted in Updates on Monday 25th April 2005 at 5:47pm
---
After all of the preparation and anticipation, my nephew's christening service went very smoothly yesterday. Set out on the 0933 to Highbridge in much improved weather, meeting an old friend who was slightly surprised to see me dressed smartly on a Sunday! Chatted, then walked to my parents house. People began to arrive from all over the place - I was pleased but amazed by the turn out today. My uncle and I set out for the Social Club to meet my sister and her husband, and to sample the local ale (RCH's excellent 'Old Slug Porter' in my case). The church service was quite short, and the minister made efforts to explain some of the symbolism. I think maybe he did me something of a favour, as perhaps some doubtful members of my family now understand why I couldn't have been part of the service. After church, it degenerated into a typical family party in honour of both the christening and my nephew's upcoming first birthday, which was fun!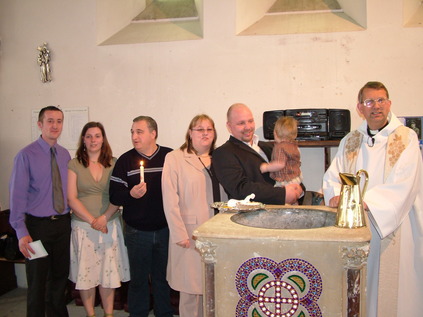 Today, set out for Bristol Parkway to hopefully get a picture of the 0Z87 scrap move from Willesden to Caerwent. Since I'd travelled direct from Highbridge and not read my email since leaving yesterday, found out the hard way that it was cancelled. Not alone perhaps as I noted some familiar faces on an overbridge as I passed Filton Abbey Wood on my way up to Parkway. This move has been cancelled previously and seems destined to run on a day when I'm safely tucked up in my office! Back to Temple Meads to ensure some returning family members get onto their booked Birmingham bound train.
Posted in Updates on Thursday 17th March 2005 at 10:58pm
---
Back from Birmingham where I've been attending Capita's Software Consultation Groups for the Admissions & Transfers product, and its web frontend. Despite some reservations, I found it a really positive process. From the presence of a company director at the meeting, I think even Capita expected some barracking regarding the tight timescales and almost impossible pace of change we've all faced this year. Happily it didn't happen, and it was a constructive if exhaustingly busy couple of days, and I think some of the directions suggested in the SCG will become useful developments, particularly in the area of managing addresses which is a perennial bugbear.

Stayed with my grandmother and uncle for a couple of days during the SCGs. A chance to visit a couple of Redditch pubs and catch up with family news. Quite fun to commute into Birmingham each morning, even if Central Trains rather half-hearted industrial action threatened to cause me a problem on the first morning.

Its been a strange and busy week - I've only really begun to recover from the strange virus which laid me low over the previous week, and Tuesday in particular was exhausting - first session for the CMS course in the morning, into the office for the first time in a week later, then a journey to Birmingham made longer by errant cattle near Flax Bourton and crowds of racegoers at Cheltenham. Its going to be good to get somewhere near back to normal over the weekend.
Posted in Updates on Thursday 17th February 2005 at 7:50am
---
I'm amazed this morning to find myself agreeing with Boris Johnson. In an article in today's Daily Telegraph (which unfortunately one must register to read online) he urges Ken Livingstone, Mayor of London not to apologise for his recent remarks to a journalist who was hounding him.

Firstly, it is clear to me that Ken was not making an anti-semitic comment. His reference was to the 'just doing my job' mentality which the journalist was employing. It is frankly unintelligent and lazy to make a false link between the Mayor's comment and the reporter's religion. That is, of course, not to say that what Ken said in anger was pleasant, polite or particularly wise - in his position a journalist is possibly the worst of people to offend! But Mayor Livingstone's record as a campaigner against the extreme right is exemplary, and his relations with London's diverse communities legendary (an example close to my heart is here). It seems absolutely unlikely he is an anti-semite 'on the quiet' and that this is some sort of revealing freudian slip on his part!

Now an even lazier link has been made - with the arrival of the International Olympic Committee to assess London's bid for the 2012 games, there are suggestions that Ken's comments will in some way influence them. The predictable wading in of the Prime Minister (and in his wake, the equally inevitable leader of the opposition) smacks of desperate bandwagon jumping - if we don't get the games, Tony and co. are lining up the Mayor as their scapegoat. The Centre-Left naturally still smarts from seeing Ken become the people's choice in London.

As someone who has dealt first hand with this recent phenomena of 'the victim is always right' I support Ken in his stubborn and possibly suicidal stance. The idea that 'taking offence' means that an offence was intended is childish and simplistic. Moreover it is incompatible with the complexities of our language, and the 'double-blind' nature of exchanges with people we don't know. If Ken is to apologise, he furthers the cause of those who leap upon every incident of this nature as a potential war crime by proxy - the really dangerous side of 'political correctness', which blinds people to the true nature and destructiveness of genuine and intentional hate speech.

Ken has never been uncontroversial for long, and I hope that he never is. Chin up, Mr Mayor - it will all blow over. Now, about those bendy buses....
Posted in Updates on Wednesday 2nd February 2005 at 6:01pm
---
I'm attempting to puzzle out my new camera. The manual is as thick as some novels I've read.

Over the past few months of trying to improve the pictures I take, particularly in terms of railway photography, I realised that my Olympus C160 was not quite what I needed. Firstly, I missed the optical zoom which my previous (and rather ancient) Kodak DC210 had. I also felt that as I improved in my abilities, I would need more control over the setup - which is not possible on the smaller compact cameras.

So I settled on the Fuji Finepix S7000, which seemed to be versatile without being hugely expensive. So far, it seems easy to use - but with lots of clever tricks and low-level settings to tweak once I begin to understand them.

Off to Willesden Junction for some field tests tomorrow!