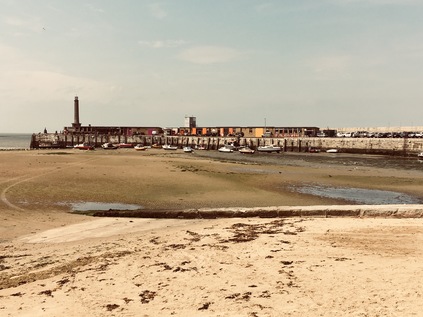 Posted in Travel on Friday 21st July 2017 at 10:07pm
---
It was a much-needed break. The last week had, for both of us, been fraught with difficult moments at work and a complication of evening events - some of which we'd certainly not signed up for. This hastily planned week off felt well-earned and long awaited - and followed a well-tested template: we'd head off east, spend a night near Epping Forest and a favourite restaurant, then cross the river and head for Kent. Our target this time was Margate - somewhere which, since my last visit in 2011 had seen enviable regeneration. There was a sense of optimism in recent writing about the place, and no doubt the opening of the Turner Contemporary Gallery had helped. Tracey Emin, former enfant terrible of the British art world turned maker of intricate and wonderful things, had not so much confessed to her upbringing here as reconnected with it. She was championing the place, much like Turner himself had centuries before. Margate was back on the map. However, I sensed I had some persuading to do of its merits. The last week had seen me getting out and about to a range of events which I'm sure were way more interesting to me than my wonderful and tolerant wife - and I was equally aware that a night on the edge of Essex was more self-indulgence in some senses. So Margate had to deliver for both of us. No small feat for a once-proud resort trying hard to rise up from the gloom of the late 20th century.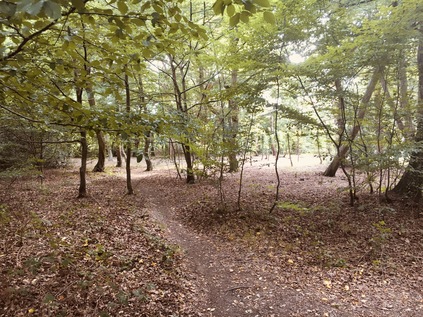 We arrived at the crazy, mock-tudor Premier Inn early in the afternoon after a trouble free drive. Once checked in and settled, I laced up my walking boots and headed out into the blazing sunshine. My target was to make a circuit around to Pole Hill and be back in time to prepare for our dinner reservation. I strode out onto Chingford Plain, all swishing grasses and insects, and headed for The Hawk Wood. I was soon beneath the trees, a cool but still humid breeze gently moving through them. Everyone I passed greeted me, from sweaty joggers to ultra-cool lycra wearing bikers who let me pass before swooping down into a bowl in the forest floor to gain momentum for their climb. I trudged on, hot but happy. The path turned east and south, starting to climb. I was tempted to head for other nearby new targets - but Pole Hill called. I climbed steadily, beginning to see paths I remembered from the spring, before finally bursting into the sunshine at the summit near the obelisk marking the Meridian Line. I rested awhile before heading down beside the golf club to enjoy another wonderful dinner at one of our favourite restaurants.
Overnight, something strange happened at the Premier Inn which left the entire building without water except for the restaurant. We'd realised during the early hours, but it wasn't fixed when I headed out early for a wander. I managed to have a disagreement with the staff too, who didn't think they could do anything but offered me a complaint card instead. I called customer services the moment they opened and had things resolved within minutes. Things don't often go wrong with my stays at these hotels, but when they do they've always been fixed on the spot, meaning that the attitude of the staff today was really something unusual. Undeterred we set off early for a gentle walk in the forest, starting out via the path I'd used last winter to find the River Ching. We ghosted the water, rarely out of earshot of it's trickling as we headed for Whitehall Plain, crossing the bridge and returning north via the still waters of Warren Pond. It was a warm but breezy morning, and this was the perfect way to shake of a slightly frustrating start to the day before our drive into Kent. We took the tried and tested route - onto the A406 spotting footpaths I'd walked just days before, then via the A13 over the marshes to the Dartford Crossing. The last few miles of the trip had the anticipatory sense of the seaside about them: big open skies and flat sandy land beside the road. I recovered memories of arriving at holidays as a child, and wished my father could experience this trip. I'm sure he'd say there were too many Londoners about, of course!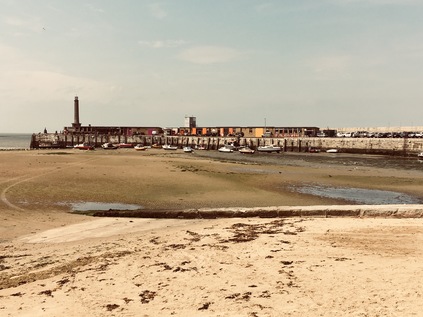 Our home for the next two days was the Sands Hotel. This rather grand seafront building is as much part of the story of the regeneration of Margate as the Turner. Purchased by an entrepreneur who thought he'd surf the wave of property prices as Margate resurfaced, he decided on a different plan. The two adjacent properties were knocked into a single, large building over five floors creating twenty rooms furnished and designed to a high specification. The rooms were stylish and beautiful, and incredibly comfortable. Breakfast and dinner was served in the impressive Bay Restaurant with a broad sweeping view of the skies and seas which had inspired JMW Turner. It was impossible not to love this place - and there's no doubt it did Margate's cause some good too. As of course did our first excursion into the Old Town with its maze of well-curated craft and vintage stores, and our visit to the Turner Contemporary - a remarkable space with an ever-changing roster of exhibitions and areas dedicated to using the arts to link young people to place. It was always going to be a winner for me. We met some fascinating people too - including the owner of a store who was branching out into manufacturing limited runs of clothing in vintage fabrics. Everyone was keen to talk about Margate, how it was changing, but how it was still offering a family holiday experience alongside it's changing identity. Not for the first time, I wished our local politicians could come and spend a few days here, just to get a sense of what was possible when a resort irons out the issue of what it's trying to be.
We realised somewhere on our first full day here that we'd like to stay away for an extra night - and a little research turned up the Abbey Hotel in Battle, East Sussex. Since my holiday had begun with a viewing of Edith Walks, the idea of heading for the south coast appealed and we made our booking. Saying goodbye to Dreamland, to the T.S.Eliot bandstand and the broad sweep of golden sands at Margate wasn't easy - but the journey through Kent and Sussex made up for it a little. The Abbey Hotel was well-named, as our room framed the perfect view of Battle Abbey across the street. We spent another evening in comfortable surroundings with some excellent food at The Chequers too, where we heard the rumour that our hotel had recently been filmed for a future episode of Channel 4's accommodation-based game show/bitch fest Four In A Bed, which was one of our guilty pleasure TV highlights. In the morning, over breakfast we tentatively broached this with the friendly manager. His observations on the show, the process and the kind of people who got involved were fascinating - and not far off our own!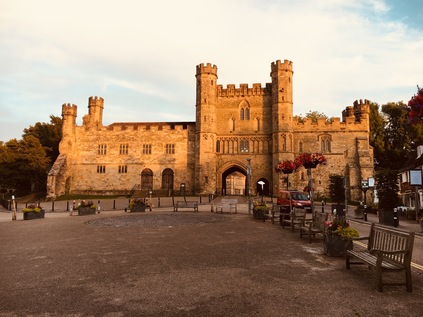 I'd made a special request for our trip home which took us a little out of our way, but would bookend the journey perfectly: that we headed for St. Leonards on Sea to find the statue of King Harold and Edith Swan-Neck. A short drive through the countryside and the hinterland of Hastings later, we swung onto the pretty, well-kept seafront at St. Leonards. The blue water of the English Channel lapped on the beach, and the distant view of high white cliffs and broad sands was rather special. My only visits here had been to pass through the curiously named 'Warrior Square' station by rail, so I was pleasantly surprised by the town. We stepped from the car across to the green and there, unremarked and surrounded by a freshly-trimmed lawn were Harold and Edith. As we looked on, an old chap wandered over and pointed with his stick: "So who is it then?". We told him the story of Harold and Edith's journey to find him on the battlefield. He was amazed and delighted - and wanted us to wait to tell his wife too. They'd been coming to St. Leonards for fifty years from their home on Shooters Hill in Greenwich and had always wondered. They'd come to rather love the statue and made it part of their morning walk - and now, after all these years they'd chanced upon us taking pictures at just the right moment to have their mystery solved.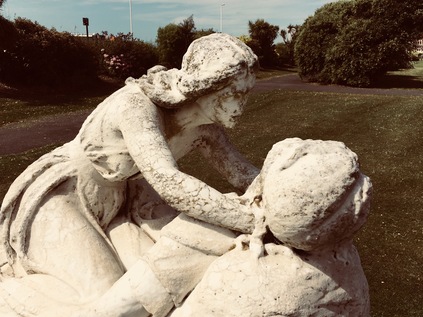 I took one more picture, capturing Edith's face as she gazed at the fallen King, before we headed back to the car for our long trip home. I've never been a proponent of the summer holiday - competing with the hordes for road-space, train seats or overpriced hotels - but our carefully-timed excursions have, in recent years converted me somewhat. This circle of Southern England had felt like a real break - a real chance to escape from things.
A gallery of images from our trip is here.