Posted in Railways on Saturday 27th August 2011 at 10:47pm
---
My attitude to Kent has changed a lot of the years. Originally put off by the dull dash through the flat, featureless centre of the county, it took the serious attempt to cover all of the UK lines, along with an All Line Rover years back to start to dispel the image. Since then, when I've had weeks to spare for my own self-organised travels, I've made a number of jaunts out into Kent. Not least because it means part of a day in London if I want to come back early too. This time though, I decided I wanted to visit Margate. Not sure why or what might have spurred this, but I realised that on my many trips this way I'd never stopped off here. Add to that the fascination I have with seaside places, and the dim knowledge of artistic links with Tracey Emin and the like, and I suppose I got rather curious. I'd mentioned it to a number of people at work and they'd all remembered Dreamland. A turn-of-the-last century attempt to import the theme park concept and add a little twist of Britishness. I was intrigued by this, and set-off with an explorer's enthusiasm this morning.
The trip went smoothly enough...customary switch at Weston, breakfast and a pleasantly quiet run up to London. A quick spin on the Circle Line to St.Pancras, and time to get a coffee and head for the platform where Javelin No.8 was waiting to whisky us along HS1 and into Kent. Soon, off and speeding under London as a noisy family settled into the seats beside me. Put it out of my mind and enjoyed the sense of speed as we dashed through North Kent and down to Ashford. Here things slowed to what felt like a crawl as we progressed on old fashioned third-rail tracks via Canterbury West and onto the coast at Ramsgate. The weather had varied dramatically as I sped east - dark rolling clouds, some short showers, but now surprisingly bright sunshine. I finally stepped out into Margate for the first time, having no real idea what to expect. As it happened things were going to get rather eventful...
After taking a look at the impressive station building, I walked down the slope near a strangely inviting Premier Inn onto the prom. Nearby, all of the shops in a strange concrete arcade were shuttered and things seemed closed. Towering from the top of the arcade was a huge, oddly corrugated looking towerblock. It still seemed to be lived in, just about. Turning the corner, the remains of a shopping arcade tunnelled deeper into the concrete. Blocked off at the end by a steel pallisade fence which was sprouting vegetation, only a couple of shops seemed active - a fairly run-down looking cafe and a joke shop which had been provisionally amended to be a 'Bong Shop'. I shuffled on, passing some blue hoardings of the kind beloved by stalled developers. Looking at the aspirational images pasted onto them I realised that this was, in fact, dreamland. Almost entirely gone now, the posters promised a new Dreamland, saved from the jaws of residential development with Sea Change and Heritage Lottery Fund money, a new 'heritage' theme park would rise here. Some day.
Passing the front of Wetherspoons, the first open business I'd seen, I noted the shuddering early drinkers fumbling with tobacco and watching traffic on the prom. A gentle rise brought me to the High Street, a narrow pedestrianised affair, jammed with lower rent national chains, such as Wimpy - which I only seem to find in Kent these days. At the top, opposite a nameless junkshop which featured pictures of leading policemen and odd portraits instead of a name, I saw a view down a steep hill into a massive vacant area littered with twisted metal and broken stone. A little mental geography made me realise that this was the remains of Dreamland. Stumbled down the hilly street to the pallisade fence which seems to be everywhere here, and pressed my camera through the bars.
I felt a presence nearby as I took some shots of the place, zooming in on an abandoned, peeling arcade and a collapsing rollercoaster. I thought nothing of it - people pointing cameras are always fair game for passing voyeurs - more to see what they're looking at than as subjects themselves. However, a tap on the shoulder and the presence of an unmarked white van confirmed my worst fears - security. After a brief altercation during which my camera was manhandled, and the Police were briefly involved - much to their disdain - the security guard, a square, pale-faced and haunted looking character, finally asked me in his esturine accent "So, why was you takin' pictures 'ere then?". I thought a bit about what might be least annoying or incriminating and replied "Well, it's just interesting I suppose". He looked at me first with disbelief and then with unfettered disgust. He spat the words "Fuckin' pervert" as he got back in his van and left. The bored Policeman watched him go silently, and to quell the awkwardness I said "Well, I might take some pictures then!". "Better not push it" he replied, and disappeared off into what was sure to be a busy Bank Holiday weekend.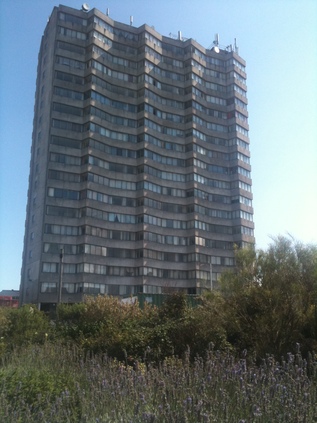 The rest of my visit was less eventful - descending the High Street I entered a strange zone of clubs, alternative clothing and semi-legal stimulant shops. The street was directly above and behind the promenade here, and some of the stores had ground floor entrances there too, including a vast Primark branch. At the end of the High Street though was the Old Town. A mixed up neighbourhood of old squares, impressively unchanged buildings and painfully cultural boutique businesses. A pleasant area, flanked by the monstrosity of Morrisons which must have destroyed more of this landscape when it was parachuted into town, likely in the 1980s. I decided to head back to the railway station, via the preparations for a vast performance artwork tonight - Blink Margate which promised to re-imagine the seafront. After taking a few shots around the concrete monstrosity of Arlington House where I came in, I pondered Margate from the "Standing Stones" sculpture between station and sea, as bits of conversations drifted by "she said I was on drugs...well, that's Margate". I read too, that Tesco had purchased the rear of Arlington House, beyond the pallisade fence the illogical and forbidding carpark, a concrete maze, was being transformed. Locals bickered about the store - good for town, bad for locals. Hard to say. I saw plenty of my home town's troubles here too.
Back on the train, I took the slower, traditional route back to London Victoria. A sleepy, warm trip - despite a flash of very heavy, tropical rain on the coast. Black, tumbling clouds rolled over the cliffs and framed Reculver Abbey, subject of recent reading. I took snaps of the towers through the dirty windows. I wished I'd had the energy and drive to get out to them on a bus or something, but the urban exploration had left me curiously tired and rather forlorn. Work pressure hemmed me in, I was worrying again. Maybe a good sign after an impassive and uncaring summer? The ruined abbey was oddly comforting. I decided on arrival to take a bus across central London, to pop into Euston again. As I left, another bus back to Paddington, another sudden tropical storm lashed down, despite clear blue skies south of the river. It had been a very strange day, but an eventful and interesting one. I read and pondered my way home in a curious and thoughtful frame of mind...