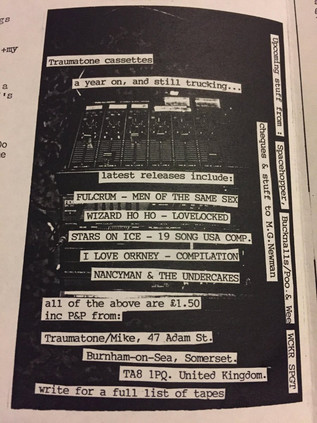 Posted in SHOFT on Saturday 11th January 2020 at 4:01pm
---
Now and then, the internet still amazes me. It's easy to sometimes dismiss any remaining capacity for surprise in this cavernous echo chamber which I've been roaming since 1996, but oddly and when least expected it can come up trumps. On Twitter today I was amazed to see someone sharing an interview I did with Daniel Johnson back in 1992. I prepared to cringe at the irritating exuberance of my youth, but it actually remained fairly interesting and aside from a perhaps not-unexpected fascination with Daniel's very personal style of composition, the answers gave a little insight into someone who was back then something of a mystery to most of us.
After a little discussion, the rest of the fanzine showed up: a six-page effort from Theme Park in Brighton, which alongside my work, included an interview with Brown Tower and reviews of a bunch of records which I'd owned and loved too. A real blast from the past. Topping it all was an ad for Traumatone which spoke of a time when I felt like I was achieving something small but significant. A time when the postman's arrival was awaited with genuine interest, and when a transatlantic communication took four working days or an inordinately expensive 'phone call. It was just what I needed to see in the midst of a gloomy and challenging month when the dark days of winter stretched ahead and there weren't any plans on the horizon. It reminded me that now, just like back then in 1992, I might be ploughing furrows which seemed to be of little interest to most people, but I did it because it made me happy and proud - feelings I don't allow myself access to nearly often enough.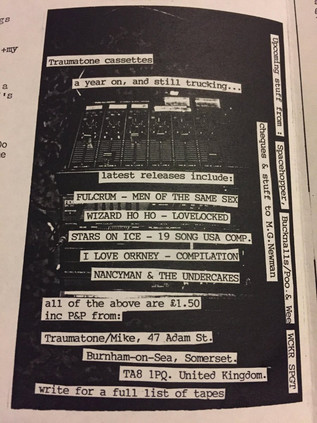 So as I sail into the busy, challenging and uncertain beginnings of a new decade I'm going to share this little nugget from the past. It's a reminder that small things can feel satisfying and significant, and that the impact of what we do is often more important than its magnitude. It's also something to remind me to get off my backside and create things this coming year. If I could do it then, dogged by the social anxiety and inexperience of youth, then perhaps I have far less excuse now!
You can see the whole Theme Park fanzine in this gallery...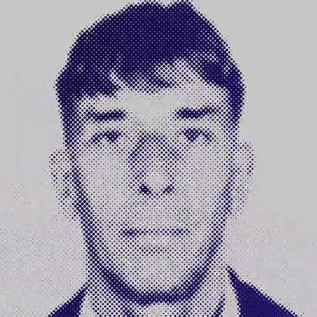 Posted in SHOFT on Saturday 10th March 2018 at 11:03pm
---
It was good to be back at The Barbican. A complicated attempt to order at the cramped, circular cocktail bar aside, I was amazed at the functional brilliance of the building. As people zig-zagged around its corridors and levels to seek the correct entrance to the auditorium for tonight's performance, I decided it was a metaphor for the career we were here to appraise. For over half a century John Cale has taken sudden turns and switchbacks, has created musical landscapes which compare to the minimal concrete of the building, and has drifted in and out of mode just like béton brut. But like the solid towers of the Barbican, he has persisted in walking a difficult line between art and pop, form and function. It hasn't always appeared comfortable being John Cale over the course of the years in review in this Futurespective - but it has always sounded interesting to the listener out here.
Cale ambles onto the stage in a floating black gown, his indecently handsome features for a man of 76 years carved against the backdrop of the Barbican like a portrait of a proud Native American. Recent surgery and a leg-splint impede his progress to the keyboard, but he is all business. A drone sets up, shifting and churning as the band of people a fraction of his age and the London Contemporary Orchestra add colour. The backdrop shifts and stutters with odd projections and disquieting images. We could be anywhere between his earliest experimental compositions with La Monte Young or Terry Riley and the present day. Then the sound morphs into the familiar spoken-word strangeness of The Jeweller... The orchestra swirls, a choir joins the stage, the projections home in on a close up shot of a desperate, searching eyeball. We've set off on a tumble back and forward through time, while serene and serious, Cale pilots us from his piano stool.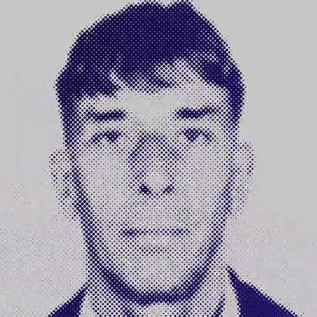 What follows is a circuitous spin through a career as varied and strange as any of the curious bunch of oddballs and virtuosos who assembled themselves into The Velvet Underground all those years ago. From the formality and structure of Hedder Gabler from the mostly forgotten 'Animal Justice' EP to a surreal take on Lady Godiva's Operation adorned with shimmering electronics and shrieks of pain from sound architect Actress, the set borders on wilfully strange: Cale plays with us - taking us into uncharted waters with new arrangements of improbable songs before delivering solid, punchy versions of career stalwarts. A sharpened and honed take on Fear is a Man's Best Friend ends in howls and discordant piano hammering which seem impossibly passionate and desperate from the older, wiser Cale who is performing them. He draws surprisingly heavily on the 'Fear' album from 1974, sandwiching the critically less well-regarded but sublime pop of Caribbean Sunset between the edgy, glances-over-the-shoulder of paranoia from his earlier record. There are unlikely surges forward in time too - not least to the shuddering soundscapes of Wasteland from 'Black Acetate' where Actress against steps forward to augment Cale's composition with deep electronic growls and shudders.
Twice during the show Cale steps unsteadily but defiantly out from behind his piano and straps on a guitar - once for a searing Heartbreak Hotel and then for a closing encore of the familiar show-ending ensemble of Gun, Pablo Picasso and Mary Lou. All of this could have seemed like another turn around the same old songs, another self-congratulatory retrospective - but it didn't. Perhaps it was the orchestra providing spare, delicate accompaniment, perhaps it was the energetic band which showed respect for the material but never so much that it sidelined them into parody? The reason why this didn't feel like another ancient rock turn doing his bit became perhaps most apparent in an unexpected moment ... The presence of the choir of almost irrepressibly joyous voices came to the fore most prominently in the yet-to-be-recorded gospel of Pretty People, a thundering, enervating call to 'Rise up!' which Cale was trying out and feeling his way around just like a band of youngster's might do with new material just up the road in a grimy Hoxton back-room.
John Cale left the stage with a wave and a nod, feedback howling while the assembled cast of musicians waited, apparently stunned by what had just occurred. I got the sense that this wasn't any sort of ending - and was certainly nothing like the kind of through-the-motions plod which other acts of Cale's vintage indulged in with depressing regularity. It wasn't easy, simple or predictable - and in fact it probably probably represented yet another beginning in a career of improbable twists and remarkable musicianship. It had been a privilege to be present for this.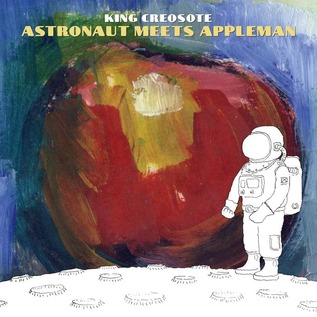 Posted in SHOFT on Monday 23rd January 2017 at 11:25pm
---
It had been a while since we'd managed to get out to see a band. It had certainly been a while since I'd seen King Creosote too - an entire year by my reckoning. It had been a quiet year by Kenny Anderson's standards too - with just two eponymous releases under his belt. However, his return was a triumphant one. While he played the intimate atmosphere of Lantern on his last visit to the Colston Hall, Simply Red were busily creating blandness in the main hall. This time, King Creosote - with his proper tour bus outside - we're playing the main stage. It promised to be an interesting evening...
First up though, were Modern Studies - something of a supergroup, featuring Rob St. John, Pete Harvey of various Scottish bands and Emily Scott along with Joe Smillie of Call to Mind. Thus assembled from individually remarkable pieces of Perthshire, Glasgow, Edinburgh and Lancashire's musical finery, this collectively rather wonderful band have recently produced a debut album - Swell to Great on Song, By Toad. Live, as on the record, Modern Studies take their cues from some of the best quietly powerful acts - I'm hearing a little Low and a little Yo La Tengo. Coupled with Emily and Rob's own explorations of their national folk traditions, and filled out with harmonium, electric piano and cello, this made for a spellbinding set. For once, a Bristol audience was definitely listening to the support band - and the reaction was warm and appreciative rather than the usual cool disdain. The pin-drop quiet in the softer passages was filled with the clanking of harmonium pedals and scraping of bow on cello. This was chamber music for the 21st century, with hints of Scottish ballads and the bleak folk music of the Pennines. It's fair to say that everyone was sad to see them depart, with a collective groan from the audience at the announcement of their last song.
Sometimes, being a King Creosote fan is a bit like being a DIY expert. If you want results, you have to work at it. New songs are best heard by travelling to a remote Fife village and piling into a sweaty room above a rubgy club. Then they'll be reinterpreted on record - likely on a vinyl-only release which is available at shows, or - if the stars align and you're in the right place at the right time - from the resolutely low-tech website of the Alter Ego Trading Company, where things drift in and out of stock regularly, and the whole place shuts down for months at a time. Eventually though, some of the songs make it to one of the more commercially available releases. Kenny's most recent Astronaut Meets Appleman is rare in that most of the tracks here haven't been through this genesis, and have sprung onto record in their fully-formed band version. To do this justice requires quite an ensemble, and tonight he is joined by cellist, organist, synth player and piper among his usual band. All of them arrive on stage in sort of low-fi sci-fi Bowie-esque costume. Stick on stars and hastily cut-out KC lettering, silvery eye make-up and lurid pink and white wigs adorn band members. Amidst this, Kenny appears. And he seems to be remarkably happy!
I'm not suggesting that KC is anything less than entertaining usually, but when he's touring with a band he always seems just a little more chipper. This time, with his entourage in tow and their rather grand bus (apparently great for everything except perhaps the more involved toilet visit!) he's positively beaming. The band are slick and know the material well - working through the whole album in a slightly amended order. The poppier moments - like Love Life sitting neatly alongside the more reflective, drawn out tracks such as You Just Want and the closing The Long Fade. A significant highlight is Melin Wynt where the drone of pipes fills the hall while an insistent bassline drives the song on. As the set draws to a close Kenny notes that encores are silly, and explains that the band will just hide on stage - and they do exactly that, barely concealed behind the various bits of equipment, before heading back to play a request. Each night, they've take a request from the audience, learned it after the show, and played it at the next date on the tour. Thus we get a spectacularly fulsome sounding take on Admiral from 2007's would-be-breakthrough Bombshell album.
Leaving the Colston Hall and reflecting on some of the great (and not so fantastic) acts I've seen here since my teens, I find myself reckoning that this is among the best nights. The company, the music, the atmosphere and the receptive audience all adding up to a pretty special occasion. May there be many more opportunities to see the King at court.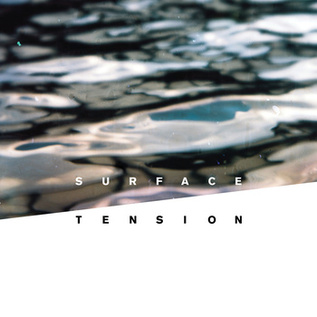 Posted in SHOFT on Sunday 22nd March 2015 at 6:03am
---
Anyone who has even scanned in passing posts on this site alongside those on my old music blog will know that the past few years have been marked by two key obsessions... the tide of inventive and surprising music emanating from Scotland, and a ponderous but passionate exploration of the Lower Lea Valley. Anyone who has ever met me in person will equally be either amazed or utterly bored by my ability to flit between these subjects with equal fervour. So it seems impossible - or at least absurd - that these things should ever converge in any way. That's why I ended up writing in two separate places. And I suspet that's also why not too many people read what I write in either of them.
So it was both surprising and oddly validating to find this project. Surface Tension was commissioned by the organisation Thames 21 as part of their 'Love the Lea' campaign, and aimed to create a 'sound-map' of the river and its environs. Starting in Cheshunt, soundings were taken in the vast swathe of green that envelopes the river's manifold channels and diversions as it winds from its source to the Thames. As the river heads deep into the suburbs, and ultimately into the contested zone which I've spent my time exploring, various methods of expressing its presence were tried and tested: hydrophones dangled into Bow Creek, river water used to expose photographs, tape loops marinated in the chemical-rich effluent. Diversions were followed - Pymmes Brook and the various navigation channels explored - and the life of the river recorded. From the sound of Overground trains shuddering over low viaducts to football matches on the vast expanse of Hackney Marsh, the acoustic footprint of the river and those drawn into its presence in was catalogued and preserved.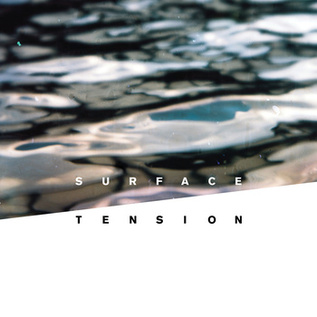 When I first read about the project I was perhaps a little sceptical. Arts funding is ever more scarce, and it's hard to see how projects like this will become part of a permanent folklore beyond a funder's annual report. But then I spotted who was involved. Rob St. John is an Edinburgh-based musician who produced one of the most atmospheric, impressive and expansive records of the last several years in 'Weald'. One of the most intriguing abilities St. John displays in his work is how he connects music with place - the list of location-specific projects he has been involved in bears further exploration for sure - from the folksong of remote islands to the sounds of narrow Lancashire passageways. The idea of this strange link between music I've loved and a place I've reluctantly been drawn to explore so comprehensively felt just a little unlikely at first. How could this all link up so neatly?
But the end product is beautiful and oddly-hypnotic. A thirty minute trip along the river, set against a soundtrack of rare beauty. Flecks of guitar twine around loops of tape. Fragments of conversation and yelled football strategies disappear behind traffic and clattering trains. Pulses of electronica shift in and out of the frame. St. John's connections with Meursault and a range of other Scottish acts are exploited too - with Pete Harvey's cello and piano work slipping in during quieter passages - the river's ebb and flow of chaos and peace, purity and pollution marked by changes in the score. Quite apart from anything else, this is a beautiful piece of music which unravels its secrets with repeated listens. By turns relaxing and oddly edgy, it mimics the feel of a walk along the lower reaches of the Lea surprisingly accurately. While the composition - along with an impressive book designed by FOUND's Tommy Perman - sits as a remarkably coherent and enduring artefact of the project, intriguingly the project website retains all of the pieces of the assemblage as they were recorded - snatches of audio, photographs, maps and snippets of disjointed text. With these it's possible to reconfigure your own journey's along or across the river, to reassemble them to reflect a different experience of the curious and varied life of this remarkable and enduring waterway.
You can purchase the CD and book or digital download at Bandcamp, and you can find out more about the project including hearing the original sound recordings via a 'sound-map' of the River Lea at the Surface Tension website.