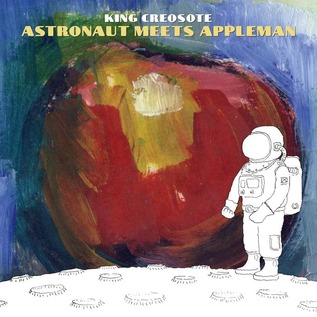 Posted in SHOFT on Monday 23rd January 2017 at 11:25pm
---
It had been a while since we'd managed to get out to see a band. It had certainly been a while since I'd seen King Creosote too - an entire year by my reckoning. It had been a quiet year by Kenny Anderson's standards too - with just two eponymous releases under his belt. However, his return was a triumphant one. While he played the intimate atmosphere of Lantern on his last visit to the Colston Hall, Simply Red were busily creating blandness in the main hall. This time, King Creosote - with his proper tour bus outside - we're playing the main stage. It promised to be an interesting evening...
First up though, were Modern Studies - something of a supergroup, featuring Rob St. John, Pete Harvey of various Scottish bands and Emily Scott along with Joe Smillie of Call to Mind. Thus assembled from individually remarkable pieces of Perthshire, Glasgow, Edinburgh and Lancashire's musical finery, this collectively rather wonderful band have recently produced a debut album - Swell to Great on Song, By Toad. Live, as on the record, Modern Studies take their cues from some of the best quietly powerful acts - I'm hearing a little Low and a little Yo La Tengo. Coupled with Emily and Rob's own explorations of their national folk traditions, and filled out with harmonium, electric piano and cello, this made for a spellbinding set. For once, a Bristol audience was definitely listening to the support band - and the reaction was warm and appreciative rather than the usual cool disdain. The pin-drop quiet in the softer passages was filled with the clanking of harmonium pedals and scraping of bow on cello. This was chamber music for the 21st century, with hints of Scottish ballads and the bleak folk music of the Pennines. It's fair to say that everyone was sad to see them depart, with a collective groan from the audience at the announcement of their last song.
Sometimes, being a King Creosote fan is a bit like being a DIY expert. If you want results, you have to work at it. New songs are best heard by travelling to a remote Fife village and piling into a sweaty room above a rubgy club. Then they'll be reinterpreted on record - likely on a vinyl-only release which is available at shows, or - if the stars align and you're in the right place at the right time - from the resolutely low-tech website of the Alter Ego Trading Company, where things drift in and out of stock regularly, and the whole place shuts down for months at a time. Eventually though, some of the songs make it to one of the more commercially available releases. Kenny's most recent Astronaut Meets Appleman is rare in that most of the tracks here haven't been through this genesis, and have sprung onto record in their fully-formed band version. To do this justice requires quite an ensemble, and tonight he is joined by cellist, organist, synth player and piper among his usual band. All of them arrive on stage in sort of low-fi sci-fi Bowie-esque costume. Stick on stars and hastily cut-out KC lettering, silvery eye make-up and lurid pink and white wigs adorn band members. Amidst this, Kenny appears. And he seems to be remarkably happy!
I'm not suggesting that KC is anything less than entertaining usually, but when he's touring with a band he always seems just a little more chipper. This time, with his entourage in tow and their rather grand bus (apparently great for everything except perhaps the more involved toilet visit!) he's positively beaming. The band are slick and know the material well - working through the whole album in a slightly amended order. The poppier moments - like Love Life sitting neatly alongside the more reflective, drawn out tracks such as You Just Want and the closing The Long Fade. A significant highlight is Melin Wynt where the drone of pipes fills the hall while an insistent bassline drives the song on. As the set draws to a close Kenny notes that encores are silly, and explains that the band will just hide on stage - and they do exactly that, barely concealed behind the various bits of equipment, before heading back to play a request. Each night, they've take a request from the audience, learned it after the show, and played it at the next date on the tour. Thus we get a spectacularly fulsome sounding take on Admiral from 2007's would-be-breakthrough Bombshell album.
Leaving the Colston Hall and reflecting on some of the great (and not so fantastic) acts I've seen here since my teens, I find myself reckoning that this is among the best nights. The company, the music, the atmosphere and the receptive audience all adding up to a pretty special occasion. May there be many more opportunities to see the King at court.