Posted in SHOFT on Thursday 24th February 2011 at 8:02am
---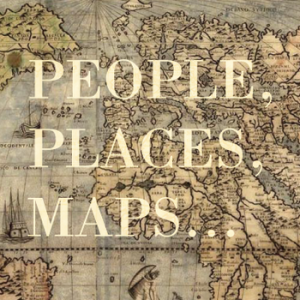 There are times when I wonder if I've done the right thing by trying to write about some of the music I stumble clumsily across. Of course there is always that fear that others have said it all before and better - but then I hear things which make me want to jump up and down and tell people to listen. That's exactly what I used to do in fact - but these days, the prospect of me jumping anywhere is a fairly alarming one, and there just aren't so many people around me who are interested in music. So this at least provides me with an outlet for those moments of enthusiasm.
First hearing People, Places, Maps... was just one of those moments. I was always going to be intrigued of course by a band with a name like that - my long-held conviction that music and place are intrinsically linked, all wrapped up in a single band name. It's perhaps a tricky name in some ways, awkward to write and hard to say quickly. But it sums up the songwriter's art, and the wide-angle range of this debut EP comprised seemingly of recent demo recordings. I've been listening to this for a couple of weeks now - mostly when on trains or walking around town - and the sense of movement and momentum in these songs is summed up perfectly by the title it seems.
People, Places, Maps... originate from Dunfermline - a place I know little about beyond once applying for a job there. Its one of those places I imagine, not unlike home here, where the gravitational pull of nearby large cities with their dizzying eddy of venues and oversupply of average bands makes getting heard a struggle. Credit then to this talented bunch for getting their music heard via this collection of songs which is freely available from their bandcamp. Kicking off with the melodic jangle of "Plans" which sets out the band's stall ably - assured and lyrical pop music with a deceptively catchy guitar line weaving in and out of the track until it reaches a noisy, life-affirmingly epic conclusion. Next up "Hotel Room" strides off with a nod to the tradition of Scots Americana which has always been done so well in the central belt. The emotional pull of the vocals harking back to the theme of place with the desperate sounding cry of "I walk down the same old streets..." as a well-placed violin joins the track. It's easy to do strings badly - too much, too often or just in the wrong place. People, Places, Maps... avoid this - deploying them where they belong to maximum effect. "Splinter" goes on to ground the band in the growing group of slick, professional melodic rock acts which Scotland is producing - alongside Make Sparks and Trapped in Kansas among others.
The stand-out track for me remains the wonderfully understated "Sarah's Song", starting with a gently strummed acoustic guitar and centred on a vocal duet, the song tackles the raw and difficult subjects of grief, powerlessness and remembrance. The violin returns in the company of piano to accompany the male and female voices which spin a truly affecting tale. With this subject matter, what is essentially a pop song could easily be clumsy and trite - but the band avoid this with an openness and honesty which seems to mark them out lyrically from other similar acts. If this bunch of songs are really just tentative demos put out to get the band heard, then this is clearly an act to watch carefully because the skill and sensitivity deployed on this small but near-perfect collection of songs is going to produce some remarkable results in future.
You can read an interview with People, Places, Maps... at Peenko.

People, Places, Maps... - Sarah's Song

Posted in SHOFT on Wednesday 23rd February 2011 at 6:02am
---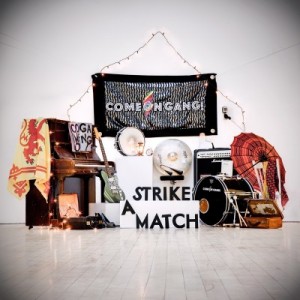 Its clearly been very tricky for anyone writing about this record to avoid the strange truth - that in discussing this self-assured and rather wonderful set of songs, they are considering both a debut and a finale. Indeed, as they release this album, Come on Gang! are no more - quitting on a high, and in a spirit of celebration with farewell gigs a week or so back in Edinburgh. So how to write about this then, given that so much writing about music is about expectation and looking ahead to the next exciting morsel to drift by? Firstly, its extremely important to note that this is by no means some thrown-together attempt to capitalise on the publicity around the band's dissolution. This is a carefully crafted set of noisy, intelligent pop songs which positively exudes hard work and honest, old fashioned musical perfectionism. This has been honed through a series of singles including "Wheels" and "Fortune Favours The Brave" both of which are included here, and it's the latter's triumphant anthemic stance which first hooked me - resulting in an ill-advised tweet where I described it as a "non-ironic 'I Will Survive' for the 21st century". I stand by the description though - and this defiant, uplifting blast of positivity remains something I return to when I feel downtrodden or put upon.
The Come on Gang! sound is one of those 'more than the sum of its parts' affairs - a three-piece, fronted by singing drummer Sarah Tanat-Jones, they combine fairly traditional rock band resources with Sarah's frankly remarkable voice to surprising effect. With a delivery which would probably sound equally at home in a traditional folk setting, Sarah's clear and high vocal soars above the melodic but forceful push of the music. The first side of the album (if I'm permitted that pre-digital concept) is a masterfully sequenced rush through Come on Gang!'s finest moments. There aren't many records which get this bit right - where the arrangement of tracks sucks the listener right into the music from the start. The last record which got it quite this perfect from my perspective being Pixies "Bossanova" where nothing on that first side seemed out of place, and only the crackle of the run-out groove woke me from the shock and awe of its perfection. This starts with the playful, swinging live favourite "Coffee Shop" kicking off with an almost twee skip down the city streets, and building into a skyward spiral of guitars and vocals. However, it's not all pretty here - and the darker "Red Thread" grounds the record with a rougher, noisier edge - but it's here where the vocal dynamics seem to make most sense, with Sarah's voice reaching a howl of frustration at times.
The second half of the record suffers in comparison to the first, only because it would be hard to match the beautifully set-up tumble of ridiculously good songs which that features. The songs here grow a little more slowly and reflectively, but are ultimately just as rewarding - especially the searing "Santa Maria" which builds around a vocal which leans strangely towards the madrigal or traditional song of a bygone age. However, the storm of guitars drags it unequivocally screaming into this century. Finally, the album comes to a close with "Start The Sound" - a piano driven ballad which asks "If I stop right now will you listen?". It's an emotional close to a record which captures a moment in the existence of Come on Gang! and is a rare and genuine expression of the rock star rhetoric of burning out versus slow embarrassing fade away. The song closes with Sarah singing "We've come so far.." and it's impossible not to wonder how far Come on Gang! could have gone? As it stands this is a wonderfully diverse, life-affirming record which I know I'll go back to for all kinds of reasons, at all sorts of times.

Come On Gang! - Fortune_Favours_The_Brave

Posted in SHOFT on Sunday 13th February 2011 at 11:02pm
---
It was a strange week for gigs in Glasgow. As ever there was an embarrassment of riches on offer, and when Edinburgh was linked into the equation, it all got very complicated. However, oddly, everything seemed to have focused on Friday evening. Having nailed my colours to the mast of Conquering Animal Sound some time back, this made the choice a little easier. However, with the cities all gigged-out over the previous two nights, Sunday presented a challenge. Then I spotted this curious event. Heavenly Records, formerly home of a variety of very hip artistes in the 1990s including Saint Etienne among others, has recently undergone something of a reinvention. With the label now focusing on more folk-based Americana, this tour attempts to showcase three of their more recent signings. So it was back to the familiar dungeon of The Captain's Rest via a less confusing bus ride this time. The venue was a little quieter, and as I descended to hear the first act I was a little concerned it might be very quiet indeed.
James Walbourne kicked off proceedings to a fairly empty, but gradually filling room. Performing on acoustic guitar, accompanied by his brother, he trades in a rough-edged, regret-tainted American blues. His songs are compact, complete stories which he sometimes seemed to get lost in - the duo reviving themselves with an initially amusing but ultimately a little wearing 'duelling banjos' finally at the end of more than one song. There is no doubting these gents' technical skills, and James is clearly a songwriter of some craft and pedigree. However, there is something of placing ones head in the lion's mouth here... after all, Glasgow has produced an endless stream of very successful acts in this alt-country and folk vein. Things take an interesting turn when a mandolin and a washboard come into play, and we're treated to a joyous romp through "Waiting Room Blues". On these simpler compositions, James seems able to stretch his legs, enjoy the space they allow and not get bogged down in attempting to write to a formula. The set ended on a high, with the room a little busier and the Walbourne brothers clearly pleased they'd made a few converts tonight.
Next up were Trevor Moss and Hannah-Lou. It seems like much longer than a month since I sat in a chilly metal church in Edithmead watching this remarkable duo performing. The format tonight was the same - a single microphone, two eerily similar voices, and lots of warm, engaging and genuine music. Kicking off with the new song "Spin Me A Rhyme", the set was largely based around the new album - due in April and the pair's first for Heavenly. As ever, Trevor started lots of rambling stories about the origin of songs, which it was left for Hannah-Lou to rescue from whimsy! It's a pleasure to watch them perform, and it was interesting to note the generally rather talkative Captain's Rest crowd standing in rapt silence between songs on a number of occasions. The response to the set closing "Cheap Wine" was particularly rapturous, and I was struck again how these seemingly simple songs, performed on the most minimal of instrumentation can fill a room and demand attention. For my own part, I wondered if the novelty might wear off a little seeing them performing in a more traditional venue, but it was really good to see them again and their genuine warmth and remarkable skill with a tune left a notoriously tricky Glasgow audience equally impressed. I now can't wait to see them again, though this opinion may change if the back of my head features in their forthcoming 'Eleven Nights Under Tin' film!
If the accusation of delivering whimsical stage banter is levelled at Trevor Moss, then I'm not entirely sure how to describe the curious but engaging casual soul-bearing in which Jules Baenziger aka Sea of Bees indulges before, during and after her short set. Jules is an interesting character in herself - a curious bubble of positive energy and wistful regret which appears to flip on the turn of a coin. Her songs are much the same - slight, near silent passages crash into heavy-handed, pained endings. Her voice varying from a slight high-pitched waver, to a howl of pain. At several points I'm reminded of the voice and songwriting of Mary Gauthier - another largely autobiographical writer. Accompanied only by Amber on electric guitar, Sea of Bees weave intricate but often rather inexplicable and inaudible tales with names such as "Wizbot" and "Gnomes". Jules explains her motivations before these songs, often focusing on her wish to express a single feeling or a thought which is difficult in words or in person. This confessional aspect makes Sea of Bees engaging but sometimes uncomfortably voyeuristic listening. The audience however loved the music and the unlikely duo performing it.
Trundling home on the bus, I pondered the brave and unlikely direction that Heavenly Records have taken. These artists aren't going to be selling buckets of CDs, that's for sure - but they offer integrity, craft and honesty...rare qualities in the music business, and particularly in the trade of the journeyman singer-songwriter which all too often descends into murky cover versions and crowd-pleasing blandness. An enlightening evening with some old friends, and hopefully some new ones too.

Posted in SHOFT on Sunday 13th February 2011 at 2:02pm
---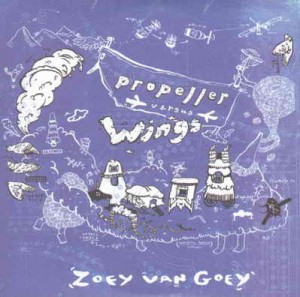 A few years back I wrote a foolishly impassioned entry on my more whimsical and less interesting personal blog about Zoey Van Goey. At that point, two clever and engaging singles into their existence, I knew I'd unearthed something worth watching. Something which seemed to combine the thrill of short, simple pop songs with the storytelling ethic of folk music - but without any of the painful sense of forced tweeness which is usually never far from such efforts. That the band have turned in a joyous, intelligent and almost impossibly varied second album isn't a surprise at all, but it's packed with them from start to finish.
Its plain to hear that Zoey Van Goey still have an embarassment of riches in the vocal department - with Kim Moore's high, clear vocals soaring over Matt Brennan's incredibly flexible voice which lends itself equally to racing, punky pop of "Robot Tyrannosaur" and the tender slide-guitar swooning album-closer "Where It Lands". Singing duties seem to be shared a little more evenly than on the first album, but they still feel most affecting when dueling or duetting - particularly on the gentle, but lyrically entangling "Extremities". The straightforward indie-pop hit on this record - if indeed that's an accurate description of any of these eleven compositions - is surely going to be "Sackville Sun". I've seen some attempts to compare this kindly or otherwise to Belle and Sebastian. I can see the links - but I can't help but feel there's more than a little gentle parody of over-studied art-school songwriters in this song. It descends into a strange Gary Numan-esque finale as Kim imagines what an "eight track of her favourite bands" might sound like, and its impossible not to feel the conspiratorial glee with which the stereotypes are demolished - by the force of unabashed fun and clever lyrics!
The sheer range of instruments and musical styles employed on 'Propeller Versus Wings' keep this record as fresh and surprising as those first two singles I fell in love with. The album opens with a perhaps entirely unexpected squall of mechanical noise as "Mountain on Fire", and works it's way through piano, accordion and all manner of percussion and string accompaniments alongside the usual tools of the modern band. By the time the curious "Another Day Another Disaster" has arrived, the band are indulging in what sounds like a French waltz with a raucous percussion section barely containing it's surfeit of energy for the song's clattering ending. The brass band onslaught of the infectiously clever Matt-led "You Told The Drunks I Knew Karate" needs to be heard to be believed. Zoey Van Goey's strength seems to lie in their ability to turn their hands to almost anything, and to make it strangely, compellingly their own. A small band with an unashamedly sizable talent for writing pop songs shouldn't really have this kind of range at their disposal - but they do. The even better realisation is that they probably have plenty more where this came from.
On "The Cake And Eating It" Kim sings "If it works, then it's probably worth repeating it". It does work, and on this remarkably infectious, clever and entertaining second album they haven't repeated themselves at all.

Zoey Van Goey - Sackville Sun