Posted in Railways on Sunday 8th May 2005 at 9:05pm
---
As Sundays go, an early start from Highbridge in bright sunshine and high wind. Mr Spinks had volunteered to drive to Bishops Lydeard to miss the crowds and get off on the first train of the day. Arrived in time to explore a bit and board the 0915 hauled by 37190. A quick change at Williton to experience the strange notion of a short-formation HST set on a preserved line. Back at Bishops Lydeard for refreshments and to watch 31271 arrive looking splendid and sounding fine.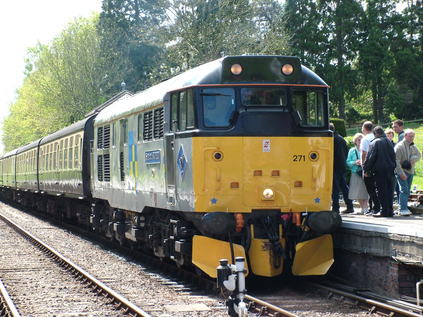 Solid progress to Crowcombe Heathfield, where we heard we would be delayed by what turned out to be the double failure of 50007 and the resident Hymek which had been sent to its rescue. After getting underway, delayed for a further half hour awaiting passing trains at Williton. Lots of unhappy people around at this point. Sampled the local ale and waited happily enough in the sunshine.
Arrived at Minehead after a storming run behind 31271. Shopped a little, and sheltered from the chilly coastal breeze. The timetable was now in tatters, so we hopped aboard the next service just to get moving again. Turned out to be a convoy of locomotives on the front, including the troubled 50, the Peak and the WSR's own Class 25.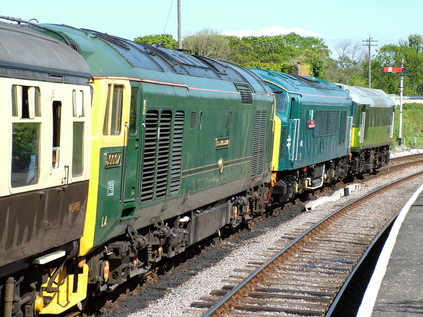 Heard along the way that the Class 73s were headed our way, working top and tail with two at the back of the train. Bailed at Blue Anchor and travelled to Minehead, then all the way back to Bishops Lydeard with the three EDs. No time for much else with the timetable remaining erratic. Watched the three 73s line up for tomorrow's return to Old Oak Common before going in search of food at 'The Merry Monk'. An excellent day out despite the failures and uncertainties. A few pictures are here.
Lost::MikeGTN
I've had a home on the web for more years than I care to remember, and a few kind souls persuade me it's worth persisting with keeping it updated. This current incarnation of the site is centred around the blog posts which began back in 1999 as 'the daylog' and continued through my travels and tribulations during the following years.
I don't get out and about nearly as much these days, but I do try to record significant events and trips for posterity. You may also have arrived here by following the trail to my former music blog Songs Heard On Fast Trains. That content is preserved here too.
Navigate Lost::MikeGTN Find articles by category
Search Lost::MikeGTN
Other Places...