Posted in SHOFT on Friday 11th June 2010 at 1:06pm
---
Its probably around twenty years since I tried to write about music in any sensible way. Scary numbers indeed, and even scarier to think how simple it all seemed then. I had a belief and a passion in what I was listening to which in some ways I find terribly embarrassing now - however, I miss it terribly too. So, finding myself so strangely energised about new music now, all this time later is both wonderfully exciting but also just a little bit frightening. I can't keep laughing it off as a mid-life crisis though - I need to tackle it head on and start to express some of these ideas before I go truly insane with the effort of suppressing the urge to yell at someone "you have to hear this!".
The cause of my excitement, and the reason I find myself writing again, is very much the Glasgow PodcART. My visits to Glasgow over the past decade or so have provided opportunities to see live music, and to find little nuggets of information on band's which I just don't find locally. This isn't meant to sound disparaging - it's just how things have worked out. Perhaps the distinction is best summed up by Halina Rifai's intentional use of the term 'network' rather than 'scene' to describe the situation north of the border. There is a genuine collaborative spirit in Scotland that is missing here just now. Back home it's still about old rivalries and genre dynamics, which stifles new musical enterprise in it's most formative stages. There are notable exceptions, but they struggle to thrive in a culture without the support, the venues, the outlets for their work. As at best a non-musician I've tried to offer my support in other ways to fill this gap, but in a difficult situation it's generally the messenger who gets shot. In my case, I often pulled the trigger myself - so a quiet life as a public servant beckoned, and music remained only as a guilty pleasure.
Of course the other thing which has always genuinely excited me about Scottish music is the use of the native accent and vernacular - that access to a tradition which isn't shameful or cliched like my own, and the blurring of boundaries which make the inevitable 'sounds like' review redundant. My fundamental attachment to place also comes into play here of course - I firmly believe that creative endeavours arise in some cities which just simply couldn't exist elsewhere. Musicians flourish when they find the right place to create, and that's a story which is repeated throughout the canon which I'd love to try to explain someday. The title of this confused little ramble is, like many of my attempts to express myself, also entirely stolen. This time though, from a HM Treasury strategic document. I was, of course, always going to click with an initiative called 'Total Place'.
So how am I going to grapple with this need to write, from a distance, about something which is becoming very precious to me and therefore on which I'm losing all objectivity? I think I'll take a band each week, and I'll write about them from my unique perspective. I'll try to avoid genre-terrorism, pigeonholing and lazy comparison. Ultimately, anyone who troubles to read my ramblings on a regular basis will know exactly what will come of this more intricate and evasive twaddle about me! In the sense that music is an intense and personal thing for many of us, that seems like a good place to start.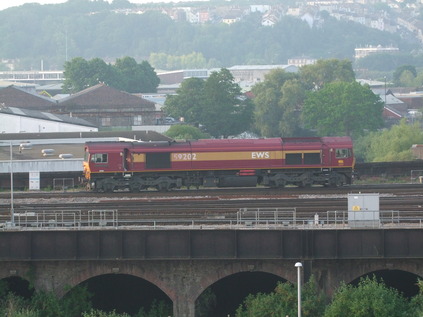 Posted in Railways on Saturday 5th June 2010 at 11:46pm
---
I woke up to the icy blast of the air-conditioning and after a few seconds of orientation realised I was in a hotel high above Temple Meads station. Today was, in comparison to recent early starts something of a lie-in, as the timings once they'd finally landed gave an 07:10 start. It would in fact have been possible to make the tour from the early train from home - but given that 07:00 requested starts usually translate into 05:30 actual departures, the hotel room was a bit of insurance. Despite feeling groggy from early morning hayfever, had the presence of mind to grab the camera as the sound of 59202 running around the recently arrived stock drifted through the window. I'd only been up a few minutes and I knew I was going to scratch at least one engine today. Not a bad start. Packed and made the short walk over to the station, with the relatively late start providing time to get coffee and some shots of 59202 before boarding. It was already a warm morning, and promised to be hotter later. I settled in for the trip, feeling rather sleepy already...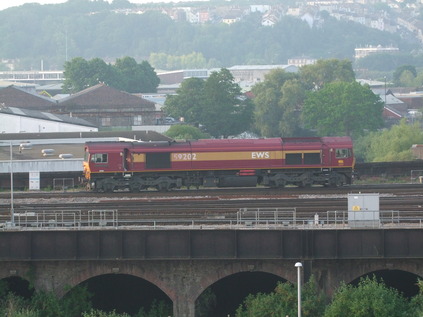 Our train began it's journey north via an unusual route, heading for the Midlands via a dash along the Great Western Main Line before turning towards Oxford and Banbury. The 59 made good time, and we were never more than a few minutes adrift as we made regular pick-ups along the route. Granted, there was some slack in the timings - and a longer stop at Banbury to let CrossCountry and Wrexham & Shropshire services pass provided time for a photostop in the strong morning sunshine. Despite having a couple of pick-ups left, the train didn't seem too full, so it's good to see that it ran as there have been one of two instances of cancellations for Pathfinder in similar circumstances. What was rather strange was the demographic of the passengers. This was marketed as an enthusiast trip - lots of festering in yards, changes of traction, some rare track and not really going anywhere as such. However, there were a fair number of the - well, lets say 'older' passengers who seemed to have dominated recent trips. There is a surprising shift going on at the moment in the market, and while some seem to have grasped it I'm not sure everyone has. Thought about this as we headed further north, through Kenilworth and Coventry to Birmingham International. Here we changed loco for the first time and I took advantage of being at the front of the set to get into a fairly unobstructed position as a large crowd swelled behind me on the platform. As predicted at some point, 92017 came hazily into view as the 59 detached and headed for Bescot. What I'd not remembered was that 92017 was now in Stobart Rail branding and had been named "Bart the Engine". I couldn't help thinking the policies for naming locos have drifted a little too far from the cities, counties and castles of old now. Still, another line in the book for sure, and a brief blast of 92 haulage to look forward to. These fine machines have never let me down yet, and they've always managed a fairly quick run too.
But before this one could get going, it was booked a slight detour around a slow route through Bescot Yard. Indeed, once again we followed the edge of the yard via a through siding. I'd done this once before, as an unadvertised extra on the Industrious Trader and it was good to get back into this part of the complex. New track for a fair number of people on board too it seemed. As we crawled by the lines of stores locos and the surprising amount of active wagons and engines in the depot, there was hushed conversation, broken only by the quiet recitation of numbers. The old fashioned railway enthusiasts haven't disappeared, they just need to be reminded that things aren't as bleak as it's fashionable to paint them out there on the tracks...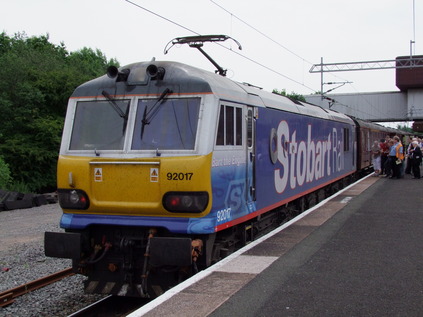 Once through Bescot and back onto the mainline at Wolverhampton, the 92 began to stretch it's legs a little and we made very comfortable progress northwards. The crawl through the yard had cost us some time, but nothing major, and it was hard not to start dozing in the warm sunshine as we sped through Staffordshire and into Cheshire. A little south of Crewe we slowed to take the line into Basford Hall Yard. Cue more frenzied number taking, despite the ranks of wagons which got in the way and made life tricky! In particular, a pair of pristine new Class 70 locomotives were evident but couldn't be seen clearly. There was much excitement and a fair bit of frustration on board too. Then, with a thunderous noise, 37423 and 37607 appeared at the front of the train, and as 92017 slipped quietly past the stock the two much more vocal engines were attached to the stock. A bit more cranking followed as we took the once-rare Gresty Lane Curve, which now seems to feature in every possible railtour itinerary following the high-profile failure of a tour to deliver it some time ago. This also meant a fairly slow passage of DRS's Gresty Lane depot - where our pair of locomotives were generally stabled. Time to relax now as we progressed towards Shrewsbury over the flat Cheshire countryside. More dozing here I'm afraid, broken only as we slowed to a crawl at the various level crossings, only to erupt back into noisy life once clear of the road. At Shrewsbury we took the curve onto the Marches, then soon after turned west at Sutton Bridge Junction. It seemed strange to be here again just a week after my last jaunt - and indeed for a third time this year - but with the weather much better than during the last visit of course. We soon reached our first set-down at Welshpool, where an optional trip on the Welshpool and Llanfair Railway was available. The plan was to move those punters interested to Llanfair Caereinion by coach for a special train back to Welshpool, but this first meant that some of the fairly unsteady passengers needed to make the long walk up the ramp and over the long footbridge at the station. Welshpool station has moved - with a new road taking the old alignment, and the old station building now marooned a dual-carriageway apart from the lines and used as a shopping and visitor centre. This made for a long trudge and not an easy one for some it seemed. Once underway again with the train quieter, we made the final fifteen mile run to Newtown. The views over to the mountainous country beyond where last week's trip had taken us were impressive indeed as we slowed for the station.
The only question now was what to do with the couple of hours we had here. The first priority, and the reason I'd stayed on, was to get some pictures of the manoeuvres here. The locos ran around the train and, once one of the infrequent service trains had passed, propelled the stock out to the west. Then the stock crossed to the Up platform, and crept in a coach at a time while a mobile tanker watered each in turn. Watched the operations for a bit before wandering over to the shop to stock up on drinks and lunch. Thought seriously about one or two of the recommended pubs, but didn't fancy the idea of a drunken dash across town in the time available. Met a couple of well-known faces on my wanders, and chatter in the sunshine before heading back to the station. Found much needed coffee at the rather neat little Station Cafe, and lazed around the station in the sunshine until it was time to reboard the train for the journey home.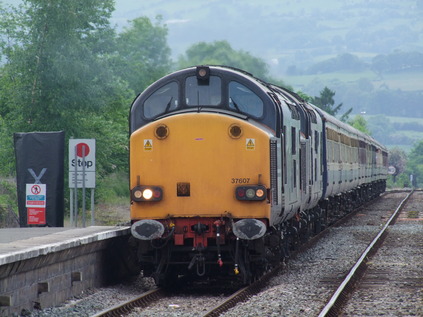 The route home was equally interesting, as we set off first via Telford to Wolverhampton and again slowed for Bescot Yard. This time we were booked to change engines on the Up & Down Goods line, but ended up in the Up Goods Loop. New track for me, but not what was expected if the confusion outside the train was anything to go by. Here, the noisy pair of 37s was detached and thundered by the train, before 59202 returned to the other end of the train. We departed northwards again, curving east to gain the Walsall route. There were clearly a couple of track bashers on board, but there was one gent who had very loudly proclaimed that he "was no crank!" who still managed to get excited as we headed into for him, uncharted waters. He could be heard saying "I'm doing new track" and "I'll have me some of this track" until it switched subtly from amusing to irritating in the overheating carriages. Switched off and half-dozed our way around the Sutton Park route - a strangely rural, leafy means of getting around the eastern edge of Birmingham. At Water Orton we turned east - going in almost the opposite direction to home in fact - joining the Nuneaton route. Then, via the curve to the West Coast Mainline at Abbey Junction and the line via Bedworth, we returned to Leamington Spa and the route home. Perhaps even more amazingly, we ran consistently early all the way, and crept into Temple Meads bang on time, following the customary check by Bristol panel.
Overall, this trip was a success. It combined a day trip with a crank excursion and managed to throw in new engines and varied routes too. I can only hope that Pathfinder found it rewarding enough to consider further such jaunts. The tour market, so busy during May and June, seems to be thinning out later in the summer, and a few of these trips which go 'somewhere' for the normals but get there via 'everywhere' for the cranks would, I'd hope, fill a few seats. For me? No track as such beyond the loop at Bescot - but two out of four winning engines and a relaxing - if a little sleepy - day out in the sunshine. Let's hope my 'Summer Tour' continues to produce this kind of successful day.