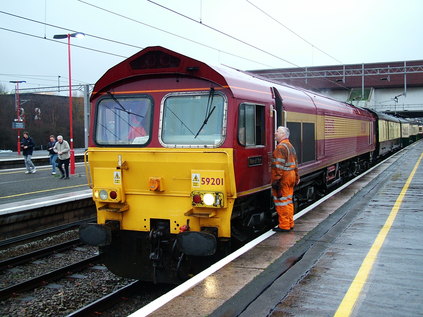 Posted in Railways on Saturday 13th December 2008 at 11:55pm
---
Woke to a drenched Reading city centre after not nearly enough sleep. The hotel was situated right in the centre of town, and Friday night in Reading is clearly a good night out. Set out for the short walk to the station, slithering around on a slick of grease outside the takeaway. Noted a fair collection of Rail Replacement Buses outside the station as I went in to find coffee and try to figure out which platform the train would arrive on. A complete lack of staff and information wasn't really a surprise, but by a process of elimination based on the pattern of departures and a bit of guesswork, made it to the right place to find a fair number of other cranks including some familiar faces. Almost exactly on time 59201 rumbled in. Boarded and settled in for a slightly sleepy trip up to Birmingham International for our first locomotive change. Noted a somewhat subdued atmosphere on board today, not helped by the increasingly heavy rain. Stepped out and got soaked at International, watching 59201 disappear into the gloom, and waiting...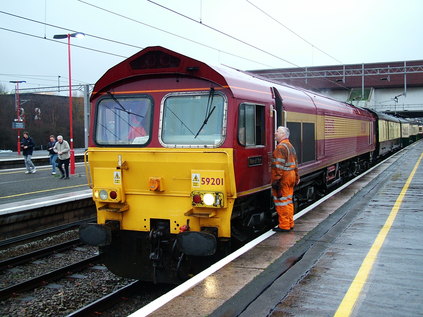 It seems that flooding and track circuit failures down the line had caused a bit of congestion, and we watched train after train roll into the station before our Class 92 showed up. Finally left almost exactly an hour down - at least meaning we should be in something approximating a sensible path. Off the mainline at Stechford for the familiar diversion to Bushbury, followed by a curve to the left and into Basford Hall Yard a little outside Crewe. I've often passed this huge yard with it's sorting sidings and virtual quarry and wished I could get a look at the locos stabled on the other side of the long rakes of wagons. Today I got my wish as we crawled slowly into the yard in preparation for our loco change. Particularly surprised to see a trio of Class 87s in their new Bulgarian identities, ready to head overseas. An even bigger surprise was our allocation of 66957, one of the latest batch of locos to be delivered and only a few weeks in the country. Once 66957 was attached, we set off via the Independent Lines under Crewe station, otherwise known as 'The Muck Hole', surfacing at Crewe Coal Yard and heading north on the West Coast Main Line, including the little diversion via Earlestown and Golborne Junction then onto the Southport branch at Wigan. Here, 60004 came alongside us running light engine and rumoured to be our next loco from Southport. We had remained pretty steadily one hour down here, and with a revised departure time should manage a bit of a break - however the signaller had other ideas. With a unit in our preferred platform 6 and a driver unwilling to come off his break to move it, we were finally signalled into platform 5 after what seemed a long wait.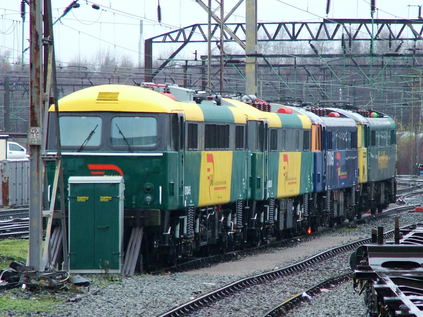 Southport was damp and busy. Much had changed since my last visit, including the replacement of the pleasant little refreshment stall with a Merseyrail-branded shop. Had a brief walk into the town and found it pleasant but oddly depressing. Not unlike Weston-super-Mare it seemed unclear on it's role. The declining seaside holiday in retreat, and nothing much filling the gap. Possibly the only place I've visited where a Sainsbury's Local store has both opened and closed. Avoided the heaving fish and chip shops and found myself back at the station chatting before long. No sign of our loco at all. We waited beyond our revised time with no show, and I gave up my wait and found my seat. During my return to the carriage, a couple of things happened - firstly, 60004 arrived, next it was directed into the wrong platform as our stock had been hauled out of the station and marshalled back into platform 6 during lunch. With the loco blocking a unit into 5 and us languishing in 6, it took a fair bit of fiddling around to get things back on track. We left around 90 minutes down, heading this time for Manchester, skirting the city and heading for the Chester line via Altrincham. Good to do this line in reverse, leading to the East to South curve at Northwich which I'd always assumed was out of use given it's overgrown state on my last visit. Now in the dark we made slow but noisy progress via Middlewich and Sandbach, staying on the goods lines in order to take the Independent Lines once again at Sydney Bridge.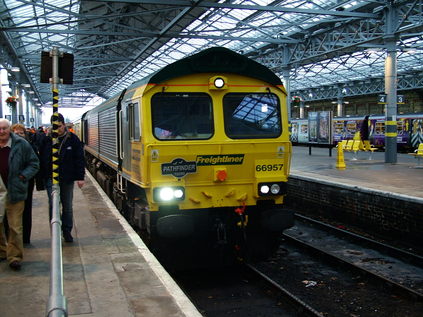 Here we should have resurfaced for a reversal at Gresty Green using a couple of very rare chords. However, instead we were routed directly into Basford Hall again. Some strange quiet moments while angry 'phonecalls were made at the front of the train. It turns out a sensible route into the station with a couple of reverses was agreed by Operations Control, but by that time well-meaning Freightliner folks were removing 60004 and attaching 90047. Since the wires on the curve weren't electrified, we were rather stuck! Eventually left, running very swiftly on the mainline with 047, which is an extremely rare performer on railtours and thus was a welcome event for most. All too soon arrived back at a still-drenched Birmingham International where 59201 rejoined the train for the run back to Reading. Admit I had another little doze on the way back.
Again, an enjoyable and entertaining day out despite the weather and the Network Rail related cock-ups. There was some, perhaps slighty justified, ranting about the route but I managed to score some fairly hard-to-get bits myself. A fine way to end the railtouring year, and now I'm looking forward to the tours planned for next year.