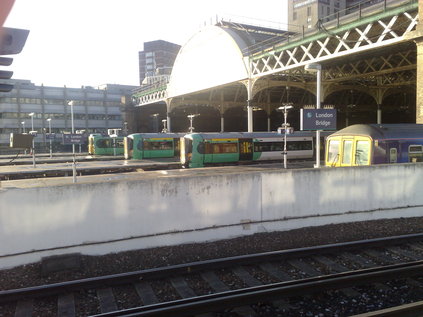 Posted in Railways on Saturday 6th December 2008 at 10:33pm
---
Having managed to occupy myself almost every week of the year so far on some interesting escapade or productive trip, this week threatened to ruin the record. With many closures due to engineering work in force, and the consequent lack of decently priced tickets, I'd mucked about a bit trying different options. Having got close to midweek with nothing planned, but knowing I'd need an escape once the working week was out, today's excursion ended up very hastily planned. I would retrace partly a trip I took fairly early on in my return to regular rail trips. Last time I'd headed for Maidstone it had been in the midst of a family crisis, and it was strange to look back over four years and see how things have changed. Back then, with fair amounts of track undone in the south east I'd been able to hop around covering all sorts of new ground. Today though it was a clear aim - to travel the full length of the Medway Valley route from Paddock Wood to Strood. If I could avoid getting stuck in Paddock Wood for an extended period like last time, it would be a bonus.
Once again, set off on the usual 2M06 and 1A06 combination, managing to stay alert this time and watch the sun rise on what looked to be a promising but cold day. Onto the Circle Line at Paddington as far as Embankment, where a leisurely walk up Villiers Street brought me to Charing Cross again. Struck by the amount of fairly aggressive beggars at this time of day, and that they seemed happy to cling to some of the more vulnerable, clearly worried passengers waiting for trains. Firmly sent one particularly persistent individual packing, before spotting the security staff arriving for work and the beggars leaving through the opposite entrance! Plenty of time for coffee before boarding a stopping service for Ashford which took me all the way to Paddock Wood by now very familiar routes given recent trips in Kent. No long delay this time, and a swift cross-platform change onto a fairly tidy 466. Noted the last couple of the 508 units which used to work this line stabled at Tonbridge awaiting transfer elsewhere. Soon off on a fairly well loaded service stopping at all stations to Strood. Settled back to enjoy the journey which, from Maidstone West onwards at least, was new track. Struck by how pleasant the scenery in the Medway Valley was in comparison to much of Kent which has never inspired me. A fair mix of small towns and industrial areas as we curved towards the coast, joining the route from London at Strood. A short wait in pleasant sunshine for a London Bridge bound train. I realised with a little regret that aside from the High Speed Channel Tunnel route and the odd curve and freight line, I've covered practically all of the lines in Kent now. There was a time that visits here and the dull, flat reaches of countryside weren't very interesting to me - but I have genuinely learned to love parts of it.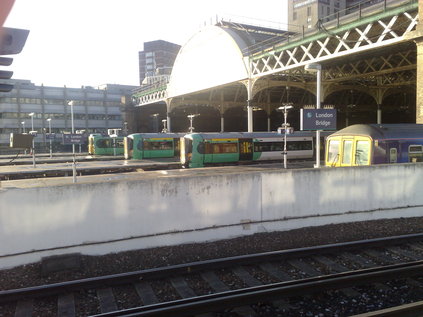 My late booking meant I'd missed the cheap seating allocation on the usual 17:00 train homeward from London, so had a slightly shorter afternoon to spend in the Captial than I would generally budget for. Given recent reading, resolved to head for Whitechapel via a number 40 bus to Aldgate. Off the bus at the end of Whitechapel High Street, plunging into the chaos of this cosmopolitan and bewildering thoroughfare. Walked east, for the first time in a fair while, spotting landmarks from my reading and resisting the temptation to turn aside and explore side-streets and alleyways. No particular aim here at all, but happy to be wandering on a cold and bright afternoon. Passed Brick Lane and contemplated a left turn into this strange river of memory which was again occupying quite a bit of my thinking about London, not least because of the announcement of the location of the 2009 Literary London conference, and the strange events around Iain Sinclair and his apparently postponed new book. Resisted the turn for now, and found myself surprisingly under the leering frontage of the Royal London Hospital.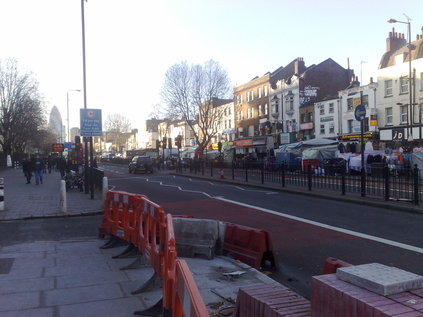 From here I realised I could catch the 205 to Paddington rather than walking back to the tube. As this occupied the remaining time with a chance to see this route in daylight, waited a few minutes and was soon aboard and speeding along the street I'd just walked before plunging back into the City and ultimately heading for home on the 16:00. Some silliness at Bristol Temple Meads where an overzealous and rude member of staff decided to deny me access to a busy train which managed to achieve two things: firstly, to make me an hour late getting home, and secondly to make me incredibly angry. Spent the time using the wonders of mobile internet to report the incident to customer service (rather than further embarassing myself trying to talk to the Customer Help Desk about the incident while the member of staff was lurking behind the counter). Despite a frustrating ending, an interesting, mostly unplanned, and somewhat unexpected day.