Posted in Railways on Saturday 9th June 2007 at 8:26pm
---
There have been times during the planning of this trip that I've wondered how sustainable these week-long forays into the wild are. After all, following a good few years effort and a great deal of cash, I've covered massive amounts of the British railway network. The stubs and tails that remain are tricky - and I've left them either because they're awkward to get at, or because I've lacked sufficient interest in the past when there have been greater goals to seek out. Alongside this of course is the chase for rare track - diversions and railtours take up more time in an effort to cover the red lines in 'Baker'. So this trip is something of an experiment - mixing the odd here-and-there bits of new line with old haunts done in new, interesting or just rather idiosyncratic or illogical ways.
Equally experimentally, I set out on a Saturday. These trips have always begun on a hopeful Monday morning, the whole network at its peak for me to explore. However this has left the Sunday for the end of the week - with its closures, diversions and relatively poor service. Again I've explored different ways of handling this - going home and then back out as a 'bonus day', or just finding convoluted and unusual ways to get home. This time, I'll finish on a Friday - but not by going home, but all being well on a positioning move for an excursion on Saturday. Its going to be an expensive week which will naturally beg the question 'why?' from many of my acquaintances and colleagues. I've tried to answer that before, and never quite succeeded - certainly at least, not to their satisfaction.
Up early then, still feeling the effects of the two-week long cough and cold which won't seem to go away. Very little voice and a nagging cough which will surely see me chucked out of the quiet carriage! Decided on the first one out of Highbridge for comfort. This allows me to get breakfast and settle into things at Bristol, before the trip kicks off proper. Sleepy ride to Temple Meads, leaving a chance to find a quick bite to eat and coffee. Feeling quite unusual - mainly due to the effects of the cold, and partly the dizzying and at this point, almost daunting idea of nine days of solid rail travel. The 07:29 arrived on time, destination Glasgow - but for me this went only as far as Preston. Could easily have continued a tradition of sorts and gone straight to Scotland, but that was another twist to this trip. Quiet and easy ride in First Class. No at-seat service as it's the weekend, but nice to be comfortable nonetheless. A fairly extended wait at Preston for the short hop to Lancaster. Flagged a Pendolino ride and got the next Barrow-bound 185 instead. Stunning sunshine in Lancashire, as I crossed the platform to the 156 bound for Heysham Port.
The Heysham branch receives a very sparse service, and only continues to exists as a result of the ferry traffic from the Isle of Man. The branch is operated very unusually, as it splits into two parallel single lines at Bare Lane. Both go to Morcambe, but only the southerly of the pair turns south again from the terminus to the port at Heysham. The port itself is much like others I've visited by rail over the years - rather run down and slightly desolate in appeaance. Toyed with a photograph of the unit on the buffer stops, but dissuaded by the security team - who despite appearing extremely young and rather inexperienced, were both ever-present and apparently up for a fight! The Port Authority requested that the train was held as the ferry was late. We only realised it had arrived when an endless stream of motorcyclists started pouring from the earth beside us, where a ramp from the ship reaches ground. A murky and clammy day was developing outside, and Heysham Power Station was surrounded by a threatening haze of steam. Not sorry to leave Heysham.
Back at Lancaster with two minutes to spare before the Manchester-bound 185. Made it to the platform, trying not to gasp and splutter too much in front of the composed and serene crowd of young ladies present. Found a seat in the thankfully well air-conditioned 185 and collapsed for a while. Time for some quick shopping at Piccadilly before boarding another 185 for the trip across the Pennines via Standedge Tunnel. Interesting to find myself seated next to a table of First Keolis' staff on this train and able to listen in on depot gossip. Never did find out what the strange sulphurous smell was in the tunnel however! A swift cross-platform change at York finds me in what is apparently a travelling birthday party. A group of twenty-somethings off to Newcastle to celebrate had started early - and it was hard not to get caught up in the infectious good-humour of these smart and pretty young people - even if as some commented, it's not really the way to behave in First Class.
Arrived at the impressive station at Darlington with only the vaguest idea of which direction to walk to the hotel. Like all towns where the station is a way from the centre, a strange mix of ethnic take-aways and endless barricaded newsagents lined the route. Eventually found myself beside a still river which was rather pungent in the heat. Recognised this from the map, and dodged through the cool green churchyard. The town itself wasn't unpleasant, and a wander later confirmed a mix of old and new buildings with some impressive public open spaces and a fair mix of retail opportunities. There was though, an air of desperation around the place. Saturday nights are probably the same all over England, but here the gangs of screeching girls and brawling blokes seemed more edgy somehow. I turned in early and watched the fun from my hotel window instead.
Posted in Railways on Sunday 3rd June 2007 at 9:55pm
---
The story of this tour is an interesting one. I first spotted it being mentioned in web forums a few months back. It sounded genuine, but the idea of dispatching a cheque to an unnamed individual in the hope of enjoying two Class 50s on local freight lines was a little too odd for comfort. After a little more information appeared, and when the Railway Children charity link was disclosed, I felt more inclined to support this. After all, at worst I could lose my cash. The irony of this uncertain start to the story is that this in fact turned out to be one of the best organised and most interesting tours I've been on in years.
So we arrived at Bristol at a reasonably civilised time on a Sunday morning to find a mini diesel gala atmosphere. 50049 had arrived along with 31105 and 31285 which had been exclusively sanctioned by
Network Rail
to work this train in place of 50031 which was out of action. 57601 had also arrived overnight with the stock for the tour, and for good measure 47810 sat in the Middle Siding with no less than four HST power cars lashed together for a move southwards. Explored a little and took some pictures before getting refreshments. Arrived on platform 5 in time for the thunderous noise of 50049 bringing in the stock.
First trip was to Portbury with the 31s leading. Not new to me, but always interesting to use this line which is so obviously ripe for development. This time we didn't enter the terminal, halting at the stop board before reversing back to Temple Meads for a brief stop before heading for Bath Spa. We arrived in platform 2 and used the unusual crossover to regain the line to Bristol, this time taking the Rhubarb Curve to Dr Day's Junction. After a satisfying thrash up Filton Bank we took the Filton Chord - my first new track of the day - heading through Hallen Marsh and into the Bulk Handling Terminal at Avonmouth. A curious destination among the silos and coal hoppers, but interesting nonetheless.
Another reversal, this time retracing our steps via Hallen then heading into the new platform 4 at Bristol Parkway. Engineering at Westerleigh Junction meant a trip via the Severn Tunnel and Lydney to position the train for the next couple of rare branches. Enjoyed some very quick running under the river, before reversing again for a non-stop run through Gloucester on the Up Main. At Yate South we took the former line into Bristol, under the main line and through the small village of Westerleigh. We halted to reverse at the surprisingly large terminal, with a Murco oil facility and South Gloucestershire's waste transfer station on site. It was here we first heard of problems with 50049, which had shut down on arrival. Much speculation in Coach H about what would happen next.
We were soon underway, with the 31s leading us onto the Tytherington Branch at Yate Middle. My last excursion on this branch was the ill-fated trip with Nunney Castle. This trip was to be equally memorable, with our train pausing at Latteridge Crossing to take water onto 50049 from a kind householder's garden hose! This did the trick though, and we made an impressive climb into the quarry. It will be interesting to see if construction around the 2012 Olympic Site does regenerate traffic from this seemingly tiny quarry? The problems with 50049 had set us back in terms of time, and during our trip back via Gloucester and the Severn Tunnel it was announced that we would go directly to Bristol rather than taking the Patchway Chord and going again via Hallen. A BLS colleague who joined the train expressed disappointment, but stayed on board for the unusual traction. A good thing in the end, as we made up sufficient time to manage to do the chord and another run via Hallen and Avonmouth after all. If we'd not done this, we'd have arrived incredibly early at Temple Meads and needed to occupy a platform waiting for our last run of the day, a very rare locomotive hauled trip to Severn Beach.
Quite a few people bailed before this trip, and they missed a treat. In evening sunshine it was something quite special to emerge from the industrial scenery into the flat coastal landscape. Finally we arrived at Severn Beach and something of a party atmosphere descended on the train. Arrived back in Bristol a little early. A really cracking tour with some interesting destinations and a great atmosphere. There will naturally be talk about doing it again some time - and I'd happily lend my support to the team who achieved today's trip and made money for a deserving charity in the process.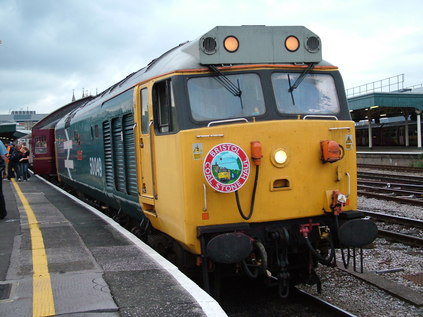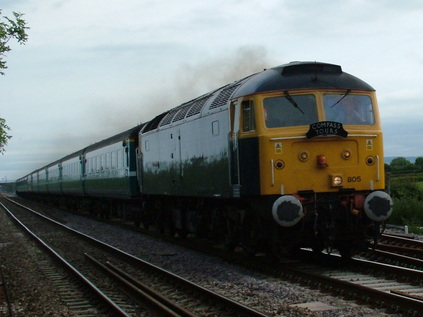 Posted in Railways on Saturday 2nd June 2007 at 6:17pm
---
Strange and much too warm day spent mostly with family. Discovered that Pathfinder's Lakeland Express tour is cancelled due to double-booked coaching stock! That's blown a hole in my schedule for the week-after-next, but I have a plan B of sorts. Consoled myself later with a trip to the station to watch Compass Tours Lichfield-Paignton charter heading homeward.