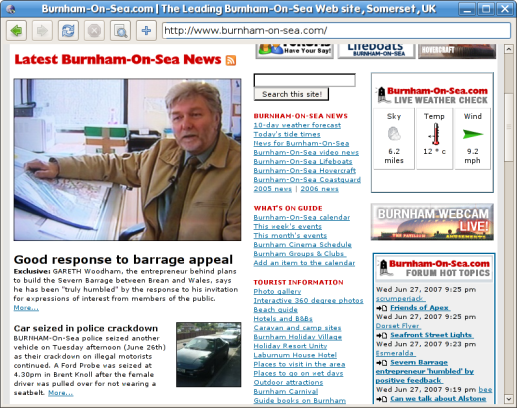 Posted in Computers on Wednesday 27th June 2007 at 9:36pm
---
Many years ago, as part of a project to make lots of tiny applications, I wrote a web browser. It linked with the Gecko rendering engine from Mozilla and even though you had to have a whacking Mozilla install around, it was a quick and useful way to view URLs from chat programs and suchlike. FuzzyTheBear loved it, and spoke highly of Denzil far and wide - and a fair number of people downloaded it and used it for simple, quick tasks. The source code has lived on this webserver ever since, and I've dutifully moved it when hardware has changed or the site has been updated - but it's fair to say I haven't thought about Denzil for a long time!
Last night, I wandered into the #lemmings chatroom on Freenode to see which of my old friends was around. It's been a while, and following a few turbulent times lately I felt like I needed to catch up and relax a little. It was good to see some old faces around, and I was welcomed back into the fold like I hadn't been away. Later, when I was happily chatting and completely off-guard Fuzzy posed the question:
Could Denzil be compiled against a modern Firefox or Mozilla installation?
I'll confess I've wondered myself in the past - and even experimented a bit, and I shared my thoughts on how it would work. We even managed to get it building and running - but things had changed a little and it crashed on https:// URLs. We also talked about how the configure ought to try to check for Firefox or Mozilla and proceed accordingly. After agreeing this would make someone a great project, and remarking on how I'd used mental muscles which hadn't been flexed for years, I slipped off to bed happy to have chatted with friends again.
Well, a curse on FuzzyTheBear because I think he knows that once he'd woken me up and placed the trap, I'd fall right in! I never could resist a challenge, and tonight in an unguarded moment I set about figuring out why Denzil crashed on secure sites. I soon cottoned on to it being something to do with the Firefox and Mozilla profile system, and found a neat fix by looking for a user profile in .denzil. If it wasn't there, the libs were smart enough to set things up. Great! Next I tried to fix up the configure script. This was tougher, and the arcane syntax took awhile to resurface from the depths of my mind. After a bit of playing, tweaking and research I got the application to check for either Mozilla or Firefox, but always to prefer Firefox - because it just seems lighter and neater to do so. Inspired by this success, I fixed a bunch of warnings and complaints caused by building an ancient package, and even got the .desktop file installing correctly into the Applications menu.
Soon, not noticing how much time had passed since I sat down to 'just see if I could fix that bit...' I found myself bumping the version number, writing up my ChangeLog entry and doing make dist...
...and that's how Denzil managed to get it's first release since 15th July 2003!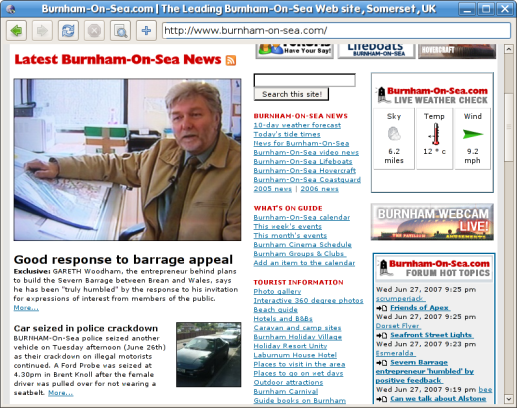 Denzil still does what it always did, still has its funny 'self-contained' bookmark system, and still relies on wget to download things because I still haven't managed to figure out a smarter way. Best of all though, the stripped binary is still less than 20Kb in size! I'm sure that there are still lots of ways to break it too, and I'd be interested to hear of them - but for now it seems to work well enough.
You can download the source code for denzil here:
If you find it useful, I'm glad to be of service...and don't forget to thank FuzzyTheBear for knowing just which buttons to push to get me working!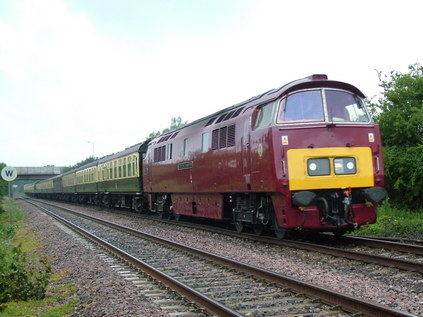 Posted in Railways on Saturday 23rd June 2007 at 8:59am
---
A strange week, and a quiet weekend. Seemed like a sensible idea to take advantage of events on my doorstep. Walked to Springfield Road Crossing, and exercised my right to use the public right of way. No harassment this time, happily!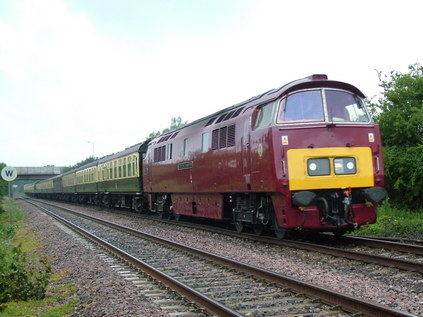 Posted in Railways on Friday 15th June 2007 at 10:34pm
---
After a very comfortable night at the Alexandra, I felt fully prepared for the day's journey. However things almost got off to a bad start when the hotel staff refused to let me check out! The Night Porter had explained that their computers weren't on yet, and was about to take my details when the Shift Manager arrived. She took a much dimmer view of my attempt to leave and simply said "check out isn't until 7:30". I pointed out that the Hotel might review this since one of the few trains serving Fort William left at 07:40. Still no response. Eventually a younger member of staff arrived who seemed to be able to provoke the computer into action earlier than scheduled. The Manager bustled off somewhere huffily, and the receptionist apologised graciously for the delay. It wouldn't stop me visiting again though - the hotel was comfortable and perfectly situated, and the restaurant is fantastic!
It was good to do the trip back to Glasgow in daylight, and once again the Far North was blessed by fine weather. Had a message from my uncle in the Midlands saying that train services had been suspended due to flooding. Unsure whether this was a product of his strange sense of humour, so went back to windowgazing my way along this amazing stretch of line once again. Having been in relatively calm and peaceful surroundings yesterday, Glasgow came as a shock. Walked to Central Station and found myself irritated by the lunchtime queues in all of the shops and coffee stalls. Stalked about the concourse feeling miserable about leaving Glasgow and Scotland in general, but consoled myself with the Heartland tour tomorrow which would see me back if only for a couple of hours. Boarded my Voyager and settled in for the run to Carlisle.
A little before reaching Kingmoor my 'phone buzzed to say I'd missed a call. Sure enough, my uncle was right - Bescot was washed out and the Heartland tour was off tomorrow! Some rapid re-planning to do, including staying only one night in Birmingham and trying to sort out my ticket home, which was booked for Sunday. Disembarked at a damp Carlisle station with lots to think about - therefore completely missed the opportunity to get a photograph of the log train from Crianlarich which passed seconds after our arrival, to much interest from the local cranks. I seem to have missed this train all week somehow, despite stalking it's route endlessly! Stuck to my itinerary and boarded the slightly delayed Stranraer-Newcastle service for a trip via the Tyne Valley. It always rains there, so I thought nothing of the torrent which seemed to be falling on us. During the couple of stretches of mobile 'phone coverage, managed to sort the hotel out with no problems, and planned to fix the ticket at New Street. Relaxed a little and enjoyed the rest of the trip into Newcastle.
The plan here had been to wait for the 16:27 departure for Birmingham which went via the High Level Bridge. Unfortunately, southbound services were in disarray. Opted to just head south on the next one out. That was cancelled - the balancing working hadn't run because of floods in the Midlands. The following train from Edinburgh was late, but running. The 16:27 - my original plan - was cancelled, but then appeared to be reinstated but delayed. Didn't chance it. Experienced a moment of sudden self-knowledge - here I was, a 34 year old corpulent and balding man, standing on a freezing and windy station miles from home in his shirtsleeves - like all the other frustrated passengers I should have been concerned about getting home on time, getting to a meeting or even how much compensation I could claim for the delay....
...Instead I wondered whether this would mean any interesting diversions!
In the event, my journey on 9M58 was one of the most eventful parts of the entire trip. It also showed the old-fashioned railway ethic of 'lets just get things moving' hasn't disappeared completely. Before privatisation, a problem like this would mean lots of quick decisions to keep people moving. Now, with Network Rail's structured and inflexible approach to advance planning, problems tend not to produce many surprises. It wasn't necessarily better back then - just different. Nowadays passengers get more advance information, but on balance services seem more likely to be cancelled or bustituted rather than diverted. Our trip south began relatively calmly. Via the East Coast Main Line to York, then into a very wet Leeds where a fair number of passengers squeezed on - but First Class remained quiet. No at seat service, because crews had been displaced all over the country by the cancellations - but that was a minor gripe. At least we were moving. Or were we? We sat for some time at Leeds, a station I'd seen quite a bit of already this month. Eventually we were told that flooding and damage to signalling near Adwick was preventing our routing to Wakefield Westgate. Eventually staff were located and a decision was made to run via Methley Junction, Normanton and Wakefield Kirkgate, reversing to regain our booked route at Westgate. Not required track - but an unexpected variation which was welcomed. We took the route fairly slowly, and crossing the River Calder near Turners Lane Junction the first effects of the torrential rain could be seen in its swollen waters. Wakefield Westgate appeared to be in chaos, with both platforms full of people. At least one unlucky passenger boarded our coach and settled into his seat only to spring out once again as we reversed out of the station in the same direction we'd arrived. He was last seen at Sheffield, staring intently at the departure board.
The weather was certainly appalling, and as we headed south things worsened considerably. Very slow running into Sheffield, and more confusion as the powers that be debated whether we should call additionally at Chesterfield. An SSO was finally produced and we set off once again. The journey from Chesterfield to Birmingham took a very long time. I actually lost track somewhere, so strange were the scenes trackside. As we approached Kingsbury we appeared to be crawling slowly along a causeway between two huge lakes. The flooding was surprisingly deep too. I saw a woman trying to persuade two clearly distressed horses to leave a flooded field. The animals were belly-deep and her Land Rover and horsebox were already perilously part-submerged. Felt a bit powerless and realised that this was actually quite serious stuff. Soon after we diverged and took the road via Whitacre Junction - a first for me Southbound in fact. Everything appeared to be going this way, and we ended up in a jam of trains which seemed to stretch as far as New Street. Water Orton lived up to its name in being exceedingly wet, and it took at least 45 minutes to complete this last leg of the trip.
Finally emerged in a very damp, very busy and rather chaotic Birmingham New Street - and here, rather miserably, my All Line Rover officially ended. Stocked up on provisions because I didn't intend going out once I'd checked into my hotel, and had a stab at changing my ticket from Sunday to tomorrow - no chance, they wanted me to apply for a refund online. They assured me I'd get a refund, so I'm not sure why I couldn't sort it out at the station. With none of my intended trips for tomorrow running and my return to Glasgow postponed I trudged out of the station with a heavy heart to seek the quiet of my familiar hotel. I arrived having spent seven days travelling, and at least the last twelve hours at a stretch covering nearly 500 miles. The receptionist, ever polite remarked "Gosh sir! You look fresh. Everyone else is running around like drowned rats today!". There are still lots of good reasons to take the train, it seems!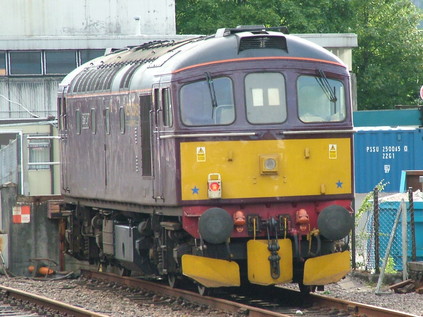 Posted in Railways on Thursday 14th June 2007 at 9:41pm
---
A couple of years back I arrived at Fort William, and having travelled for hours without a break somehow lost my nerve. The remainder of the trip to Mallaig seemed to take me impossibly far out of civilisation, and the sight of shops and supermarkets and the silent class 37 awaiting is journey back to the known world persuaded me to abandon my plan. I've regretted this decision ever since, and particularly as I've crossed off more and more Scottish railway, this short but inaccessible length of track has become a very obvious omission. Today I planned to correct that.
My plans changed early - waking to the same sheets of rain which had been falling over Bradford last night, I eschewed the walk to Interchange station, and made the quick dash to Forster Square for the single GNER service which starts here. Not many passengers, but plenty reserved from Leeds it seems. A quick run, with a pick-up only stop at Shipley our single call - a few more takers here for this convenient service into London, and the chance for the guard to argue with an errant cyclist for loading his bicycle into the wrong carriage. Off at Leeds and over the bridge for the 0710 HST to Edinburgh. Again, fairly lightly loaded - but since this called almost everywhere up the East Coast Main Line, we were sure to get busier. Settled in for some familiar ground this week, as we headed for York, Newcastle and then Edinburgh. Breakfast served, and working wifi made for a rather more luxurious trip than I'd experienced over the past couple of days. Most importantly, my changed plans meant an earlier arrival in Glasgow Queen Street as I'd have a fairly good choice of trains from Waverley. This took the pressure off for the connection into the West Highland Line too.
Arrived at Edinburgh and after getting my bearings in the changing station, did some shopping and headed for one of the few terminal platforms at the west end of the station which wasn't still a building site. Quick, easy run into Queen Street via Falkirk in much brighter conditions than further south. With a longer stopover in Queen Street than originally planned, popped into Avalanche Records and purchased a couple of CDs I'd been reading about in the 13th Note just the other night. Strange buying music in a real live record shop again after a very long time! The assistant also gave me a tip on how to 'unlock' the PIN on one of my cards I'd stupidly entered the wrong number for in Crewe earlier in the week, so a fruitful visit all round! Back to the platform to find a total of three units making up the Oban/Mallaig train today - one would split off at Crianlarich and head for Oban as usual, and the other two would part at Fort William with the rear cars heading on to Mallaig. Found a comfortable seat in the through portion for Mallaig and settled in for the epic trek into the Highlands.
I've known people who have travelled all over the planet seeking the greatest sights and most stunning vistas who say that there is nothing here in the UK to compare, but I can truly say when I first made this trip I was awestruck by the scale and remote beauty of this line. I thought that a second visit and some familiarity would diminish my view, but it didn't at all - and interestingly on the trip I spoke to a number of people who said they repeatedly made the journey because they never tired of the experience. After the climb from Helensburgh Upper through fiercely guarded MOD territory around Gareloch, and then rounding the northern tip of Loch Lomond, paused for the customary leg-stretch at Crianlarich whilst the Oban train was detached and made its way west. Too early for the log train, operated strangely by a Virgin Class 57, which arrives here in the evening and travels south to Chirk overnight. Back on board, and as we rounded the Horseshoe Curve at Tyndrum Upper, while crossing Glen Coralan, caught sight of the Oban train glinting in the sunlight in the valley below.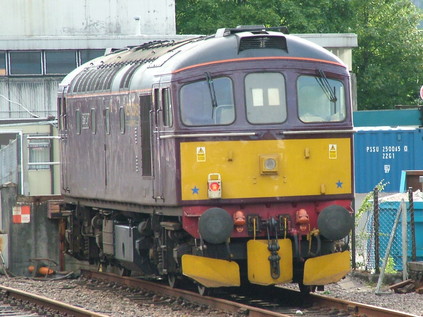 Once over the vast emptiness of Rannoch Moor and having skirted the Monessie Gorge, we arrived at Fort William. The return to civilisation always seems sudden and unexpected here. Noted 67004 awaiting sleeper duties, and sitting in the sidings was 33029 which has followed me around Scotland this week. A brief wait here for our unit to be uncoupled and a school party and a fair few locals to board. Realised that this was a commuter train of sorts! On departure, we turned west once again, over the Lochy Viaduct and passed Banavie where the Radio Signalling Centre controls trains over much of the remote north of Scotland. The line was a bit of a surprise - less of the awe-inspiring emptiness and more stops at little villages which seemed to be busy in their own small way. It reminds me of how the Kyle line changes as it nears the coast, where I suppose life was a little less harsh and resources more plentiful in times gone by. Naturally a stunning feature of the trip is the majestic sweep of Glenfinnan Viaduct - which has been in all sorts of films I've not seen! The train paused briefly mid-crossing with one of the school party exclaiming "Aw! I dinna lake et!" at the top of her voice! The descent into Mallaig in early evening sunshine will surely become one of my favourite memories of this trip. Wandered the small harbour village for a while in the brief layover. A number of fellow passengers seemed to be returning too, stopping only for fish and chips which are naturally a local delicacy.
The return trip to Fort William was a little quieter, but equally pleasant. Spent some of it speaking with a lady whose nephew travels the world in pursuit of his railway enthusiasm. On arrival, made the short walk to the Alexandra Hotel finding my room had a stunning view. Down to the restaurant where I'd stopped in on my last trip to sample to local food and beer. I'd love people who don't understand why I travel by train to have been here today - it was full of perfect examples.