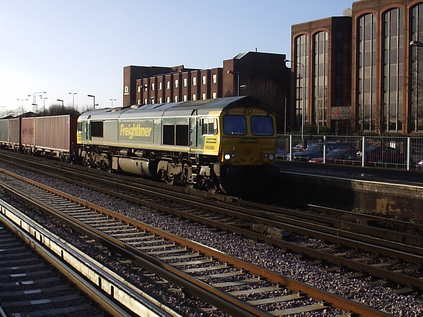 Posted in Railways on Saturday 8th January 2005 at 10:22pm
---
Having decided on today for the long-promised Eastleigh trip, set off from home this morning in howling wind, driving rain and freezing temperatures. I'll confess I almost turned back on a couple of occasions on the short walk to the station. After a spell recovering on the journey to Bristol, and a decent coffee on arrival, I felt able to press on. More dismay however when I discovered the Exeter-Manchester football special had run a few minutes early.

After watching the developing chaos as the extent of the severe weather in the North began to affect services, onto a mercifully quite lightly loaded two-car 158. Mainly uneventful journey, heard rumours of 34067 'Tangmere' passing on a steam special later. Somewhere south of Warminster, the sun came out - a surprise after the inclement start to the day. Decided to change at Southampton for Eastleigh rather than travelling via Romsey and Chandlers' Ford - meaning a glimpse of Southampton Maritime.

Arrived at Eastleigh and found a small group of locals, along with some fellow travellers from my neck of the woods, and one familiar face from Cardiff rugby specials and South Coast '31 chasing'! Heard 'Tangmere' was due at 13:40 or thereabouts. Almost immediately 66568 passed on an up Freightliner service.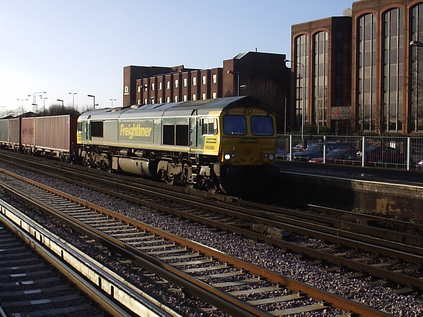 Things now became very quiet. Began to think I'd perhaps made a mistake and mentally plotted a journey back to Southampton. Not time to worry for long however! Firstly, almost everything which normally passes Eastleigh on South West Trains services was stopping today due to engineering works elsewhere. Noted almost the entire Class 442 Wessex Electric fleet during the time I was there. Also, a few of the surviving fleet of slam-door units called. First close look at the new 444 'Desiro' units too. Shunting manouvres involving 60099 and 08664 also kept us entertained.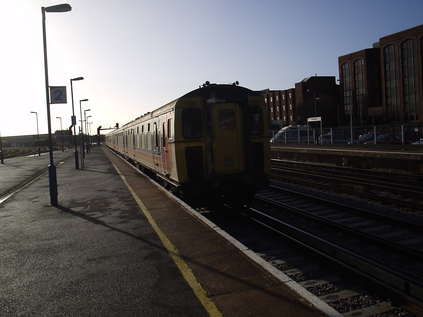 Finally, a little before Tangmere passed at speed and looking fine in the bright sunshine, things got very busy indeed - a procession of Freightliner services, the first two hauled by Class 57s, and a third double-headed by Class 66s.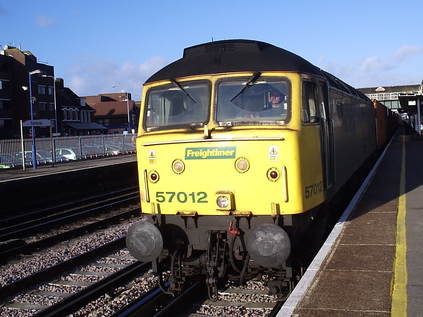 Decided to head back on the 1442 Weymouth service. Bumped into more returning locals at Southampton. Busy but uneventful ride back. Heard on arriving at Bristol that Exeter City had held Manchester United to a draw. Promising thoughts of more southbound special trains! From uninspiring beginnings, a very productive day.

Posted in Images on Tuesday 4th January 2005 at 9:01pm
---
I've started to move some of the better images I've taken over the past year into galleries. None of them are fantastic, but they document my sightings and give me camera practice! I'm not sure what the final format will be, but for now at least they can be browsed here:

Class 20
Class 31
Class 33
Class 37
Class 43
Class 47
Class 50
Class 52
Class 56
Class 57
Class 60
Class 66
Class 67
Class 86
Class 87
Class 90
Class 91
Class 92
Class 97
DMU
EMU
Other Locomotives
Steam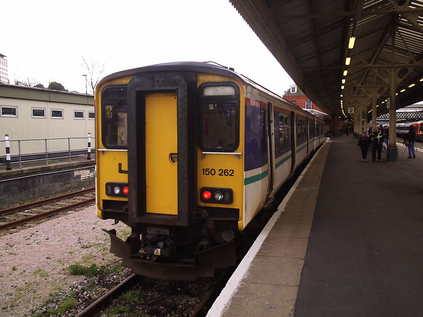 Posted in Railways on Monday 3rd January 2005 at 8:02pm
---
Took advantage of todays later start to be rather lazy this morning, and finally caught the 0934 south from Weston, heading for Exeter to see the convoy to Meldon Quarry. Having heard about this one prior to the holiday season, I was expecting to see a few of the usual suspects along the way. An extended wait for a Voyager at Taunton which was announced as 22 late and 'receiving attention at Crewe'! A flurry activity around some rather colourful combinations of livery on Arriva Trains Wales services, and some unexpected visitors!

On arriving at Exeter, noted an unusually high proportion of cranks around already. Quick trip up the bank to Exeter Central, then back to St Davids and settled in to wait for 5V84. During the wait, news drifted over of a rare visitor at the other end of the station - one of the cascaded ScotRail units now with Arriva. Wandered over for a look and a picture. Noted that I'd seen this one last between Edinburgh and Glasgow.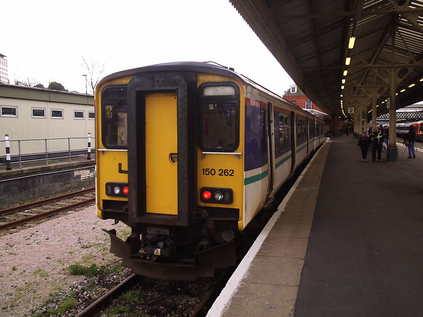 Back to the end of platform 5 with a now very large group of enthusiasts. I suppose that on a Bank Holiday when people have spent the last couple of weeks indoors, this relatively unusual working was always going to be well attended. Just a few minutes behind schedule, the convoy descended the curve from Central with 66708 and 73204 leading 205028 and 205032.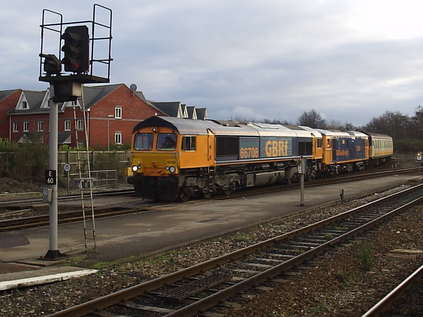 The train cruised slowly non-stop through Exeter St Davids, and headed north to Cowley Bridge Jcn and thence to Meldon. Noted how good the blue and yellow GBRf livery looked on both locomotives, almost reminiscent of BR blue in some ways! Stayed for a little longer to chat and watch what passes for an evening rush hour on a Bank Holiday monday here.