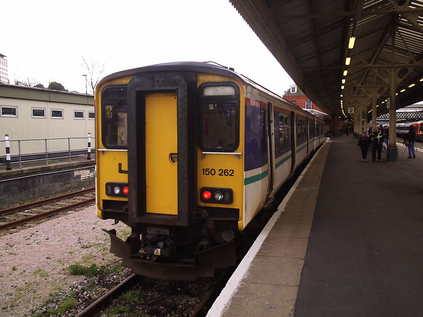 Posted in Railways on Monday 3rd January 2005 at 8:02pm
---
Took advantage of todays later start to be rather lazy this morning, and finally caught the 0934 south from Weston, heading for Exeter to see the convoy to Meldon Quarry. Having heard about this one prior to the holiday season, I was expecting to see a few of the usual suspects along the way. An extended wait for a Voyager at Taunton which was announced as 22 late and 'receiving attention at Crewe'! A flurry activity around some rather colourful combinations of livery on Arriva Trains Wales services, and some unexpected visitors!

On arriving at Exeter, noted an unusually high proportion of cranks around already. Quick trip up the bank to Exeter Central, then back to St Davids and settled in to wait for 5V84. During the wait, news drifted over of a rare visitor at the other end of the station - one of the cascaded ScotRail units now with Arriva. Wandered over for a look and a picture. Noted that I'd seen this one last between Edinburgh and Glasgow.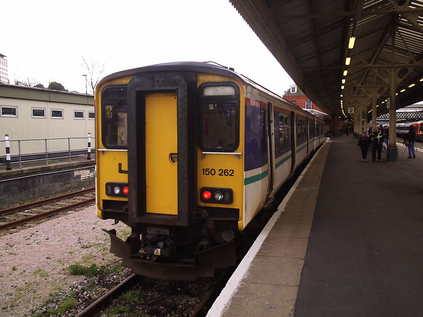 Back to the end of platform 5 with a now very large group of enthusiasts. I suppose that on a Bank Holiday when people have spent the last couple of weeks indoors, this relatively unusual working was always going to be well attended. Just a few minutes behind schedule, the convoy descended the curve from Central with 66708 and 73204 leading 205028 and 205032.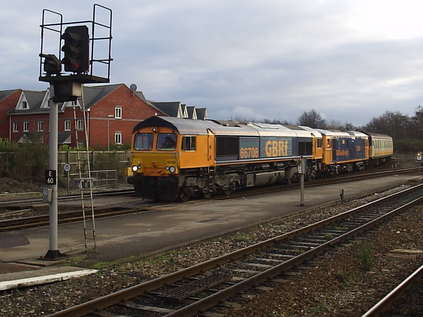 The train cruised slowly non-stop through Exeter St Davids, and headed north to Cowley Bridge Jcn and thence to Meldon. Noted how good the blue and yellow GBRf livery looked on both locomotives, almost reminiscent of BR blue in some ways! Stayed for a little longer to chat and watch what passes for an evening rush hour on a Bank Holiday monday here.
Lost::MikeGTN
I've had a home on the web for more years than I care to remember, and a few kind souls persuade me it's worth persisting with keeping it updated. This current incarnation of the site is centred around the blog posts which began back in 1999 as 'the daylog' and continued through my travels and tribulations during the following years.
I don't get out and about nearly as much these days, but I do try to record significant events and trips for posterity. You may also have arrived here by following the trail to my former music blog Songs Heard On Fast Trains. That content is preserved here too.
Navigate Lost::MikeGTN Find articles by category
Search Lost::MikeGTN
Other Places...