Posted in Railways on Saturday 27th August 2011 at 10:47pm
---
My attitude to Kent has changed a lot of the years. Originally put off by the dull dash through the flat, featureless centre of the county, it took the serious attempt to cover all of the UK lines, along with an All Line Rover years back to start to dispel the image. Since then, when I've had weeks to spare for my own self-organised travels, I've made a number of jaunts out into Kent. Not least because it means part of a day in London if I want to come back early too. This time though, I decided I wanted to visit Margate. Not sure why or what might have spurred this, but I realised that on my many trips this way I'd never stopped off here. Add to that the fascination I have with seaside places, and the dim knowledge of artistic links with Tracey Emin and the like, and I suppose I got rather curious. I'd mentioned it to a number of people at work and they'd all remembered Dreamland. A turn-of-the-last century attempt to import the theme park concept and add a little twist of Britishness. I was intrigued by this, and set-off with an explorer's enthusiasm this morning.
The trip went smoothly enough...customary switch at Weston, breakfast and a pleasantly quiet run up to London. A quick spin on the Circle Line to St.Pancras, and time to get a coffee and head for the platform where Javelin No.8 was waiting to whisky us along HS1 and into Kent. Soon, off and speeding under London as a noisy family settled into the seats beside me. Put it out of my mind and enjoyed the sense of speed as we dashed through North Kent and down to Ashford. Here things slowed to what felt like a crawl as we progressed on old fashioned third-rail tracks via Canterbury West and onto the coast at Ramsgate. The weather had varied dramatically as I sped east - dark rolling clouds, some short showers, but now surprisingly bright sunshine. I finally stepped out into Margate for the first time, having no real idea what to expect. As it happened things were going to get rather eventful...
After taking a look at the impressive station building, I walked down the slope near a strangely inviting Premier Inn onto the prom. Nearby, all of the shops in a strange concrete arcade were shuttered and things seemed closed. Towering from the top of the arcade was a huge, oddly corrugated looking towerblock. It still seemed to be lived in, just about. Turning the corner, the remains of a shopping arcade tunnelled deeper into the concrete. Blocked off at the end by a steel pallisade fence which was sprouting vegetation, only a couple of shops seemed active - a fairly run-down looking cafe and a joke shop which had been provisionally amended to be a 'Bong Shop'. I shuffled on, passing some blue hoardings of the kind beloved by stalled developers. Looking at the aspirational images pasted onto them I realised that this was, in fact, dreamland. Almost entirely gone now, the posters promised a new Dreamland, saved from the jaws of residential development with Sea Change and Heritage Lottery Fund money, a new 'heritage' theme park would rise here. Some day.
Passing the front of Wetherspoons, the first open business I'd seen, I noted the shuddering early drinkers fumbling with tobacco and watching traffic on the prom. A gentle rise brought me to the High Street, a narrow pedestrianised affair, jammed with lower rent national chains, such as Wimpy - which I only seem to find in Kent these days. At the top, opposite a nameless junkshop which featured pictures of leading policemen and odd portraits instead of a name, I saw a view down a steep hill into a massive vacant area littered with twisted metal and broken stone. A little mental geography made me realise that this was the remains of Dreamland. Stumbled down the hilly street to the pallisade fence which seems to be everywhere here, and pressed my camera through the bars.
I felt a presence nearby as I took some shots of the place, zooming in on an abandoned, peeling arcade and a collapsing rollercoaster. I thought nothing of it - people pointing cameras are always fair game for passing voyeurs - more to see what they're looking at than as subjects themselves. However, a tap on the shoulder and the presence of an unmarked white van confirmed my worst fears - security. After a brief altercation during which my camera was manhandled, and the Police were briefly involved - much to their disdain - the security guard, a square, pale-faced and haunted looking character, finally asked me in his esturine accent "So, why was you takin' pictures 'ere then?". I thought a bit about what might be least annoying or incriminating and replied "Well, it's just interesting I suppose". He looked at me first with disbelief and then with unfettered disgust. He spat the words "Fuckin' pervert" as he got back in his van and left. The bored Policeman watched him go silently, and to quell the awkwardness I said "Well, I might take some pictures then!". "Better not push it" he replied, and disappeared off into what was sure to be a busy Bank Holiday weekend.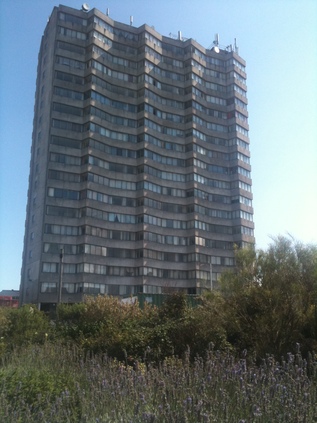 The rest of my visit was less eventful - descending the High Street I entered a strange zone of clubs, alternative clothing and semi-legal stimulant shops. The street was directly above and behind the promenade here, and some of the stores had ground floor entrances there too, including a vast Primark branch. At the end of the High Street though was the Old Town. A mixed up neighbourhood of old squares, impressively unchanged buildings and painfully cultural boutique businesses. A pleasant area, flanked by the monstrosity of Morrisons which must have destroyed more of this landscape when it was parachuted into town, likely in the 1980s. I decided to head back to the railway station, via the preparations for a vast performance artwork tonight - Blink Margate which promised to re-imagine the seafront. After taking a few shots around the concrete monstrosity of Arlington House where I came in, I pondered Margate from the "Standing Stones" sculpture between station and sea, as bits of conversations drifted by "she said I was on drugs...well, that's Margate". I read too, that Tesco had purchased the rear of Arlington House, beyond the pallisade fence the illogical and forbidding carpark, a concrete maze, was being transformed. Locals bickered about the store - good for town, bad for locals. Hard to say. I saw plenty of my home town's troubles here too.
Back on the train, I took the slower, traditional route back to London Victoria. A sleepy, warm trip - despite a flash of very heavy, tropical rain on the coast. Black, tumbling clouds rolled over the cliffs and framed Reculver Abbey, subject of recent reading. I took snaps of the towers through the dirty windows. I wished I'd had the energy and drive to get out to them on a bus or something, but the urban exploration had left me curiously tired and rather forlorn. Work pressure hemmed me in, I was worrying again. Maybe a good sign after an impassive and uncaring summer? The ruined abbey was oddly comforting. I decided on arrival to take a bus across central London, to pop into Euston again. As I left, another bus back to Paddington, another sudden tropical storm lashed down, despite clear blue skies south of the river. It had been a very strange day, but an eventful and interesting one. I read and pondered my way home in a curious and thoughtful frame of mind...

Posted in SHOFT on Wednesday 24th August 2011 at 10:08pm
---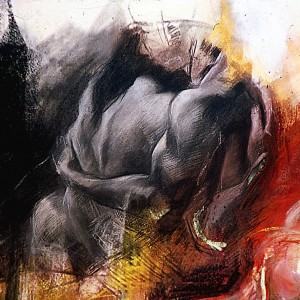 A lot of the louder music I've been listening to recently has been pretty messy, ramshackle stuff. I'm not sure if it's down to the resurfacing of a rebellious streak as middle age gallops down the tracks towards me, or whether its just the fact that I've always had a weakness for a muddy mix and a buried gem of a tune? Having said that, there are now probably a few too many bands dusting off their older brother's collection of lo-fi 1990s music and mining it for ideas, and against that backdrop of a concious dumbing-down and scumming up-of guitar pop just now, arrive Trapped In Kansas. Muddy and half-finished this absolutely isn't - from the beautiful Francis Bacon inspired cover art onwards there is concious, careful design at work here, and from within the confines of a pretty traditional rock band set-up, this Glasgow based four-piece manage to arrange some epic, moving and beautifully complex music. The much disputed and fairly meaningless term 'math rock' might well arise, but there are none of its cold, soulless implications here at all. Then again, if it suggests that we're dealing with complicated, technically proficient and challenging music, then it's accurate - but the bright clean guitar sounds radiate a warmth almost never encountered in that genre.
Taking centre stage from the beginning, perhaps atypically for a band which is built around the interplay of a group of skilled musicians, is Finn LeMarinel's voice - warm and full of character which immediately hooks you into his complex lyrics. The vocal leaps and somersaults around the music, and infuses the quieter passages of these songs with depth and emotion which it's fair to say isn't always easy to achieve in this kind of work. Perfectly illustrating this is "The Mask Does Wear The Man", an echoing and glacial post-rock tinged opening, the sparse bones of which are warmed by heartfelt vocals over the solo guitar. The motif Returns later as an instrumental interlude between tracks which lends a satisfying symmetry to proceedings too. As the first track drifts away, "I Was Born" ushers in a change of mood. A recent digital single, this song exudes technical prowess and artistry. Guitar melodies tumble over each other in an effort to have their moment at the front of the mix, while tempo changes coupled with the sometimes whispered, sometimes growled vocals shift the mood of the track. Lyrically, this seems to be a refugee's tale of disconnection and dislocation, with references to "leaving behind what we've known" in the face of impending war. LeMarinel's lyrics are sometimes oblique and surreal, but are equally capable of devastating, forensic incisiveness at times.
Next up, "Stick To The Roads" is wonderfully focused pop with an infectious and exuberant chorus. My one, and to be frank, utterly pathetic and irrational issue with this EP arises here though and I'm sorry to report it's a pretty anally retentive language-geek one too. Put simply, I just can't stop hearing the repeated periphrasis in the lyrics - in other words, those flips of word order and extra syllables inserted to mark time or switch the rhyme around. This is a favourite lyrical technique in Trapped In Kansas tracks at times which generally doesn't worry me at all, but it reaches a pitch on the chorus here with the repeated refrain of "the man DOES wear the mask/the King DOES where the crown" and such like. Those extra "do" and "does" moments, though a time-honoured and valid poetic technique, feel strangely archaic and make things sound a little rushed somehow. While I feel utterly ridiculous for raising it, I guess I'm opening my own scribblings up to intensive examination too now! It's particularly irritating because otherwise I adore this track, with its bursts of melody and self-assured pop construction. You can listen to it below, and tell me what a complete post-modern idiot I'm being later....
Recovering from my frustrated academic's hissy fit, there are more robust, tougher guitar lines threaded through "Skin and Bone" but it's still sprinkled with enough melody and dramatic shifts in time and mood to utterly confound attempts to pin it down. Finn's lyrics are at their visceral best here, and it seems he is rarely more comfortable than when he is scientifically dissecting or exposing situations. Not unlike the cover painting and it's inspirations, this graphic but ultimately very human approach seems to suit this track particularly as it builds towards a crashing, epic peak. "Happiness is an Allegory, Sadness a Story" quite apart from having an intriguing title, again treads a noisier path in places - but balances this against sections of quiet, blissed-out utter loveliness. The triumph here is the choir of backing vocals and the complex drum fills which pepper the track, making the explosive choruses of "I see a black cloud over you" all the more dramatic when they finally land. The thunderous, chugging guitar ending, with it's wide-screen solo is a splendid way to bring this record to a close.
This EP presents some of the most intelligently constructed, assured guitar music I've heard for some time. It delights in it's technical skill but is never brash or showy. Most of all, the band manages to play all kinds of neat tricks with mood, colour and tempo to produce an amazingly broad sweep in just these six tracks. All this of course begs the question of what Trapped In Kansas could achieve in the space of an entire album, and I hope we get to find out soon.
The "How To Go" EP is released on 3rd October on the band's own Overlook Records label. Meanwhile, Trapped In Kansas play The Wizard Festival near Banff this weekend, 26th and 27th August.

Posted in Railways on Saturday 20th August 2011 at 10:51pm
---
I'm beginning to see how this strange hobby of mine goes in cycles. Last week saw me needing to turn lost days and cancelled trips into something of a coherent journey. It didn't work hugely well, and there were times when the need to be somewhere else without purpose made me pretty miserable. But this week, I'm back to the idea of being somewhere else without purpose for fun. When travelling, and the experiences and thoughts it throws up are the backdrop to pretty much everything I do, perhaps I should just embrace these periods of strangely dull eventlessness, and enjoy the strange opportunities they engender?
Take this week for an example. A trip without a destination as such - setting off early, a pleasant wait at Temple Meads for a train to Salisbury. The route less travelled onto the Southern as it's usually so busy, but pleasantly bearable at 07:23 on a Summer Saturday. A quick switch at Salisbury onto a London-bound unit, and again the route less travelled via Andover to Waterloo. I doze, listen and read - it's bright and sunny out, and it's nice just to be going in a direction I don't often travel nowadays. Once, when it was the cheapest way to get to London I used it a lot, and accepted the shorter day I'd get in the capital. Even today, oddly, the first class fare was cheaper than the standard. Zooming through Woking and the suburbs reminded me of a railtour to come, and got me pondering where to head on arrival.
On getting to Waterloo I made something of an error and headed for the bus far too early. I should have hung around the busy station a little longer. Instead, hoped onto a Euston bound service - but thought better of it at Tavistock Square and alighted to get coffee in the same spot I'd visited a week or two back. Quiet, and frequented by Spanish tourists who tumbled out of the cheap and cheerful hotels around the area, this was an odd, high-windowed spot where people watching was confined to indoors. Wrote and thought a bit, getting myself a little down in the process. Was this strange pointless dash what I was now confined to? Would the next few weeks be just as oddly lacking in direction? Decided to stroll into the area I've grown to love around Judd Street and up to the Euston Road. Could happily have gone further, but decided that it was time to visit the station. Shopped a bit, finding a new convenience store into the bargain, then headed down to the platform to see the London Midland service to Crewe arriving.
These slow services on the West Coast have intrigued me for years. In Silverlink days they were split into two separate services at Northampton, with few travelling through to Birmingham directly. Now there is a more interesting pattern, with units being uncoupled and heading for Birmingham, while the rest of the train heads along the Trent Valley, calling at smaller stops before taking in Stafford, Stoke and the loop back to Crewe via Alsager. The new, fairly nippy Class 350s are comfortable enough - but begin to get a little hard on the back after a couple of hours. Nevertheless, had a lazy run along the coast, seeing scenery I miss from a Pendolino porthole. Arrived at Stafford to find it quiet, but heavily Policed - later realising this was due to the Weston Park arm of the double-venued V Festival. Did something I've never done before, but which these less focused trips facilitate, and wandered into Stafford. Greeted by a beautifully well-kept public park surrounding the canal with an ornate bridge, then a walk between impressive civic buildings, a church and overhanging black-and-white town houses into the pedestrian area. Little there to distinguish it from other places, but a pleasantly busy town nonetheless. Wandered a little and thought about stopping for coffee, but I only had an hour - so the station seemed a better bet. Arrived to find the coffee machine broken, so ended up nursing a hot, weak cup of tea and listening in to the Police chatting about the festival.
The train home arrived on time and surprisingly quiet. Found my seat and settled in for the journey home, early than usual. The clouds closed in a little which created some spectacular sunset scenes as we headed into the golden glow over the West Country. On reflection, it had been an interesting and relaxing day. Isn't that, after all, what it's all about?

Posted in SHOFT on Thursday 18th August 2011 at 8:08am
---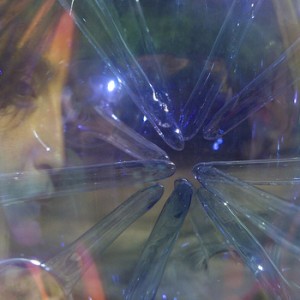 I'm afraid these tired old bones can only managed one festival each year, and thus regular readers will have seen me tireless rant on about Homegame during the summer. I can only apologise, but in my defence I'd point out that just that one fateful afternoon in the Erskine Hall has led me to artists who have produced some of the most interesting and exciting releases of the year - with Rachel Sermanni and Mercury-nominated King Creosote and Jon Hopkins alongside Martin John Henry who is shortly to release his solo record. The other artist who played that afternoon, and whom I've waxed lyrically about often and to anyone who will listen, is Iona Marshall. Iona's voice originally reached me via Glasgow PodcArt, who've championed her gently lyrical, Caledonian take on ambient folk for some time. However, it's not always been easy to track down recordings until now, as Iona is a fiercely independent spirit, and is genuinely taking a do-it-yourself approach to music via a series of collaborations, home-made CD-R's and playing anywhere and everywhere she can it seems. The digital release of this EP makes her music more widely accessible and will, I'd hope enable her to reach new ears.
Opening the record, "Aquamarine" is of surprisingly straightforward folky construction with plenty of space for Iona's voice. At first, this is deployed in it's purest form - beautifully clear, capable of wineglass-shattering high notes and sounding like it just rolled in from the Perthshire hillside. Later in the song though, her voice becomes an additional instrument, looped and duplicated. Far from destroying the curiously ancient, nautical atmosphere, this in fact strangely enhances the sense of dark rooms and creaking beams. The sea, it seems, is never far from Marshall's music. "I Music" increases the pace and volume only slightly. Deftly picked on an electric guitar, this grapples with the motivation for artistic creation. While listening to these songs, it's easy to forget that this is an entirely self-released project recorded in a Glasgow living room - and this song perhaps goes some way towards outlining her approach to music and musicianship. An uplifting, infectious chorus which wouldn't be out of place on a big hit single follows, but Iona's voice never fails to tie the song to its traditional roots.
The breadth of Iona's songwriting vision becomes evident on "Hail Madonna". Overall this is a much more complex and dense work, using lots of electronic trickery to support a simple and fragile tune. Meanwhile Marshall sings about clinging to the frail edges of sanity, negotiating the pitfalls of modern life, and seeking a talisman to see you through the horror of what to others is probably just another day. On the surface, it's a technically clever, engaging tune - but looking deeper into the lyrics this becomes a far braver and more impressive feat, dealing with subject matter rarely tackled successfully in my experience. However via Iona's sensitive approach this comes across as honest, heartfelt and triumphant. Meanwhile, "Storm Queen" returns things to a more domestic scale despite beginning with otherworldy whispers. Sparse instrumentation supports Iona's voice which carries the galloping melody through the humdrum city streets to the waters edge and once again out to sea. Her ear for a neat phrase is ever apparent, and surely it's impossible not to be delighted by observations like "the eye of the cockerel on the cornflakes stares me out"? Things come to a close via "Touch Down", an expansive piano-led piece which switches tempo and skips through endless electronic loops and skittering beats on its complicated journey. Once again, the lyrics reflect the landscape - hillsides, canals and rivers negotiated as Marshall's voice soars above the map. It's a fitting ending for a record which is deeply anchored in its place of origin.
The five songs on "I Music" illustrate that Iona Marshall has the uncommon ability to exist in many worlds at once, with the traditional sitting comfortably alongside more experimental approaches - and not least the knack of inserting fantastically catchy pop sensibilities in the brew too. This EP manages to take me back to that quiet, spellbinding afternoon in Anstruther, when we were gently coaxed out of our hung-over states only to be intoxicated again by Iona's songs, and her incredibly versatile voice. Along with her fairly recent De-Fence Records release this forms part of a growing testament to genuine hard graft, commitment and the ability to write damn fine songs.
The "I Music" EP can be purchased from Bandcamp.

Iona Marshall - Hail Madonna