Posted in Highbridge on Saturday 25th February 2006 at 1:02am
---
For the first time in a very long time, I spent a night out in Burnham-on-Sea. Until a few years ago, I would pop back regularly and catch up. But work and life in general put paid to that, and I spent more time at my parents home than out and about during visits. It's hard to explain the massive gulf between Weston and Burnham - they could be in other countries as far as locals of either burgh are concerned. A trip from one to the other always seemed to involve just a little bit too much planning and effort to be a successful proposition.
So tonight, despite freezing weather I ventured out to the bus stop and did something I've vaguely promised to do for a while - took a trip into Burnham. Arranged to meet people at The Dunstan House. Once a quiet pub, now a busy and welcoming Young's House. Watched the world go by until people I knew arrived - more of them than I expected in fact, including visitors from overseas!
An important birthday was being celebrated, so I was persuaded to stay long after the last bus home - and I have to say I enjoyed my night out. The beer in Wetherspoon's sea front pub The Reeds Arms is far too cold - but its real beer. In fact it was Berrow Brewery's charity brew Berrow S'port. It's also a shame we couldn't persuade the younger folk among us to go into The Crown since if the landlord gets his way, it'll be flats soon.
The night ended for me in Michael's Fun Pub, scene of just too many teenage disappointments and embarassments to be comfortable. It was strangely almost unchanged from my last visits which are a good few years ago. Chatting to a 'senior' member of our party we reckoned that we last regularly patronised the place twelve years ago. Agreed that if we're still around, we should meet up here in 2018 to see if they've redecorated yet, or if the aging bouncers have retired from duty?
A long cold walk back to Highbridge, where I confess I feel more comfortable than I ever did in Burnham. However, I admit it was fun to get out and about in a big gang again, even if I was probably the resident beer-bore! It's slowly dawning on me that I've arranged to be awake and receiving visitors in about five hours...

Posted in Highbridge on Sunday 13th November 2005 at 4:11pm
---
My sick, dizzy headache from yesterday has turned into sinister, flu-like symptoms. I'm aching like crazy and coughing a lot. I don't actually feel too bad, but everything is just a little too much effort. So, after shopping watched today's parade from my window.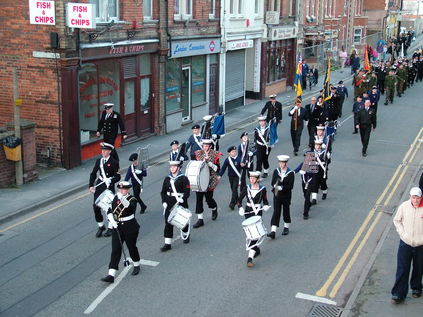 Hoping to feel better soon, but if my sister's estimate based on her recent illness is anything to go by, it's going to be a miserable week!

Posted in Highbridge on Wednesday 19th October 2005 at 10:10pm
---
As far as things go, I've moved house. Thanks to help from my family and friends, it's all gone rather smoothly. There has been the odd hiccup here and there, and until I square things regarding my old flat tomorrow some aspects are still up in the air. But mostly, life returns to normal in my new home.
The advantages are manifold - my proximity to my family, living in the centre of a small town which is on the brink of regeneration, and the presence of an excellent public house only a few minutes from my door. There are of course things I'm going to miss about Weston - but in fairness, they are probably more to do with nostalgia and a homesickness for the recent past than any great longing to be there.
Things seem to be going well, and considering today is my birthday that is a surprising admission!