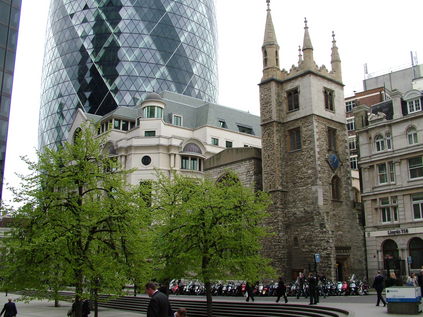 Posted in London on Wednesday 20th April 2005 at 10:36pm
---
Despite planning on attending today for some time, the hectic nature of the past couple of weeks left me unprepared. Having missed the opportunity of cheap tickets to Paddington, decided to travel to Waterloo via Salisbury. A pleasant and novel, if slightly longer journey. Arrived exactly on time, and used 'the drain' to get to Bank with time for coffee before wandering up Lime Street to St. Andrew Undershaft. Whilst planning my route, thought how Stow may well have been the last chronicler of the City who could really 'know' its entire extent.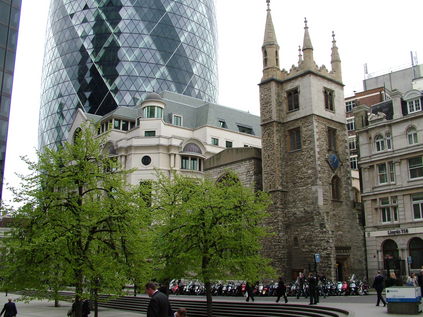 Firstly it was unusual and something of a bonus to get inside this small church, which is now used primarily as a bible study centre by St Helens Bishopsgate. I was one of the first arrivals, and was content to watch as the Merchant Taylors and other members of LAMAS arrived. The service started at noon with the procession of the Master, aldermen, churchwardens and verger. The highlight of course was the ceremony where the Master replaces the quill on Stow's monument, an event recorded as an established annual occurrence as far back as 1828. Quite amazing to see this curious little bit of City tradition enacted once again, 400 years after Stow's death.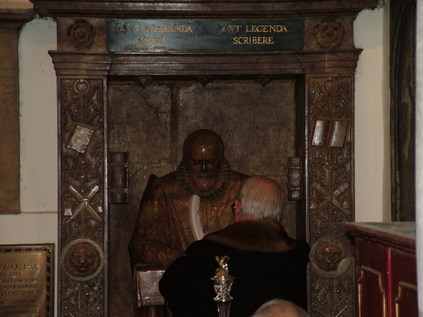 The service concluded with a brief speech by Dr Julia Merritt on Stow's posthumous reputation. She spoke particularly on Strype's revision and expansion of Stow's survey and compared this with the 'rewriting' of Peter Ackroyd today. After a very brief walk through crowds of lunching Lloyds employees, headed back to Waterloo and caught an earlier train than planned. Didn't much fancy a rush hour, and having given so little thought to today beforehand I was concerned I'd wander aimlessly and pointlessly. An interesting day and a pleasant trip. Honoured to have seen today's ceremonies at last.
Lost::MikeGTN
I've had a home on the web for more years than I care to remember, and a few kind souls persuade me it's worth persisting with keeping it updated. This current incarnation of the site is centred around the blog posts which began back in 1999 as 'the daylog' and continued through my travels and tribulations during the following years.
I don't get out and about nearly as much these days, but I do try to record significant events and trips for posterity. You may also have arrived here by following the trail to my former music blog Songs Heard On Fast Trains. That content is preserved here too.
Navigate Lost::MikeGTN Find articles by category
Search Lost::MikeGTN
Other Places...