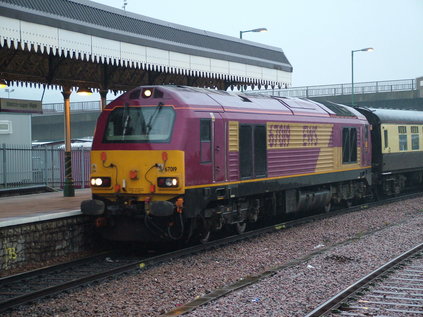 Posted in Railways on Saturday 23rd April 2005 at 6:28pm
---
A strangely busy week with a trip to London on Wednesday, and a flying visit to Birmingham yesterday to collect relatives for the upcoming christening. So not too concerned about getting out and about on the rails today. Up and out early for the arrival of 67019 hauling an excursion to the Eden Project.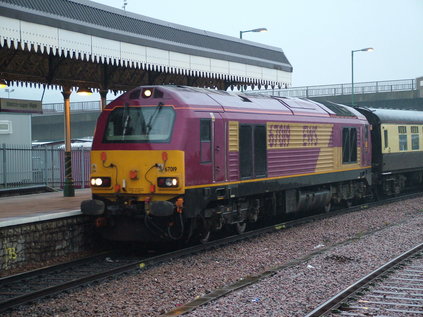 Returned home to eat breakfast, read email and laze around for a while before heading up to Bristol. The damp, misty morning hadn't improved at all and there were few cranks out and about today for 5051's visit on a Scouts St. George's Day Charter train from Newbury Racecourse.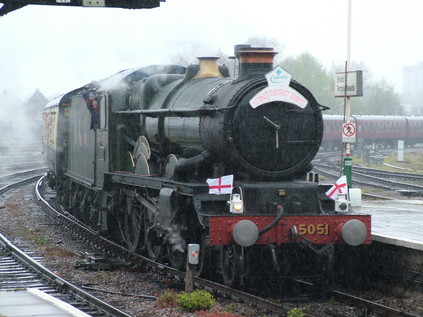 Watched the arrival - as ever impressive, with a very full train of excited and rowdy Scouts who seemed to be enjoying the trip. Didn't hang around, and took the opportunity of a soon to depart Weston service to leave almost immediately. We passed 5051 and the stock at close quarters approaching Bedminster, much to the delight of some younger passengers on board who noted that the West Coast Railway Co. stock has 'Hogwarts Railways' branding!
Weather much improved by evening, but the late arrival of 67019 on the returning Eden Project train meant there was just too little light for a reasonable shot from Drove Road bridge. Pleasant enough night just to wait and watch.
Lost::MikeGTN
I've had a home on the web for more years than I care to remember, and a few kind souls persuade me it's worth persisting with keeping it updated. This current incarnation of the site is centred around the blog posts which began back in 1999 as 'the daylog' and continued through my travels and tribulations during the following years.
I don't get out and about nearly as much these days, but I do try to record significant events and trips for posterity. You may also have arrived here by following the trail to my former music blog Songs Heard On Fast Trains. That content is preserved here too.
Navigate Lost::MikeGTN Find articles by category
Search Lost::MikeGTN
Other Places...