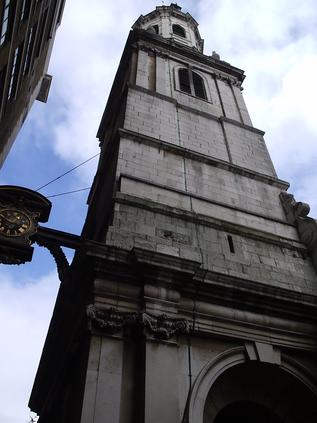 Posted in London on Sunday 19th September 2004 at 10:41pm
---
I realised yesterday that I was going about the whole Open House thing quite differently to most people. They had their guidebooks and were running from spot to spot, ticking off places they'd seen and strategically planning to queue at just the right time for popular spots. My own dreamy and disorganised progress was quite different.

So, knowing that some of my chosen spots were open on Saturday only, and that the Great Eastern Hotel and suchlike would have a huge queue before I'd even set out, I decided to take a couple of the Guided Walks. Since I'd thought seriously in the past about taking the City of London Guide course, it would be interesting to see them at work. Set out first though, with my own unguided wander through Lincoln's Inn and along Fleet Street, pausing for coffee opposite St. Dunstan-in-the-West, ending up at the City of London Visitors Centre in good time to sign up for the first walk.

The Riverside Walk was led by an enthusiastic and amusing American guide. From St. Pauls we set off southwards to the river, over the Millenium Bridge and along Bankside taking in the Globe Theatre, the Clink Prison, the remains of Winchester Palace and Soutwark Cathedral. A quick historical catch-up was pretty well delivered - covering the site of London, roman origins, the lost rivers and the growth of less salubrious businesses on the south bank, away from the jurisdiction of the City. Then, over London Bridge and along the river by Custom House, Old Billingsgate Fish Market and to Tower Hill. The walk was fun and quite informative in some ways. There were a few too many apocryphal stories, and a strange obession with how good certain taverns or eating houses along the way were, but the group seemed to enjoy it a great deal. Since I rarely drift south of the Thames, it was an interesting diversion, even if I'd have liked more 'hard' History.

A quick journey back to Blackfriars to sign up for the afternoon walk. Paused along the way to stop in for a pint at The Black Friar - a pub almost never open when I'm around at weekends, and with a highly decorative interior. Good beer too. Got to the Visitors Centre in time to get one of the last few tickets for the next walk.

The Wren Walk promised 11-and-a-half of Sir Christopher Wren's churches, built to replace those lost in the 1666 fire. The guide was a tiny, rather older but spirited woman who had the unenviable task of leading a party of sixty people - some of whom clearly had no idea what the walk was going to be about. First challenge was to get the party across the street to St Martin-within-Ludgate and then safely back to the other side for St. Andrew-by-the-Wardrobe! Highlights of the walk for me were the dark wooden carvings and impressive painted ceiling dome of St. Mary Abchurch and the High Anglican opulence of St. Magnus the Martyr which would have stood hard by Old London Bridge. I left this church reeking of incense, the warden having described their worship as 'as close to Rome as you can get without jumping in the Tiber'. Sadly, I clean forgot to ask to see the mummified body in the Vestry at St. James Garlickhythe. The guide had a particularly annoying blind-spot for Hawksmoor however, and having stopped the party to look at St. Mary Woolnoth, promptly forgot his name! She also clearly expressed a dislike of his work, casting him as an inferior pupil of Wren who didn't achieve much. A shame really. Also a few dubious claims about Richard Whittington's finacial affairs were raised when we were at St. Michael Paternoster Royal. An interesting and varied walk however, and a chance to see more of the always intriguing City Churches.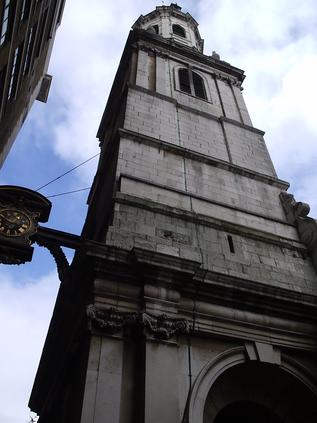 Again, pretty tired after my wanderings. A good pub meal and some more beer to round off the day.
Lost::MikeGTN
I've had a home on the web for more years than I care to remember, and a few kind souls persuade me it's worth persisting with keeping it updated. This current incarnation of the site is centred around the blog posts which began back in 1999 as 'the daylog' and continued through my travels and tribulations during the following years.
I don't get out and about nearly as much these days, but I do try to record significant events and trips for posterity. You may also have arrived here by following the trail to my former music blog Songs Heard On Fast Trains. That content is preserved here too.
Navigate Lost::MikeGTN Find articles by category
Search Lost::MikeGTN
Other Places...