Posted in SHOFT on Wednesday 6th June 2012 at 8:06am
---
Naming your band is clearly an important and formative bit of the music-making process - not least because quite often it signifies a great deal about how a band sees itself, its influences and aspirations. Having written about music for a while now, I've come to realise just how swiftly a name impacts on me too. How I can be switched off quickly by a name which just sounds like 'something I wouldn't like' and despite my best efforts to remain open-minded about music, how fickle and easily influenced I can be. So this edition of Single Tickets is dedicated to a couple of bands where at first the names have stopped me in my tracks, but where persisting beyond my own silly prejudices has led to hearing really exciting things. I'm not for a moment saying these names are wholly bad - but for me, with my musical history and influences they don't work so well. But the music does work well, very well indeed...
His Name Is Codeine - Before The Apple Fell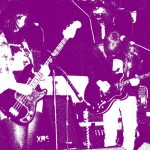 One of the worrying things about creating music can be that sense that it's all been said and done before. Thankfully, bands in their first flush of enthusiasm have the remarkable ability to batter through this barrier, and to carve their own new niches. But those accumulated layers of music history can be dangerous for other reasons - for one thing it leads to the unholy horror which is Q magazine. It also means that quite often words, snippets of music and even band names can carry heavy associations. That's just what could have happened here, as
Codeine
for me signifies that early 90s outfit which produced "Frigid Stars" - a record so close to perfect you wouldn't dare mess with it. So when this band popped up on someone's social network feed - and indeed someone who's tastes I generally find I agree with - I gave this a listen despite these early, and frankly baseless, concerns.
I've got to say, I'm very I glad I did too because Elgin based His Name Is Codeine spin some of the most enigmatic, beautifully dark noises I've heard in quite a while. From the outset of "Before The Apple Fell" there is drama and tension in the pulsing bass and churning guitars which hint at unseen threats and potential. The band also benefit from multiple vocalists, centred the powerful lead provided by Lyn Ralph with her heart-squeezingly gloomy delivery. She possesses the uncanny and sometimes unsettling ability to leap genre from a regret-laced country drawl to a howl of frustration or vengeance. When all three voices join in, the vocals become a sort of mesmerising chant. Meanwhile the guitars work gradually up to a shimmering, shuddering screed of echo-laden noise and the drums thunder urgent, distant warnings. The raw, seemingly untamed power of this sprawling, wayward music reminds me of the much-missed Thin White Rope at times as it manages to get louder and more intense with every passing moment. Eventually it reaches a point of no return where layers of noise and melody tumble over each other, guitars solo wildly and that solid rhythm section which has just a hint of the swampy tension of The Bad Seeds just keeps thundering on apparently untouched by the storm raging around it. Clocking in at well over five minutes, this isn't a throwaway pop tune by any means, but it's a very direct and specific statement of intent. This is turblent, insistent and cinematic music which leaves me breathless - it's well worth a moment of your time and little of your cash.

His Name Is Codeine - Before The Apple Fell
It's probably clear from my ramblings that I know little else about this His Name Is Codeine, and while I could pull my usual stunt of inferring and speculating from snippets of their social networking presence, I think perhaps this time preserving the mystery is much more appropriate. You can download "Before The Apple Fell" for the curious sum of US $1 from Bandcamp - which, unless the economy has collapsed even further by the time you read this, is less than a quid and worth every single penny. There are also a few videos and demos on their YouTube channel which are well worth a watch.
Thank You So Nice - Let's Make Money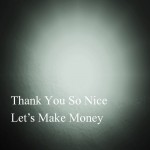 My objection to this band's name was not so reasoned - it's just odd and hugely non-descriptive of what's in the tin somehow. I know I'm
not the first person to alight on the band's name
as an issue, but there is something evocative of garden parties, weak tea and triangular cucumber sandwiches implicit in the name
Thank You So Nice
which makes it utterly incongruous for an Edinburgh-based power-pop outfit. That said, it is perhaps memorable in its strangeness and reflects a sort of uncomfortable sense of not quite fitting easily into the any particular scene or sound which
Thank You So Nice
could very easily fall victim to.
There was a period in the late 1970s and early 1980s when the more intelligent fringes of the punk movement which was otherwise busy oafishly destroying itself, edged into a more accessible but equally challenging niche. Bands like Alternative TV and The Only Ones managed to combine smart lyrics and thoughtful songwriting with some of the edge and energy which spun out from the rapidly imploding revolution. Somehow Thank You So Nice hark back to that same combination of elements, delivering short but intelligent blasts of angular pop which are very hard not to be snared by. Having said that lead track "Let's Make Money" is perhaps my least favourite of the three here, but that's not to detract from its accomplishments. With its stuttering, theatrical chorus and complicated rhythms providing a backdrop for some bitterly twisted lyrics. It's a little too petulantly twee and directly mocking for my tastes, but there's no doubting the commitment to getting the point across here. A little rougher around the edges - and for me perhaps the stand-out among the three tracks - "Out of Time" is a fuzzy, urgent pop anthem with an appealing vulnerability and desperation in the lyrics and a stupidly catchy chorus which I've caught myself singing in several unguarded moments - anything which I manage to retain for more than a few minutes in my advancing years being a good indication of its infectious charms. Finally "You Were The One" melds a frantic bassline with fuzzed-up megaphone vocals and scratchy guitars to produce an unexpectedly effective amalgam of indie-pop and garage rock. Its a short, sharp blast which knowingly and a little teasingly leaves you wanting to hear a little more.
Given what seems to be a growing resurgence of guitar music on the east coast, Thank You So Nice fit neatly with the likes of Morris Major and The Spook School in delivering clever pop music, big on melodies and bursting with enthusiasm. But the real acid test of Thank You So Nice will be sustaining the interest contained in these three, brief but sure-footed tracks across an entire album. One is due in the Autumn and if there's one thing which can can make it stand out in a year of pretty remarkable releases to date, it's channelling the tumble of musical and lyrical ideas evident here.
"Let's Make Money" is available as a free download from Bandcamp. An album "Make Love Not Money" will follow in the Autumn.