Posted in SHOFT on Wednesday 30th May 2012 at 10:05am
---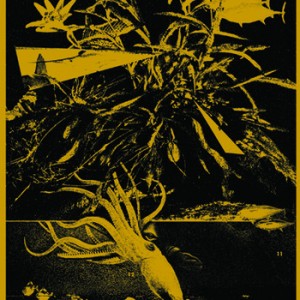 I'll be honest, I've been itching to write about North American War for a long time now, and with this new release they've finally given me the excuse I needed. Since hearing their debut EP - which is still available free from Winning Sperm Party - I've been trying to contrive a reason to feature them here. However, having not managed to make it north of the border to any of their sporadic and often short notice live appearances, it's only now with the release of this 7" single that I get to talk about this intriguing and - for me at least - rather mysterious band. It's going to become painfully clear in the next couple of paragraphs that I know woefully little about them, so readers will have to indulge me and take this at face value - because it's a damn fine record you really ought to hear.
The really unfair thing to do here would be to pull in a few reference points, make some lazy comparisons and leave it at that - and it's inevitable that reviewers with good record collections, long memories or (like me) a few years on the clock will resort to mentions of Sonic Youth. This is no bad thing, because if North American War have picked up the thread from that behemoth of US alternative rock, they've selected that brief moment when they balanced bubblegum pop and experimental guitar destruction almost perfectly. But there is far more to North American War than a set of, albeit very well chosen, influences. Not least in the laconic and brutally disinterested vocals provided by Anna Schneider which set them apart from other bands ploughing similar furrows. She carefully half-speaks the fragmented, paranoid lyrics of "Ivory And" while scratchy, urgent guitars duel for attention. Occasionally, they burst free into a squall of ungoverned white noise. But Anna never breaks her stride, carefully pacing her distant, disconnected utterances. After a brief respite, there is a storm of irrepressible, beautifully discordant guitar noise with at least three distinct melodies vying for dominance at the track's conclusion. These few moments of blissfully tinnitus-inducing racket make me want very badly to see North American War play live as soon as possible.
Meanwhile "Geraniums On A Spit" is a different proposition, opening with a delicate and almost pretty guitar melody and just slightly ominous sounding backing vocals. The vocal drifts between German and English while the bass and drums drive things forward with a little more form and pace this time. The guitars shift between their melodic, slightly off-centre drift and a satisfyingly gruff, edgy note which maintains the tension. It's never as simple as loud/quiet/loud here, with the track collapsing and reforming several times while the vocals are wound up towards the concluding - and oddly sinister refrain of "if you don't come now/I'll never get out of bed again". There are points here where they drift into that dark, uncharted territory inhabited by The Dead C and their New Zealand brethren - where the squalls of noise fuel the imagination into hearing things which aren't really there. It's unsettling, enervating and dangerously addictive stuff. While it's easy, as I hinted, to parcel off North American War in terms of bands who have done similar things historically, in pieces like this they display an acute understanding of songcraft and dynamics which is often absent in some of the more waywardly experimental guitar music out there.
It's a huge relief when a band gets me as excited about music as North American War have managed to over the course of their debut EP and this single. I started this blog to record and relate music I loved, and whilst it might seem because of that policy that there is never a shortage of things for me to get fired up about, it does sometimes spook me that not nearly enough of it is genuinely new and coming up from the grass roots. This record, and the band which made it restores enough of that faith to make me want to keep listening. I get the sense here that this is the start of a very interesting journey for North American War.

North American War - Ivory And
North American War's "Ivory And"/"Geraniums On A Spit" 7" is released today. You can purchase it in a limited, hand-painted sleeve including a digital download from Bandcamp. The debut EP is available as a free download from Winning Sperm Party, or as a cassette featuring additional tracks here on Bandcamp. They can be seen at Doune The Rabbit Hole on August 24th-26th.