Posted in SHOFT on Tuesday 29th May 2012 at 8:05am
---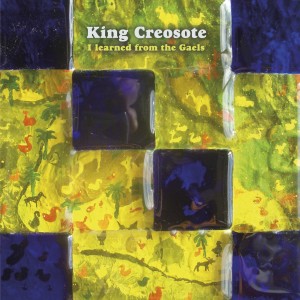 This is the first new King Creosote solo material to be widely released since 2009 - which apart from being a criminally long gap in releases, is surprising since the "Diamond Mine" effect means I can now have meaningful conversations with work colleagues about him without blank looks or nervous glances at the clock. During that time Kenny Anderson appears to have almost lost faith with the turbulent and slowly imploding music business, going as far as to provide an album via live performance only, to thwart the more mercenary elements of the business. But now, back on Domino who at least seem to understand how (and when) he works, this is the first in a series of EPs which re-visit and re-work the songs from the largely acoustic "That Might Be It, Darling" LP, which you could mostly get only by fronting up at a Fence Records event of some description. So with Kenny's profile rarely higher among the nation's music lovers, and with the industry still languishing on it's collective arse and lashing out at the hand that feeds it by way of lawsuits, talent shows and format wars, what exactly has King Creosote learned from the Gaels? If you've come looking for an honest, warts-and-all critique, you'd better leave now because Songs Heard On Fast Trains isn't the place... This release has seen days crossed off calendars in anticipation, pre-orders placed at the first possible moment, and a mercy dash to the Post Office depot to effect an emergency rescue. This is, in all fairness, unlikely to be an objective piece of writing...
There haven't been many songs which are complimentary about the 1980s. In fact musically at least there seems to be a collective amnesia about some of the aberrations which occurred during those dark, confused times as Britain began it's slow transit to modernity. Sure enough, in these similarly gloomy financial times, there is a money to be made in ironic theme nights, and it was left to the long-since decommissioned Prolapse to succinctly sum things up in their scathing piece "Deanshanger". But, calculating that I am in fact a very similar age to Kenny Anderson, its impossible to deny the influence that the eighties had on some of us who grew up during the time, and "Doubles Underneath" is King Creosote's love song for the lost decade. Shuffling in on a jaunty drumbeat with little reels of accordion and a nifty bass melody appearing on cue, Kenny is in fine voice - his oblique and cryptic lyrical opening giving way to the more direct observation that "there's definitely something up/'cause the clocks have all but stopped back in 1984". Part way through it becomes apparent that this isn't perhaps a simple nostalgic look back at the music of that bygone era, it's King Creosote's apologia for what he sees as his own past deficiencies. In his words it's the decade that came "before that 90's guff" was the one "you're overly proud of". Whilst I'm not sure his assessment of either of those periods in terms of his own releases is accurate, if this signals the rejuvenation and reinvigoration King Creosote, then that's got to be a good thing. With a reverb heavy guitar solo, and a droning organ ending this is a proper rock song which wouldn't have cut much muster back in the era of synth-pop and highly elaborate haircuts perhaps? But then again, it's maybe no accident that this EP is available on 12" only, with the heyday of the 'Maxi-Single' format being one of my fondest memories of the decade. You always knew you were in the presence of a proper fan if they had the twelve-inch...
One day I will count the references to stars in King Creosote's back catalogue - not an easy prospect, as I'm often reminded by pangs of horror that I have only the tiniest bit of his massive output here - but even so, its an image which crops up a lot. Maybe it's something about clear, northern skies and the lack of light pollution in the East Neuk of Fife? In any case "Near Star, Pole Star" is a welcome addition to this list. By far the quietest and most uncomplicated song on the EP it benefits from the initially strange but ultimately beguiling overlaying of HMS Ginafore's song "Ounces" onto its quietly direct and emotive structure. A rolling, maritime rhythm with a gentle acoustic guitar line and a woozy organ backs Kenny's plaintive vocal here. A painstakingly described would-be-relationship sees its false-start laid bare - like all the best ones, starting with dutch courage, a nervous proposal, drunken late-night coffee and alcohol induced vomiting. But it's ultimately all for nothing, a brief episode in a life described in acute, slightly raw detail with buckets of sublime pathos and a little humour. It's left to the distant, spectral and gorgeously underrated voice of HMS Ginafore to bring the song to a close.
There is of course, a whole new generation of King Creosote fans who will have heard Kenny mostly in reflective mood, with Jon Hopkins slowly manipulating a harmonium by his side. How they'll make the transition to this new material will be an interesting prospect, and "Single Cheep" is going to be the acid test. It's good old fashioned pop music, performed by a band which strides stylistically across the decades - bright acoustic guitars tangle with delicious sixties-style rock'n'roll solos and fifties-throwback vocal harmonies courtesy - in part at least - of BBC Radio Scotland DJ Vic Galloway. Meanwhile Kenny leaps for the notes and belts out the bitterness in inimitable style. In her hilarious but neatly apposite sleeve notes Nicola Meighan makes reference to Anderson and Galloway's previous exploits in the Khartoum Heroes, a band rejuvenated for a riotous Homegame 2011 performance and now occasionally to be reformed on special occasions it seems. This is very much in that spirit, a high-speed dash through an old tune now infused with new energy and a shiver of anger and frustration. Finally, and in the time-worn tradition of Fence Collective related releases, the everyone-is-in-everyone-else's-band effect arrives in earnest on "Little Man". With the majority of the vocals delivered by the tiny human dynamo that is Alan Stewart aka Gummi Bako, this was always going to get messy! It chugs and stutters in, a tangled mix of noisy, garagey guitar sounds. Gummi Bako's oddly alien vocal delivery is well-suited to the angry, frustrated lyric which complains "I'm so tired of this old life/just can't seem to get it right". With each wheel around the song, Stewart ups the ante, his voice sounding increasingly unhinged and urgent. Guitars build, an urgent patter of djembe sets up courtesy of Captain Geeko, and the organ whirls appealingly. King Creosote himself orders a final crash from the band, and the record is done...
Well, done for now at least. By my calculation there will need to be at least two more of these all too tantalisingly brief forays into the post-Mercury world of King Creosote in order to cover all of the "That Might Be It, Darling" material. These songs have burned slowly, gestating over a long period whilst the promotional duties for the project with Jon Hopkins have consumed time and energy no doubt. That these new versions haven't landed far from their stripped back, simpler cousins at all is testament to just how good they are perhaps? But where they have altered and developed, it's to become even more engaging, direct and impossible to ignore.
You can purchase King Cresote's "I Learned From The Gaels" via the Domino Records Mart, or from the Fence Webshop on proper, old fashioned 12" vinyl only. Wherever you get it, you'll find a download voucher inside. What you won't get, sadly, is any sort of preview here. Because I suspect that would make Kenny very angry indeed! King Creosote curates and headlines the Refugee Week Scotland Opening Concert on June 18th, at Glasgow's Old Fruitmarket, and can also be seen in a variety of fields across the nations this summer including Camp Bestival, Green Man and Festival No.6.