Posted in SHOFT on Saturday 18th February 2012 at 11:02pm
---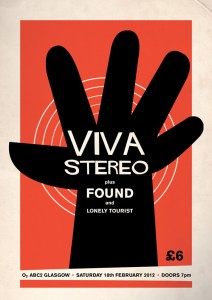 Having had a bit of an impatient and fractured week of wandering, and having also spent the previous evening at one of the single most depressingly bad shows I'd ever witnessed, one of the few fixed points in the week was tonight's entertainment. Having never been to the O2 before and hearing it was an early show, I arrived stupidly early and enjoyed the delights of a freezing Sauchiehall Street just waking up for the evening, which was at worst educational and at best fairly entertaining in some ways! It's a curious venue, a collision of an old art-deco cinema exterior and, after negotiating a maze of stairs and corridors, a strange padded 1990s vintage nightclub interior. Thankfully though, it had a warm corner for me to sit nursing a pint and regaining sensation in my fingers and toes while waiting for the entertainment to begin.
I'd last seen Lonely Tourist in Bristol, now his adopted home and as detailed here previously I'd been thoroughly impressed by his urgent, wordy compositions which he delivered in an unassuming and self-effacing way. Tonight though, having made almost the same journey I'd taken to get here, he was back in his native Glasgow and having had a long association with members of Viva Stereo found himself on tonight's bill. Taking to the stage in the same slightly apologetic manner as always, Paul Tierney launched directly into the urgent guitar strumming which begins "Watch For The Sharks". There's something particularly special about hearing these songs which detail the challenges faced by a grassroots musician in the context of a venue and a show like this one, and it was really fantastic to hear the response of the crowd which - whilst people were still drifting into the venue - was respectably large and had at least come forward to the stage to listen. As ever, Tierney conversed relatively little during his set, managing instead to pack as many songs as possible into his allotted half hour. After briefly thanking everyone for coming down early some local chancer shot back "I had to miss Harry Hill for this", to which the ever self-deprecating Lonely Tourist responded "aye, and now you've got some other joker up here". The songs came thick and fast, managing to fit nine tunes into the short set with the majority coming from 2011's "Sir, I Am A Good Man" album which made a respectable showing in our favourite records of the year. Things culminating with a triumphant take on "Patron Saint Procrastinate" which remains a rallying call for those of us who manage to find diversionary activity for virtually everything creative or important. The audience responded warmly, and Paul was clearly pleased with how things had gone. It was great to see Lonely Tourist on home turf, and a bit of a contrast to the usually reticent Bristol audiences.
Given the tight timescales, the turn around between bands was swift and FOUND were soon on the stage. The venue was now filling up and the noise from the excited Saturday night crowd was getting louder. The frustrating part though was that when faced with FOUND ripping into a rather fine rendition of "I Will Wake With A Seismic Head No More" they just talked louder to counter the music. Using a similar strategy to that which they'd deployed at Hooops! in Bristol, FOUND went for a short, tight set mostly constructed of "Factorycraft" songs, which lend themselves to this kind of show. A superbly choppy "Anti Climb Paint" followed, with the gloriously bleepy, wibbling electronics supplied by Kev Sim getting cranked up to counter the racket from the bar. It struck me around now that I was right in front of a speaker and just feet from the stage, but the chatter was overpowering the music even here. I don't think I was alone in getting irritated with this, and I began to wonder if the band weren't getting just a little frustrated on stage too. "Machine Age Dancing" followed with an amended introduction - slowed to a crawl and with it's pseudo-Motown, sparse opening beats echoing around the room very satisfyingly. Given the challenging conditions the band settled for the strategy of ripping through the set with minimal punctuation, building up to a splendid vicious take on "Blackette" before Ziggy Campbell announced "We're FOUND and we're done" before leaving the stage. Once again, FOUND played a blinder here in pretty difficult circumstances.
For Viva Stereo tonight was something of a triumphant homecoming. Having not played in Glasgow for three years, and with most recent album "Endure The Dark To See The Stars" having slipped out rather quietly in 2011 it was amazing to see the loyalty this band commanded in a usually fickle field. For me, having loved the weirdly incongruous collisions of classic pop, folk and dance music on the fantastically varied "Roar Lion Roar" album, the follow-up felt a bit straightforward - a competent rock record with tiny dashes of brilliance - and it was those more intricate songs which were selected to form the backbone of tonight's set. Kicking off with mesmerising drums and drones which would befit the most indulgent prog rock act, frontman Stuart Gray exuded an easy confidence as he stalked the stage, tambourine in hand while "Vultures" burst out of the churning noise with it's sharp-edged guitars and thundering beat completely intact. Seeing the full line-up of the band ranged across the stage of the O2 was impressive, and none of the potential was wasted as dashes of hammond and violin brightened the playful melody of "New Life" which leads the recent "Wanderlust EP". Now rapt, crowding the stage and in some cases dancing furiously, it's pretty clear what the audience were here for tonight. Challenged to recall if they'd been at an early but significant Viva Stereo gig across the street in Nice'n'Sleazy's a decade ago, a frankly improbable number claim attendance - but this heralds an older song given a new lease of life on the recent EP in the form of "Jesus Son". Tonight it's a spitting, stomping and swirling clash of old fashioned rock'n'roll and electronics. Throughout this, drummer and De-Fence Records main man Gav 'OnTheFly' Broon thunders out some remarkably solid beats which keep everything in check. As Viva Stereo shudder and rock their way towards the end of a short set with the venue's early curfew approaching, Gray remarks that "It's Saturday night, you should be dancing", and remarkably enough plenty are. If Viva Stereo set out to suggest that they're still here and indeed never really went away, then tonight represents a mission accomplished.
Tonight presented a set of challenges which could have made it a pretty frustrating event overall - not least a very early start, and a crowd so focused on the return of the headliners that they didn't afford the other acts a great deal of respect. However, with the dedication of Lonely Tourist, the persistence of FOUND and the strutting rockstar qualities of Viva Stereo as they proudly announced their return to playing live in Glasgow it was, in the event an amazing night of music. I'm pretty sure that the ABC isn't my favourite venue though, as I'm pretty sure it's weird layout and acoustics played a part in the frustrating racket from the bar during the bands. With Viva Stereo having invited the entire audience to an after party, I would be interested to see the wreckage on Sunday morning, but I had an early morning train to catch and used the opportunity to shuffle off home well before the usual hour. Perhaps, with this and my tetchy response to the talkers, I'm getting too old to rock'n'roll?
You can find Lonely Tourist's debut album on CD and as a download at Bandcamp. FOUND are signed to Chemikal Underground. Finally, the entire Viva Stereo back catalogue - along with the new EP which features a Lonely Tourist vocal and a FOUND remix are also at Bandcamp.