Posted in SHOFT on Thursday 27th October 2011 at 7:10am
---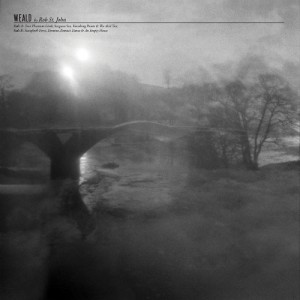 Receiving mail always used to be an event - records from distant parts, written off for but then forgotten, finally arriving. The thrill of unpacking an LP for the first time, examining the sleeve, anticipating hearing it. All these things have changed - reasonably fast broadband means that there's very little time for the suspense to build before music lands in your inbox, and even when there is a physical artefact to appreciate, it usually involves a trip to the sorting office to rescue it from being kicked around the floor by bored postmen who don't attempt delivery until they're certain you've gone out. But rather unexpectedly last week I got a little hint of how it used to be on the arrival of Rob St. John's album "Weald". Unpacking the record is a joy, a beautiful monochrome gatefold sleeve containing a reassuringly heavy chunk of vinyl. There are lyrics, things to read and look at while the record spins. This is how it should be....always. Thankfully, Matthew at Song, By Toad Records gets this. It's not going to make him or indeed St. John an overnight pop sensation perhaps, but in terms of a record release feeling like an event, they've both just about nailed it.
I suppose I should be talking about the music - but perhaps I've been a bit sidetracked by that sense of suspense and anticipation too? Taking a moment to examine the cover, it appears at first to show a pleasant enough image - a misty, chill morning scene in the fens perhaps? But there is a rather eerie loneliness about the image too - and something of this beautiful but stark landscape seems to haunt the album right from the start on recent single "Your Phantom Limb", which sets off with warm analogue hiss and crackle, the tune slowly winding into action. St. John's vocals are quiet, sorrow inflected, quintessentially English in tone and timbre. It's like a traditional ballad dragged forward five centuries, as a winding, clockwork whirr seems to propel this brief, melodic introduction. The chiming guitars of "Sargasso Sea" herald one of the faster paced compositions here, with a sweeping optimistic chorus which is perhaps a little uncharacteristic on the album. There is also a warm, deliciously fuzzy bassline sneaking around the track until the closing instrumental section where it drives things towards a sparkling tangle of noisy guitars. Subdued and mournful, "Vanishing Points" is a return to quieter territory. Delicate guitar melodies and a wash of atmospheric sounds supply a canvas for St. John's lyrical, if somewhat maudlin wordplay as he observes in keeping with the tone of the record that "we're monochrome/we are just vanishing points". It will be an unwelcome comparison for some perhaps, but "Stainforth Force" opens like an early 1970s Pink Floyd epic, with atmospheric drifts of guitar breezing past until understated drums and a drone of harmonium arrive to support Rob's dark and defeated - sometimes near narcoleptic vocal: "not perfect/but yours to keep". There is a pastoral tone here - a sense of wide, sweeping spaces. However, the underlying darkness occasionally reveals the threat of the wilderness too.
The album hinges on "Domino" - a glacially paced blues which has the sonorous presence of a funeral march. An unwilling melody is wrung from the guitar while St. John supplies distant, half-spoken vocals which occasionally leap in frustration or pangs of desperation. A constant harmonium drone provides an atmospheric backdrop, which finally slips into the foreground as the song builds into a keening violin scraping tumult towards the end. I find myself thinking back to the atmospheric recordings from New Zealand artists such as Peter Jeffries and Alastair Galbraith, but Rob's defiantly Lancastrian tones locate this dark beast of a song firmly in an English landscape. Who am I kidding - trying to describe this song is almost futile. It's just very, very beautiful indeed. Following the brief, melodically blues-flecked and delicate guitar instrumental of "Emma's Dance" is "An Empty House", a warmer harmonium-led piece with Rob sounding positively cheery in comparison to elsewhere on "Weald", and joined by some backing voices too. And while the lyrics might be just as introspective and hard-edged as other compositions there is a sense of completion here as the album ends with the same analogue hiss with which it began, the reel-to-reel tape stopping with a satisfying clunk.
It's fair to say that "Weald" is far from an easy listen - it demands attention, draws you into it's dark atmospherics and sometimes claustrophobic gloom, and refuses to befriend the listener casually. But the reward for your persistence is lyrical, dark and strangely uplifting music which somehow belongs to that moment where late night turns into early morning and you realise you're still awake. The shifting landscapes on which St. John builds his songs don't sit easily in any genre - so if you come equipped with blinkers looking for a folk record, a rock album or something akin to his work in other projects like eagleowl you'll probably leave feeling a little bewildered. However, taken entirely on it's own terms as it begs to be, "Weald" is a beautifully gloomy and wonderfully atmospheric record which is quite unlike anything else you're going to hear this year. If you'll take only one bit of advice from this pompous old blogger though, I'd urge you to go to Song, By Toad and buy the vinyl. Even if you just use the free download code to suck the MP3s into your iPod at the first opportunity, there is something very special about holding and examining this record as you listen. A vinyl fetish? Maybe. A proper old-fashioned record release? Definitely.
Rob St. John's "Weald" is available as a gatefold vinyl LP from Song, By Toad Records which is exactly how you should buy it. Reluctantly, I'll also mention that you can find the album on Amazon MP3.

Rob St. John - Your Phantom Limb