Posted in SHOFT on Sunday 22nd May 2011 at 2:05pm
---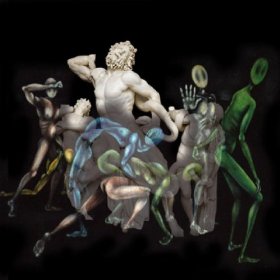 One of the most engaging things about being involved in the grassroots of music is hearing things emerge as part-formed ideas, changing and growing over time to become fully-fledged parts of a band's repertoire. This isn't limited to the fringes of the music scene either - as artists from Bob Dylan to King Creosote appear to delight in reinventing their back catalogue repeatedly and radically. However, geography and time mean I often seem to miss out on witnessing this process of development which has always been for me one of the most exciting aspects of nurturing a liking for a new band. In the case of Edinburgh's White Heath though, the process has been pretty evident from the earliest stages - and I've been lucky enough to have something of a window into it. On hearing just one or two early tracks I knew I had to see this band play live to understand quite what was going on, and I was lucky enough to cross paths with them in Glasgow last October. Thinking back to that performance, I was first struck not by the complexity of their music or their eclectic mix of instrumentation, but by the fact they were capable of making a wonderfully loud but carefully harnessed noise - which hadn't been fully apparent from what I'd been able to hear so far. This record seems to capture that dynamic much more successfully than any previous recordings have managed. It's notable that "Take No Thought For Tomorrow" has been produced and released by Electric Honey Records via it's well-documented relationship with Stow College, and I've detected a tendency to be mildly but fashionably scornful of this set-up recently. Whatever opinions might be expressed about the personnel involved or the way the process works, it's hard to deny that they've generally backed the right horses over the last decade or so. What this also seems to have done though, is to afford the band space and time to play around with these songs without the pressure which a traditional studio or label set-up would place on them both financially and in terms of time constraints. Thus some of these songs, which have been kicking around for a long while both in White Heath's live set and on the very hard to track down "Sea Wall EP", have grown and changed considerably over time before reaching a final recorded form here.
As "Maker" opens with a static-shrouded hotel lounge style solo piano, it's apparent that this is a going to be an unusual journey. Soon, alongside a sweep of strings, Sean Watson's breathy and urgent voice joins with his curious Middle Eastern influenced modulations. This voice is a key part of the band's sound - unusual, sometimes harsh and often oddly affecting. The vocalist's pivotal role is developed over a number of songs familiar from earlier recordings including "Election Day" which is pretty much where I first crossed paths with White Heath. Reworked subtly here, with a grittier edge than previously, the bass pulses beneath scrapes of violin while the vocals are in the foreground vying for attention with dabs of brass. Things escalate to a point of near hysteria with a cry of "you push me over the edge...", and suddenly just the voice is left, with an aching and stark statement: "i'm destined for disenchantment". The initial single from the album, "GG" (available as a free download here) is a bit of an outlier - a concise, grunge-pop anthem which soars into an almost irritatingly catchy chorus. It's a reminder that underneath all of the serious musicianship and classical influences which White Heath offer, there is a playful pop edge. As the guitar grinds back into action for the final blast and cheesy synth sounds dance around the vocals, it's impossible not to get caught up in this song's exuberance. I can imagine people who come to the band through this being genuinely troubled by its lack of similarity to the rest of the record - but the clues are there, mostly in the ability to wind infectious melodies around sometimes jarring, near-cacophonous sounds, bringing them into some sort of order.
The record hinges on the monumental "Leviathan", initially a slow-building ballad built around a delicate piano melody which provides Watson's vocals with the space to veer from a whisper to a pained, impassioned howl. Then it feels like the calm before the storm as he repeatedly but hardly reassuringly croons "when you wake, all of this will be gone" while a menacing undercurrent becomes apparent growing into what, for a less imaginative outfit, would likely be the hackneyed and much over-played 'epic' ending. But here the explosion never quite happens - that would be far too easy and much too obvious - the power in this work is in it's restraint, the sense of something huge and thunderous only barely controlled. However, it's also repeatedly made clear that White Heath are capable of writing rather fine pop music, notably on two less familiar tunes - firstly "Sunday In Fragments" - where simple ringing guitar notes and tumbling piano melodies usher in the closest thing this record has to a sing-along chorus. Perhaps unsurprisingly things don't stay quiet for long, as a tumult of brass and strings arrive to remind us that this isn't supposed to be easy listening. Also worthy of mention in this respect is "Past The Satellites, Into The Fray" with it's shuffling beat and soaring vocals, leading up to a euphoric and triumphant conclusion somehow delivered via a tangled mass of strings, punchy brass and strange half-intelligible chattering voices.
This album captures perfectly the the sense that White Heath are only just in control of the juggernaut of sound they're driving. The seamless, but often sudden shifts from melody to discord and from claustrophobia to wide-open vistas are White Heath's trademarks. The songs are rooted in rock and pop, but aspire to a range of ethnic and classical influences which few bands would ever dare to attempt this early in a career. But despite this unashamed experimentalism "Take No Thought For Tomorrow" certainly never becomes self-indulgent or ponderous - saved from pomposity by the band's amazing ability to generate huge walls of noise. This a dizzying, sometimes uncomfortable journey - but it's also documents the work of a surprising and genuinely original band. Put simply, it deserves your attention.
"Take No Thought For Tomorrow" is released on 6th June, via Amazon and iTunes among other outlets. The album will be launched at an Electric Honey Showcase at Glasgow's Oran Mor on 4th June.

White Heath - Election Day