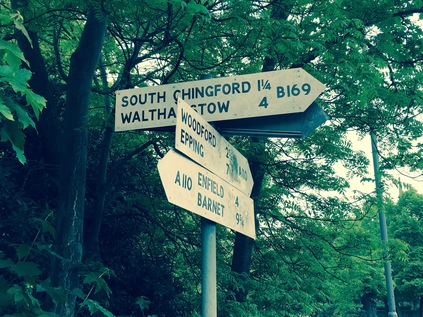 Posted in London on Saturday 6th May 2017 at 10:05pm
---
I set out to write a fairly ordinary report on a long, satisfying walk I recently completed - and as the introduction grew, I knew I was in fact writing something else. A justification, a manifesto, or just a project plan perhaps - in any case an explanation of what led me to decide to walk along an uncelebrated North London A-road from somewhere to somewhere else. I didn't feel the need to justify this to anyone except perhaps myself - but I felt the uneasy stirrings of a project forming - and that's always dangerous. So, the ramblings below are the formative musings on London's Other Orbitals. A likely highly irregular series of wanders along the onion-skin layers of byways which encircle the capital, connecting suburbs known only by their imprint on the tube map. Some will be familiar, important byways while others will be little known backwaters. All will likely be equally unlikely candidates for mythologising. That's often the character of outer London, it's sometimes so ordinary that it's surprising...:
On 29th October 1986 a formation of decidedly British motorcars cruised along a broad, empty carriageway near London Colney. The location was symbolic, but secret - an attempt to dodge the attentions of Republican terrorists who threatened public events like this one in that now almost unimaginably tense period. A little later in a nearby tent topped by flags whipped energetically in a fierce crosswind, the Prime Minister appeared to be struggling to stay awake through a long slew of speeches as she sat, alone on a folding chair clutching her trademark handbag. It's perhaps fair to say Margaret Thatcher was off her territory out here. Despite her reputation for creating the conditions which the modern commercial city needed to spiral out of regulatory control and her celebration of the 'car economy' she was never truly of London. The grocers' daughter from Grantham squinted into the late autumn sunshine and delivered her speech from the lectern to a crowd of experts - transport planners, civil engineers - all brown suits and whipped cones of white hair. Some of these people had waited an entire career to see the promise of an orbital road for the capital delivered despite one head-scratching compromise after another being conceded. Others, younger and keener, surveyed its already apparent inadequacy for the job and visibly salivated at the revenue to be gleaned from its inevitable widening and reworking. Thatcher was unusually rattled, self-evidently unsettled by these grand projects which drained public coffers - and while the M25 would go on to be a truly privatised road, this was the end point of a public sector struggle with finance, planning and grassroots activism. Roadbuilding and its detractors were opening up a new battlefront with the government which would stymie their ambitious plans well into the 1990s. But for now at least London had one of its ringways - and for a few more years at least the new-money generation, the retired Essex gangsters and the Eastern European truckers which the Prime Minister had enabled to move out of the silted-up streets of the city and into the pristine greenbelt would prowl slowly around its increasingly tortured carriageways, cursing their progress and addressing the road like it was a living, sentient thing.
Years later, with Thatcher's power dimmed, Iain Sinclair exorcised the M25 by walking its beat and superimposing other orbital projects on its path through the fringes of the urban sprawl - not least the ring of asylums which conveniently spirited the mad, bad and morally lapsed away from the core of the Victorian city. By then the M25 was a recognised margin - the relative weight of events judged by their occurrence within or without its orbit. This was a management of the London problem which would have impressed even the most radical Victorian patriarch. However, the rest of the grand plan hadn't materialised and slowly the urban motorways which had begun to snake towards Central London would themselves withdraw to the cordon of the M25. The road was by definition and nature a compromise - a tangle of repurposed sections of Patrick Abercrombie's four concentric Ringways which in turn had their origin in Lutyens' 1930s ideas for a city of cars. An orbital road wasn't a new idea at all - the North Circular and its poorly thought-out southern cousin had their origins in the 1920s, and the North Orbital Road had long existed in a piecemeal, ever-altering fashion, staggering lazily around Hertfordshire and Middlesex prior to the completion of the M25. But within the ring of grey tarmac lanes which (almost) encircles Greater London, the everyday journeys still need to be made. Not every excursion demands circumnavigation at the margins - and the spiderweb of routes which string between the great 1930s arterial routes and the M25 still exist. These other orbital routes are the capillaries of the city - they take workers home, ferry shoppers to retail parks, allow ambulances to swerve through traffic to London's huge regional hospitals. They are the roads that Londoners, trapped within the orbit of the city, use to move across it rather than around it. I encounter them endlessly on my walks - sometimes well signposted and good quality dual carriageways which scythe across green space, sometimes ungainly dog-legging old routes which convulse around urban centres. But always busy, always going somewhere while their bigger, bolder relative out at the margins goes - well, nowhere at all.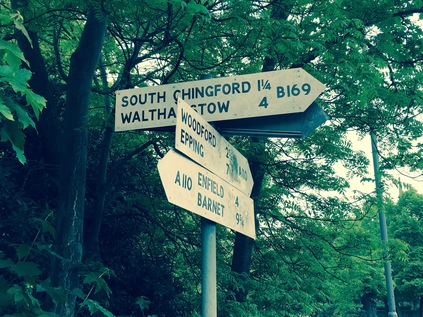 And so, a new project suggests itself. In fact it had already begun with a walk a little while ago along the A503. I'd realised that many of my walks were radial treks from the outskirts of the built up area, through ragged edgelands and into the urban core. In recent times though, as my routes had crossed old paths at unexpected junctions, I'd become curious about the links between these spurs. These are the connections between the villages and towns of London which pulse with life even when the commute has finished for the day. During my walks I'd found sudden bursts of countryside, miniature townscapes crushed into the angle of road junctions and endless parades of local shops, the range of which would provide a sometimes startlingly accurate judgement of the character of an area. In short, I was finding the everyday London which falls between the celebrated highlights and fails to trouble even the most adventurous tour bus itineraries. Like all my ill-advised projects, it started accidentally and the rules would of course be constructed as I progressed. Would I go south of the river? What constitutes a 'route' across the city? Is it imperative that I always end up in South Woodford? I expect all these questions to be answered, those answers revised and any rules broken long before they're made. I also suspect that I'll stray into other zones of interest as my curiosity takes me. Perhaps I'll pick up the walk along the A13 again, or decide it's high time I walked the rivers of the north west quadrant - who can say? But for now, I'll be slotting these treks into the itinerary and, as ever, writing posts here which virtually no-one will read.
See you somewhere between here and there...