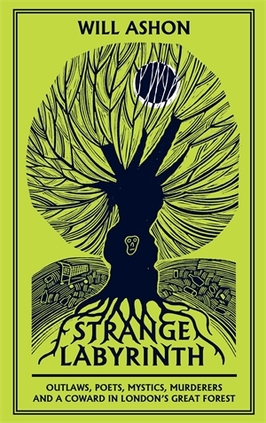 Posted in Reading on Friday 21st April 2017 at 7:04pm
---
Most male mid-life crises follow similar and depressingly predictable patterns - they involve embarrassing encounters with much younger women, much faster cars and far more taxing physical pursuits than are ever strictly advisable. Then, somehow, they quietly slip into being either part of the subject's new, likely more insufferable identity - or perhaps simply disappear, not to be mentioned by those who witnessed the manifold indignities. My own mid-life crises have been a little different - and in terms of lasting impact, somewhat more prosaic. If you discount my dash across the ocean to marry someone a continent away - who was, it must be said, just a little younger than me - then the rest has been mostly about walking. Walking has become a structure around which I focus my reading, my writing, and most definitely my thinking. It gives form to my year as I trace the seasons via walks, and it allows me to calibrate my reactions to the sometimes confusing world around me. It is, it must be said, a solitary pursuit - but that seems to work just fine too. Walking provides space, time and context. In that sense it's a fairly mundane mid-life crisis to develop perhaps. Given that much of my recent walking has been in and around the environs of Epping Forest, this recently published book about Will Ashon's own mid-life crisis brings both reassurance and entertainment.
Ashon starts the book at a crossroads - he has given up his job to write, but he's not sure what to write about. He indulges himself in research which leads him nowhere and convinces himself that the book will, when it's ready, come forth. In the meantime, he is also a coward. This might sound like an unfair judgement - but I feel comfortable stating it because I share Ashon's particularly British type of cowardice. I too feel a cold sweat begin to break on my brow when I approach the 'Private' sign, or find myself obeying patently unenforceable prohibitions to the letter. For the walker, these matters can often make the difference between miles of detour and a straightforward path. Throughout Strange Labyrinths Ashon takes the detour - and it leads him to encounter a cast of forest-related characters which are unpredictably various, but share a curious independence of spirit which echoes the remarkable survival of Epping Forest into the 21st century.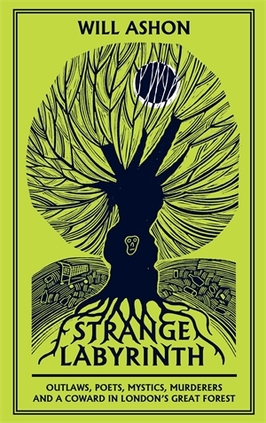 The thread of the book, in so far as there is one, is Ashon's gradual accumulation of knowledge about the forest via a study of those who've walked it before him. He is ostensibly building up to spending a night in the tree-canopy, just him and the forest. Naturally, the fear of the dark, of the forest and ultimately of the unknown means this is put off again and again, allowing Ashon the space to explore the lives of outsiders who have used the forest as inspiration for the creative endeavours or cover for their nefarious deeds. Along the way we meet the ghosts of John Clare and Dick Turpin - both escaping capture and enclosure of different kinds as they haunt the forest floor. Ashon hits on another of my great fears here - treading in the footsteps of Iain Sinclair as he writes about Clare and not being quite comfortable with the process of re-walking ground already covered by another. However, Ashon's investigation of the beginnings and the later life of the asylum at High Beech add a great deal to Clare's forest narrative and he has nothing to fear. He also strays out of the forest to find Penny Rimbaud of anarchist second-wave punk collective Crass, who has occupied Dial House on the northern edge of the forest since the late 1960s, slowly turning the once-derelict farm on former GPO land into a centre for the radical arts.
Rimbaud provides a link to another collective occupying part of the southern reaches of the forest - the M11 Link Road protestors of the early 1990s. In particular, to the elusive and much loved Old Mick who was an ever present face in the coverage of the quite remarkable resistance to the road. Ashon delves into Mick's mysterious and unwritten past, unravelling a early life of not-so-petty crime which paved the way for an instinctive non-conformism, ultimately inspiring a generation of younger protesters to wage a non-violent - almost Situationist - campaign of resistance as spectacle. Throughout these encounters, Ashon's own quest - to turn his disparate researches into a coherent non-fiction work centred on the forest - begins to come good. He is at his most lyrical when he is describing the interior of the forest, and while like me lacking the technical names for the plants and trees, he manages to evoke the rather strange sensation of isolation despite being mere feet from the road which I too have experienced in the forest. He describes the litter and the trails left by temporary human habitation with as much care and precision as he does the flora and fauna. In that sense, this book captures the forest's present as accurately as it catalogues a version of its surprising past.
While this probably isn't the book Will Ashon set out to write - or even the book he thought he was writing for a good deal of the time he was working on it - this is ultimately a satisfying and erudite view between the thick foliage which sometimes obscures the true nature of Epping Forest. The forest is as much a hiding place now as it has ever been, and having hidden away from reality within its depths myself I can feel my own experiences echoed throughout this book. I'd urge anyone with an interest in the topography or the history of the forest to delve into Ashon's work - along with those who are curious about just why the edge of this ancient woodland has inspired so many unexpected characters.